Cheesy quinoa casserole with creamy white sauce is rich, comforting, and loaded with nutritious veggies with just 350 calories in each generous portion.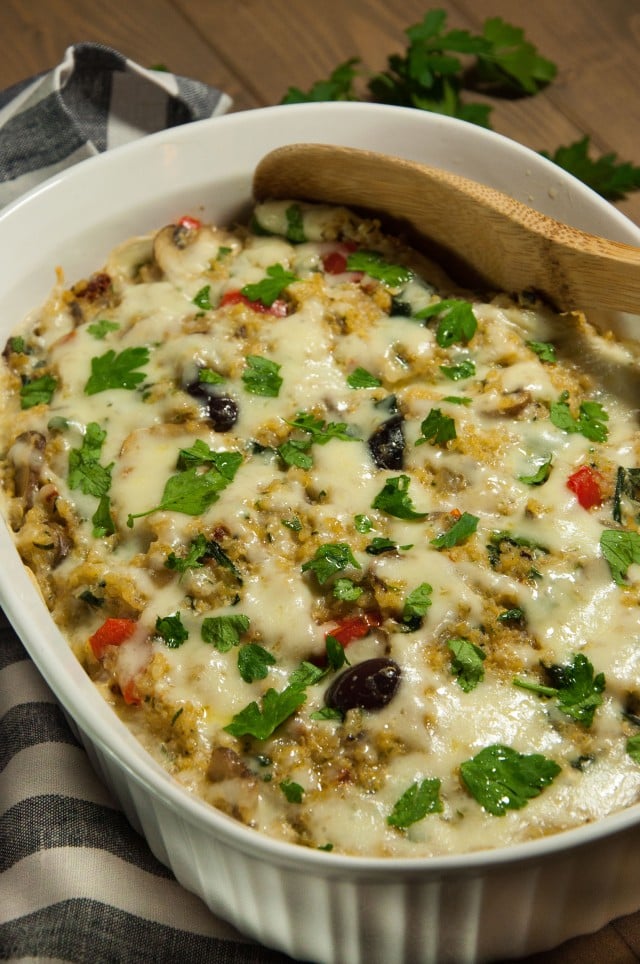 After the long thanksgiving weekend I know I really should be posting something for using up leftovers, buuut, this quinoa casserole is so dang good I couldn't help myself! I promise I'll do better with Christmas.
At the last minute we decided to host a little mini T-day at our house with a few friends. As you can probably tell by the pepperings of negativity I've had over the last few months, I've been skirting around the edge of burn-out for a while and sitting around the house eating good food with good friends was incredibly refreshing. I read this article recently about being busy that really resonated with me and made me rethink my outlook on this period of transition that I'm in right now. We're as 'busy' as we make ourselves and its never too late to break the mold and change our own perspectives and actions. So, needless to say, there was a lot of relaxing this weekend.
Even though we were hosting, it really didn't seem like a whole lot of work. Probably because I LIVE for days like this. Puttering around the kitchen whipping up recipes with good company – does it get any better than that?
I did make a few new recipes on thanksgiving that I'll be sharing with you soon ( I'm talking about you spiced pecans, salmon dip, and rosemary pomegranate mimosas!), but for the main dishes I really just followed other people's recipes. My smoke-master husband smoked a turkey with a honey glaze that turned out fantastic.I made stuffing, mashed potatoes, gravy, and a mash up pumpkin pie with a graham cracker crust from Bobby Flay and filling from Simply Recipes.
After thanksgiving, we had a lazy Friday. We bought couches for the new house (that we don't even technically own yet) and spent Saturday night at a friend's mountain cabin for a birthday. Every day this weekend was beyond fabulous, and needless to say… Monday morning can suck it.
I know this recipe may not have that 'use up the turkey' flair that you would expect on a day like today, but it is definitely an ideal menu item for the holiday season. Since, let's be honest, I know all we really want is comfort food this time of year. Comfort food doesn't have to always be bad for you though. Before you click away in horror at the idea of comfort food being healthy, hear me out on this.
This tasty quinoa casserole uses some choice veggies like kale and mushrooms and hides them in a creamy, decadent sauce that tastes richer than it is by using milk instead of cream and small quantities of various cheeses to add that traditional comfort casserole cheesiness without a huge amount of calories. Now, that doesn't sound too bad does it? Add this new comfort food classic to your winter recipe repertoire to keep veggies in play when all your heart really wants is a big ol' bowl of mac and cheese. Stat.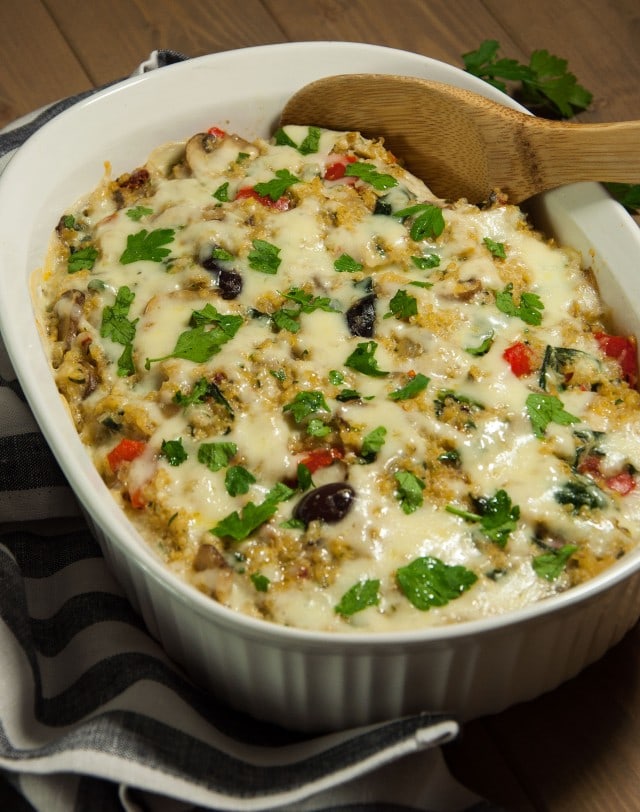 If white sauce isn't your thing – try this black bean quinoa casserole. It was one of my first recipe posts so please excuse the horrid photos, but the recipe really is quite tasty.
Hope you all had a fabulous thanksgiving! Now, bring on Christmas!
Cheesy quinoa casserole with creamy white sauce is rich, comforting, and loaded with nutritious veggies with just 350 calories in each generous portion.
Ingredients
1 cup uncooked quinoa
2 cups chicken or vegetable broth
1 red pepper (diced)
2 tsp. minced garlic
1 lb. mushrooms (washed and sliced)
1 Tbsp. coconut oil
1 cup onion (diced)
1 bunch kale (chopped into bite-sized pieces)
1/4 cup sun-dried tomatoes packed in oil (chopped into small pieces)
1/4 cup kalamata olives (halved)
3 Tbsp. chopped parsley and/or basil
1/8 tsp. cayenne pepper
2 Tbsp. fresh lemon juice
1/2 cup Mozzarella grated
Sauce
2 Tbsp. coconut oil
2 Tbsp. flour
1 1/2 cups milk
1/3 cup parmesan
1/2 cup ricotta (part skim)
1/2 tsp. salt (additional salt may be needed if using low sodium broth)
1/4 tsp. fresh cracked pepper
Instructions
Rinse quinoa and add grains and broth to a small pot. Bring to a boil, reduce heat to low, cover and simmer for 15 minutes. Then turn off heat and let sit for 5 minutes before removing the lid and fluffing quinoa with a fork.

While quinoa is cooking, preheat oven to 350 degrees. Heat 1 Tbsp. coconut oil in a large sauté pan. Add onion, red pepper, and garlic. cook for 3-4 minutes over medium-high heat to soften.

Add mushrooms and cook for another 2 minutes. Add kale and cook for a minute longer until kale wilted - don't over cook it here!

Remove from heat and stir cooked quinoa, sun-dried tomatoes, olives, herbs, cayenne, and lemon juice into cooked veggies. Set aside.

Heat 2 Tbsp. coconut oil in a separate pan (or wipe down and reuse sauce pan quinoa was cooked in). Add flour and whisk to blend into a roux. Add a small amount of milk and whisk to combine. Add remaining milk and simmer for 1 minute while stirring. Reduce heat and stir in parmesan. Once parmesan has melted, stir in ricotta, salt, and pepper. Stir until smooth.

Add sauce to quinoa veggie mixture and stir well to combine. Put mixture into a 6 quart casserole dish and top with mozzarella cheese. Cover with foil or an oven-safe lid and bake for 20 minutes. Remove cover and bake for an additional 10 minutes until mozzarella is melted.
Nutrition
Calories: 375kcal | Carbohydrates: 36g | Protein: 17g | Fat: 19g | Saturated Fat: 12g | Cholesterol: 28mg | Sodium: 775mg | Potassium: 737mg | Fiber: 4g | Sugar: 8g | Vitamin A: 2545IU | Vitamin C: 48.7mg | Calcium: 281mg | Iron: 2.7mg