These gluten free muffins are high in protein and low in sugar without the health-nut taste. You can fool just about anyone into eating healthy with these!
In looking back at my recipes, its pretty obvious that I LOVE banana. Over 10% of my recipes have banana. Can you say banana obsessed? I obviously can. What's totally weird is that I rarely eat them plain, but toss 'em into baked goodies all the time. Bananas are just so versatile and easy, I can't seem to help myself.
These gluten free muffins are a slight deviation from my usual attempts at baking without flour. I have made plenty of oat based gluten free cookies like these vegan banana cookies and these chocolate coconut cookies, but muffins seemed a little less forgiving since the end goal is really more cake-like and less dense. Getting the muffin consistency right can be tricky without gluten and my first few tries were utterly disastrous. Then I discovered almond flour and my wildest dreams came true. Okay, maybe not my wildest but at least my "muffin of the moment" dreams were fulfilled. Does anyone else dream about muffins or is it just me?
Our house has been filled with prep. Both thanksgiving and moving prep. Needless to say, with all this going on, easy is the name of the game these days. I have been holding off on mentioning anything about our new house yet because I'm scared of jinxing it since its not *completely* in the bag yet. The amount of paperwork we've submitted so far is unreal. Its exciting though and I can't wait til its all final and I can share the deets.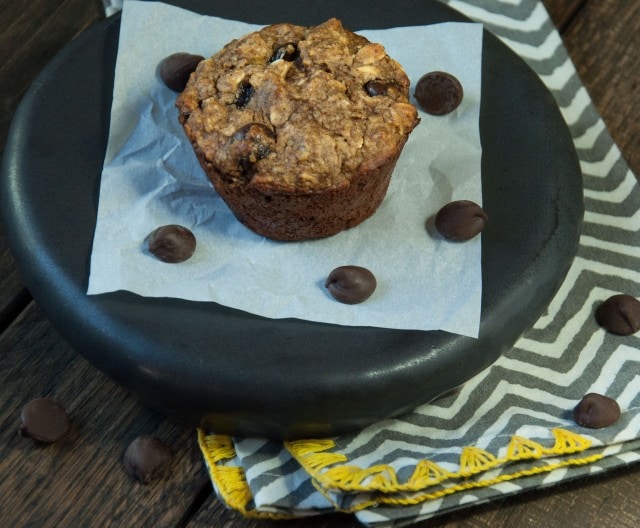 In the more near term – I'm REALLY excited about thanksgiving! I'm bummed that I didn't get around to posting any T-day recipes this year, but c'est la vie. There's always next year. Its over a year away and I already can't wait to host next year. Holidays centered around food and chill time are truly the best.
Aaanyways, I guess we should probably get back to talking about important things, like muffins. With all the tasty treats around this time of year, we need all the healthy snacks we can get. These gluten free muffins are a great on the go hunger stopper. With almost 6 grams of protein per serving, these tasty goodies will keep you full for a few hours. They're completely dairy free too, which is a perk for lactose intolerant folks. Whether you're gluten free, lactose intolerant, or just like good muffins, give this recipe a try and you'll be happy you did.
These gluten free muffins are high in protein and low in sugar without the health-nut taste. You can fool just about anyone into eating healthy with these!
Ingredients
1 1/2 cup mashed banana (about 3 bananas)
1 egg
1 tsp. vanilla extract
1 T honey
1/3 cup almond butter
1 tsp. baking soda
1 tsp. cinnamon
1/4 tsp. salt
1/4 cup ground flax meal
1 cup oat flour (pulse rolled oats in a food processor or blender to create oat flour)
1/2 cup almond meal
1/3 cup chocolate chips or cocoa nibs (optional)
Instructions
Preheat oven to 375°F (190°C). Line muffin tin with liners or spray with cooking spray.

Mix banana, egg, vanilla, honey, and almond butter well using a mixer.

Add dry ingredients and pulse several times to combine. Do not over mix! Stir in chocolate chips if desired.

Spoon or pour batter into prepared muffin tin, filling each about 3/4 full. Bake for 12 - 15 minutes until a toothpick inserted into the center of a muffin comes out without batter on it.
Nutrition
Calories: 230kcal | Carbohydrates: 26g | Protein: 7g | Fat: 12g | Saturated Fat: 2g | Cholesterol: 17mg | Sodium: 198mg | Potassium: 272mg | Fiber: 5g | Sugar: 11g | Vitamin A: 60IU | Vitamin C: 3.1mg | Calcium: 74mg | Iron: 1.5mg