Black bean quinoa casserole packed with vegetables, spices and fresh Mexican flavor. This quick one dish meal only takes 15 minutes of active time to prepare, can be made in advance, and only uses one dish! Its the perfect vegetarian meatless meal you'll find yourself making again and again for quick weeknight dinners.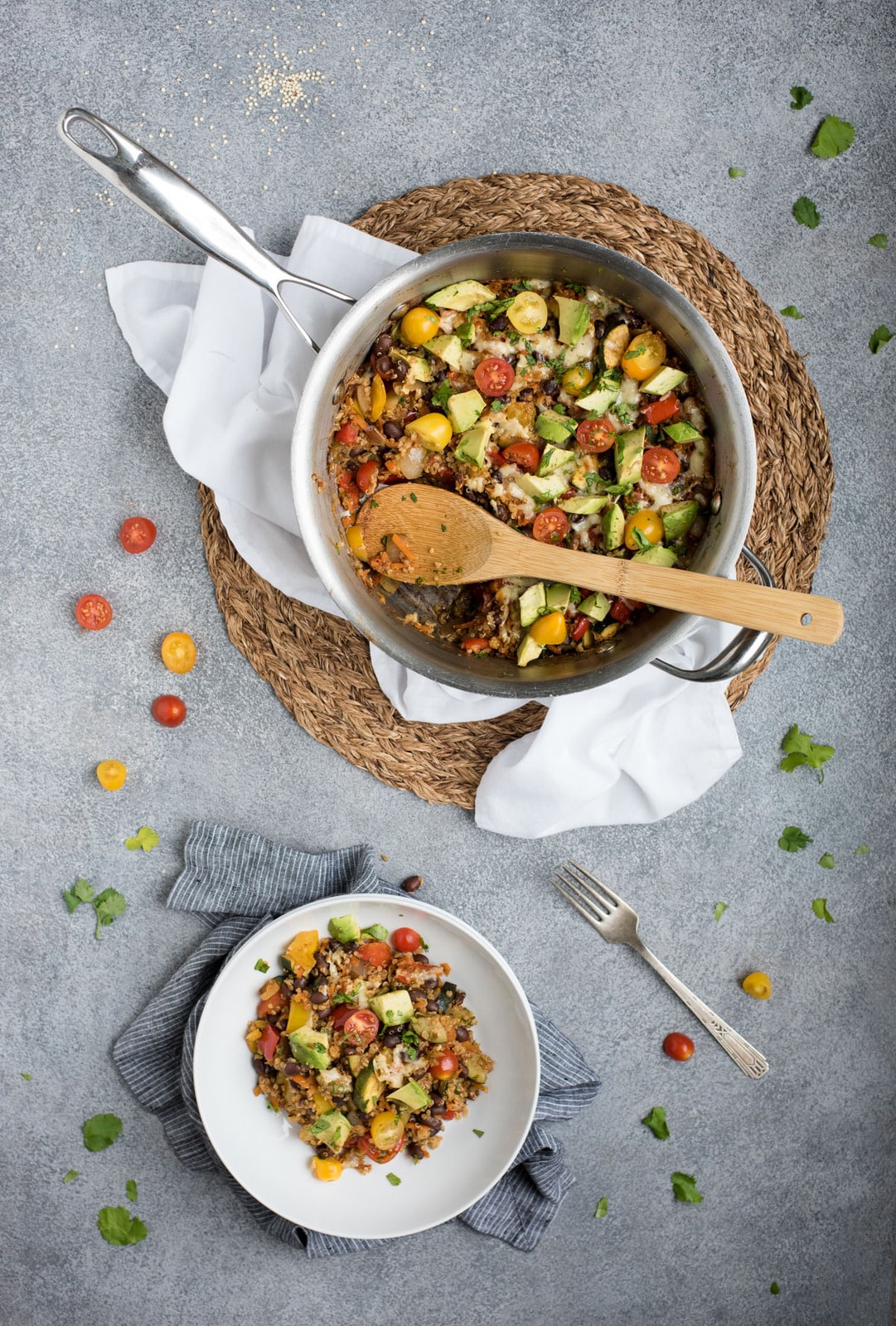 Its almost Cinco de Mayo and I've got Mexican food on the brain! More than usual that is because I'm a through and through taco fan (who isn't really), and love this flavor profile possibly more than anything else. When cumin meets chili powder, cilantro, lime, and avocado a beautiful thing happens. While my love for greasy tacos knows no bounds, they're not exactly health food which is a total bummer.
Luckily, this black bean quinoa casserole will satisfy all those cravings in one easy to make, veggie loaded, one-dish meal! Bonus cause its completely gluten free and vegetarian! So even if you opt for those greasy tacos this Cinco de Mayo (who can blame you), you can start the week off right with a meatless meal on Monday that won't leave you missing the meat one bit. If you're a meat lover and can't get behind this, these turkey tacos or this chicken enchilada casserole might be a better fit for you.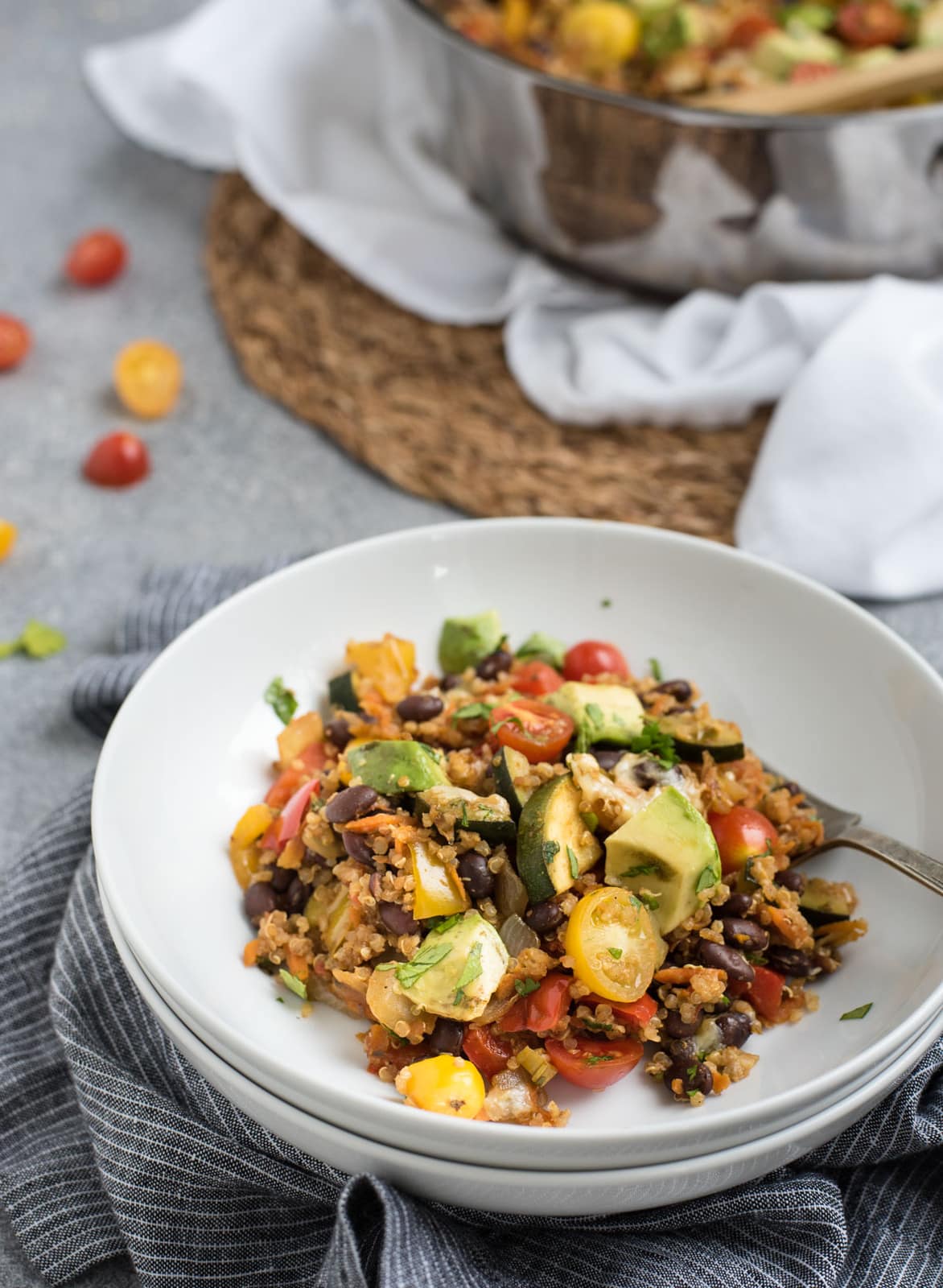 The best part may be that this healthy dinner is ready to go in the oven in 15 minutes! Yeah, lazy home chefs can celebrate that one. Who has time for fussy food after a long day? Not I. This recipe is perfect for those nights where the TV and couch duo sounds like heaven.
With season 2 of Westworld and the Handmaiden's tale out, I'm looking forward to a few dedicated TV chill nights before the weather officially warms up and summer is here. Then its all about the BBQ baby. I'm working on a few new recipes for outdoor cooking, but for now, let's just agree to eat casseroles and binge watch TV, okay? Great, glad you're on board.
Another thing I love about this black bean quinoa casserole is that all of the ingredients are nutritious. Sure, cheese isn't exactly a health food, but calcium and protein are and there really isn't that much cheese when its all said and done. It adds so much flavor too that you really can't skip it.
If you're considering not adding it, please don't even entertain that idea. Its alright without cheese, but downright delicious with it. If you want to make this vegetarian dinner work for vegans, use soy or another vegan cheese. As long as it gets melty, it should work just fine.
Getting past the cheese, there are so many great veggies here! From peppers, zucchini, and tomato to avocado, carrot and beans, we've got all bases covered. And quinoa adds even more protein and makes the recipe stick to your stomach, keeping you full longer. While I like dishes that are loaded with veggies, I find that including a carb is not only more satisfying, but keeps me full longer too. Carbs have a bad rep, but they're such an important part of a healthy diet! Just pick the right ones most of the time and your body will forgive you for an occasional treat.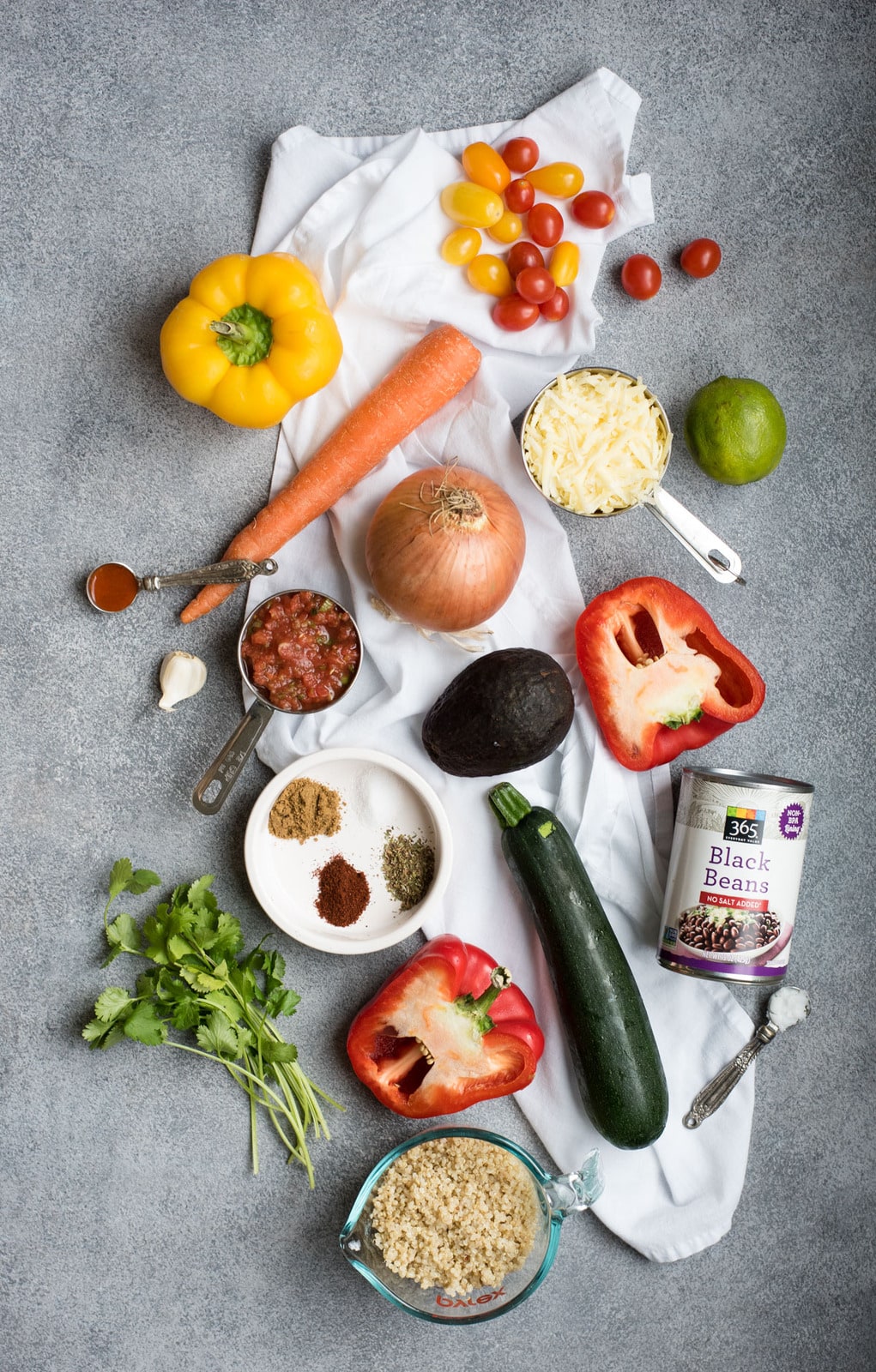 And although, the recipe has it the way I like it best, it can be adjusted to use pretty much whatever ingredients you have on hand. If you want to sub brown rice for the quinoa, go for it. Or if you have other veggies going limp in the fridge, use them instead.
I love the combo of bell pepper, zucchini, onion, and carrot in this vegetarian quinoa casserole, but other times I've used broccoli, mushrooms, cauliflower, spinach, kale – okay, you get the point – pretty much any veggie is fair game here. I have yet to find a variation of this recipe that has been anything short of delicious. For those of you that are less adventurous though, stick to the recipe and I can guarantee that this one doesn't disappoint.
It may seem like there are a lot of ingredients here, but if you have leftover cooked quinoa already, it all comes together pretty fast, even with the chopping. It's great to make a batch either on the weekend or early in the week to make those weeknight meals come together in a snap. I keep these cooked brown rice/ quinoa packets around though for times where I don't have it all together and need some cooked grains in a snap. The link is to Amazon to show you what they are but they're waaaay cheaper at costco so I stock up there.
You can prep the recipe ahead of time if you want, but its really so quick to make, I don't see any need to. Leftovers reheat great too. Just leave the avocado off and add it to individual bowls if you know you're going to be packing some of this away to reheat later.
I love how all the ingredients look all cooked up and waiting to be topped with cheese. It looks like a beautiful confetti of colors to me, exactly how healthy non-processed meals should look. This rainbow assortment is so pretty that I think if it were to come out of a piñata instead of candy I would be totally fine with it. It would be a wee bit messy, but I could cope. #worthit
And then after the cheese gets ooey-gooey and melted to perfection, that's when the cilantro, tomato, and avocado get added. This is where the freshness happens. There's something about fresh herbs and juicy tomatoes that just elevate Mexican dishes to greatness. This black bean quinoa casserole is no different and becomes truly magical once the toppings come into play.
If you're still on the fence, know that my mother loves this recipe. You probably just rolled your eyes because mom's are supposed to love everything you do, but my mom is a traditional casserole maker and is a newer convert to the likes of quinoa and meatless meals. So, if you haven't tried something like this yet and are on the fence on whether or not to try this black bean quinoa casserole, take her word for it and give it a try. She's my official recipe tester and this one is mom approved.
And once you try it and fall utterly in love with this flavor combo, I have a taco lettuce wrap recipe that you'll need to check out. Its pretty darn tasty too and would totally work for making Cinco de Mayo tacos healthy.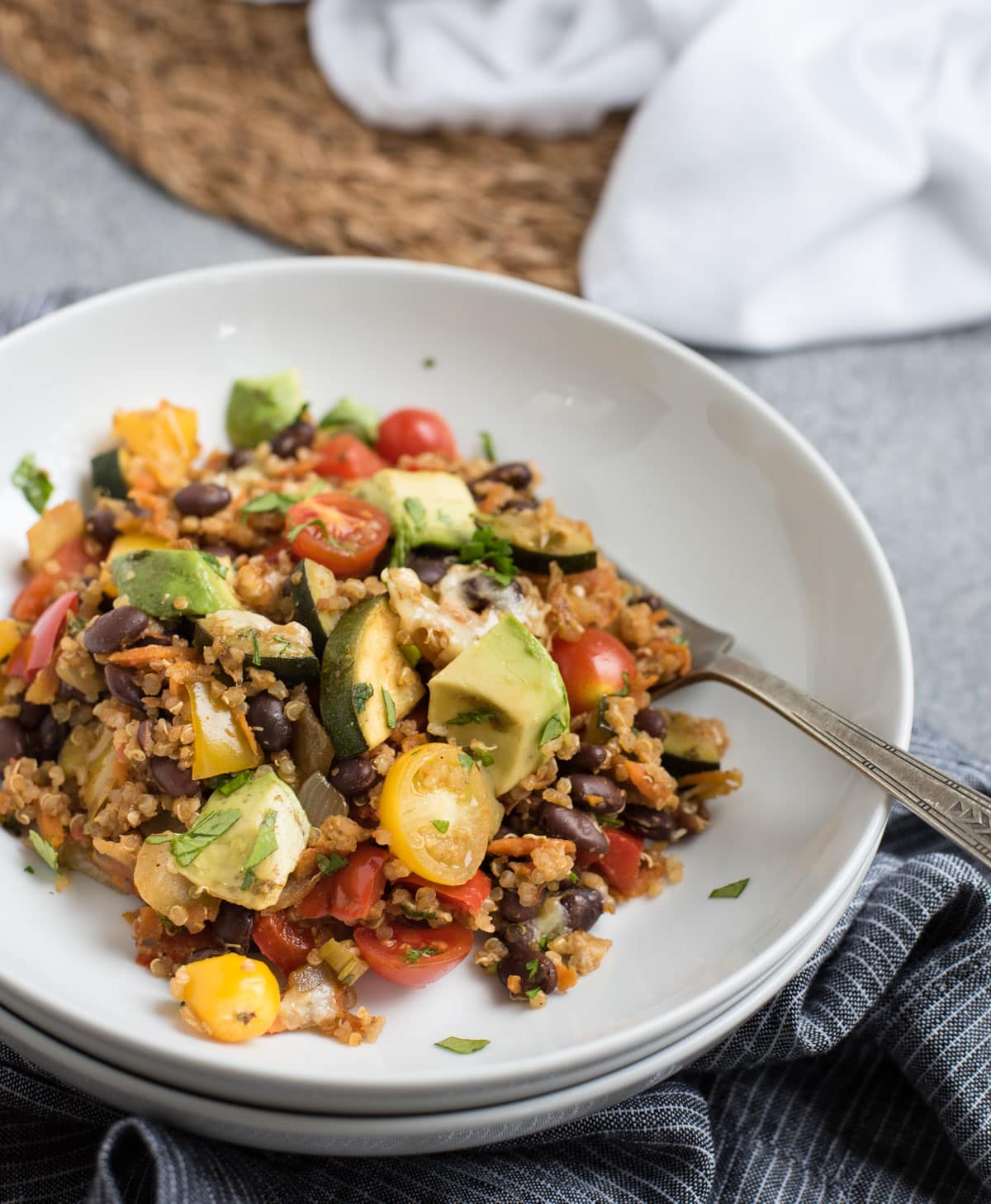 Black bean quinoa casserole packed with vegetables, spices and fresh Mexican flavor. This quick one dish meal only takes 15 minutes of active time to prepare, can be made in advance, and only uses one dish! Its the perfect vegetarian meatless meal you'll find yourself making again and again for quick weeknight dinners.
Ingredients
1 tsp. coconut oil
1 small onion (diced)
1 zucchini (quartered and sliced)
2 bell peppers (diced)
1 tsp. minced garlic
1 large carrot (peeled and grated or finely chopped)
1 tsp. cumin
1/2 tsp. chili powder
1/2 tsp. dried oregano
1/2 tsp salt
1 cup cooked quinoa
15 oz. cooked black beans (1 can, drained and rinsed)
2 Tbsp. chopped cilantro
juice of one lime
1/2 cup salsa
1 tsp. hot sauce (optional)
1 cup grated cheddar cheese
Toppings
2 Tbsp. chopped cilantro
1 Avocado (diced)
1 tomato (diced)
Instructions
Preheat oven to 375° F (190° C).

Heat coconut oil in an oven-safe, high rimmed pan. Add onion, zucchini, and bell pepper and sauté for 3-5 minutes on medium-high until beginning to soften and darken.


Add garlic, carrots, cumin, chili powder, oregano, and salt and sauté 2-3 minutes longer.

Add beans, quinoa, 2 Tbsp. cilantro, lime juice, salsa, hot sauce and 1/2 cup cheese and stir to evenly mix in.

Top with remaining cheese and bake for 20 minutes until cheese is melted.

Remove from oven and top with remaining cilantro, avocado, and tomato and serve. Leftovers (other than avocado) will keep in the refrigerator for 3-4 days.
Nutrition
Serving: 4g | Calories: 474kcal | Carbohydrates: 54g | Protein: 23g | Fat: 20g | Saturated Fat: 8g | Cholesterol: 30mg | Sodium: 527mg | Potassium: 1356mg | Fiber: 18g | Sugar: 8g | Vitamin A: 6475IU | Vitamin C: 102.9mg | Calcium: 314mg | Iron: 5.6mg
(Recipe originally published March 2, 2014, but pictures and post text have been updated)