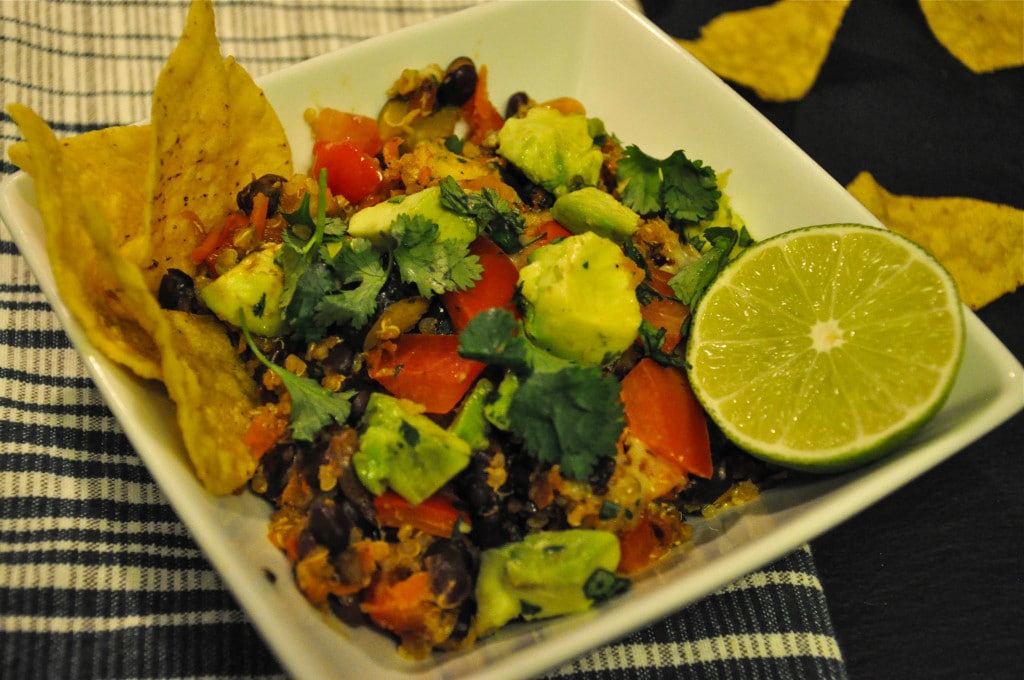 This black bean quinoa casserole is one of those quick weeknight meals that can be ready to go in the oven in 15 minutes, perfect for those nights where the TV and couch duo sounds like heaven and 15 minutes is all the active time you can muster. With these dreary winter days and long working hours, I have had way too many of these lazy TV filled nights lately… but with a casserole like this to spice the evening up, its hard to want to want to do anything else!
This recipe can be adjusted to use pretty much whatever ingredients you have on hand, making it a great base recipe for when you have extra veggies and leftover cooked quinoa or brown rice that has to go. It is naturally gluten free and can easily be made vegan. The recipe shared here is the ultimate combination I have found in terms of flavor and texture, but by all means, you can safely tweak away with this one. I have yet to find a variation of this recipe that has been anything short of delicious. For those of you that are less adventurous though, stick to the recipe and I can guarantee you won't be disappointed.
It may seem like there are a lot of ingredients here, but if you have leftover cooked quinoa or brown rice already, it all comes together pretty fast. Plus, everything here is healthy and nutrient packed so there's no guilt in chasing pairing this with tortilla chips and/or cerveza.
The most active part of making this black bean quinoa casserole is chopping the veggies. I love the combo of bell pepper, zucchini, onion, and carrot, but other times I've used broccoli, mushrooms, cauliflower, spinach, kale – okay, you get the point – pretty much any veggie is fair game here.
From here, the veggies need to be sautéed for 5 minutes or so to soften. I like using high heat to speed things along and to ensure the onions get browned and the peppers a little bit charred. Adding in the quinoa, black beans, and spices turns the mixture into a beautiful confetti of colors. This rainbow assortment is so pretty that I think if it were to come out of a piñata instead of candy I would be totally fine with it.
Topping it with cheese and baking for 20 minutes turns the confetti into an ooey-gooey dish of flavor.
Top with avocado, tomato, and reserved cilantro and be prepared to have your taste buds rocked. Serve with tortilla chips and hot sauce and move on over to the couch for some  much deserved downtime.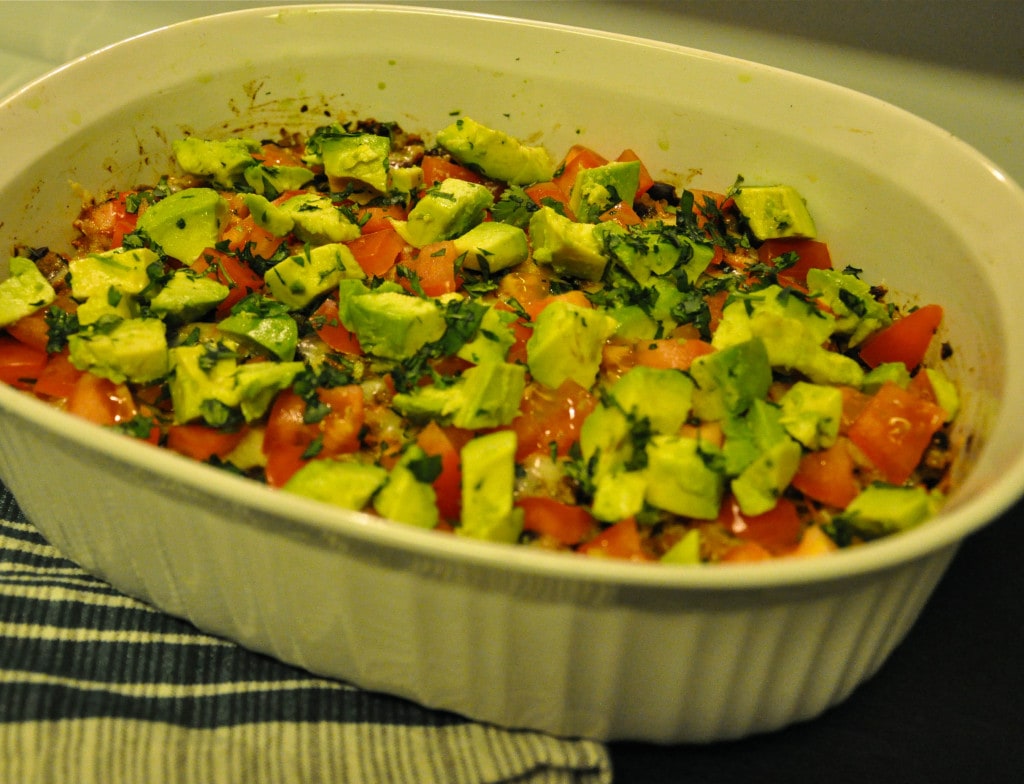 Black Bean Quinoa Casserole
Delicious, fresh tasting black bean quinoa casserole packed with vegetables, spices and other healthy ingredients.
Author:
Feasting not Fasting
Ingredients
1 small onion, chopped
1 tsp. minced garlic
2 bell peppers, chopped
1 zucchini, quartered and sliced
2 carrots, peeled and grated or finely chopped
1 can black beans
1 cup cooked quinoa
1 tsp. coconut oil
1 cup grated cheddar cheese
½ cup salsa
1 tsp. cumin
½ tsp. chili powder
½ tsp. dried oregano
½ tsp salt
juice of one lime
1 tsp. hot sauce
2 Tbsp. cup chopped cilantro
Toppings
2 Tbsp. chopped cilantro
1 Avocado, diced
1 tomato, chopped
Instructions
Preheat oven to 375 degrees F. sauté onion, zucchini, and bell pepper in coconut oil for 3-5 minutes on medium-high until beginning to soften and darken. Add garlic, carrots, cumin and sauté 2-3 minutes longer. Add all remaining ingredients (other than toppings), reserving in half of the cheese. Put mixture into medium sized casserole dish and top with remaining cheese. Bake for 20 minutes until cheese is melted. Remove from oven and top with remaining cilantro, avocado, and tomato. Serve with tortilla chips and hot sauce.
Nutrition Information
Serving size:
4
Calories:
486
Fat:
23.8g
Carbohydrates:
51.9g
Sugar:
6.8g
Sodium:
735mg
Fiber:
12.7g
Protein:
19.1g