Chocolate granola recipe that is made even more decadent by adding toasted coconut, pecans, and topping with a dusting of sea salt. The recipe is made with coconut oil and pure maple syrup instead of refined sugar. Its addictively delicious and tastes just like a chocolate macaroon!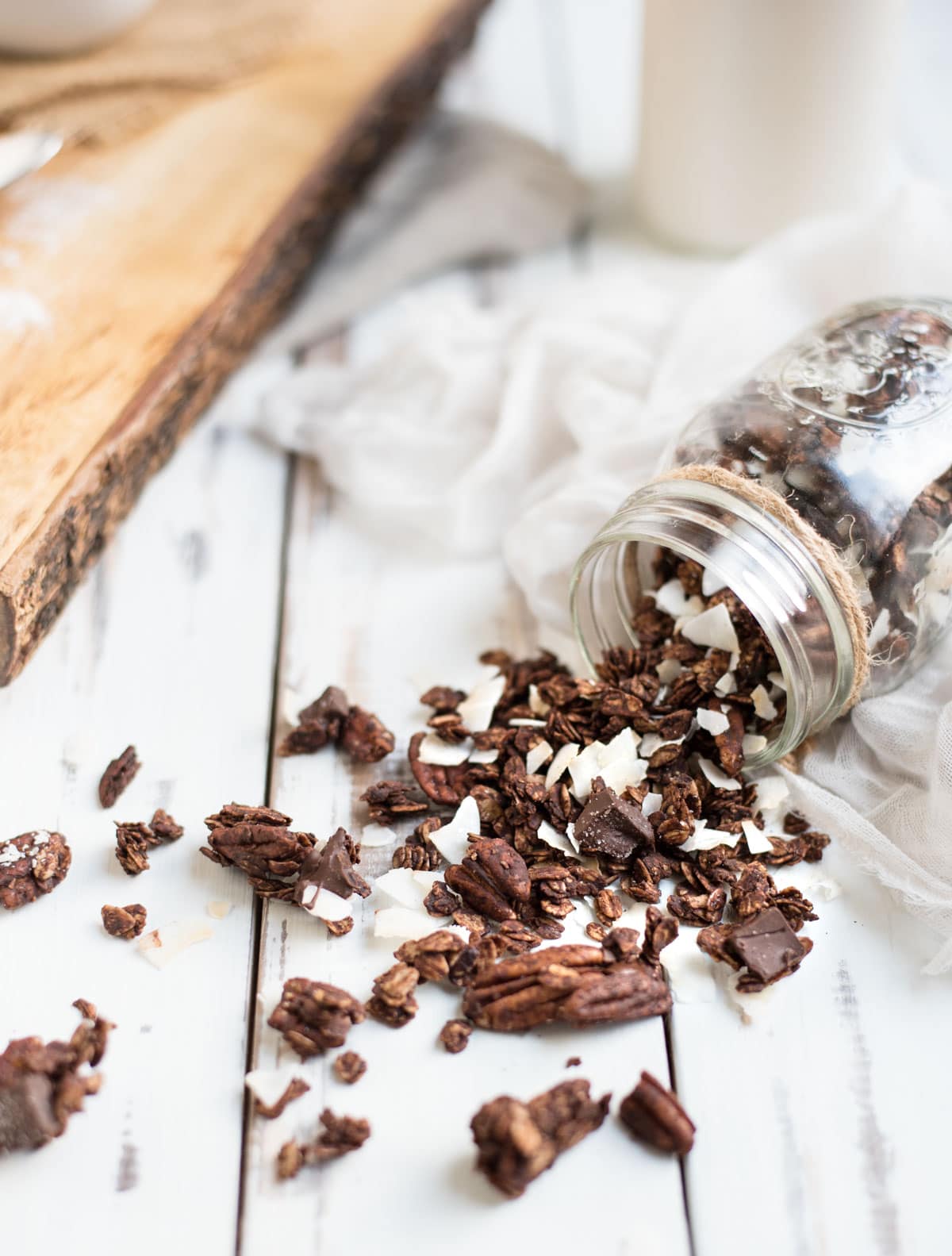 I know I may have said this before about past granolas I've made but, ahem, this one may top 'em all. This salted chocolate granola has coconut, toasty pecans, and two different levels of chocolate. Yup, chocolate on chocolate, and one of said chocolates is melty as can be. Its pretttty much what I'd live on all day errry day if that wouldn't make me have the physique of a marshmallow.
Granola isn't necessarily a health food since pretty much all granola is loaded with sugar and oil. This granola, however, minimizes both and relies on other flavors to round out the full flavor profile and make it still taste nothing like health food. Don't be sketched out! Even without refined sugar, this granola tastes better than any other chocolate granola I've tried, store-bought or homemade. Its all about that maple syrup baby. It makes everything taste delicious. I hate to brag this much about my own recipe, but I also want to convince you to try it. Because you'll love it of course.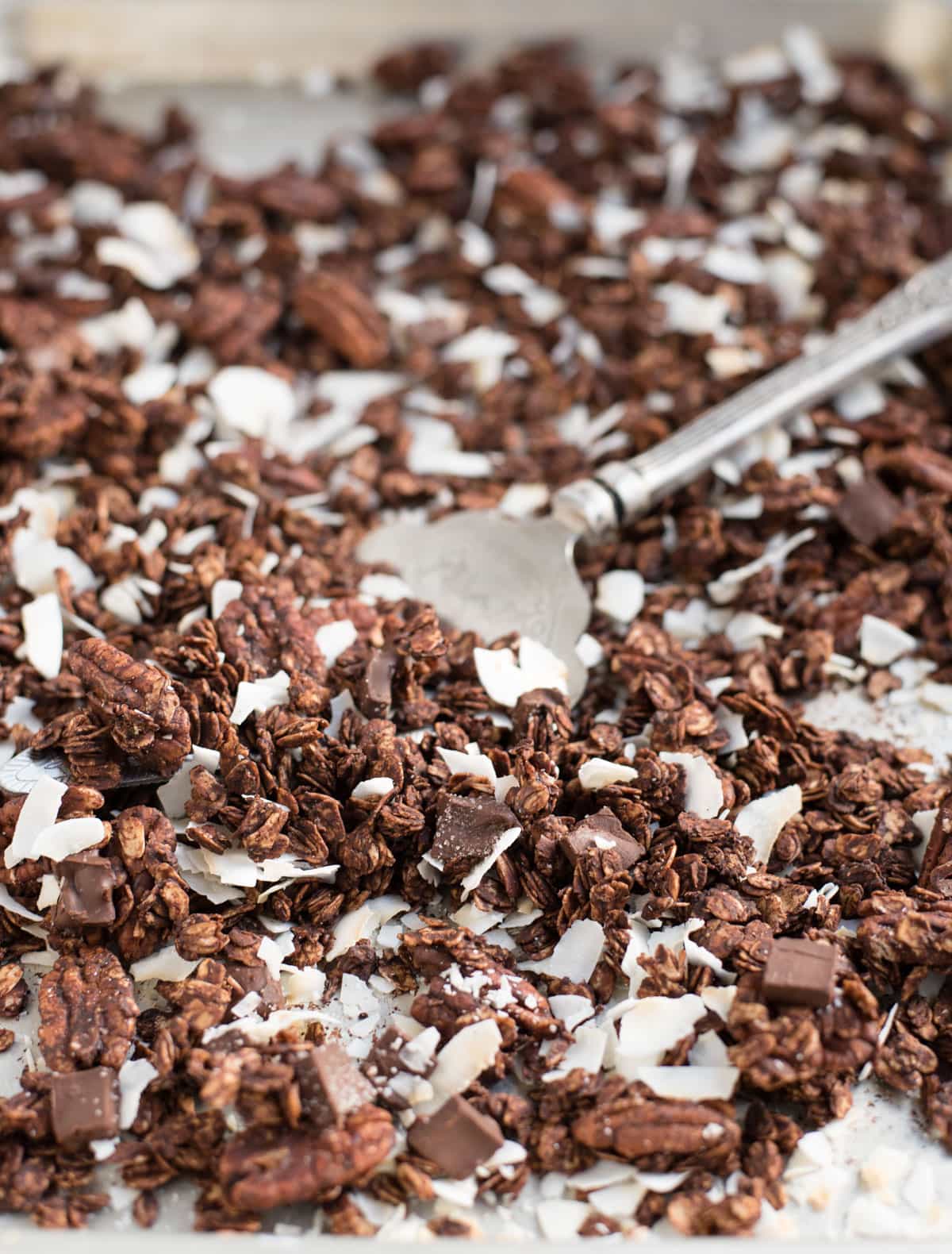 And the dusting of sea salt. How have I not mentioned that yet?? It makes an already good chocolate granola simply divine. I'm not sure when in my adult life time exactly I became aware that salt is the best thing to happen to chocolate in all of history, but it clearly is. I buy this Moonstruck chocolate bar and this chocolate bar all the time. Like, in thinking this over, probably way too often. I always have grand intentions of keeping it stashed away in the cupboard and each bar lasting awhile. Probably goes without saying but they never do.
And the pecans. My oh my do I love those nuts. I like all nuts, but some just work better in certain recipes than others. Almonds, pistachios, macadamia, you name it, love them. But with this chocolate granola, pecans are the perfect nut for the job. You can swap them out with whatever your favorite is of course, as with all recipes, I just wrote it out how I think it works best. You can make it your own if you have other nutty ideas you can't resist implementing. If you're a pecan lover, don't forget to check this spiced pecan recipe out. Its sheer heaven.
We've been all about the granola lately. The key with making this a health food for me, is just using a sprinkle on top of yogurt or as a side to my apple, banana, or whatever fruit I'm munching on. The side snack portion is dangerous and could send you into an all out granola binge, so eating as a yogurt topper is safer for me.
And if you aren't scared of a granola binge, bring the whole jar over to your munching grounds and snack away. Its pretty high in calories so I wouldn't recommend doing this on the regular, but some days call for more snacks than others. I brought a small jar of this on a mini road trip we did to Bend in central Oregon a few weekends ago and demolished it in the few hours I was at our rental without my husband. By demolished, I mean there weren't even crumbs left. That's how addicting this salted chocolate granola is.
You've been warned my friend, you've been warned.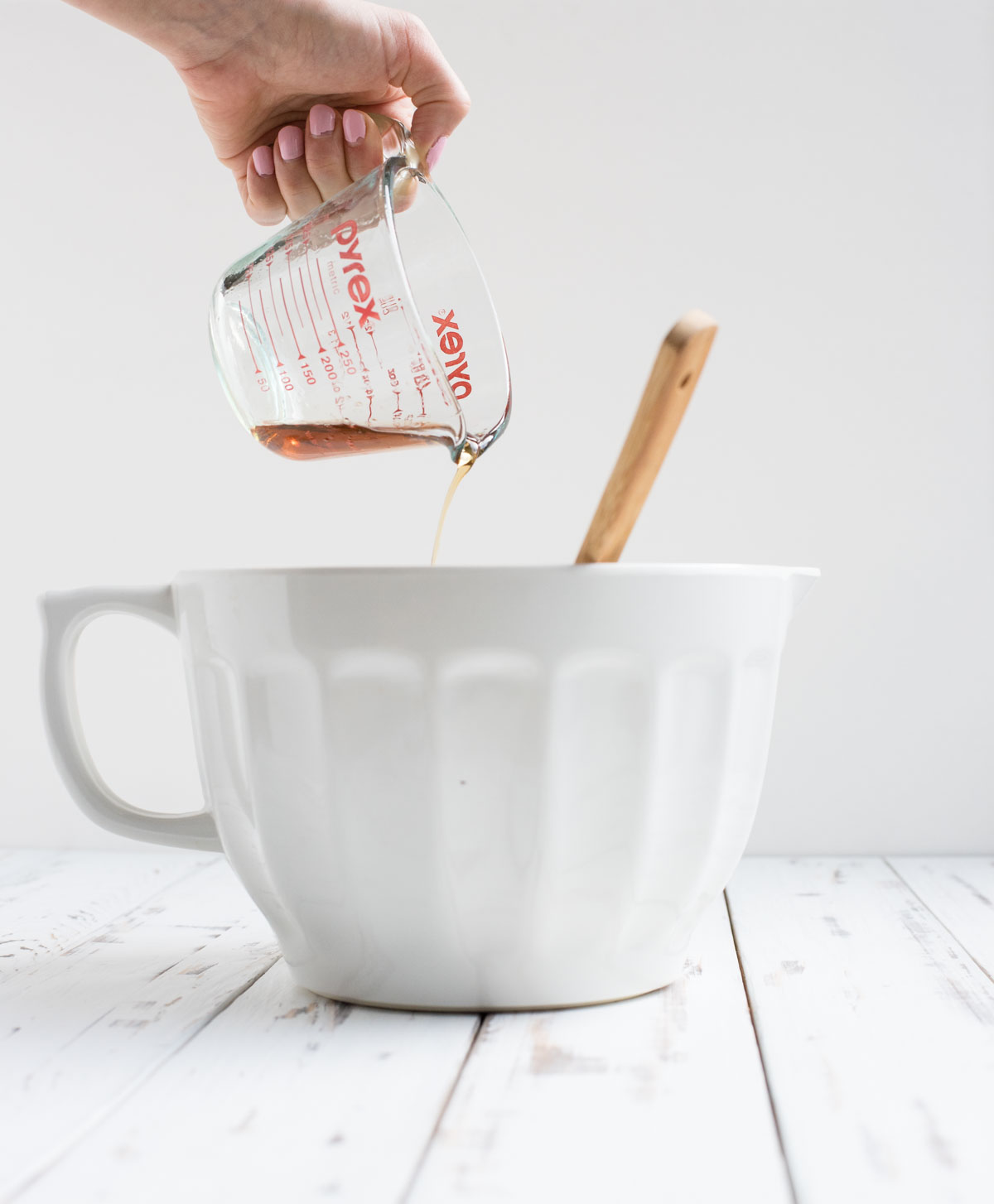 Here's a before an after, but to get the full understanding of how fabulous the after is, you really need a close up...
Okay, that's more like it. Salted chocolate granola in all its glory with toasted coconut, pecans, and enough chocolate to make even the most die hard chocolate lover's heart skip a beat. This is the granola of champions. Of fat, pudgy champions... just kidding. That's what moderation is for right? Riiiiight.
So, I've given this recipe a lot of flack for being loaded with calories and chocolate, but that's kind of the whole point with a recipe like this. This is a treat-yo-self granola. If you want a lighter granola recipe, you're going to have to skip the chocolate I'm afraid. This honey almond granola is a better fit for I-still-need-to-fit-into-my-jeans days. Save the salted chocolate granola for a special treat. Like Tuesday. Tuesdays are special.
And now, here are a few last pics to really sell you on making this. If you ever want to skip past the pics, note that I added a 'Jump to Recipe' button at the top of the page. I won't be offended if you don't read a word I say. Promise.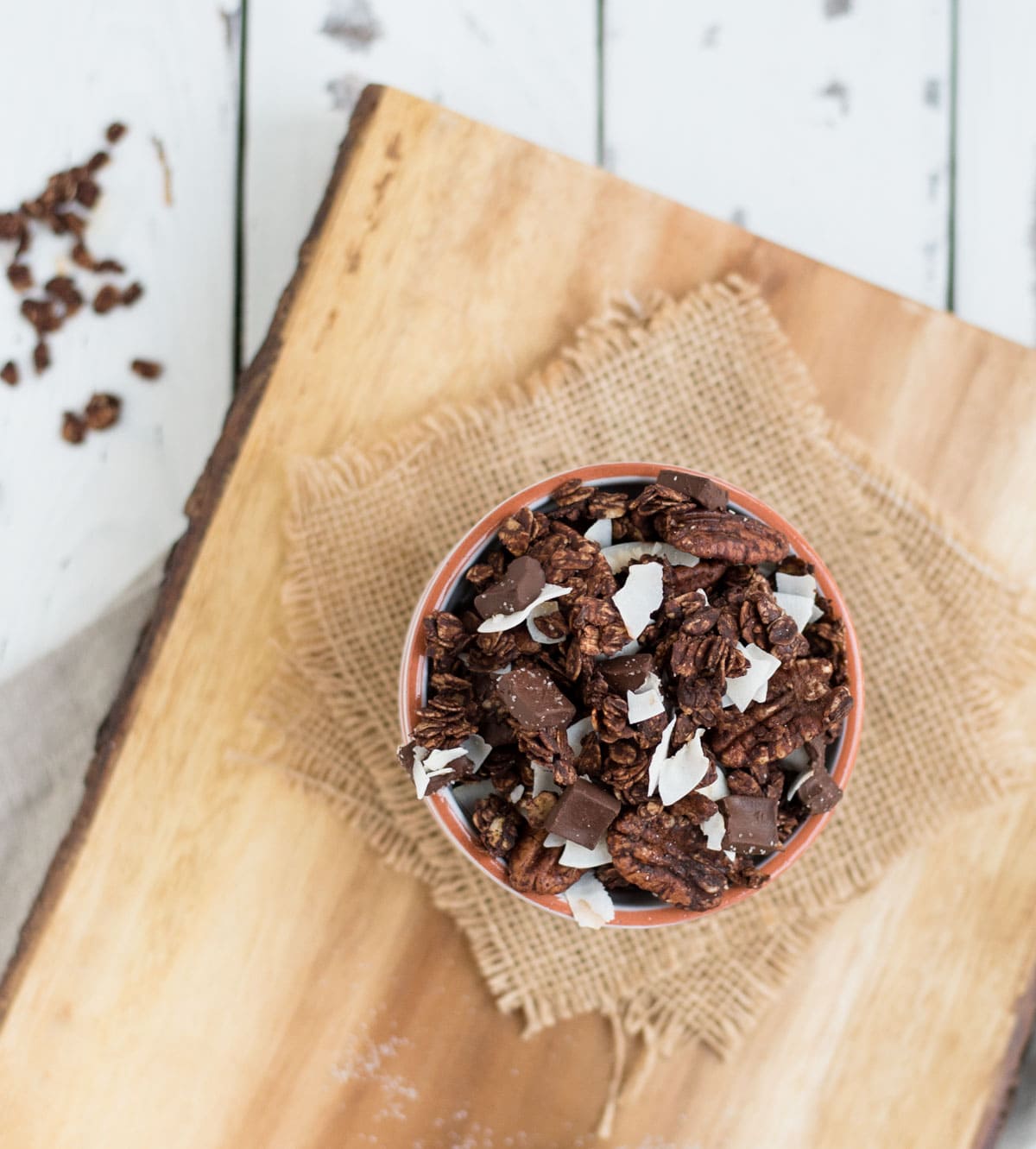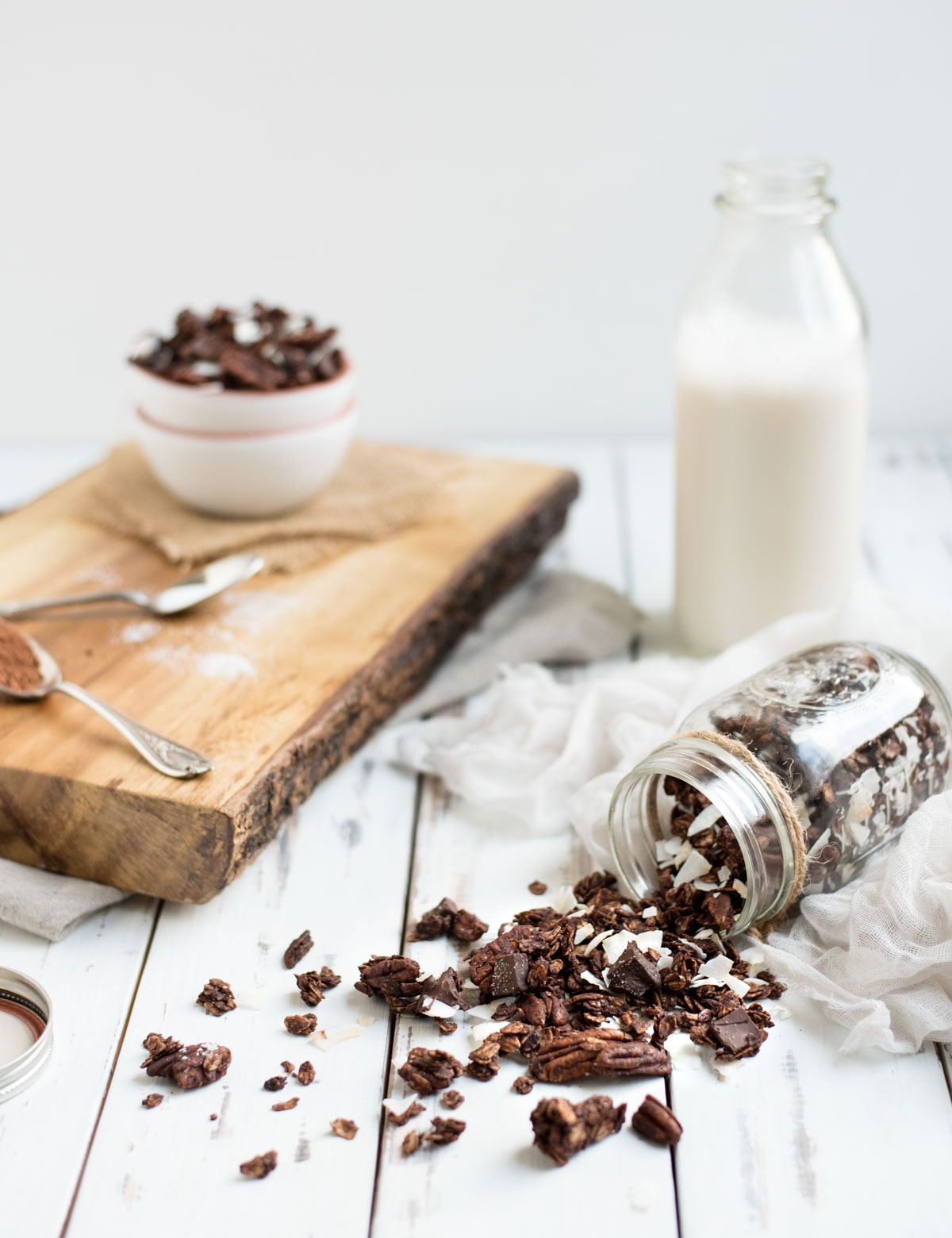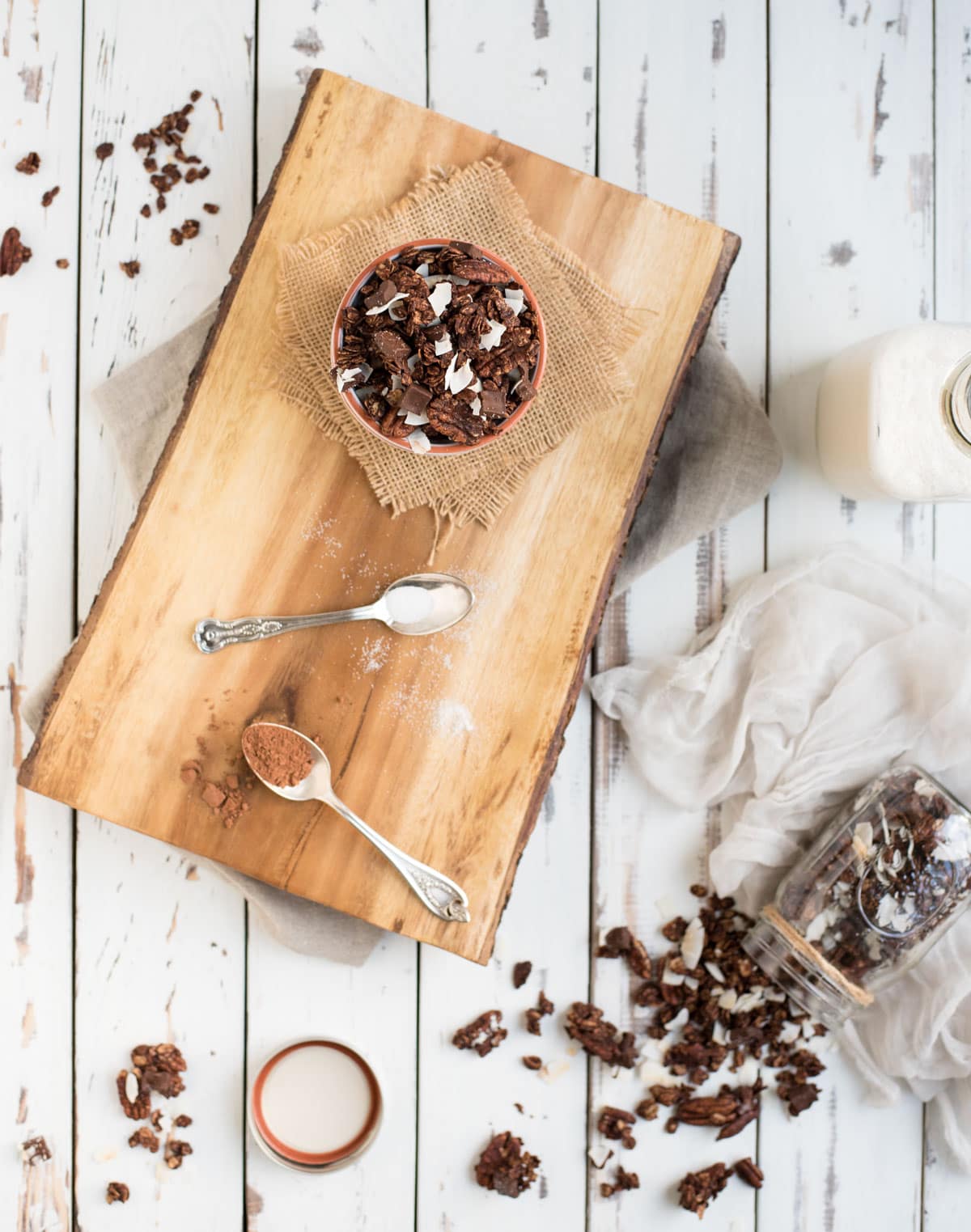 Salted Chocolate Granola Recipe
Chocolate granola recipe that is made even more decadent by adding toasted coconut, pecans, and topping with a dusting of sea salt. The recipe is made with coconut oil and pure maple syrup instead of refined sugar. Its addictively delicious and tastes just like a chocolate macaroon!
Servings
16
servings (1/2 cup each)
Ingredients
4

cups

rolled oats

1 1/2

cups

halved pecans

1 1/2

cups

unsweetened coconut flakes

1

tsp.

sea salt, divided

1/2

cup

cocoa powder

1/3

cup

coconut oil, melted

1/2

cup

pure maple syrup

(can reduce to 1/3 cup to make less sweet)

1

tsp.

coconut extract

1

tsp.

vanilla extract

1/2

cup

chocolate chunks
Instructions
Toss oats, pecans, ½ tsp. salt, and cocoa powder together.


Mix coconut oil, maple syrup, coconut and vanilla extracts in a small bowl separately. Stir in to oat mixture, making sure the oats and nuts are all evenly coated.


Spread the mixture out over a large pan. Place pan in preheated oven and bake for half hour.


Remove pan from oven, sprinkle with coconut flakes and lightly stir. Be careful not to break up the chunks. Place pan back in oven and bake for another 20 minutes.


Remove pan from oven and add chocolate chips. Sprinkle with remaining ½ tsp. sea salt. Place pan back in oven and bake for 3-5 minutes, until the chocolate just starts to melt.


Remove from oven and let cool and harden for 2-3 hours until chocolate has fully hardened. Place granola in an airtight container for up to two weeks.

Nutrition
Calories:
298
kcal
|
Carbohydrates:
28
g
|
Protein:
4
g
|
Fat:
20
g
|
Saturated Fat:
10
g
|
Sodium:
125
mg
|
Potassium:
248
mg
|
Fiber:
5
g
|
Sugar:
9
g
|
Vitamin A:
5
IU
|
Vitamin C:
0.2
mg
|
Calcium:
37
mg
|
Iron:
2.1
mg
Did you make the recipe? I love seeing your creations!
To be featured tag @FeastingNotFasting on Instagram and use the hashtag #FeastingNotFasting - please leave a star rating below too! ★★★★★