Nutrient rich soba noodles smothered in creamy, delicious peanut sauce and tossed with fresh vegetables and Thai basil for a tasty and healthy main dish.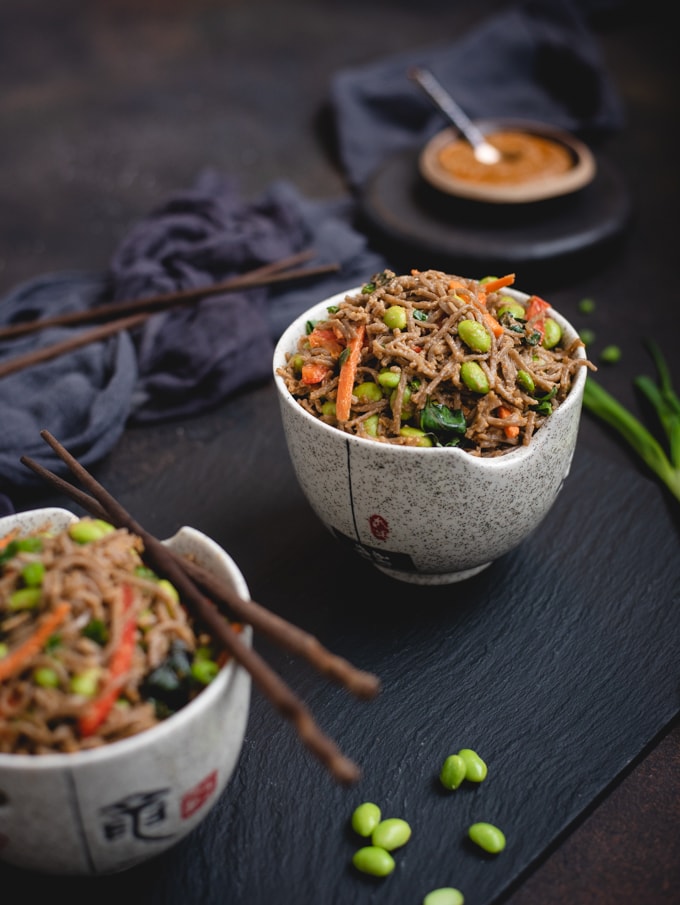 Few things are as comforting as a big bowl of noodles. Slather those noodles in peanut sauce and its basically like a warm, delicious hug. It's naturally vegan without even trying too! I went for vegetarian and then realized the recipe was full on vegan by accident but still manages to be incredibly filling and chock full of plant based protein.
This tasty vegan one dish dinner is rich and filling with all kinds of nutritious ingredients and healthy fats. My version of soba noodles with peanut sauce is inspired by a sinfully good looking picture on Pinch of Yum that practically had me drooling.
I shared my peanut sauce recipe a few weeks ago, but it has been floating around this site being used in borth this and a few other recipes over the years. It's seriously delicious people. It took quite a few tries to master the art of peanut sauce making, but the end result was worth the effort. I've been making it this way for the last 5 years so it's vetted and pairs perfectly with the soba noodles and veggies in this dish.
Why should I make this recipe?
If you're looking for a light vegetarian meal that's absolutely loaded with nutrition but bursting with flavor, this is it. Plus, it's a protein powerhouse with protein coming from three source, the peanut butter, the soba noodles, and the edamame. For more information on how nutritious soba noodles are, Dr. Axe has a good article on this.
Sure, it isn't low carb but I don't really care. Paleo shmaleo. Keeto shmeeto. This recipe is full of all kinds of healthy ingredients. Red peppers have over three times the amount of Vitamin C as oranges have.
In addition to being high protein and healthy, its so incredibly creamy and delicious! Like so tasty with just the right level of spice, crunchy texture of veggies, and freshness from the herbs. Plus, kids like it too! My niece and nephew gobbled it up and they're picky little buggers.
Soba noodles with peanut sauce can be eaten hot or cold making it the perfect lunch to take on the go. I like it better hot, but the next day when the flavors have melded, it's great chilled or at room temperature.
And did I mention how easy it is?
There are so many shortcuts in this recipe between using raw veggies, cooking the peanut sauce while the noodles cook and boiling the edamame with the noodles.
What ingredients do I need?
This really is a simple recipe and since it doesn't include any meat or cooked veggies, its super quick and easy to make. It looks like there's a lot to it but most of the ingredients are for the peanut sauce and you just throw them in a pot, heat and stir.
The ingredients include:
soba noodles
carrots
red pepper
Thai basil
edamame
peanut butter
Lite coconut milk
ginger (to make it even easier, use the pre-minced kind)
coconut sugar
Apple cider vinegar
Soy sauce
Lime juice
In choosing soba noodles, there are oodles of options. Oodles of noodles if you will. Just make sure to get the 100% buckwheat kind if you want the most nutrition.
Soy should be high on the priority list when choosing what to buy organic, but if you don't eat a lot of soy in general, you're probably fine either way.
Can I swap any of these ingredients out?
I used carrots and red pepper as the veggies but you could easily swap these with snap peas, cucumber slices or something else that doesn't need to be cooked. You could probably swap out the basil for cilantro too if you want. And if you're not a vegetarian and want it to be meaty, chicken would a seamless add in but any kind of protein would work really.
For the peanut sauce, you can swap out powdered ginger for fresh if needed. You can use any kind of sugar too, I just listed coconut sugar here since its slightly more natural/ less high glycemic and goes well with the other ingredients. White distilled vinegar can be used instead of the ACV too.
If you're worried about the spice level curry paste brings to the table, try just adding a half tablespoon to start off and then add more if you want to take it up a notch. Spiciness really depends on the brand but you can always add more so err on the side of caution, taste, and adjust as needed.
What tools do I need?
All you really truly need is a sharp knife, cutting board, a pan for the peanut sauce, and a bowl to toss it all into. A julienne peeler does make getting the carrots into skinny pieces easier though. I can't find the version I have online, but this peeler
is pretty similar.
Don't get me wrong, I love my inspiralizer
and all, but using a julienne peeler is much quicker, easier to clean, and seems to work better with carrots. Or, you can always just slice them really thin with a knife if you're a real pro.
Nutrient rich soba noodles smothered in creamy, delicious peanut sauce and tossed with fresh vegetables and Thai basil for a tasty and healthy main dish.
Ingredients
8 ounces buckwheat soba noodles
2 carrots, peeled and julienned
1 red pepper, thinly sliced
10 ounce pkg. frozen pre-shelled edamame beans, defrosted
3 green onions, sliced
½ cup Thai basil leaves, roughly torn
1 ¾ cup Peanut sauce (1 full recipe)
Instructions
Bring a large pot of water to a boil over high heat.

While water is coming to a boil, make peanut sauce (separate recipe linked above but included in total cooking time).

Add soba noodles and edamame beans to boiling water and cook for about 4 minutes.

Drain noodles and beans and toss with peanut sauce, carrot, red pepper, green onion, and basil. This dish can be eaten hot or chilled.
Nutrition
Calories: 576kcal | Carbohydrates: 79g | Protein: 23g | Fat: 19g | Saturated Fat: 1g | Sodium: 1938mg | Potassium: 646mg | Fiber: 5g | Sugar: 23g | Vitamin A: 6275IU | Vitamin C: 46.4mg | Calcium: 86mg | Iron: 3.6mg