Spinach artichoke stuffed portobello mushrooms are a delicious, easy, vegetarian dinner that takes 20 minutes to prep making it great for busy weeknights!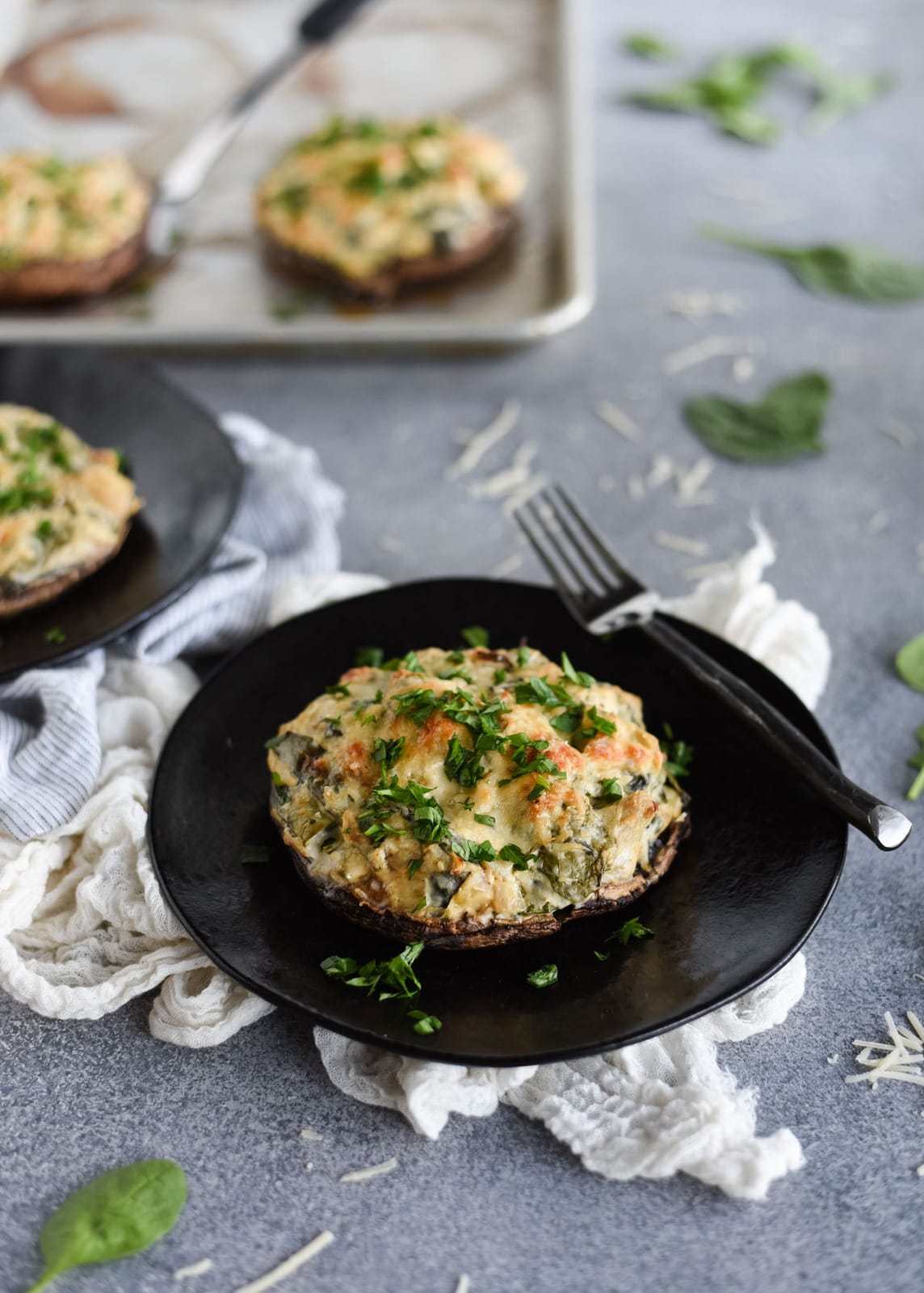 I don't know about you but I could shovel spinach artichoke dip into my mouth on its own. No cracker needed, they're simply a formality. Something about that cheesy, creamy mashup really does it for me. I'm talking about gooood spinach artichoke dip, not the crappy kind (obvi). Its so easy to do right but gets done wrong so often. What gives?
I think its all about the ratio of spinach, artichokes, and parmesan to the cream cheese. You need that texture to make it truly exceptional. So now that you've got appetizers on the mind, imagine making a batch of delicious spinach artichoke dip into a full on dinner. Sounds too good to be true right? Wrong. You just need to lighten it up a bit and then stuff it into a mushroom. Easy enough and the end result hits all the right spots that our favorite dip does!
Although the cooking time takes 30 minutes, you're really only on your feet for about 20 prepping the recipe. These swollen feet can work with 20. Here's a play by play to show you how easy this recipe truly is: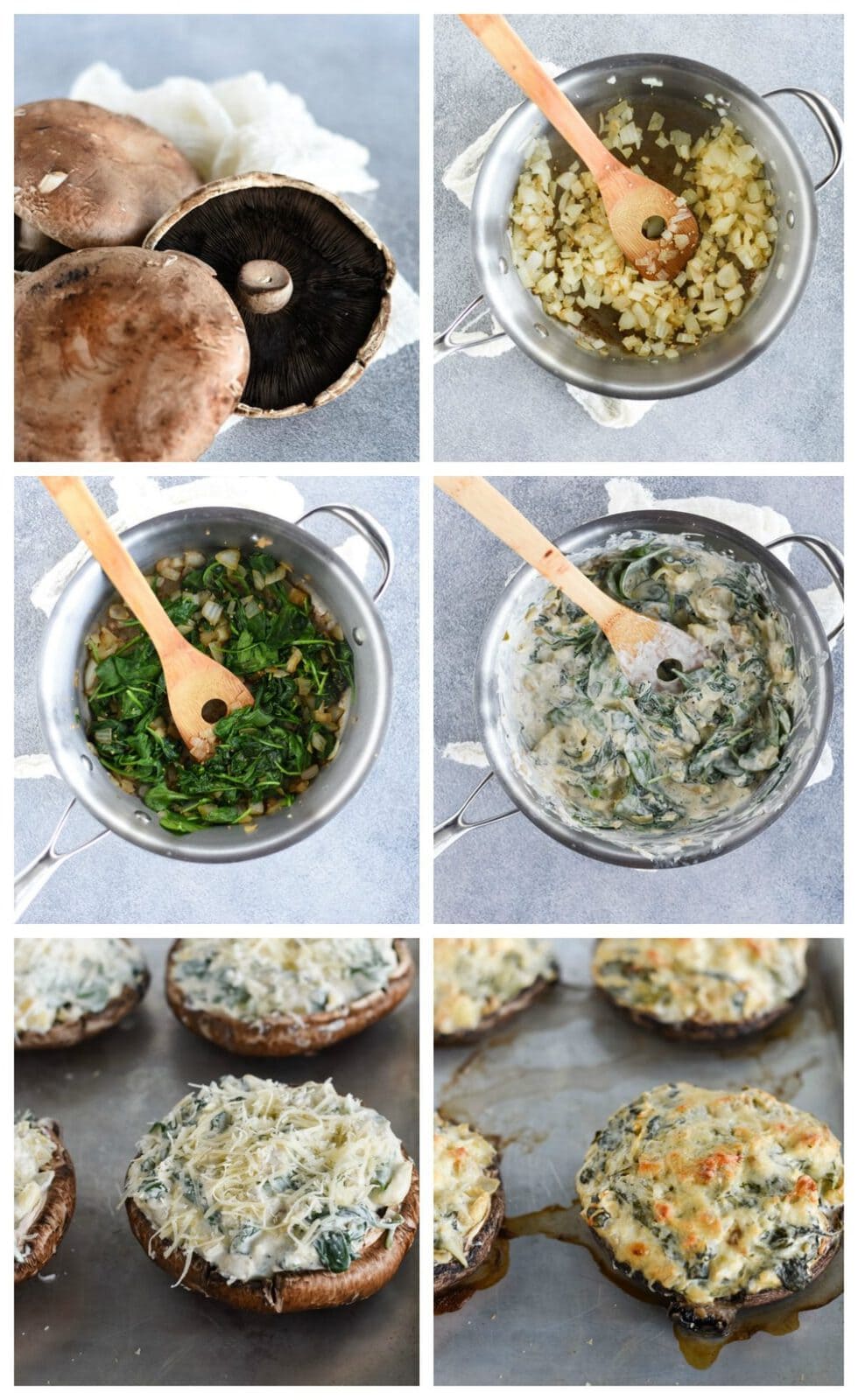 See, that's not too hard!
These spinach artichoke stuffed portobello mushrooms are truly one of my favorite dinners I've made recently. Granted, at nine months pregnant, I'm not really up to the task of cooking much, but that's neither here nor there. They would've made the favorites list either way.
I actually wasn't even planning on making this recipe into a blog post, but after we tried them, I knew I was destined to share them with the world. Everyone seemed to love this marinaded baked portobello recipe so I figured this one may strike a similar cord with you all.
We have been eating tons of fish from our Alaska trip this summer so getting some meatless meals in the rotation has become a priority. One of my go-to's for vegetarian dinners is stuffing veggies. Be it stuffed portobello mushrooms or stuffed peppers, I just love the idea of getting some extra veggies that way. They get roasted to perfection which compliments whatever you stuff them with. This is perrrrfect for these spinach artichoke stuffed portobello mushrooms since the roastiness adds so much flavor.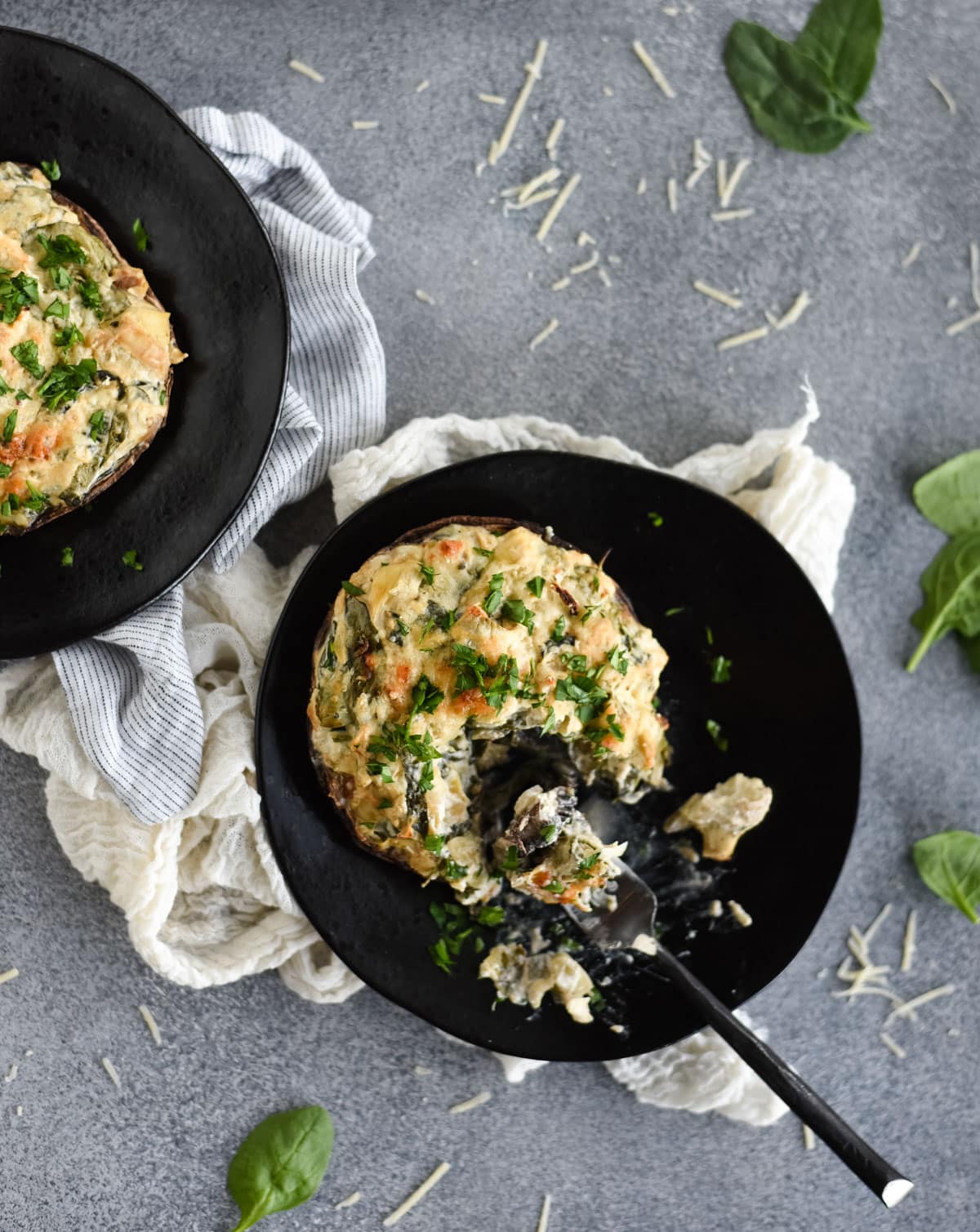 While this recipe isn't for the dairy sensitive, it is pretty low calorie and healthy. Using Greek yogurt instead of sour cream lightens the recipe up and adds a punch of extra protein, bringing the total protein content up to 18 grams per serving. That's pretty decent in my book. I used Fage 2% one time and Nancy's organic yogurt other times since that's normally what I have on hand. With Nancy's I typically use the full fat one, but using the low-fat one is completely fine in this recipe.
One thing to note, since this recipe is very low calorie, you may want to pair with a side salad or just plan for a snack in a few hours. I normally just choose to snack, but I'm a snacker so nibbling is inevitable anyways.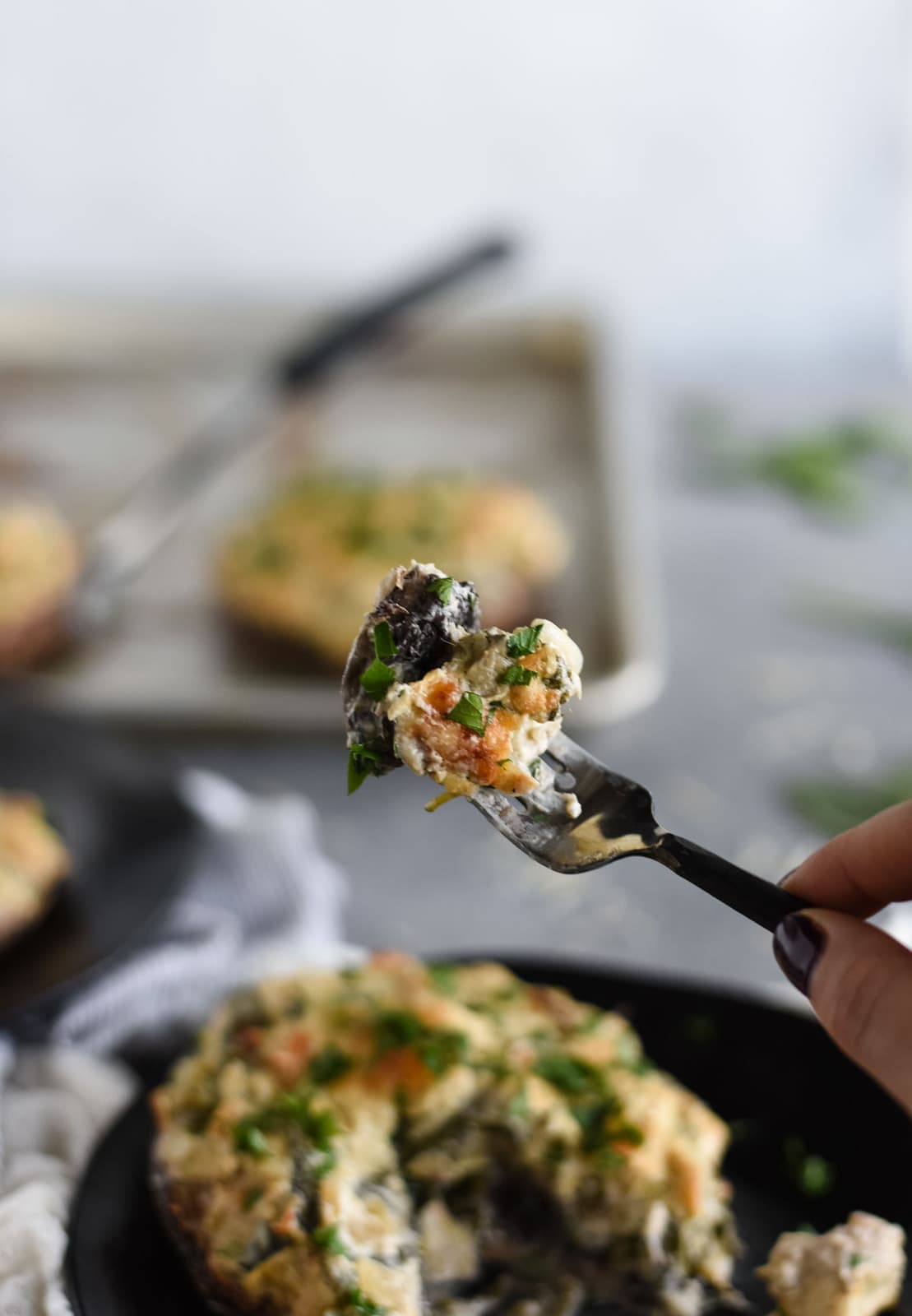 We've been on a nightly fruit salad kick lately. I guess that's nothing new, but this whole pregnancy, I've been obsessed with fruit. Now that the summer berries are gone, pineapple has become my life. If only it didn't bring on wicked heartburn from the depths of hell, I'd really be set.
Fruit salad aside, stuffed portobello mushrooms of various kinds are actually a dish I make a lot so its a wonder more recipes haven't made it blog-side yet! If this is something you're into too, let me know and we can change that. I've got a plethora of fillings that I stuff these things with so I'm more than prepared to give you some new ideas on this. Just say the word my friends and stuffed portobello mushrooms will start gracing your table as often as mine.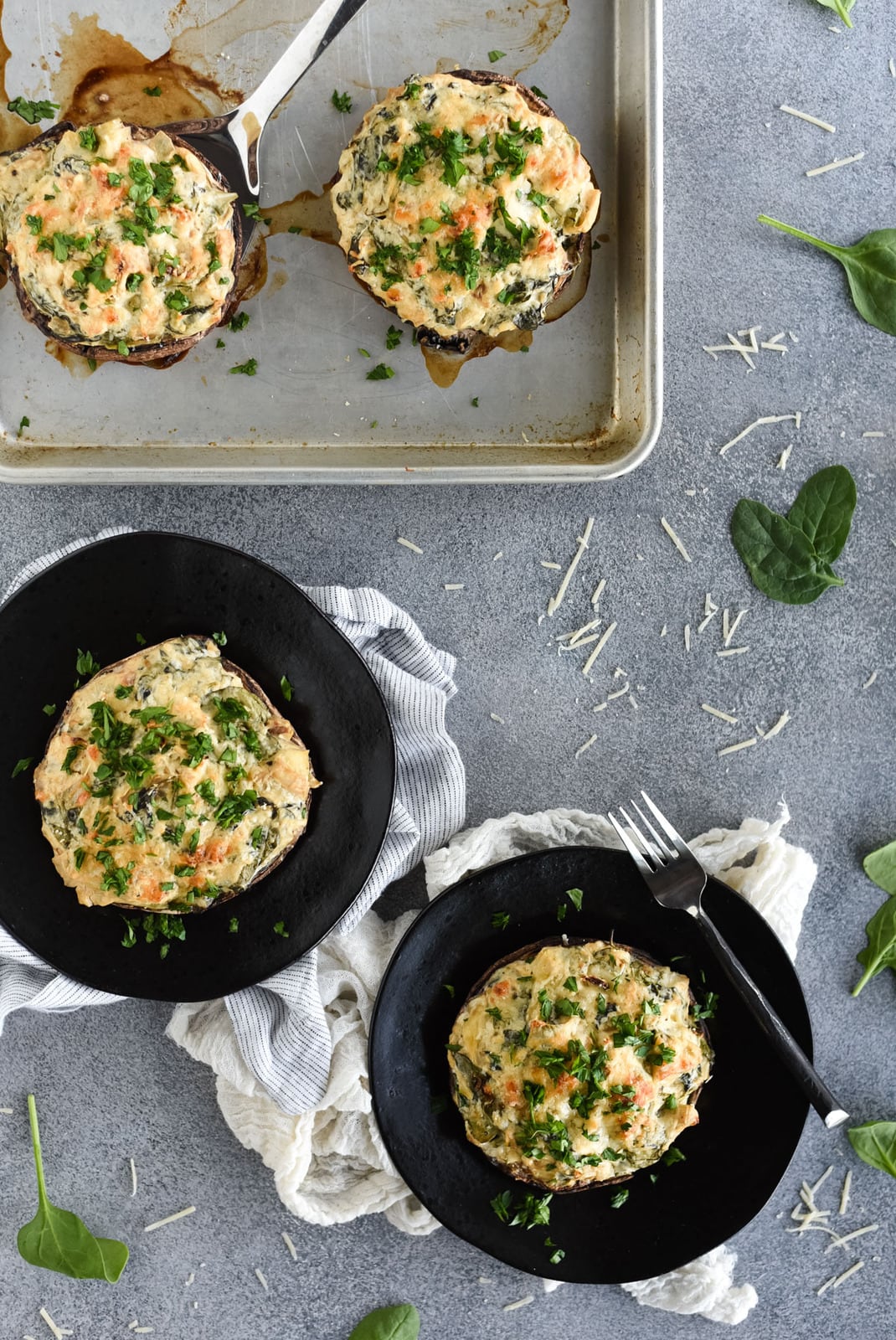 Spinach artichoke stuffed portobello mushrooms are a delicious, easy, vegetarian dinner that takes 20 minutes to prep making it great for busy weeknights!
Ingredients
4 large portobello mushrooms, stems removed
1 tsp. oil I used avocado oil
1 medium onion, chopped about 1 cup
1 tsp. minced garlic
10 oz. baby spinach about 6 cups
8 oz. low fat cream cheese don't use non-fat
3/4 cup plain Greek yogurt don't use non-fat, I used Fage 2% or Nancy's
14 oz. can quartered artichoke hearts
1/2 tsp. salt
1/2 tsp. black pepper
1/2 cup finely shredded parmesan cheese
1 Tbsp. Chopped fresh parsley to garnish optional
Instructions
Preheat oven to 400° F (205° C).

Heat oil over medium-high heat in a large rimmed skillet.

Add onion and sauté 5-6 minutes until softened and starting to turn translucent.

Add garlic and sauté 1-2 minutes longer.

Reduce heat and add spinach slowly. Cook down for about 2 minutes until mostly wilted (don't cook too long).

Remove from heat and add cream cheese, yogurt, artichoke hearts, salt, pepper, and half of the parmesan cheese (1/4 cup) and stir to mix in.

Place portobello caps stem side up into a rimmed baking dish. Evenly stuff each with filling and sprinkle tops with parmesan cheese.

Place in a pre-heated oven and bake for 30 minutes until cheese on top is lightly browned and mushrooms are cooked through. Garnishing with fresh chopped parsley is optional. Serve immediately.
Nutrition
Calories: 360kcal | Carbohydrates: 20g | Protein: 18g | Fat: 23g | Saturated Fat: 8g | Cholesterol: 43mg | Sodium: 1153mg | Potassium: 970mg | Fiber: 5g | Sugar: 9g | Vitamin A: 8370IU | Vitamin C: 48.1mg | Calcium: 371mg | Iron: 3.5mg