Marinated and then baked, these portobello mushrooms are simply the best, whether as a side accompanying another entrée or as a vegetarian main dish.
Time really got away from me this month. I can't believe it has been over two weeks since I shared that spinach recipe! We had Ted's uncle and his girlfriend staying from Russia last week and then overnight guests three nights this week. All the while toiling away on a side project with my husband.
Buuut, it doesn't matter how busy it has been. Its my day off, the blues are pumping through my speakers, and I'm back and excited to share these portobello mushrooms with you.
These portobellos are all kinds of awesome – delicious, easy, healthy and versatile. Mushrooms are great for the immune system too which makes them perrrrfect for fall and winter when noses are runny and sleep is lacking.
I mean they're enough of an immune booster that I keep these pills in my medicine cabinet all season to ward off any would be illnesses. I'm not normally one for supplements but these truly seem to do wonders. Since they're rather spendy, I just take them whenever I am feeling overworked, underslept, and at risk of getting sick.
And for more good news, the husband and his Russian posse picked a ton of chanterelles last week so I've been working on a few more mushroom recipes for you all!
In addition to being loaded with nutrients, portobello mushrooms happen to be extremely low in calories so they're great for weight loss (or to make up for downing too much cheese and wine along with them – no judgments here).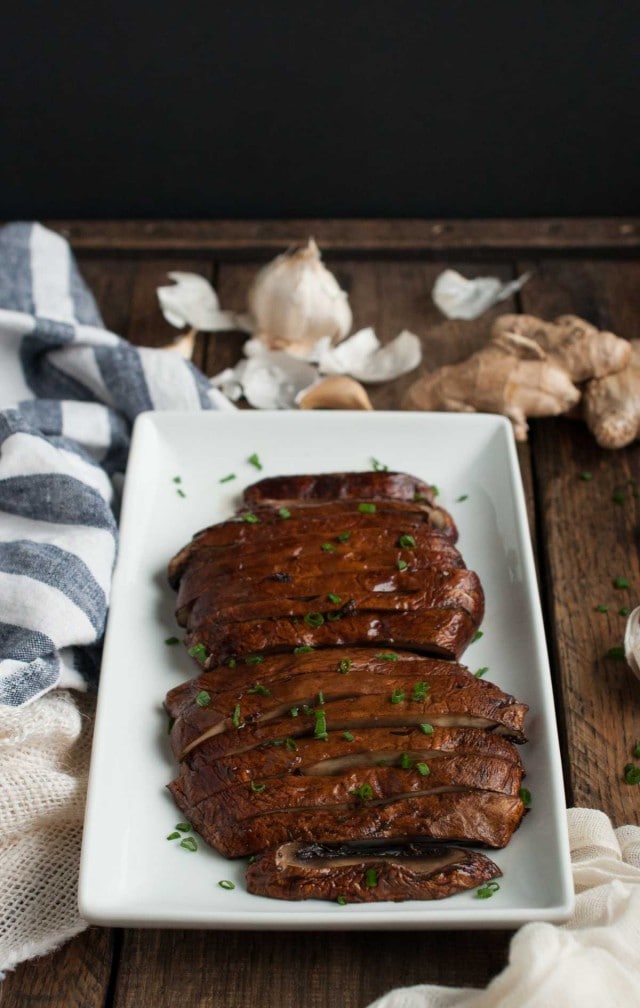 This recipe is extremely simple. Almost too simple actually. In making these portobello mushrooms, you'll end up with extra time on your hands that you thought would be spent on dinner. I know. The horror!
Next thing you know, you'll be pouring yourself a glass of wine and relaxing. The risk of relaxation is huge with this recipe so consider yourself forewarned.
First you mix up a simple marinade that takes about 5 minutes flat. Then you toss those portobellos in the marinade and let them sit while you prep something else. Yes, this also means that it is a one dish meal, all made in the same dish – woohoo!
I usually start some teriyaki style rice while the shrooms are marinating and serve this as the main dish over the rice or serve both as sides, alongside some kind of meat. If using this as the main, you might want to serve something on the side with a little more protein or throw some legumes all up into that rice to make it more filling.
Once the mushrooms have sat for a good 15 – 20, toss 'em in the oven and bake, bake away.
After a quick flip, they'll come out looking like this. Yum!
Now, remove those flavor packed works of edible art from the pan and soak that thing immediately!!! I can't stress this part enough. Or, if you have more hindsight than I ever seem to, line the pan with aluminum foil before baking to make clean up a breeze.
You can do it the easy or the hard way. Its up to you.
From here, wrap up anything else you're doing and down that last gulp of wine because dinner is on. The rice should be done cooking by now and you'll have had plenty of time to whip up anything else you're serving with these scrumptious portobello mushrooms.
I chose to snip a few chives over the top sheerly for aesthetic purposes, but this is entirely optional and doesn't do much of anything for flavor.
Remember how I said the texture of portobello mushrooms is downright meaty? Well, check out how meaty it looks too. I mean there's something about this that looks oddly like some kind of vegetarian quasi-meatloaf to me.
Who needs the beef when you've got veggies that look like beef?
Well, I know some of you do, and for those of you, I've already given you full consent to use this as a side dish instead of the main course. It pairs wonderfully with steak. Like, REALLY wonderfully.
No matter what you serve these with, I want this recipe to work just as well for you as it has for me. This being said – portobello mushrooms come in all different sizes. As you can see, the ones I used were ginormous. I can't remember the exact weight but I know they weighed well over a pound together.
Not all portobellos will be this ridiculously huge. If yours are a bit smaller, the amount of sauce should still work fine. If yours are bigger though or if you're using three smaller portobellos, you might want to scale the sauce up a bit. The risk of under-saucing is more dire than the risk of over-saucing with this recipe.
If yours are even more ginormous than mine, another half of the recipe (3 T soy sauce instead of 2, 1 1/2 T balsamic, etc.) should make sure the mushrooms get saucy enough.
Another option is to double the sauce recipe and use two portobellos and two red peppers. When doing this, I just cut the red peppers in half, remove the seeds, flatten a bit with my hand, and marinade and bake alongside the mushrooms. This adds a nice variety when eating as a main course.
Enjoy this one and Happy (soon to be) Halloween!
Baked Portobello Mushrooms (THE Best!)
Marinated and then baked, these portobello mushrooms are simply the best, whether as a side accompanying another entrée or as a vegetarian main dish.
Ingredients
2

large portabello mushrooms

2

Tbsp.

soy sauce

use tamari if needed to be gluten free

1

Tbsp.

balsamic vinegar

1/2

tsp.

minced garlic

1/4

tsp.

minced or grated ginger root

1/2

Tbsp.

olive oil
Instructions
Preheat oven to 400° F (205° C).

Find a baking dish that will fit both mushroom caps (tightly line dish in foil to make clean up easier if desired). Add all ingredients except mushroom caps and stir to create marinade.

Add mushrooms and rub sauce onto them. Let sit for 15 minutes, stem side down.

Once 15 minutes is up, rub mushrooms again with sauce before placing dish in the oven.

Bake for 15 minutes. Remove and turn mushrooms over. If there is any sauce left in the pan, spoon it over the mushrooms. Continue baking another 5-15 minutes (exact cooking time will vary based on mushroom size).

Remove mushrooms and let sit for 5 minutes before slicing and serving.
Nutrition
Calories:
68
kcal
|
Carbohydrates:
5
g
|
Protein:
3
g
|
Fat:
4
g
|
Sodium:
835
mg
|
Potassium:
337
mg
|
Fiber:
1
g
|
Sugar:
3
g
|
Iron:
0.6
mg
Did you make the recipe? I love seeing your creations!
To be featured tag @FeastingNotFasting on Instagram and use the hashtag #FeastingNotFasting - please leave a star rating below too! ★★★★★