This Russian healthy zucchini tomato dip can be used as a dip or spread and is made from vegetables so its a healthy appetizer that is still delicious!
This zucchini tomato dip is the best healthy appetizer you can make. With just three main ingredients – zucchini, onion, and tomato, it's naturally vegan, gluten free, and epically delicious. Caramelizing the vegetables brings out the natural sugars and when balanced with a touch of salt and pepper, the simple flavors come together in the best possible way.
We make this dip a lot in the summer with garden fresh zucchini and tomato, but honestly, I think we make it around the holiday season just as much. It's refreshing to have an appetizer on your holiday spread that isn't laden with dairy, calories, and fat.
Believe me, I love all of that, but sometimes you need a break amidst the chaos. If you're looking for some rich, more decadent appetizers, make sure to check out my rosemary grape crostini and baked feta recipes. They're both utterly to die for.
But, regardless of how many appetizer recipes are out there – how many are made of ingredients like these? Straight veggies, a touch of oil, and some spices. That's what makes this zucchini tomato dip so surprising in it's tastiness.
This zucchini tomato dip requires some chopping, but what veggie based recipe doesn't. It's to be expected. Plus, all ingredients are going straight into a pan to become mush so you can be pretty sloppy about the chopping. Just keep the pieces small so they caramelize and cook quickly.
Origin
My Russian husband and his mom have been making this recipe for yeeeears. I'm sure it started back in the mother lands long before I met them. Its so simple to prepare but always gets demolished first at every gathering we make it for.
My mother-in-law is an excellent cook and whenever she makes this recipe, it turns out best of all, but I think I've captured the essence of her recipe magic here. Sometimes she adds a touch of this or a touch of that but this is the base, foolproof recipe. The cumin addition was actually something I noticed she did last time and is completely optional, but adds a nice touch that isn't in most Russian ikra recipes I've seen.
This zucchini tomato dip has many names from ikra to zucchini caviar, but we don't get fancy with all of this and normally just refer to it as "that bomb veggie dip" or something else equally random and non-specific. Call it what you want, at the end of the day, it's truly the same thing.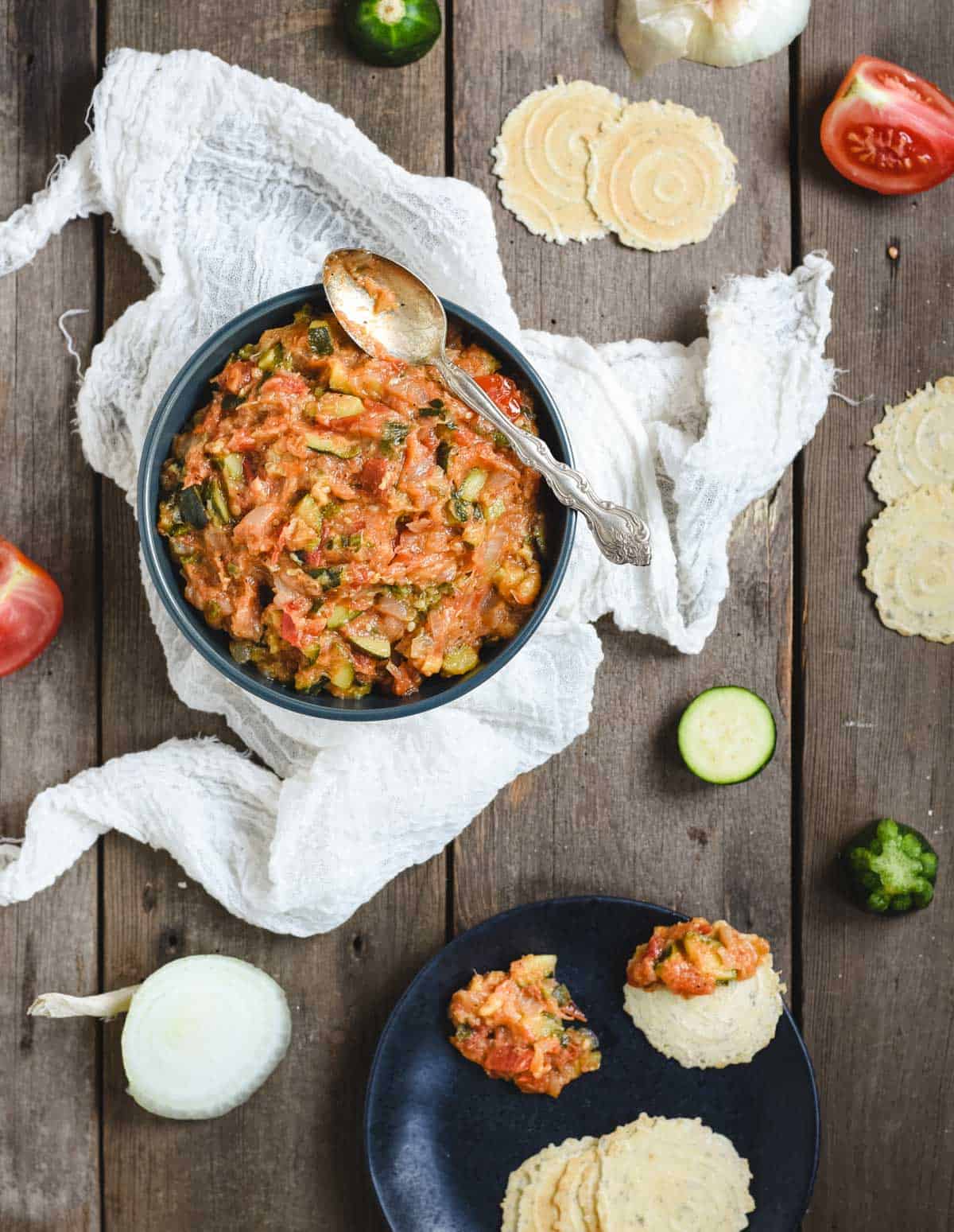 Ingredients
The ingredients couldn't be more simple. All you need is:
Zucchini
Tomato
Onion
Salt
Pepper
Cumin
Sugar (optional!)
When it comes to spices, I prefer this recipe simple with just the base ingredients listed. It makes a good base though if you do want to play around with adding different spices. This zucchini tomato dip really doesn't need much though, keep it simple and don't add spices until late in the game so you can make sure you don't over season.
Is it Vegan, Whole 30, Paleo, or Keto compliant?
Yes, yes, yes, and yes. For paleo, just make sure to use coconut sugar if using any at all. Skip the sugar to make it Whole 30 and Keto compliant and use a sweet onion and carrot instead per the notes in the recipe card.
How to Make Ikra
This dip takes awhile to make but is so simple at the same time. You start with chopping the veggies. Drain excess liquid from tomatoes and squeeze a little of the water from the zucchini to help with caramelization.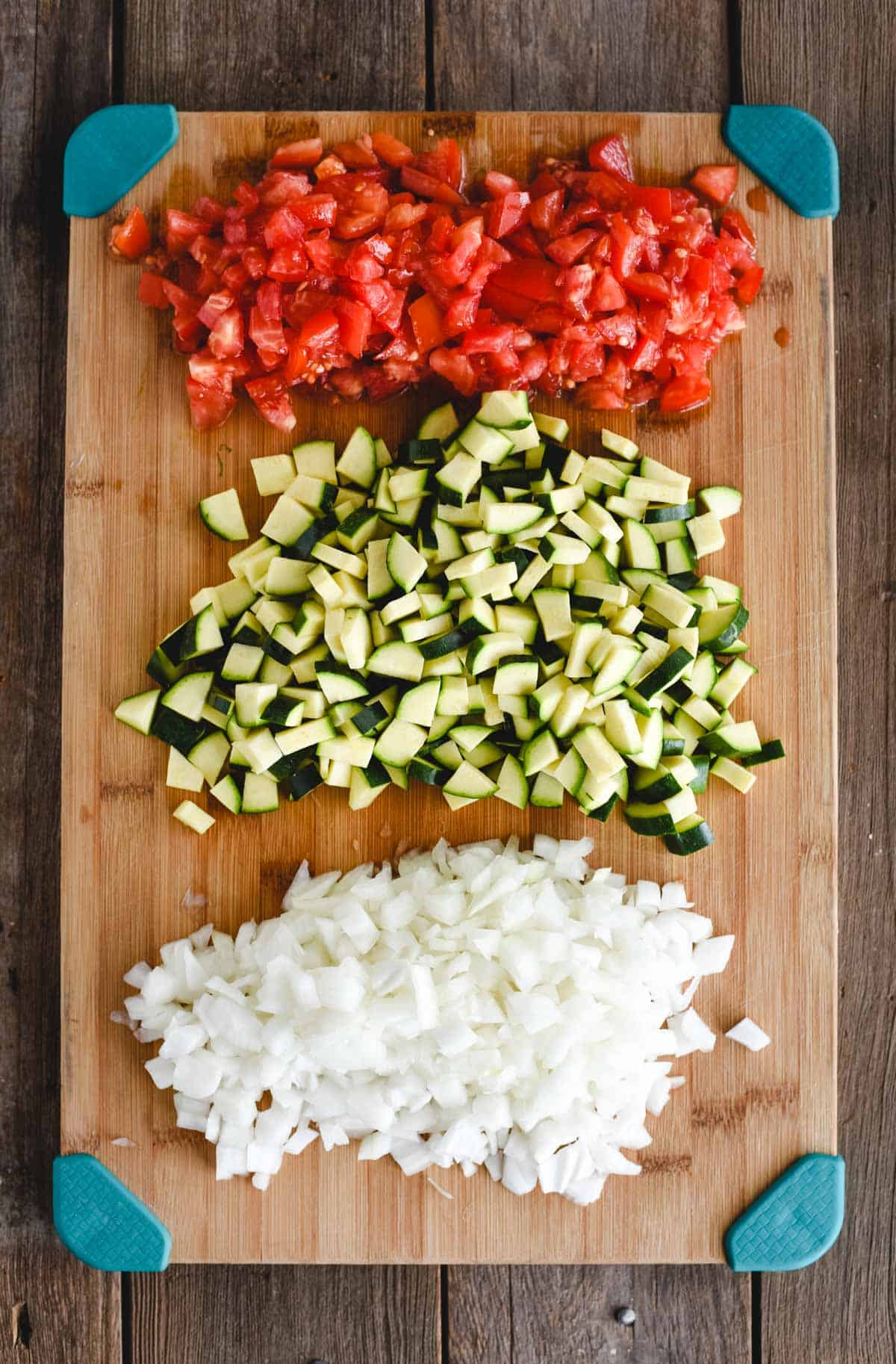 Then sauté the onion until it is nice and caramelized.
Take turns doing the same to the zucchini and onion. For maximum caramelization, do each vegetable separately.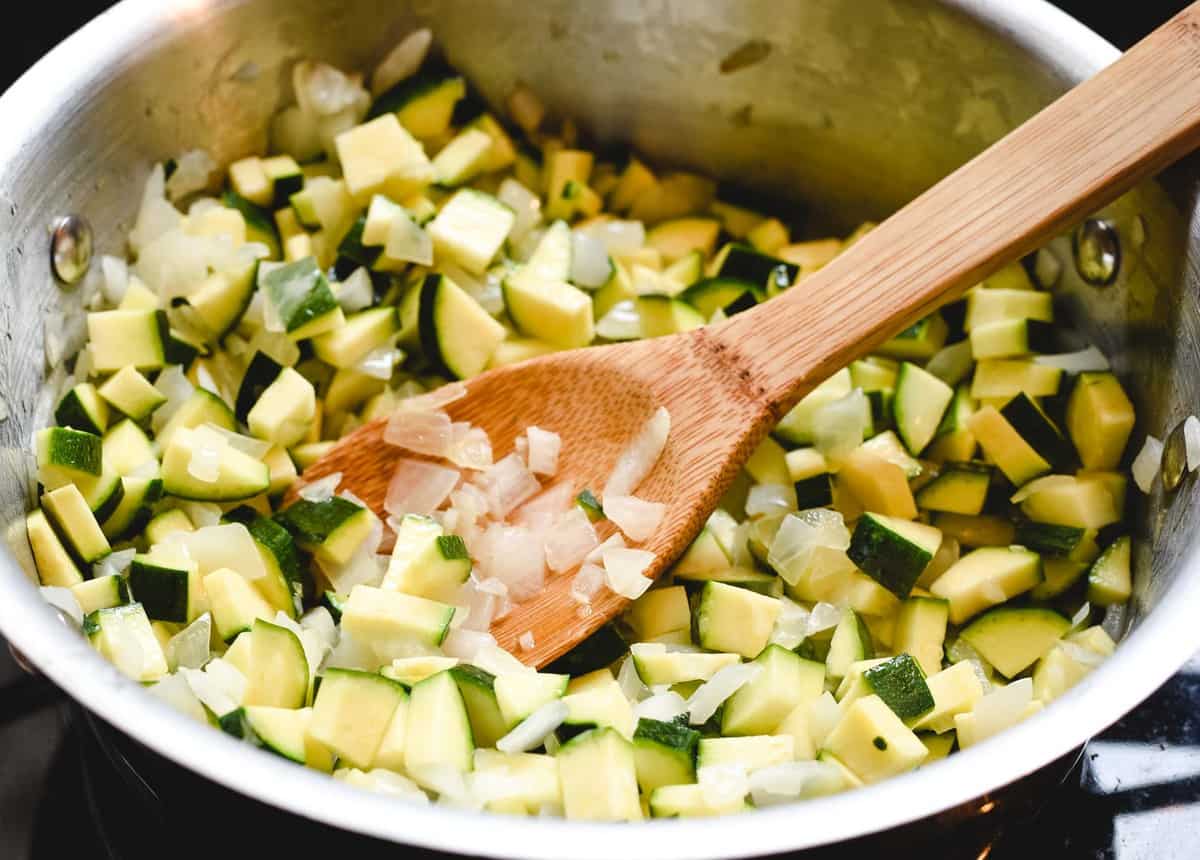 Then combine all sautéed veggies back together into the pan, season and cook down until most liquid has evaporated. At this stage, it's important to taste and adjust the seasoning if needed to make it perfect.
Tips
This recipe is pretty simple in it's basic form but due to it's simplicity, the flavors need to meld seamlessly for the end result to be really good. Here's what I've learned helps make it turn out fantastic every time:
Don't try to rush the cooking time since most of the flavor in this recipe comes from the vegetables slow cooking to caramelize.
Taste and adjust. Sometimes I need to add more salt, sometimes sugar, it all just depends on how sweet and acidic the tomatoes are, how much it all cooks down and how caramelized the veggies get.
If you're bringing this for a potluck or get-together, do yourself a favor and double it so that you'll have some left for yourself. Take my word for it, these are not bad leftovers to have on hand.
I did not do it in these pictures, but the dip turns out best when you peel the zucchini first and then grate it on a box grater. Chopping is fine but the texture is better when grated.
Since it takes so long to make but a lot of that time doesn't need much effort, I always make this zucchini tomato dip while I'm already in the kitchen doing something else to make the best use of my time.
Unlike stir fries or other recipes that cook fast, you can prep as you go to minimize the total time needed. Start the onions cooking, then chop or grate the zucchini and chop tomato while that cooks.
Ways to use ikra
In Russian/ Ukrainian culture, ikra is typically used either as a dip or side dish. If you have some in the fridge though, there are so many great uses. Here are some of my favorites:
As a dip with crackers and veggies
On a sandwich
As a side dish
As a breakfast with eggs baked on top instead of salsa in these baked egg cups
In pasta with some extra olive oil and seasoning to give it a unique caramelized flavor.
For serving, I prefer thin crackers like these in the black pepper flavor but it's pretty good with just Wheat Thin or Triscuit style crackers too. Black pepper flavor all the way though, I'm tellin ya. I'm all about that little extra zip it adds.
Other zucchini recipes
If you've got an abundance of zucchini and looking for ways to use them, here are some fun recipes:
This Russian healthy zucchini tomato dip can be used as a dip or spread and is made from vegetables so its a healthy appetizer that is still delicious!
Ingredients
3 zucchini or 1 large garden zucchini, about 2 cups chopped*
3 large tomatoes about 2 cups chopped, Roma or other less watery tomatoes work best
2 medium yellow onions** about 2 cups chopped
3 Tbsp. avocado oil or use other low flavor, high smoke point oil
1 tsp. salt or more to taste
1/2 tsp. black pepper or more to taste
1/4 tsp. ground cumin
1/2 tsp. coconut sugar or regular white sugar** optional, if needed because vegetables are not sweet enough
Instructions
Cut zucchini, onion and tomato into 1/8" pieces.*  

Squeeze any excess liquid out of the zucchini and let tomatoes drain in a colander.

In a dutch oven or large, rimmed skillet, heat 1 Tbsp. oil over low heat. 

Add onion and sauté about 15-20 minutes until softened and starting to caramelize. Remove oven from pan and set aside.

Add additional 1 Tbsp. oil and then sauté zucchini for about 20 minutes, stirring occasionally until it is cooked down and caramelized. Remove zucchini from skillet and set aside with onions.

Add last 1 Tbsp. of oil and once warm, add tomatoes and allow to cook down for 10-20 minutes until most liquid is evaporated (cooking time depends on how much liquid is in the tomatoes.

Once tomatoes have cooked down, add zucchini and onion back to pan with tomatoes. Add salt, pepper, cumin and sugar and cook together for about 10 - 15 minutes longer, stirring every minute or two until most liquid has boiled off. 

Taste and adjust seasoning if needed. The flavor of this dish depends on the sweetness, saltiness, caramelized flavor and acidity flavors balancing well so taste and adjust spices if needed. Exact amounts needed will vary based on sweetness/acidity of vegetables and how caramelized they get.

Serve with crackers and enjoy either warm or chilled. Dip will keep in the refrigerator in a sealed container for about 5 days. 
Notes
*Peeling the zucchini before chopping makes for a smoother end product. Also, you can grate the zucchini on using the large holes on a box grater to make it even smoother. 
** If you want to avoid using any sugar, use sweet onion and include a peeled and grated carrot or two when cooking down the zucchini. The sugar in the carrot will help balance out the acidity of the tomatoes. 
Tips
Don't rush cooking time since vegetables need to caramelize slowly.
I recommend doubling the recipe since it goes fast. 
The dip turns out best when you peel the zucchini first and then grate it on a box grater. Chopping is fine but the texture is better when grated. 
Prep as you go to minimize the total time needed. Start the onions cooking, then chop or grate the zucchini and chop tomato while that cooks.
Nutrition
Calories: 83kcal | Carbohydrates: 7g | Protein: 2g | Fat: 6g | Saturated Fat: 1g | Sodium: 249mg | Potassium: 341mg | Fiber: 2g | Sugar: 4g | Vitamin A: 531IU | Vitamin C: 22mg | Calcium: 25mg | Iron: 1mg