This Russian healthy zucchini tomato dip can be used as a dip or spread and is made from vegetables so its a healthy appetizer that is still delicious!
This zucchini tomato dip is the best healthy appetizer you can make. Period. With just three main ingredients – zucchini, onion, and tomato, it's naturally vegan, gluten free, and epically delicious. Caramelizing the vegetables brings out the natural sugars and when balanced with a touch of salt and pepper, the simple flavors come together in the best possible way.
My Russian husband and his mom have been making this recipe for yeeeears. I'm sure it started back in the mother lands long before I met them. Its so simple to prepare but always gets demolished first at every gathering we make it for. If you're bringing this for a potluck or get-together, do yourself a favor and double it so that you'll have some left for yourself. Take my word for it, these are not bad leftovers to have on hand. Plus, it makes a great sandwich spread (hello panini!) so its versatile and will definitely get used somehow if you don't devour it as a dip.
My mother-in-law is an excellent cook and whenever she makes this recipe, it turns out best of all, but I think I've captured the essence of her recipe magic here. Sometimes she adds a touch of this or a touch of that but this is the base, foolproof recipe. The cumin addition was actually something I noticed she did last time and is completely optional, but adds a nice touch that isn't in most Russian ikra recipes I've seen.
Speaking of ikra, this zucchini tomato dip has many names from ikra to zucchini caviar, but we don't get fancy with all of this and normally just refer to it as "that bomb veggie dip" or something else equally random and non-specific. Call it what you want, at the end of the day, its truly the same thing.
We make this dip a lot in the summer with garden fresh zucchini and tomato, but honestly, I think we make it around the holiday season just as much. Its refreshing to have an appetizer on your holiday spread that isn't laden with dairy, calories, and fat. Believe me, I love all of that, but sometimes you need a break amidst the chaos. If you're looking for some rich, more decadent appetizers, make sure to check out my rosemary grape crostini and baked feta recipes. They're both utterly to die for.
These sweet potato patties with tahini dipping sauce are lighter with the fall flair you're probably looking for this time of year and I highly recommend whipping those up too. The appetizer options are endless this time of year!
But, regardless of how many appetizer recipes are out there – how many are made of ingredients like these? Straight veggies, a touch of oil, and some spices. That's what makes this zucchini tomato dip so surprising in it's tastiness.
It requires some chopping, but what veggie based recipe doesn't. Its to be expected. Plus, all ingredients are going straight into a pan to become mush so you can be pretty sloppy about the chopping. Just keep the pieces small so they caramelize and cook quickly.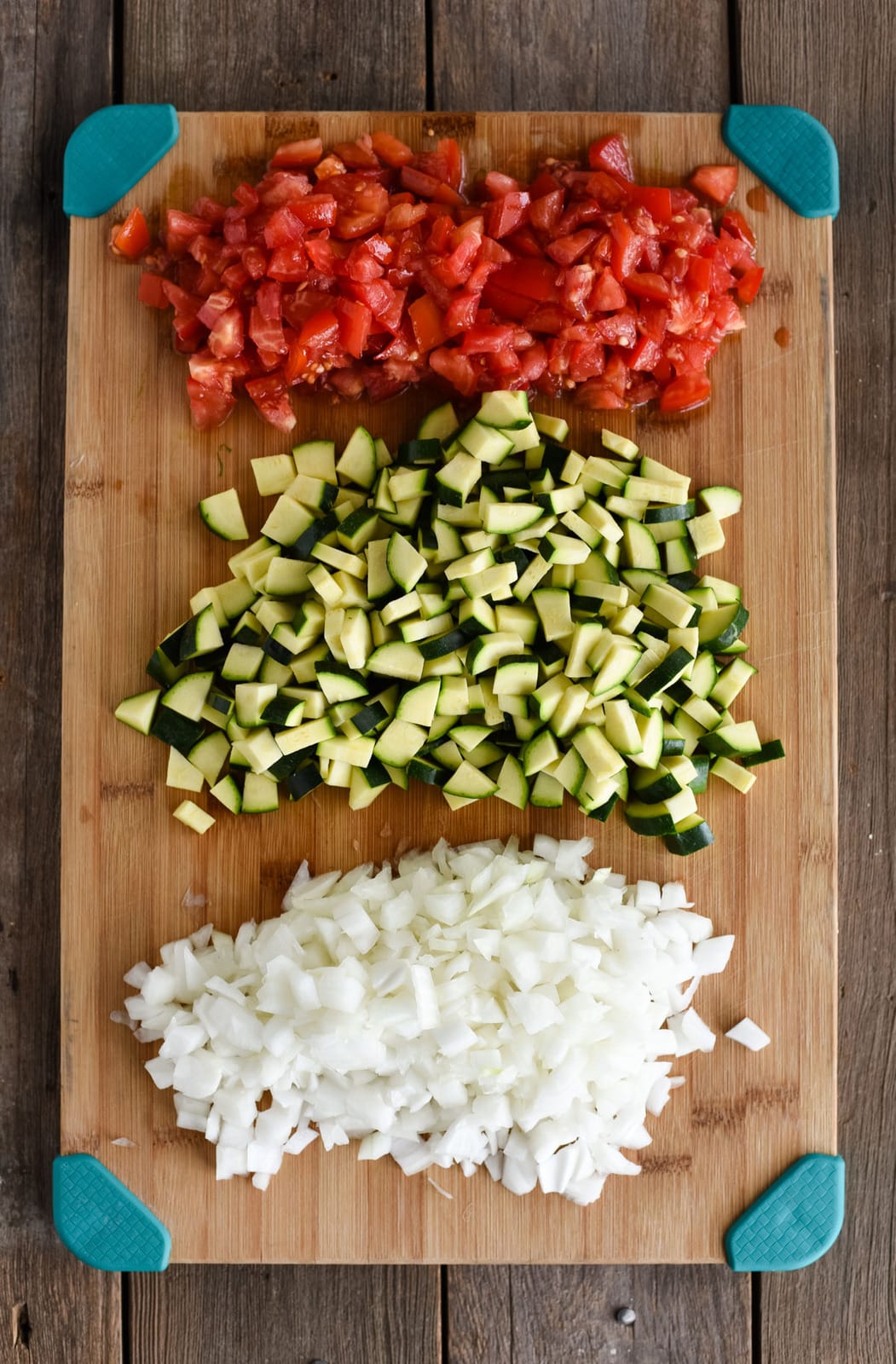 When it comes to cooking, I've modified the recipe a bit from the way my Russian counterparts make this zucchini tomato dip. I add the zucchini into the same pan after caramelizing the onions, then the tomatoes right after. My mother-in-law and husband swear by doing each veggie separately to get the most caramelization.
They cook the onions then remove them from the pan and cook the zucchini separately to make sure both veggies brown on all sides. Then you add everything back into the same pan once they're all cooked down and season to taste.
The main reason I do it all in one pan is just to make it faster and easier. I don't taste much difference, but if you've got the time, you'll certainly get more caramelization if you do it Russian style.
When it comes to spices, I prefer this recipe simple with just the base ingredients listed. It makes a good base though if you do want to play around with adding different spices. This zucchini tomato dip really doesn't need much though, keep it simple and don't add spices until late in the game so you can make sure you don't over season.
For serving, I prefer thin crackers like these in the black pepper flavor but it's pretty good with just Wheat Thin or Triscuit style crackers too. Black pepper flavor all the way though, I'm tellin ya. I'm all about that little extra zip it adds.
Zucchini Tomato Dip
This Russian healthy zucchini tomato dip can be used as a dip or spread and is made from vegetables so its a healthy appetizer that is still delicious!
Ingredients
3

zucchini

or 1 large garden zucchini, about 2 cups chopped

3

large tomatoes

about 2 cups chopped

2

yellow or sweet onions

about 2 cups chopped

2

Tbsp.

avocado oil

can use other high smoke point oil

1

tsp.

salt

1/2

tsp.

black pepper

1/4

tsp.

ground cumin

1/2

tsp.

coconut sugar

optional, if needed because vegetables are not sweet enough
Instructions
Cut zucchini, onion and tomato into 1/8" pieces.

In a dutch oven or high walled skillet, heat oil over medium heat.

Add onion and sauté about 10 minutes until softened and starting to caramelize.

Add zucchini and sauté for about 25 - 30 minutes, stirring occasionally until vegetables are cooked down and caramelized.

Add tomato and spices and cook for about 10 - 15 minutes longer, stirring every minute or two until most liquid has boiled off.

The flavor of this dish is entirely dependent on the sweet and salty flavors balancing perfectly so taste and adjust spices if needed. Exact amounts needed will vary based on sweetness of vegetables and how caramelized they get. Serve with crackers and enjoy either warm or chilled. Dip will keep in the refrigerator in a sealed container for about 5 days.
Nutrition
Calories:
66
kcal
|
Carbohydrates:
7
g
|
Protein:
1
g
|
Fat:
4
g
|
Sodium:
249
mg
|
Potassium:
341
mg
|
Fiber:
1
g
|
Sugar:
4
g
|
Vitamin A:
530
IU
|
Vitamin C:
21.5
mg
|
Calcium:
25
mg
|
Iron:
0.6
mg
Did you make the recipe? I absolutely love to see your creations!
I would be thrilled if you tag @FeastingNotFasting on Instagram and use the hashtag #FeastingNotFasting - please leave a star rating below too! ★