Creamy, healthy, guacamole-like avocado hummus is a delicious high protein snack that is naturally vegan and gluten free so its good for everyone!
With the football game of the year happening today, I know a lot of us are probably spending the morning making a snack or two for the ultimate TV munch day. I'm not a big football fan, but I am a big food fan, obviously, so I'm willing to do a day of football to get access to all the best snacks of the year.
Although its a good time, sitting around eating for hours in front of the TV isn't exactly the best for the waistline (I know, total bummer), so I just wanted to share a healthy recipe that is – avocado hummus!
It's similar to guacamole, but different enough that it can pass as a totally different dip all on its own OR can be subbed in for a healthier guac when you want to lighten things up a bit. Each 1/4 cup serving has over 7 grams of protein in just 185 calories.
Avocado hummus is the perfect filling party appetizer because your guests won't even know that they're eating 'health food.' See how sneaky I am? Follow me in all my sneaky ways and you'll thank me tomorrow when you aren't suffering from a post-super bowl food hangover. If healthy guac isn't your thing, check out some of these other healthy appetizers for game day eats.
Sooo, in other exciting non-hummus related news – we're going to Barbados! Just booked tickets for April a few minutes ago and I'm so excited I can barely stand it!!! Going with a few good friends and no plans whatsoever except fruity drinks, beach time, a lil bit of fishing, and plenty of sunscreen. Pinch me.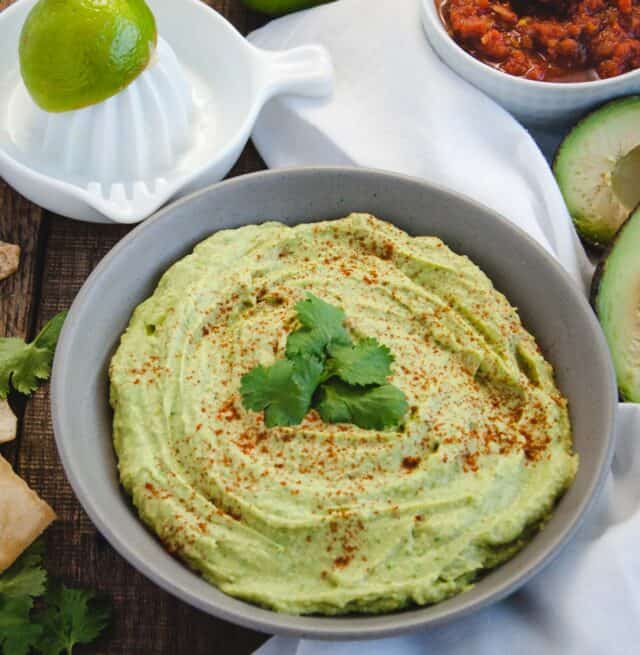 Now, in the meantime, I've got to figure out what to do for the hubby's dirty thirty later this month. Can't believe we're already turning 30 this year. Weren't we just scrappy little 18 year olds yesterday without a care in the world? Crazy thing, this here life.
I swear, every time I log into any social media platform I see new b-day plans for the big 3-0. Here I am teetering on the cusp of a new decade… along with half of my homies. I've still got a good 8 months of my 20's left though so I've still got time to go out with a bang.
My last few weeks have been so packed with social activities that I'm absolutely thrilled that we aren't going to a super bowl party today and are just staying home to watch the game.
Recharging with some quality couch and dog snuggle time is where it's at. So what's on the menu for us? We're making these sweet potato nachos with huge gobs of this avocado hummus instead of guacamole. Mmm, can't wait.
With a little work, 'health food' can be even more delicious than your standard go-to munchies. And all tastiness aside, your body will thank you for the veggies with that needle on the scale staying where you want it the next morning instead of creeping up on you.
Whether you're in it for the football or the food – enjoy the day and may the best team win!
Creamy, healthy, guacamole-like avocado hummus is a delicious high protein snack that is naturally vegan and gluten free so its good for everyone!
Ingredients
15 oz. can garbanzo beans
1 large or 2 small avocados
1 Tbsp. olive oil
1 1/2 Tbsp. tahini
2 Tbsp. fresh lime juice
1/2 tsp. salt
1/8 tsp. fresh cracked pepper
1/4 tsp. cumin
1 tsp. minced garlic about 1 clove
2 Tbsp. chopped cilantro
1/2 tsp. hot sauce or to taste
2 – 3 Tbsp. water
Instructions
Combine all ingredients except water in a food processor and blend for 2 minutes. Remove lid and scrape sides with a rubber spatula. Add enough water to make the consistency smooth and spreadable.

Continue processing another 2 minutes until creamy and lump free. Serve with pita chips, tortilla chips, and/or cut vegetables. If storing overnight, save avocado pits and add them back into the dip to keep it green.
Nutrition
Calories: 82kcal | Carbohydrates: 7g | Protein: 3g | Fat: 5g | Saturated Fat: 1g | Sodium: 187mg | Potassium: 154mg | Fiber: 3g | Sugar: 1g | Vitamin A: 195IU | Vitamin C: 3.5mg | Calcium: 20mg | Iron: 0.7mg