This homemade spaghetti sauce recipe is lightened up with ground turkey, but is so flavorful you'd never know it!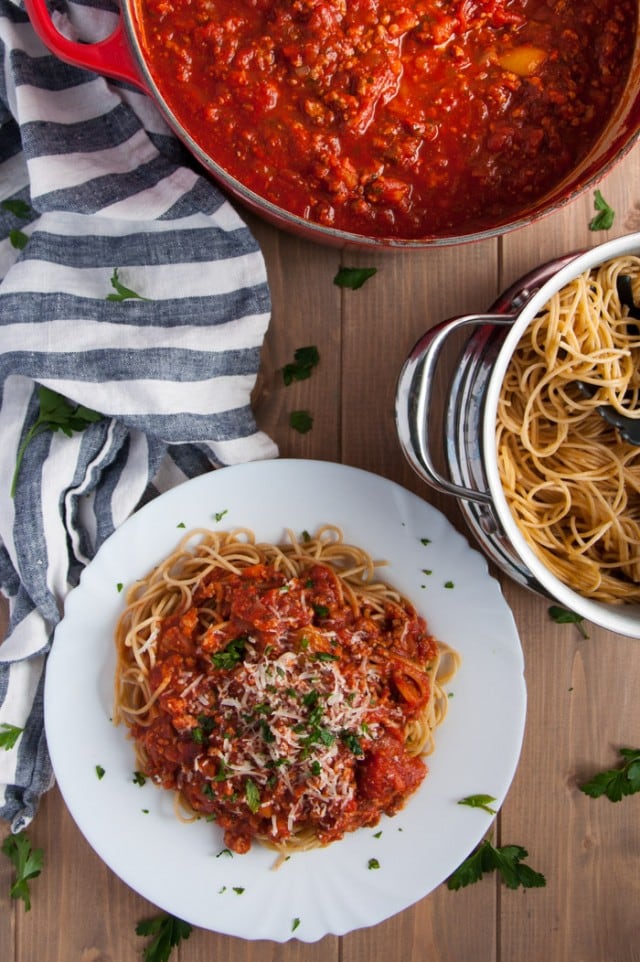 Homemade spaghetti sauce is one of my ultimate favorite things to make. Sure, you can go with the pre-made stuff in a pinch, but making it from scratch really isn't that hard and the little bit of extra effort is totally worth it. Sure, you've got to let is simmer for a while, but that's downtime where you don't have to do anything except sit back and relax. With wine of course.
If you want to get really crazy, you can even add about half a cup of red wine to the turkey/veggie mix to add more depth of flavor. If you do this, let meat simmer in the wine for a minute or two before dumping the tomatoes in. This step isn't necessary at all and I only do it if I have a bottle of wine already open… and feel like sharing.
I also use fresh herbs here, but you can sub in about 1/3 to 1/2 the amount of dried basil and oregano. If you do this, add the dried herbs in earlier with the tomatoes.
This recipe makes A LOT of pasta sauce. I make this recipe for company because its easy to make a huge amount or you can freeze and reheat for quick weeknight meals. You can even leave the turkey out and use this as meatless marinara sauce for recipes like these cabbage rolls. This spaghetti sauce recipe is flexible and pretty much foolproof so feel free to tweak things a bit based on what you have on hand.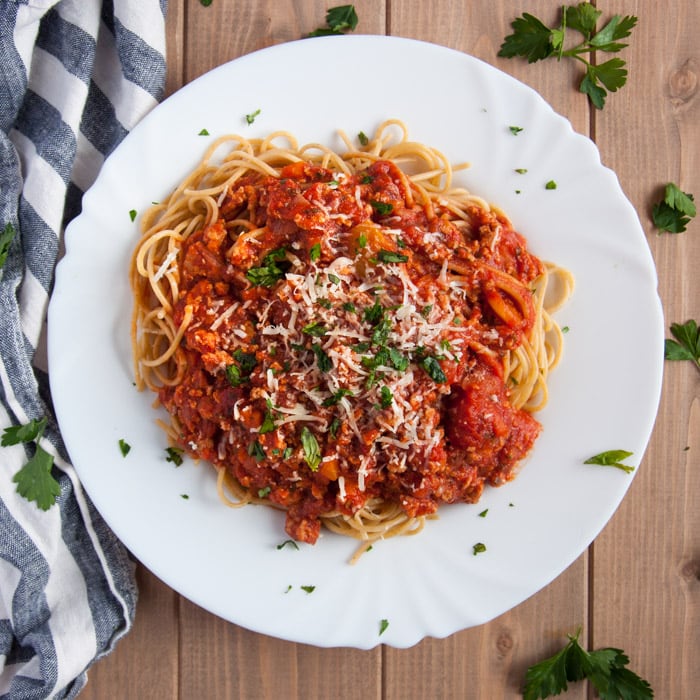 We are (finally!) just getting back (and thawing out) from a long weekend trip to Toronto so fresh food around the house has been hard to come by. My mother-in-law also flew in earlier this week so with all the activity going on, I really haven't been in the mood to cook.
Since cereal isn't exactly an acceptable dinner option, I realized it was about time to do some rummaging through the pantry, freezer, and fridge. Luckily, when I made this tomato sauce last week, I froze half of it for an occasion like this. (Thank you past self.)
Having homemade spaghetti sauce on hand makes it easy to bust out a quick meal like baked ziti, stuffed peppers, or whatever your tomato-sauce based imagination can think up. The options are truly endless and you can pretty much guarantee it will be delicious since anything slathered in homemade spaghetti sauce usually is. Its a given.
This recipe is naturally dairy free on its own, and you can keep it that way by holding the parmesan. If you're gluten free you can use gluten free Worcestershire and use brown rice pasta
to make it work for you. Slightly different texture, but coated in sauce, you can't really tell the difference.
I saw quinoa pasta at the grocery store the other day though which sounds like it could be pretty amazing. If you've tried it already, save me the suspense and let me know how it is! Also, I'd love to hear how you like this spaghetti sauce so please leave a comment to let me know how it goes. We love this recipe and hope you will too!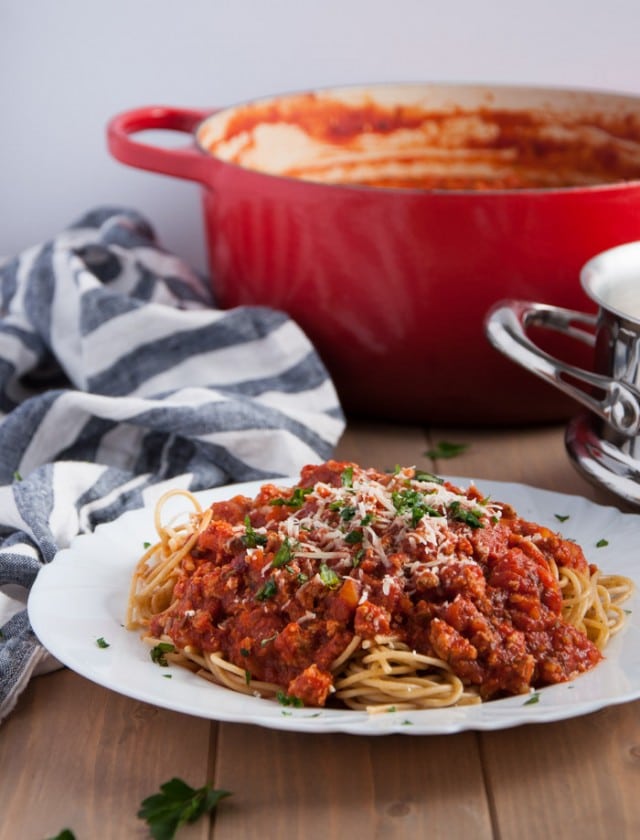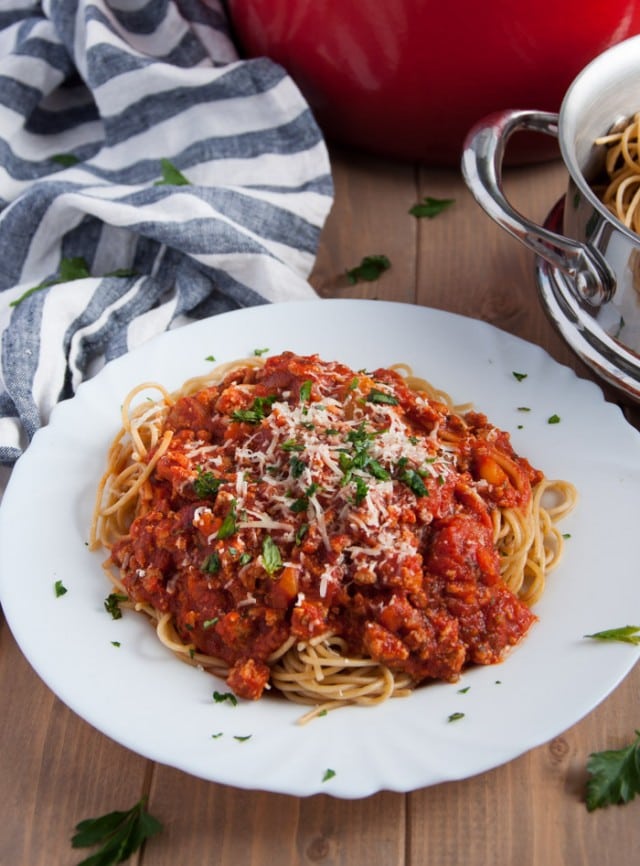 This homemade spaghetti sauce recipe is lightened up with turkey, but is so flavorful you'd never know it!
Ingredients
1 1/2 lbs. lean ground turkey
2 turkey sausage links (casing removed)
1 Tbsp. olive oil
2 bell peppers (seeded and chopped)
1 large onion chopped (about 1 1/2 cups)
1/2 Tbsp. minced garlic
2 large carrots (peeled and finely minced)
1 1/2 tsp. salt
1/2 tsp. black pepper
2 tsp. Worcestershire
1 tsp. crushed red pepper flakes
1 tsp. fennel seed
1 28 oz. can crushed tomatoes
1 28. oz. can stewed tomatoes
1 15 oz. can tomato sauce
2 6 oz. cans tomato paste
2 bay leaves
1/4 cup fresh chopped basil
2 tsp. fresh chopped oregano or 1 tsp. dried
1/4 cup fresh chopped parsley
1/2 Tbsp. sugar optional
Instructions
Heat oil in a large pot over medium heat. Add onion and peppers and cook for 2 - 3 minutes to soften.

Add carrots, garlic, ground turkey, and turkey sausage and cook while breaking into small pieces with a spatula. While turkey is browning, add salt, pepper, worcestershire, red pepper flakes, and fennel.

Add crushed tomatoes, stewed tomatoes, tomato sauce, tomato paste, and bay leaves. Bring to a boil then reduce heat to low and let simmer uncovered for 45 minutes to 1 hour, stirring occasionally. During the last 15 minutes of cooking time, add chopped fresh herbs. If sauce is too acidic, add sugar to taste (normally about 1/2 Tbsp.).

Garnish with additional chopped parsley and parmesan cheese if desired before serving over pasta.
Notes
*This is enough sauce to cover approximately two lbs. of uncooked spaghetti noodles.
*Sauce can be frozen for up to 3 months.
Nutrition
Calories: 198kcal | Carbohydrates: 22g | Protein: 21g | Fat: 5g | Saturated Fat: 1g | Cholesterol: 45mg | Sodium: 1047mg | Potassium: 1079mg | Fiber: 5g | Sugar: 13g | Vitamin A: 3455IU | Vitamin C: 49.2mg | Calcium: 97mg | Iron: 4.3mg