This banana bundt cake is made healthier with white whole wheat flour, honey, and yogurt but still decadent with a drizzled cream cheese cinnamon frosting.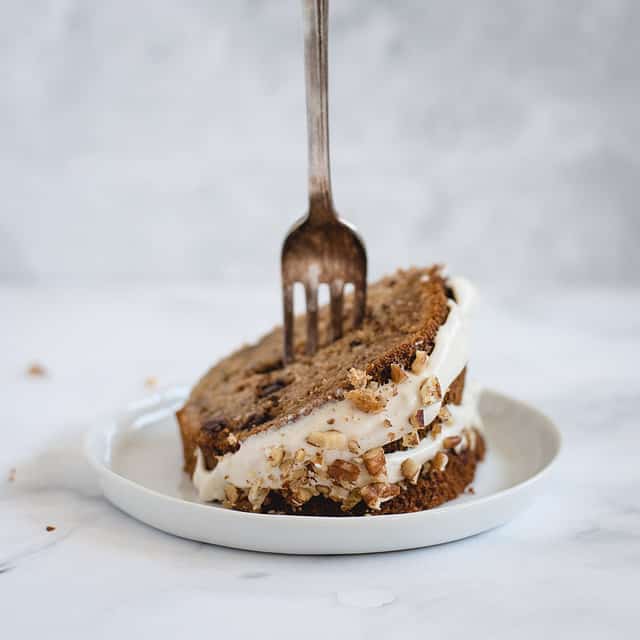 This banana bundt cake recipe has just the right level of sweetness that it feels like a treat without going over the top. It makes a lot too so it's perfect for sharing!
This is the recipe you want if you either want a healthy cake or a gussied up version of banana bread. It's dense, moist and the frosting makes it so so good.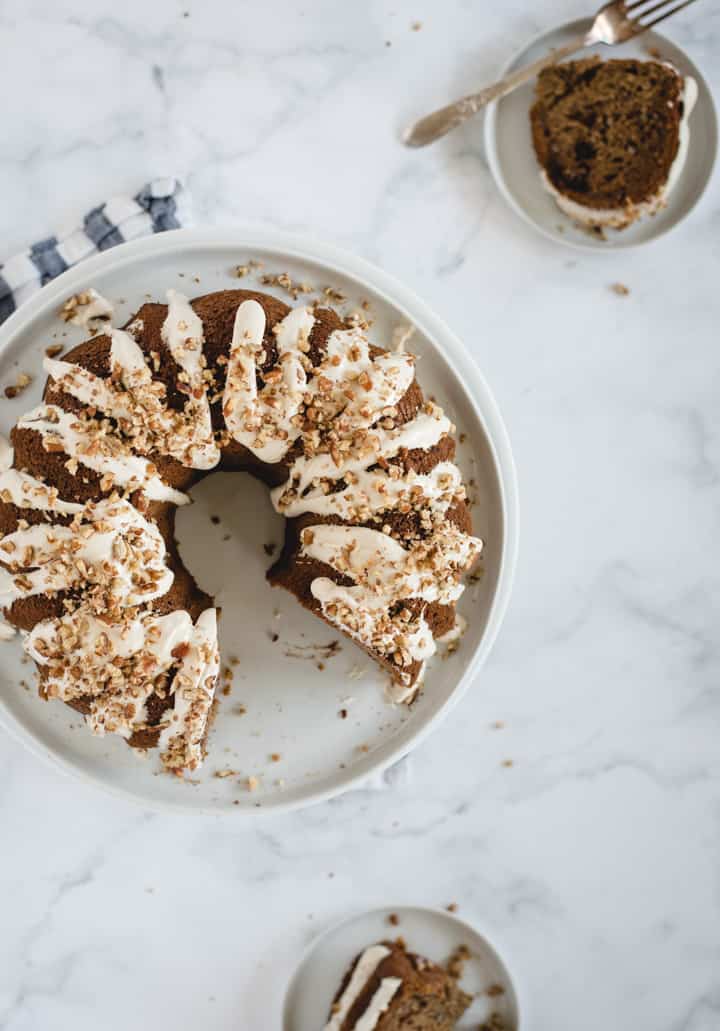 What makes this banana bundt cake unique
I mean, when else do you get to eat cake for breakfast? Rarely I'm guessing. Being healthy and still amazingly good is what makes this recipe special.
This is the ultimate healthy version of a banana cake. With honey, Greek yogurt, white whole wheat flour, and a lightened up cream cheese frosting it's more like a quick bread than a cake, but that isn't a problem here since its absolutely delicious still.
White whole wheat flour adds more nutrition without the heaviness whole wheat flour can give baked goods so it still has great texture, is perfectly moist and full of rich banana flavor.
I debated on whether or not I should even call it a cake since the texture is more like banana bread, but decided that it is in fact a cake, just a healthy cake.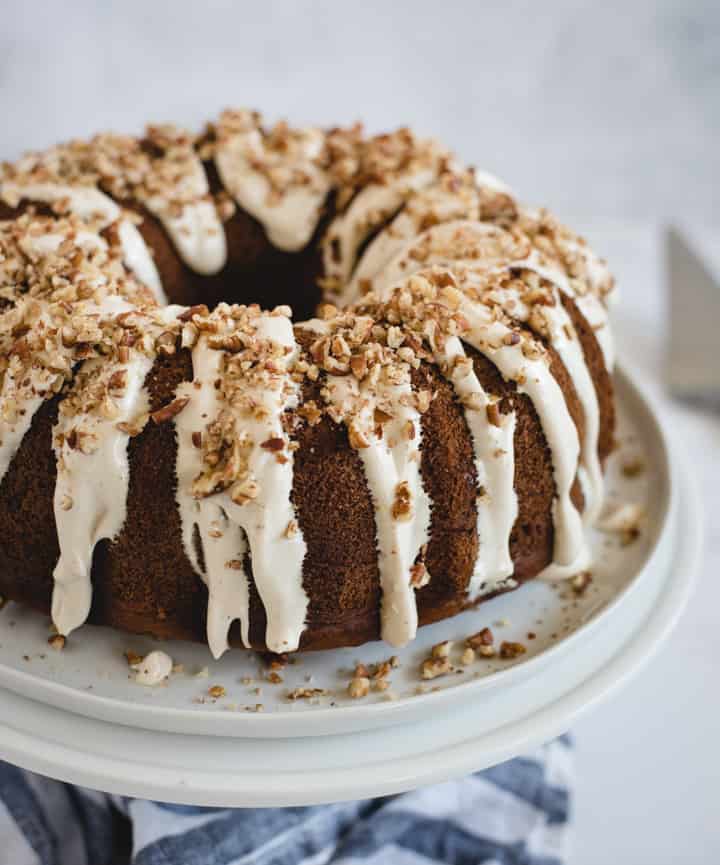 Ingredients
The ingredients in this recipe are pretty simple but come together fantastically. It's a long list, but most cakes that are worth their salt are. here's the ingredient list:
white whole wheat flour (sometimes labeled whole wheat pastry flour)
baking soda
cinnamon
salt (just regular table salt will work)
butter or coconut oil
mashed over ripe banana – browner the better!
honey (or maple syrup)
eggs
plain Greek yogurt
unsweetened almond milk (or any milk)
toasted pecans
semi-sweet or dark chocolate chips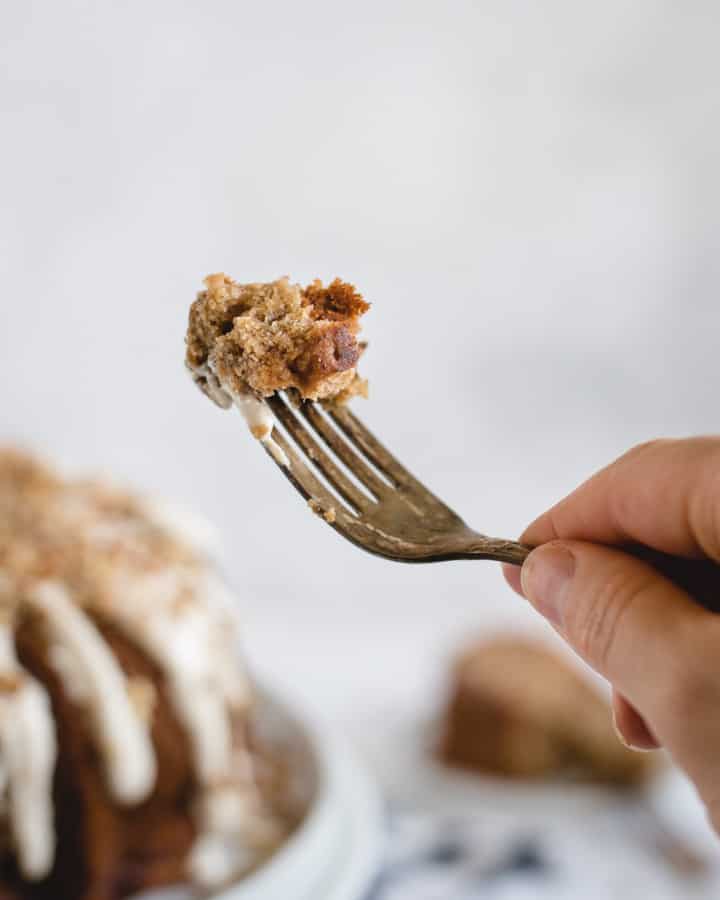 The glaze ingredients are a bit less healthy but lightened up wherever possible. I tried it multiple different ways and the version with powdered sugar always came out on top as the clear winner. Here's what you need:
1/3 less fat cream cheese
coconut oil or butter
vanilla extract
powdered sugar
cinnamon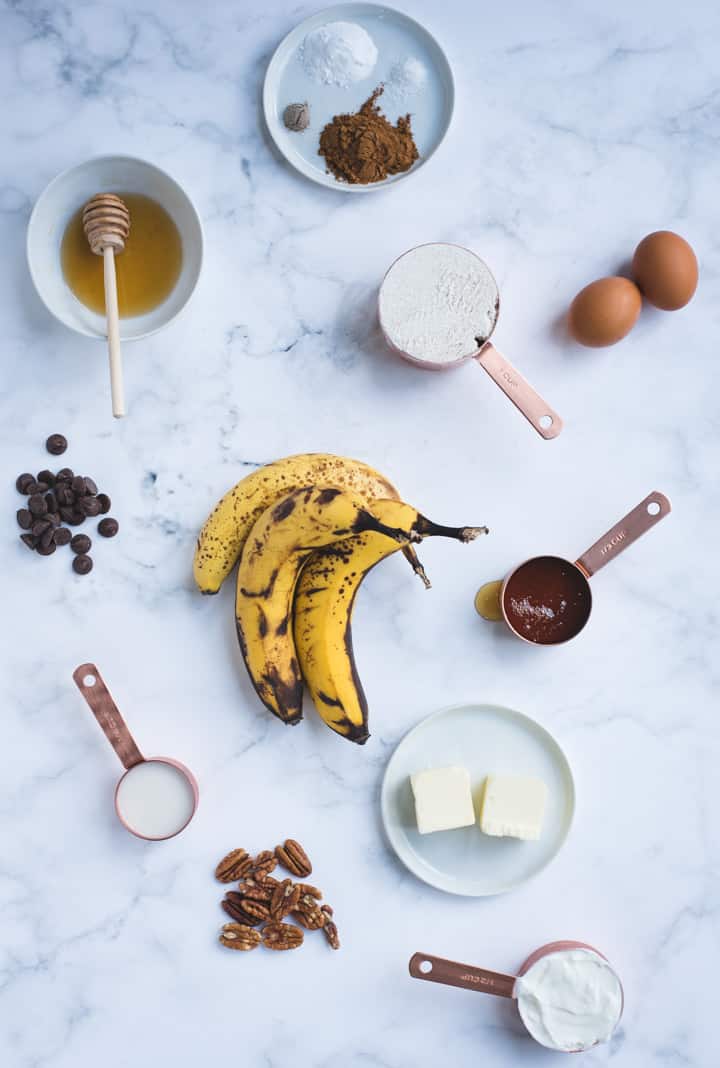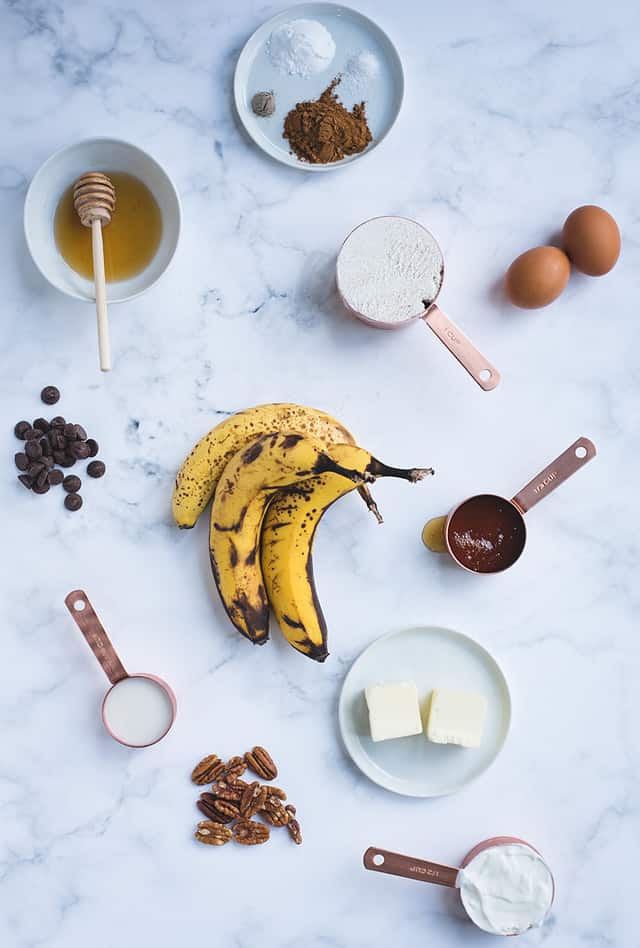 How to Make Banana Bundt Cake
This banana cake is easy to make with just a few steps more than your standard quick bread (toasting pecans and frosting).
Start by mixing dry ingredients
Blend wet ingredients
Stir in chocolate and toasted pecans
Pour batter into a greased bundt pan
Bake
Remove from oven, cool and frost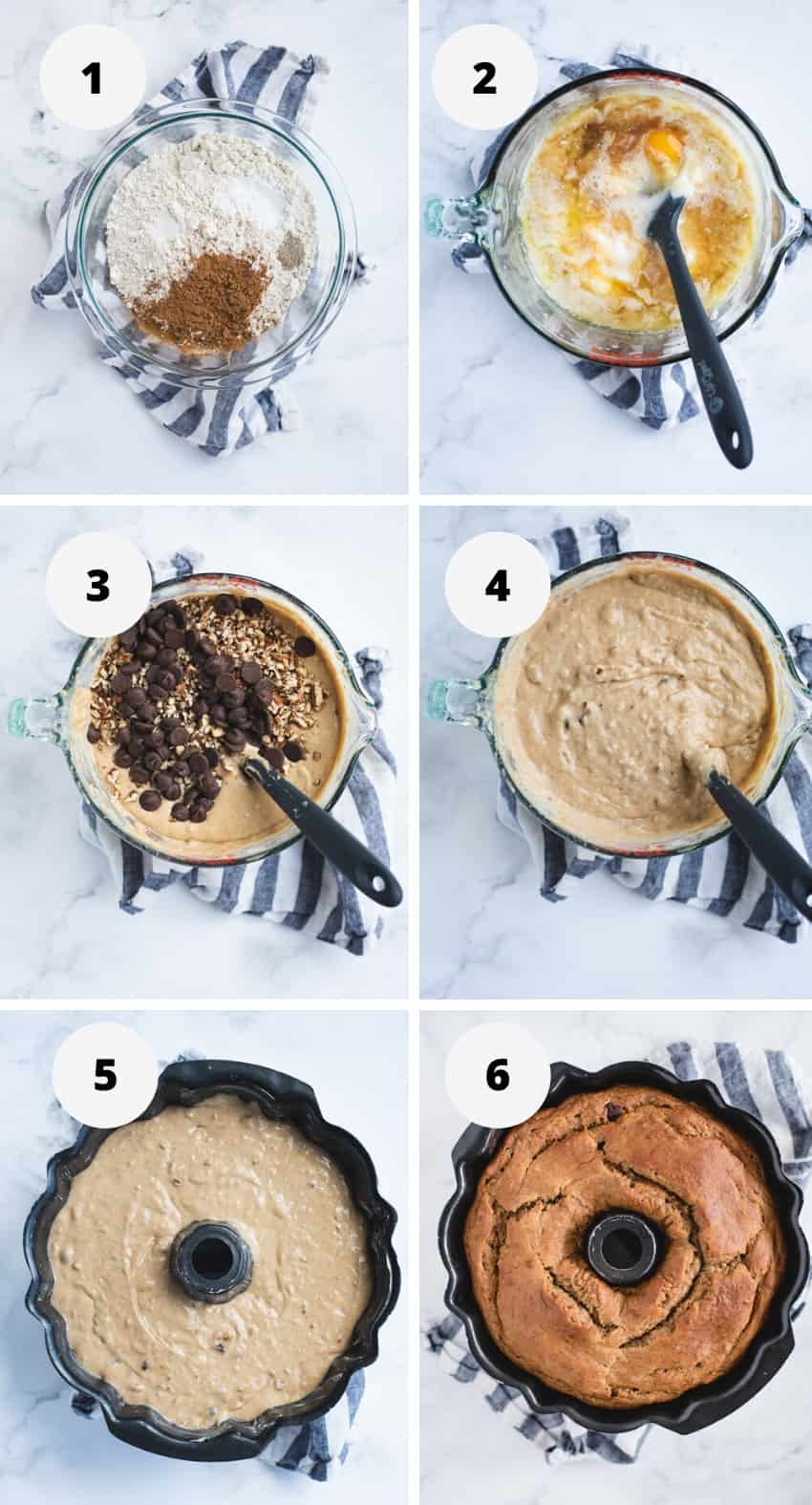 Tips for making this recipe perfectly
To make this recipe and have it turn out absolutely perfect, here are a few things you need to know:
Use really ripe bananas with lots of brown spots (I keep bananas that have gotten too ripe in the freezer to defrost for recipes like this)
Don't over mix the batter
Don't skip toasting the pecans
Make sure not to over bake
Make the frosting and don't skip it
Grease the pan with a thick layer of butter or coconut oil or the cake may stick
Use low or full fat yogurt (nonfat yogurts have stabilizers and fillers that make it not work as well for baking and cooking)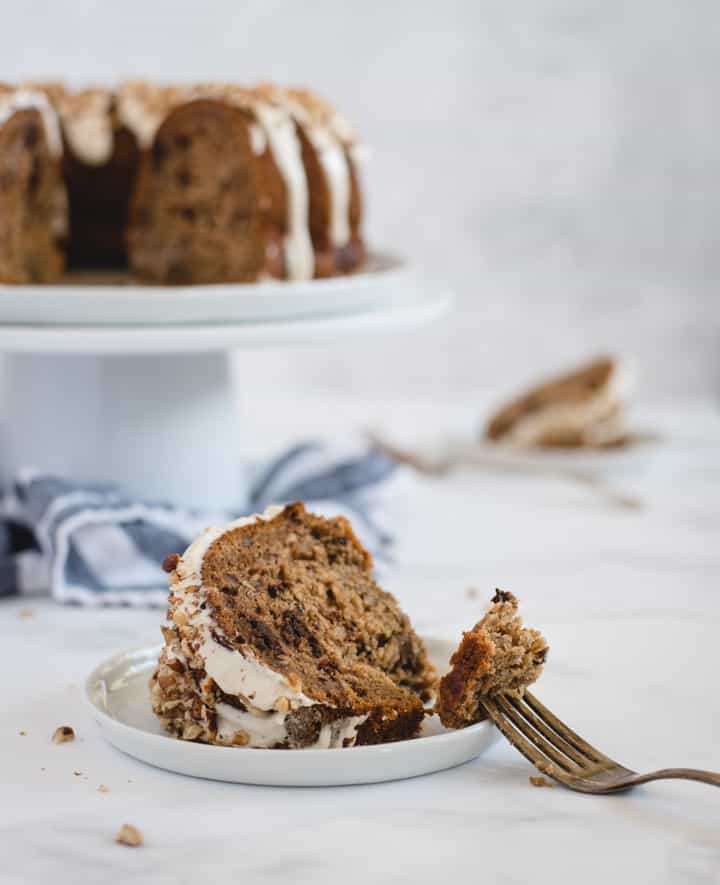 What to serve with Banana Bundt Cake
Well, you can serve pretty much anything with this cake. It's healthy enough to be breakfast, filling enough for a snack and sweet enough to serve as a dessert.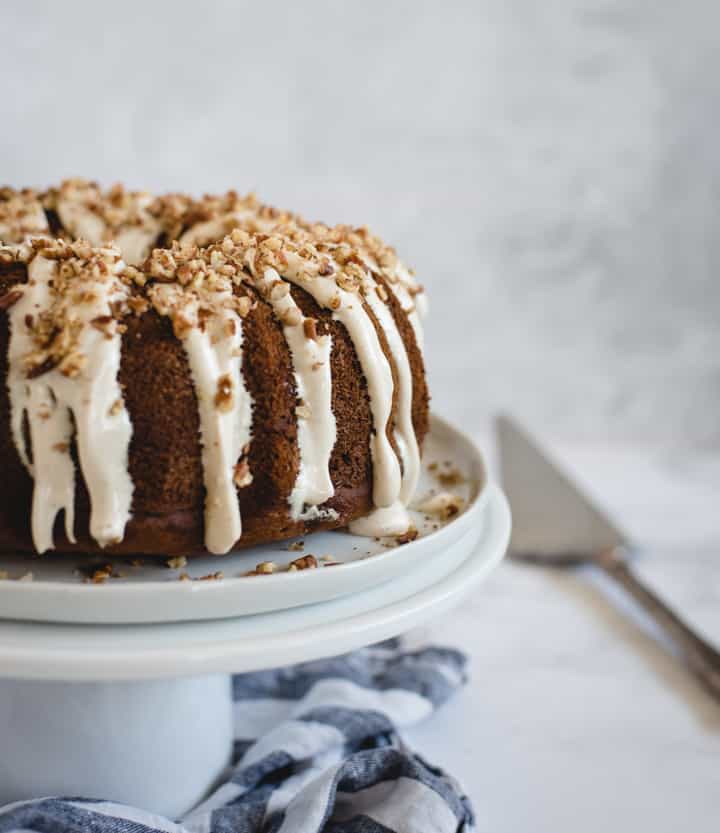 Other recipes that use brown bananas
The sheer number of banana recipes on this site is overwhelming. I'll share a few of my favorites and a few other intriguing ones: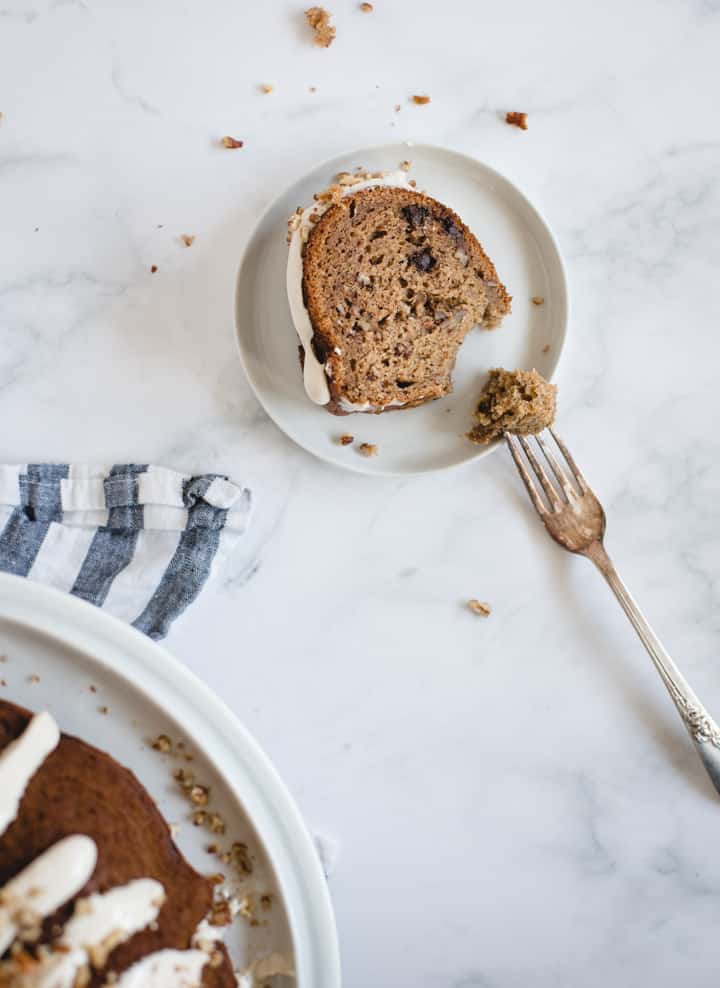 This banana bundt cake is made healthier with white whole wheat flour, honey, and yogurt but still decadent with a drizzled cream cheese cinnamon frosting.
Ingredients
3 cups white whole wheat flour sometimes labeled whole wheat pastry flour
1 1/2 teaspoons baking soda
1 tablespoon cinnamon
1/4 tsp. cardamom
1/4 teaspoon salt
1/3 cup melted butter or coconut oil
1 3/4 cup mashed banana (4-5 bananas)
2/3 cup honey or maple syrup
2 tablespoons vanilla extract
2 eggs
1 cup plain Greek yogurt (don't use nonfat)
½ cup unsweetened plain almond milk or any milk of choice
3/4 cup chopped toasted pecans*
Instructions
Preheat oven to 350° F (175° C).

Spray bundt pan with cooking spray (or use a silicone baking form)

Stir flour, baking soda, cinnamon, cardamom, and salt together in a bowl.

In a mixing bowl, beat butter, banana, honey, vanilla, eggs, yogurt, and almond milk until smooth.

Pour dry ingredients into wet mixture and lightly beat for 10 seconds, scraping sides until mixed in but not over mixed. Stir in toasted pecans and chocolate chips.

Pour batter into prepared bundt pan, place in oven and bake for 45-55 minutes until a toothpick inserted into a central area comes out mostly clean.

Remove from oven and let cook for 15 minutes before turning the pan over to release the cake from the pan onto a wire cooling rack. Let the cake cool completely before frosting.

To make the glaze, add cream cheese, butter, and vanilla into a mixing bowl and beat using a hand mixer or rigorously by hand with a wire whisk until blended (do not do this in the blender). Add powdered sugar, cinnamon and cardamom and beat until all powdered sugar is mixed in. Glaze should be somewhat thick but pourable and not runny. Add additional powdered sugar if needed to reach desired consistency.

Place bundt cake on serving plate and, with a light hand, pour glaze over cake moving your hand back and forth in a zig-zag pattern until entire cake is fully glazed. Slice and serve. To store, keep covered in the refrigerator for up to 3 days.
Notes
*Toast pecans in a preheated oven for about 5 minutes or in a small pan on low heat for 5-10 minutes, stirring regularly. Either way, watch carefully since they burn easily.
Tips:
Use really ripe bananas with lots of brown spots (keep bananas that have gotten too ripe in the freezer to defrost for recipes like this)
Don't over mix the batter
Don't skip toasting the pecans
Make sure not to over bake
Make the frosting and don't skip it
Grease the pan with a thick layer of butter or coconut oil or the cake may stick
Use low or full fat yogurt (nonfat yogurts have stabilizers and fillers that make it not work as well for baking and cooking)
Nutrition
Calories: 297kcal | Carbohydrates: 42g | Protein: 7g | Fat: 12g | Saturated Fat: 5g | Cholesterol: 37mg | Sodium: 237mg | Potassium: 216mg | Fiber: 4g | Sugar: 22g | Vitamin A: 226IU | Vitamin C: 2mg | Calcium: 67mg | Iron: 1mg