The best healthy banana bread recipe around! It's perfectly moist and delicious made of white whole wheat flour, yogurt, coconut oil, flax, and honey.
(Recipe originally published February 25, 2014, but pictures and post text have since been updated)
Over the years I have literally made dozens of attempts at creating a healthy banana bread without white flour or copious amounts of sugar and oil that still has that same moist, satisfying texture and strong banana flavor that we all know and love. Well, my work paid off and this is the one my friends! It is so incredibly good and the best banana bread ever! You'd never know it was "healthy."
I have probably made this recipe 50 times since first creating it back in 2014. And 50 might even be a gross understatement. We eat it all. the. time.
Many of my early efforts ended in dry, overly dense, bland bready loafs of disappointment. Some were close, but just not quite right. There was always something a bit off.
Once I added a bit of oil and yogurt in, all problems were solved! Also, switching to white whole wheat flour this and pretty much every baked good normally does the trick. It has the same nutrition as regular whole wheat flour but the end product will taste more like you used white flour. It's simply amazing.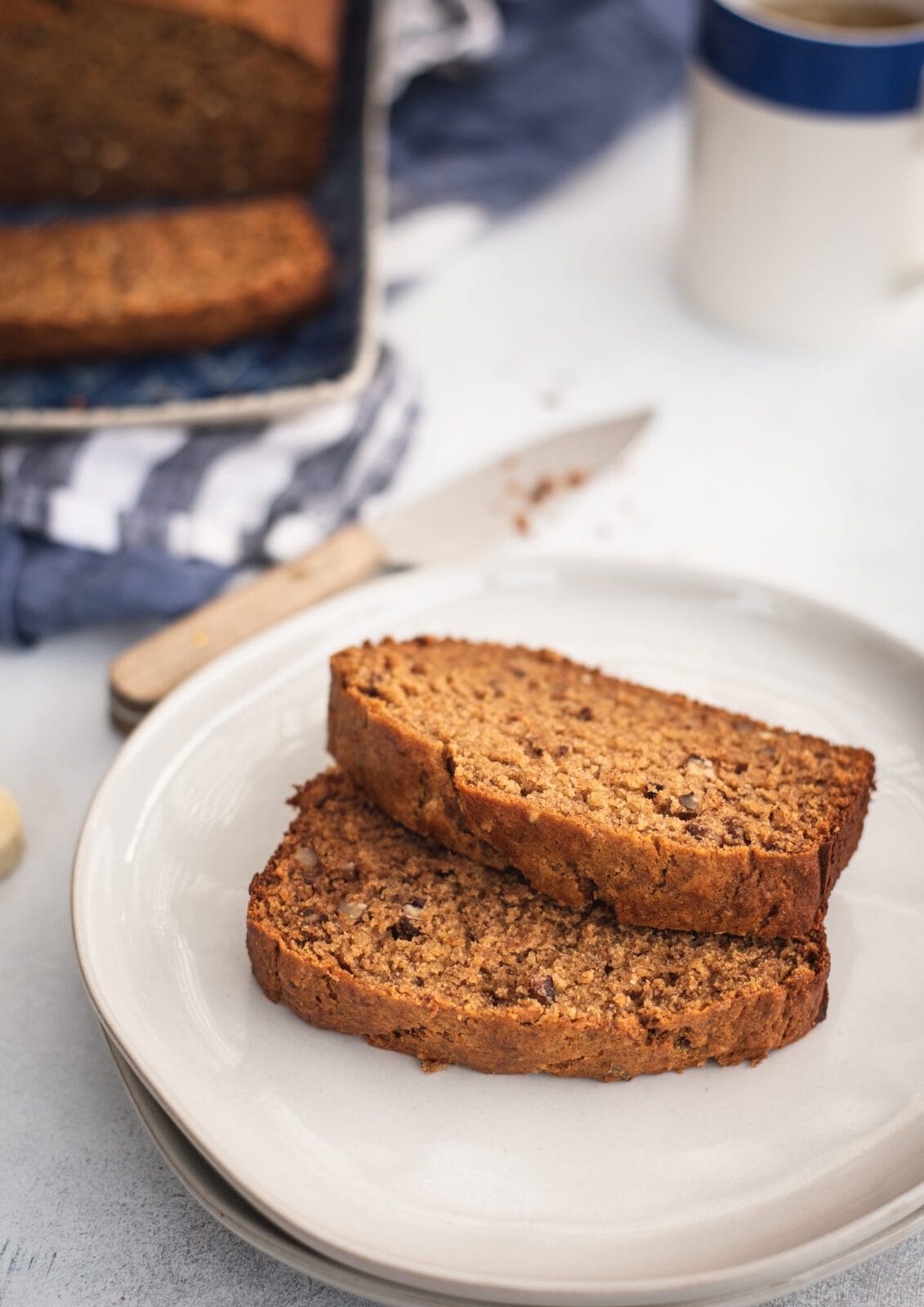 This version of healthy banana bread is filling and low in added sugar while maintaining just the right level of sweetness. I credit this to using overly ripe bananas. By overly ripe, I mean brown spots everywhere, on the verge of being too bad to use. It might sounds gross, but that's where the magic happens! There's a pic of the kind of bananas I mean over in my chocolate zucchini banana bread recipe.
I look at bananas ripening on the counter as little fruity gold mines and can hardly wait long enough for them to get to that ideal stage of yellowy-brownishness that you need for recipes like this.
Next time you're tempted to throw out bananas that are too ripe to eat plain – do yourself a favor and put that aged fruit stash to good use! Or, you can always throw them in the freezer to turn into healthy banana bread at a later date. I always have a few ripe bananas lurking in the freezer for when the craving hits.
One of the main things I love about making quick breads is how quick and easy it is. I mean its all in the name right? It takes me about 15 minutes to get a batch in the oven, which I normally do on the weekends thinking it will last for a few days worth of breakfasts… I don't know how I maintain this delusion when it rarely makes it past day one in our house, but I always start out with the best intentions. That must count for something right?
To make it even faster, this recipe uses one bowl and doesn't bother with mixing dry and liquid ingredients separately. I've found it simply doesn't make a difference in a recipe like this.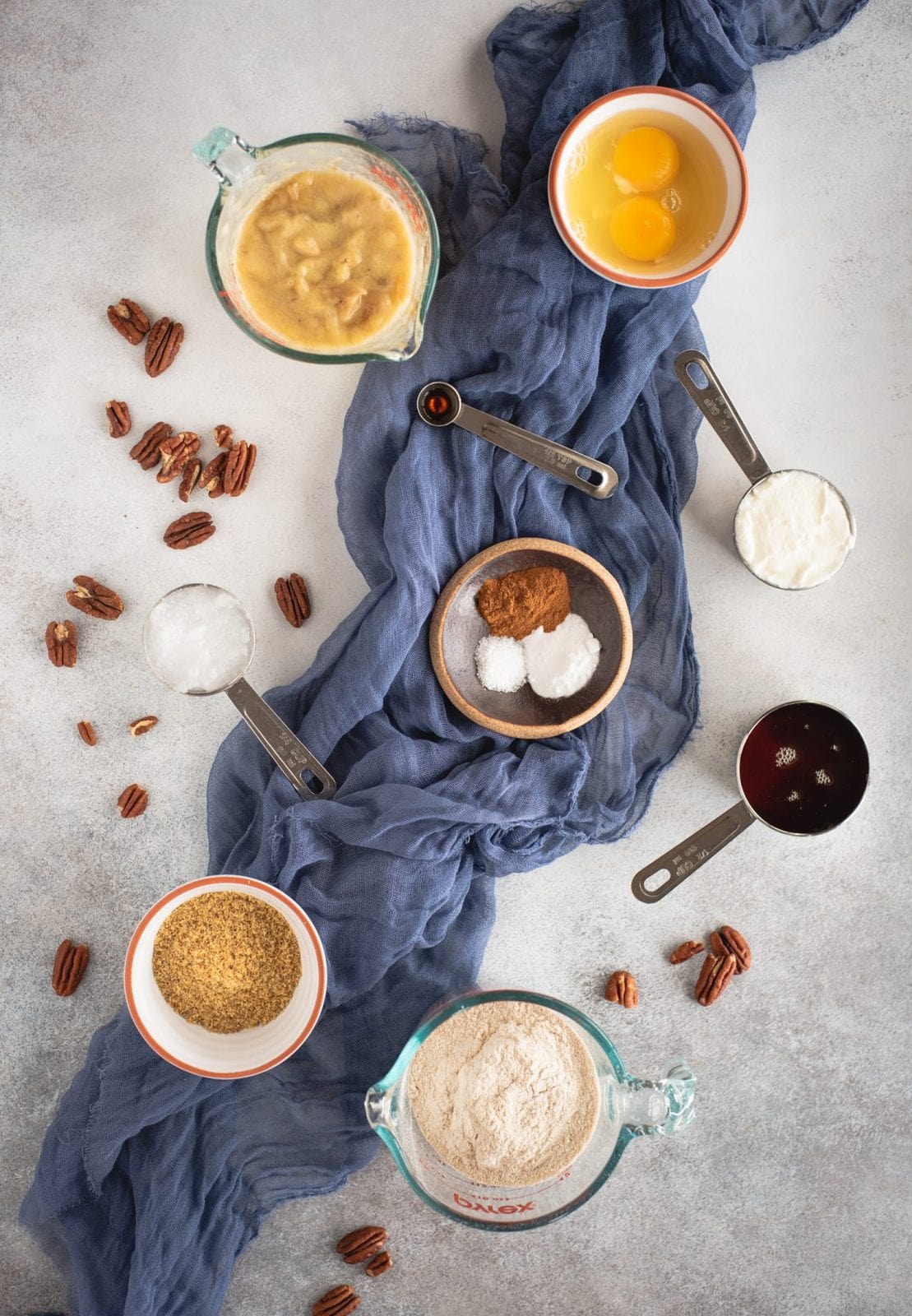 It normally takes about 50 minutes to bake in my oven but bakes a bit faster without nuts. As long as you don't over bake it, the bread will be super moist and have just the right texture.
As with most baked goods, air on the side of caution, pull it out a little early and do the toothpick test if you aren't sure. To do this, you basically just poke a toothpick in the center and if it comes out mostly clean, you're good to go. I say "mostly" because a lot of the time you'll get a few little bready chunks on it and what you're really looking for is no liquid batter on the toothpick.
And aside from the spectacular texture, another thing that sets this recipe apart is the flavor! It isn't stingy on the cinnamon one bit! Gotta have that flavor in banana bread in my opinion. That and vanilla create such an underlying richness. When I see a measly 1/2 teaspoon of either in a banana bread recipe, a lone tear rolls down my cheek. Okay, maybe that's a tad dramatic, but you get the picture. Cinnamon and vanilla are critical for a tasty, healthy banana bread.
That's how you end up with a perfect batter like this:
And even more gorgeous loafs like this: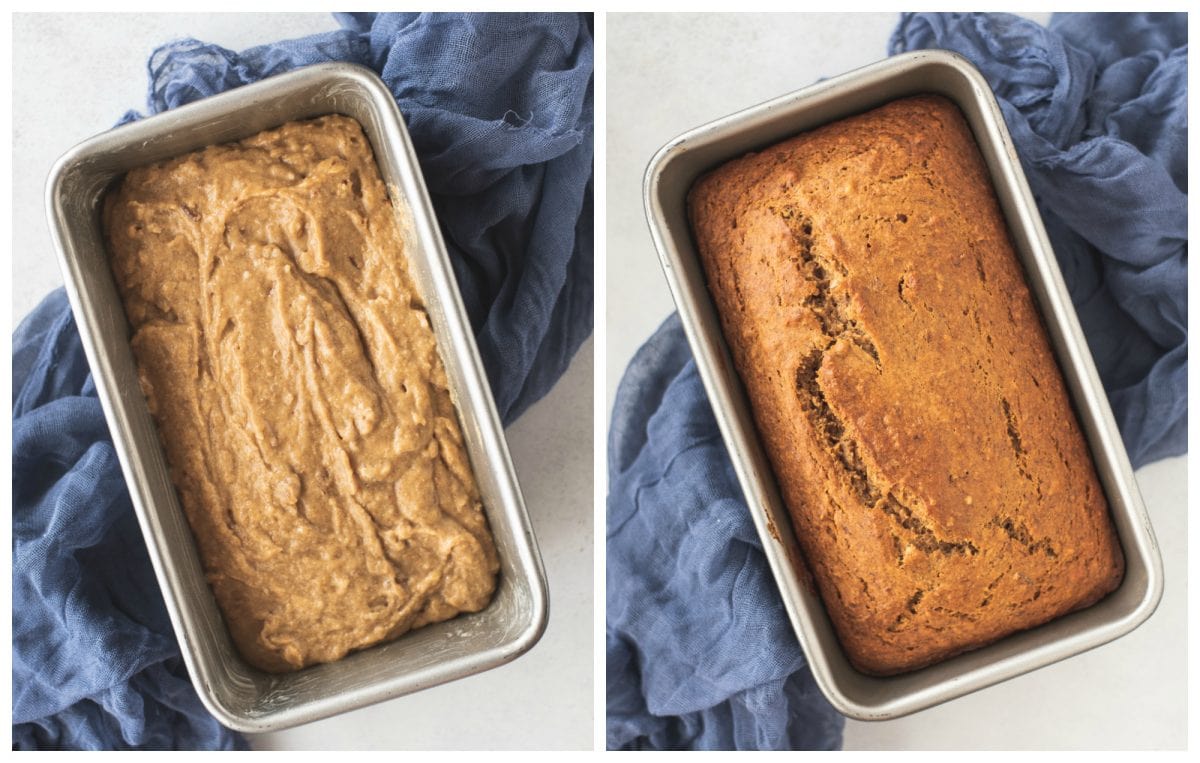 And, what we all really care about, perfectly moist, scrumptious slices like this: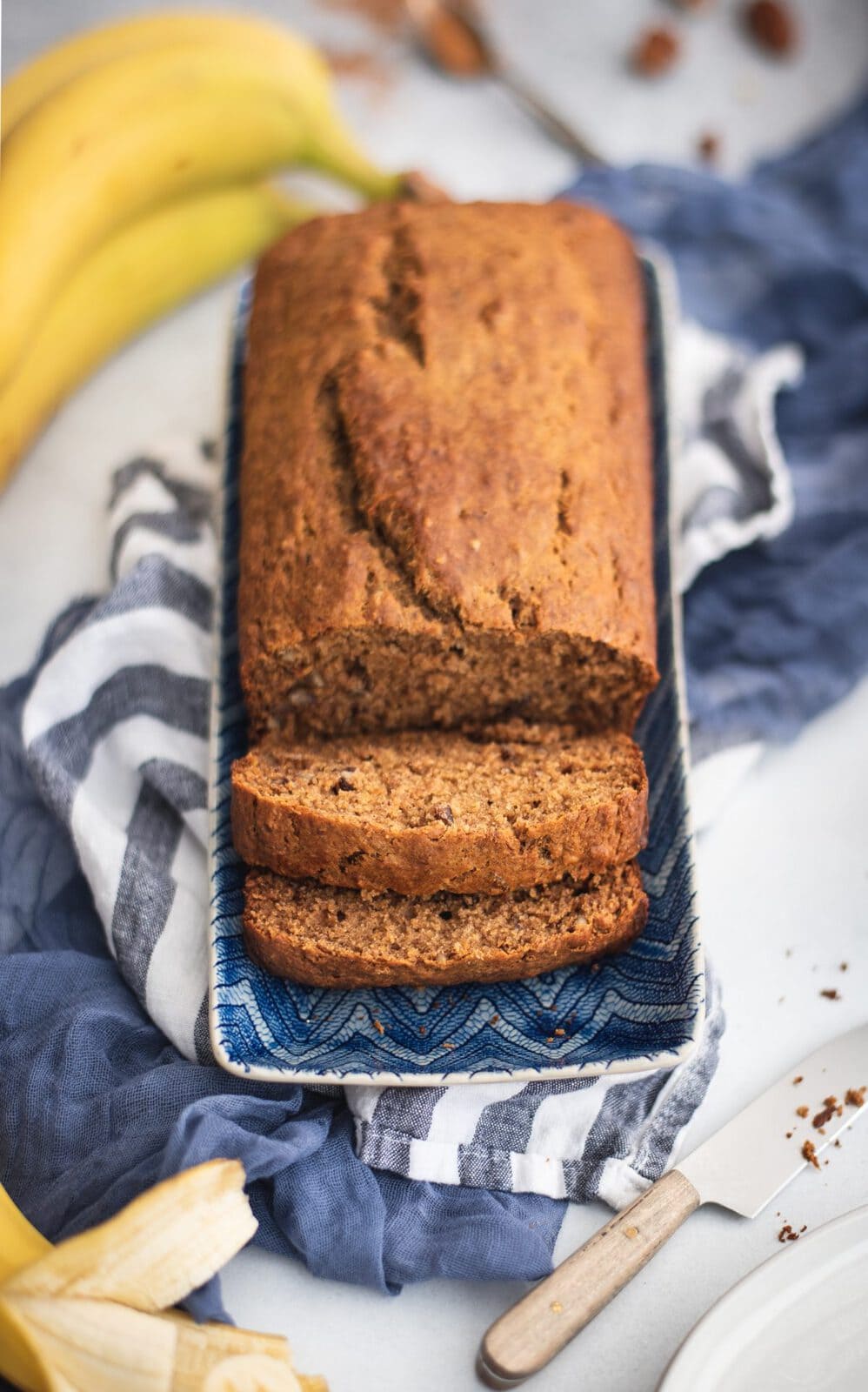 Substitutions
So, before we end, I'll touch on a few possible substitutions. I still recommend following the recipe of course, but sometimes it just isn't worth a trip to the store if you're out of one thing. Or if you have dietary restrictions, you might not have the option to include one thing or another.
To make muffins instead – fill openings in a muffin tin 3/4 full and bake for 20 – 23 minutes (makes 12 muffins).
To make dairy free – swap the yogurt with apple sauce. It won't be quite as moist and won't have as much protein but will still be good.
To make vegan – swap the yogurt with apple sauce, make flax eggs, and use agave syrup instead of honey.
Only have almonds, walnuts, or another random nut? I've used walnuts before and it was great but I'm sure any other nut would be fine too.
Hate nuts – leave them out and check the bread at 40 minutes since it may bake more quickly without them.
Want to sub the nuts with chocolate? Treat yo-self and just do it. I have and the earth is still spinning.
Don't have or want to use coconut oil? I've swapped with butter before and it was fine. I'm sure other oils would be fine too but haven't tried them myself.
What's the oven temperature in Celsius? 325° Fahrenheit is 162° Celsius for those on the metric system. There is a button below the recipe ingredients that allows you to switch the rest of the ingredients to metric. Please note that this is done automatically through a recipe plug-in and I have not tested any of these to make sure they are correct.
If you're looking for another way to use those ripe bananas, try this banana oat cookie recipe, these peanut butter banana muffins or these zucchini banana cookies!
The best healthy banana bread recipe around! It's perfectly moist and delicious made of white whole wheat flour, yogurt, coconut oil, flax, and honey.
Ingredients
1/4 cup coconut oil melted (plus about a teaspoon more for greasing pan)
3 small or 2 large ripe bananas mashed (1 cup)
1/2 cup honey or agave syrup
1/3 cup plain yogurt I use whole milk yogurt, replace w/ applesauce to make dairy-free
2 eggs
1 1/2 tsp. vanilla
1 tsp. baking soda
1/2 tsp. salt
1 1/2 tsp. cinnamon
1/4 cup ground flax meal
1 1/2 cups white whole wheat flour
1/2 cup chopped walnuts or pecans
Instructions
Preheat oven to 325° degrees F.

Grease a bread pan liberally with coconut oil or butter and set aside.

In a medium sized bowl, beat banana, coconut oil, honey, yogurt, eggs, vanilla, baking soda, salt, and cinnamon together with a hand mixer.*

Fold in flax and flour until just mixed in, being careful not to over mix. Remove beaters and add nuts, stirring lightly to distribute them evenly.

Bake for approximately 50 minutes until a toothpick comes out mostly clean (best if not over baked). Let cool in pan for 10 minutes before removing and cooling fully before slicing. Keep in a covered container or wrapped tightly for up to 4 days. You can also freeze slices or an entire loaf to be defrosted and eaten later.
Notes
*I normally use a glass mixing bowl so that I can melt the coconut oil directly in it and then beat the bananas in. *If excluding nuts, the bread may bake more quickly so check it at 40 minutes.
Nutrition
Calories: 223kcal | Carbohydrates: 31g | Protein: 4g | Fat: 10g | Saturated Fat: 4g | Cholesterol: 28mg | Sodium: 211mg | Potassium: 194mg | Fiber: 3g | Sugar: 15g | Vitamin A: 65IU | Vitamin C: 2.6mg | Calcium: 36mg | Iron: 0.9mg