Almond flour banana bread is naturally gluten free and loaded with protein. This recipe is perfectly moist, refined sugar free, and absolutely delicious!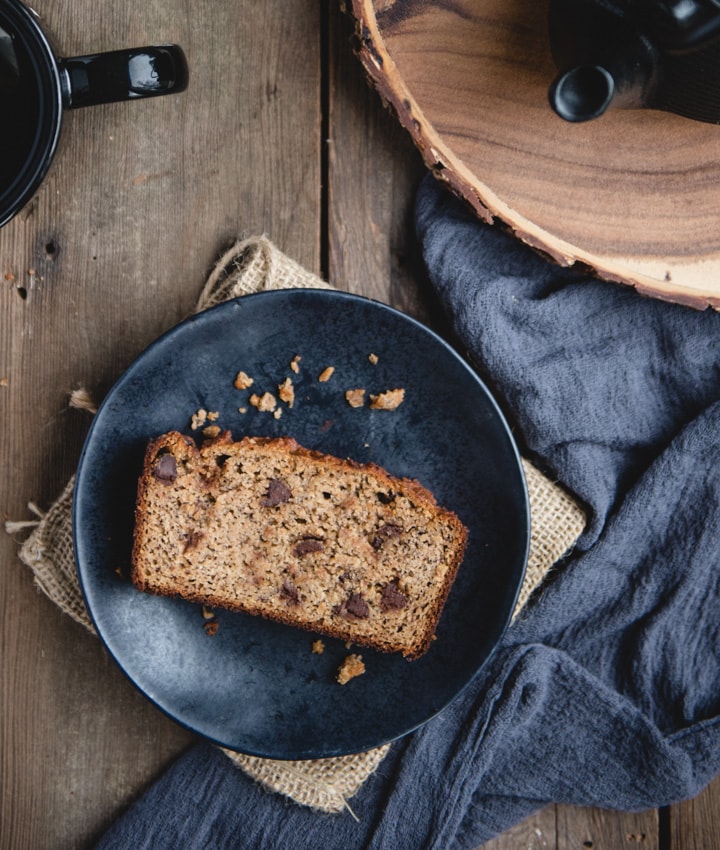 This is the gluten free banana bread to end all banana breads! It's so delicious and you wouldn't even know it's gluten free unless you're told. The eggs make the dough lighter than it would normally be with that much almond flour and the recipe is dense, moist, and everything you'd want in a quick bread.
Almond flour can be expensive but making almond flour banana bread means your bread is loaded with healthy, vegetarian protein that will actually keep you full. So delicious, so satisfying, so good.
Almond Flour Banana Bread Ingredients
The ingredients in this banana bread are simple and healthy. There isn't any refined sugar and the recipe is filled with things that are good for you and all taste great together. Here's a list of what you'll need:
Brown bananas, the browner they are, the sweeter your bread will be!
Eggs
Vanilla extract
Olive or avocado oil
Baking soda
Baking powder
Salt
Cinnamon
Nutmeg
Optional: Chocolate chips and/or toasted pecans or walnuts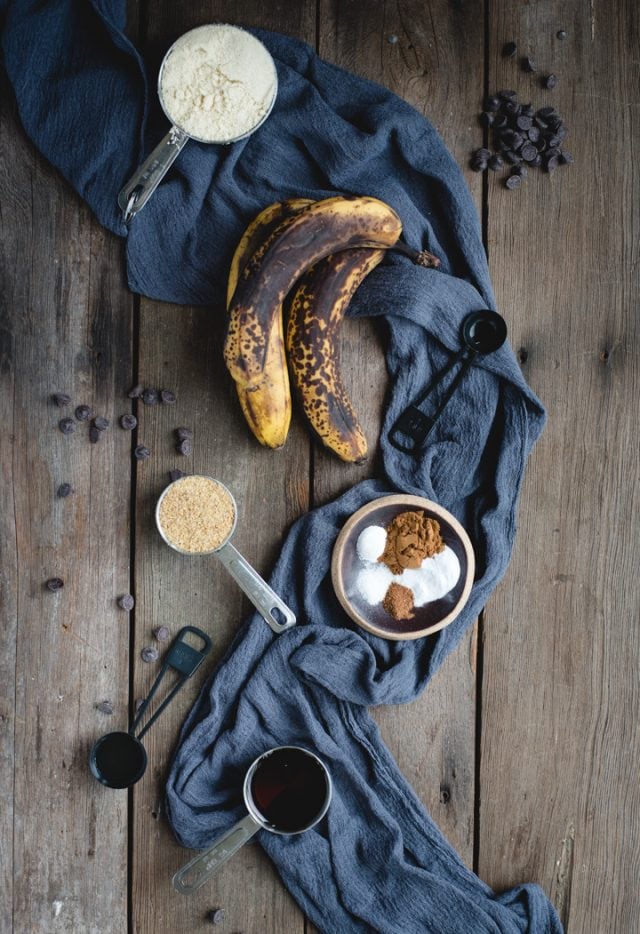 How to Make Almond Flour Banana Bread
Almond flour banana bread is so quick and easy to make. It can all be made in one bowl, with simple, easy to find ingredients.
Start by preheating the oven. A basic step, but easy to forget if it isn't listed in the instructions. From here, prep the loaf pan. I use butter on a paper towel to thickly coat the pan.
From here, put all the wet ingredients into a bowl and mix.
Add dry ingredients, mix and then stir in chocolate chips and/ or nuts if you're using them.

Pour batter into a loaf pan, bake and then remove from the oven. Let the bread cool in the loaf pan for a little while before removing and cooling completely. Slice and enjoy!
Is It Gluten Free?
Yes, this banana bread is entirely gluten free! Since it only uses almond flour it doesn't have that grainy taste that a lot of gluten free flours have and the texture is incredible.
I have tried many combos and this version tastes about as close to the real deal as you can get using a single gluten free flour option. To get the best texture, make sure to use blanched super fine almond flour.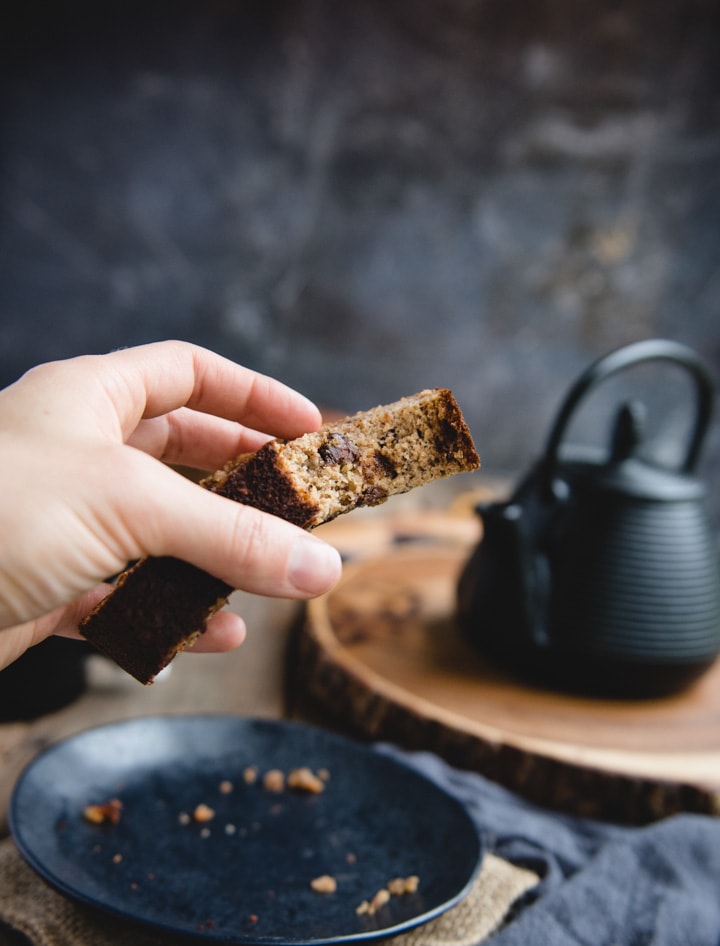 Storage and Freezing
Almond flour banana bread keeps well since it's nut based and nuts are fatty and help keep the bread moist. It reheats excellently as well if you like to eat your banana bread warm.
I often make two loafs at a time and slice and freeze one to have on hand. You can also freeze brown bananas anytime you have them and pull them out of the freezer to make banana bread at a later date.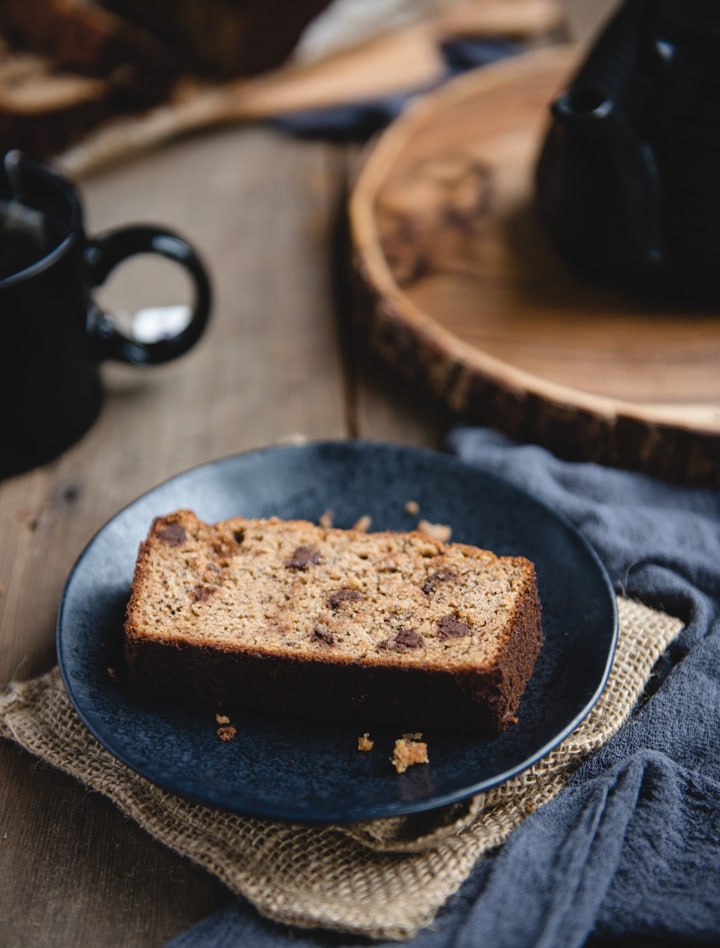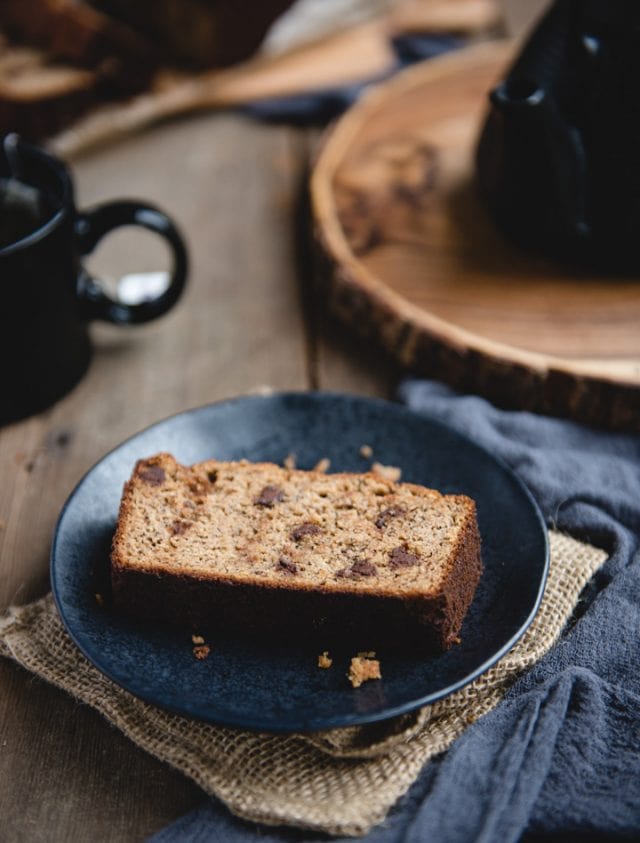 There are three main ways to store banana bread:
Counter: If keeping on the counter, store bread in a tightly sealing container or tightly wrapped with foil or plastic (re-use a bag if possible to cut down on single plastic use). I just keep it in a big Snapware container and it keeps for 3-4 days.
Refrigerator: To prolong storage for another day or two, keep bread in a tightly sealing container or rightly wrapped in foil or plastic in the refrigerator. It will keep for up to five days stored this way.
Freezer: Freezing will preserve the banana bread the longest and makes for convenient, quick weekday breakfasts or snacks. To do this, pre-slice the bread, wrap tightly in plastic wrap and store in a freezer proof bag. I love these reusable gallon sized bags. It will keep for about 3 months in the freezer if wrapped well.
There are two ways to thaw banana bread from the freezer. The first is the slow thaw: pull a slice out and let it thaw countertop for a few hours or in the fridge overnight. OR, my usual method, the quick thaw: pull a slice of banana bread out and microwave for 30 – 90 seconds (time will vary significantly depending on microwave power level).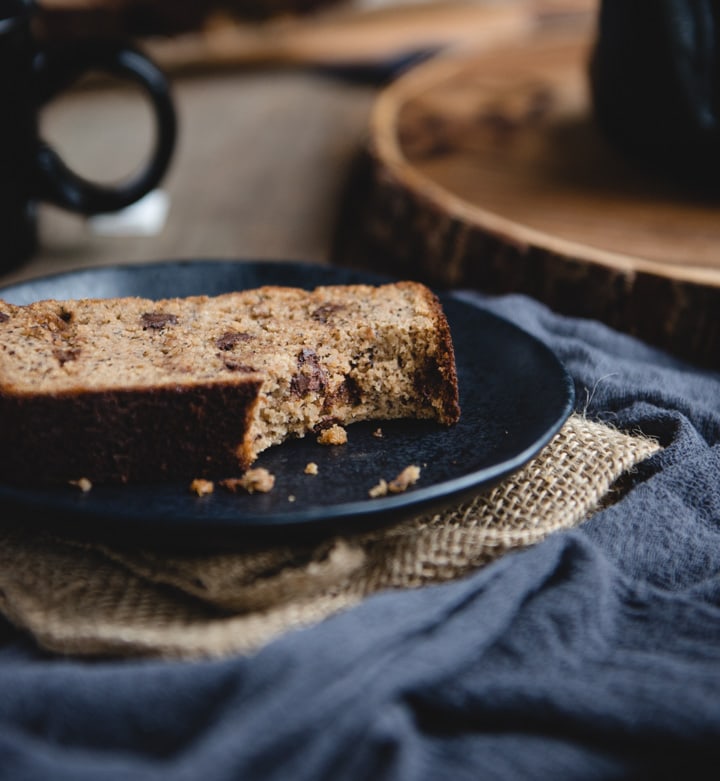 More Almond Flour Recipes
Almond flour is one of my favorite ways to turn recipes gluten free. It doesn't work in every recipe but some turn out just perfect with almond flour. Here are a few I'd recommend: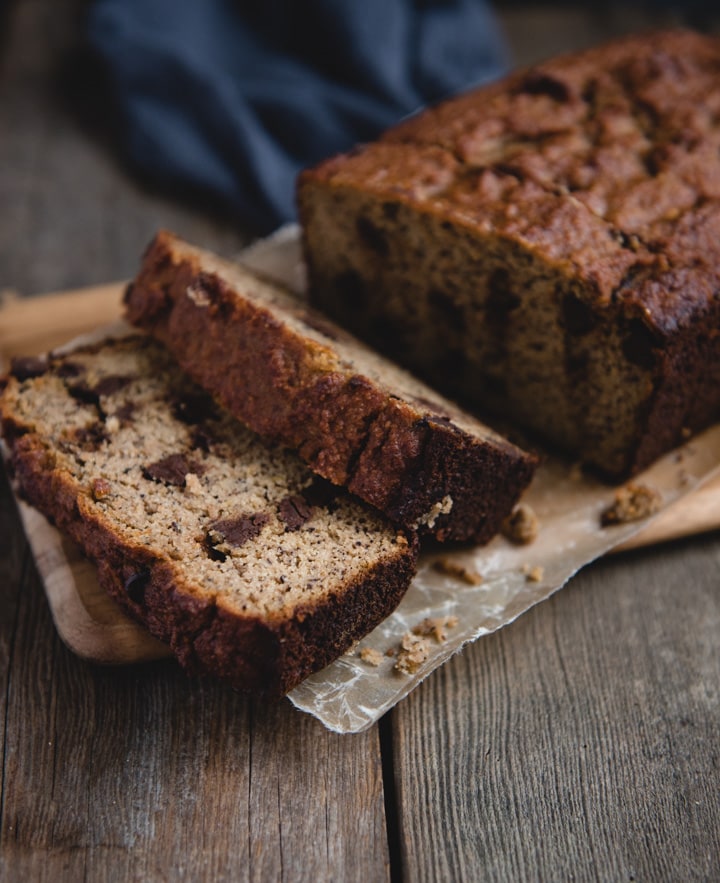 More Ways to Use Brown Bananas
There's no way around it, bananas have a short shelf life. Once you have a few good recipes for brown bananas up your sleeve though, you'll be happy when you see brown spots start popping up. Here are a few of my favorites:
Almond flour banana bread is naturally gluten free and loaded with protein. This recipe is perfectly moist, refined sugar free, and absolutely delicious!
Instructions
Preheat oven to 350° F.

Grease loaf pan with butter or oil and set aside.

Beat mashed banana, eggs, vanilla, maple syrup, and oil together until blended.

Add almond flour, flax meal, baking soda, baking powder, salt, cinnamon, and nutmeg and stir until just mixed together. Stir in chocolate chips and/or nuts if using them.

Pour batter into prepared loaf pan, place in oven and bake for about 50 minutes or until toothpick inserted into the center comes out mostly clean.

Remove from oven and let sit in pan for about 10 minutes.

Remove loaf from pan by running a butter knife around the edge and then using a flat spatula to lift from the bottom if it doesn't come right out.

Finish cooling on a wire rack, slice and serve. Store wrapped well for three days on the counter or up to five days in the refrigerator.
Notes
* To freeze, place bread in a freezer safe bag and freeze for up to 3 months. Slice before freezing to allow one piece to be taken out and thawed at a time.
Nutrition
Calories: 262kcal | Carbohydrates: 19g | Protein: 8g | Fat: 19g | Saturated Fat: 2g | Cholesterol: 41mg | Sodium: 170mg | Potassium: 188mg | Fiber: 5g | Sugar: 9g | Vitamin A: 78IU | Vitamin C: 3mg | Calcium: 99mg | Iron: 2mg