This easy broiled grapefruit recipe is deliciously tart with just the right amount of sweetness to add balance and make this the perfect healthy breakfast, dessert, or snack.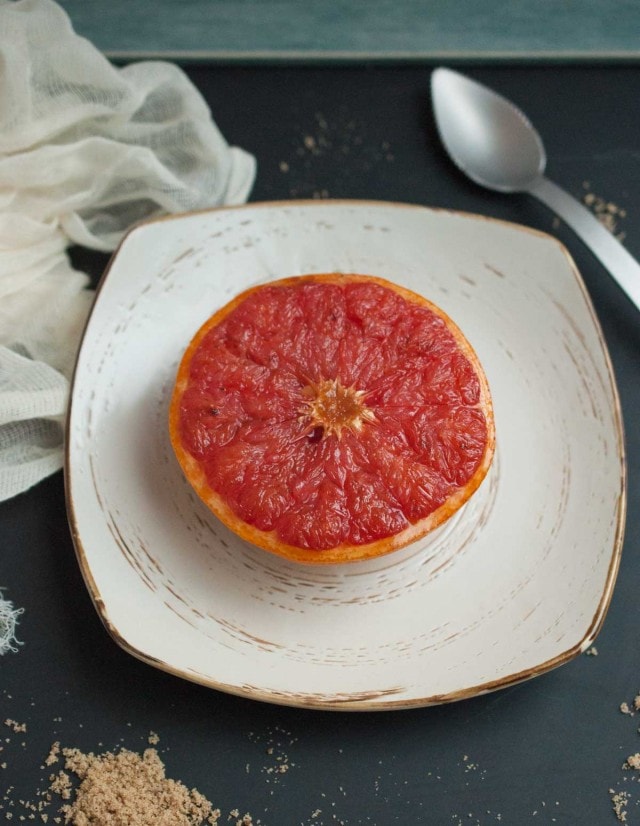 Broiled grapefruit. Sounds totally weird right? Well, it kind of is. Its the good kind of weird though. I would have never thought of this in a million years if I hadn't seen a picture of one a while back. My interest was immediately peaked. I'm always on the prowl for healthy dessert options and broiled grapefruit seemed to fit the bill.
I forgot about it for a while until the fated day that I then ended up with a few extra grapefruits in the fridge. My memory was jolted back to that broiled grapefruit picture and I decided to dive in and do a bit of research.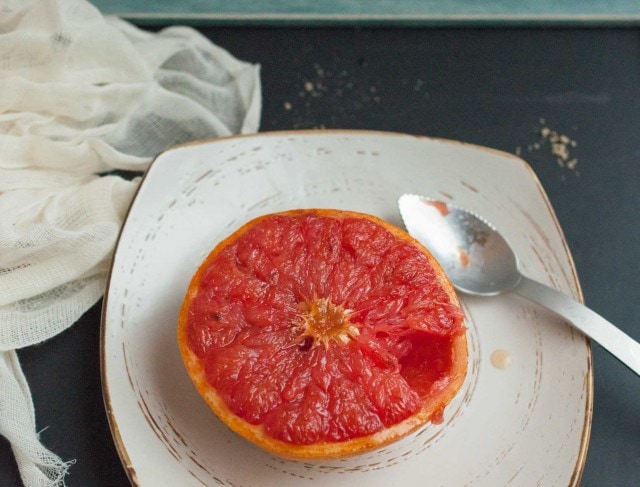 Low and behold, the saga of the broiled grapefruit got even weirder. I read somewhere (sorry I forget where) that broiled grapefruit was actually eaten as a salad back in the 70's. A Salad. Lawd have mercy.
Its unfathomable with my 80's/90's upbringing that this was ever an acceptable first course, but I guess just a brief decade beforehand, this was truly a thing. And how have I never heard of it before? Obsessing over food is pretty much one of my favorite pastimes.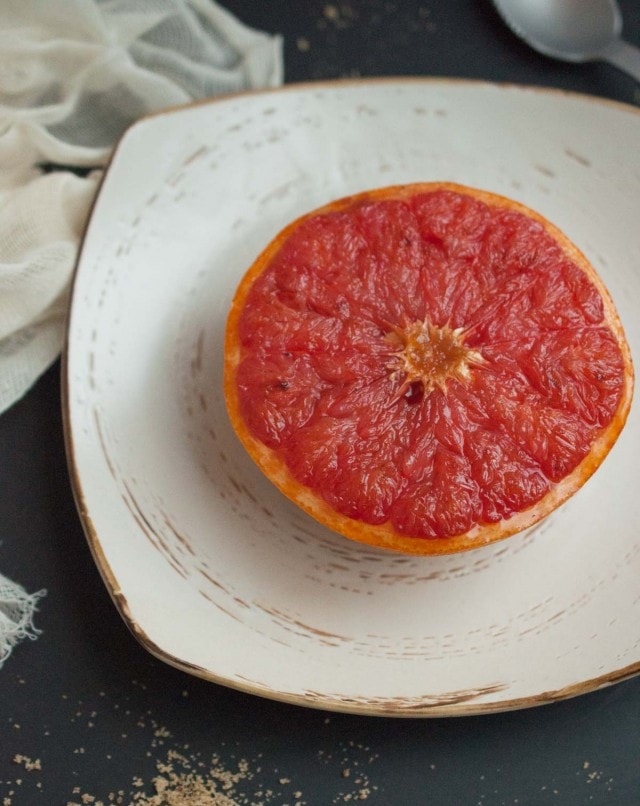 Regardless of whether you choose to use this as a salad (promise I won't judge), dessert, or a random snack, its absolutely as tasty as can be. Its the perfect way to jazz up a regular piece of fruit and turn it into something a bit more decadent in under 10 minutes.
The recipe couldn't be easier too. It could be boiled down to just a few words even and still turn out great:
1. Cut grapefruit.
2. Top with sugar and spices.
3. Broil.
It will come out looking all kinds of fabulous like this. See that caramelization on top? That's where its at. I tried making this with honey first to avoid using a more processed form of sugar, but it just didn't hit the mark.
The honey didn't caramelize the way I wanted it to and didn't pair as well with the grapefruit flavor in my opinion. Sooo, enter brown sugar. This simple swap escalated this recipe from "meh" to "wow" in an instant.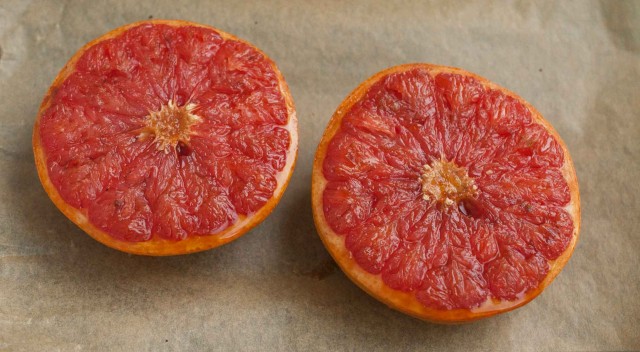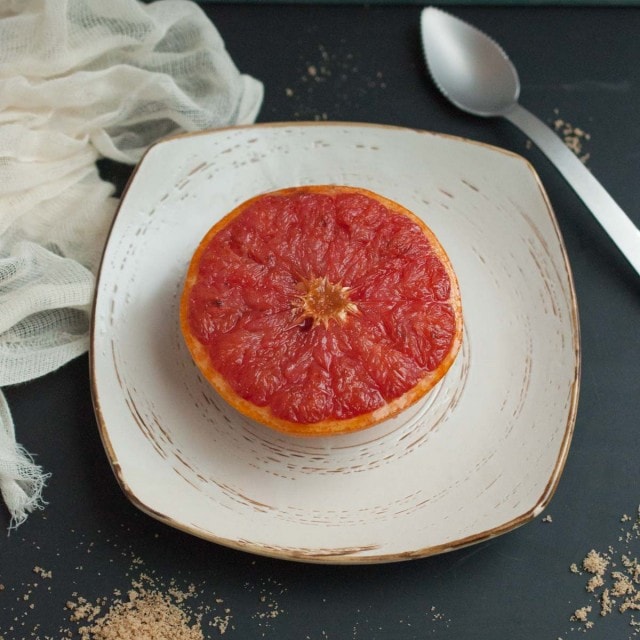 As Elise points out in her version of broiled grapefruit on Simply Recipes, it will be easier to eat if you cut the sections out with a serrated knife before broiling. I did not do this because I have a handy grapefruit spoon that makes easy work of it after the fact.
My mom always served grapefruit with serrated spoons growing up so I figured it was the norm. It wasn't until much later on that I realized most people get through eating a grapefruit simply armed with a small knife. My immediate reaction was to condemn these heathens, until I realized I was entirely outnumbered and knifes are really the go-to utensil for most. Touché you practical people you, touché.
With how busy the holiday season is, I'm sure we could all use an easy recipe or two up our sleeves. Take advantage of all the juicy citrus this season and add broiled grapefruit to your breakfast (or any other meal).
Whether you choose to pair it with a rosemary pomegranate mimosa is entirely up to you…
This easy broiled grapefruit recipe is deliciously tart with just the right amount of sweetness to add balance and make this the perfect healthy breakfast, dessert, or snack.
Ingredients
1 grapefruit
1 Tbsp. brown sugar
1/4 tsp. vanilla
pinch of nutmeg, ginger, or cardamom
pinch of cinnamon
pinch of salt
Instructions
Preheat oven to low broil setting and line a baking pan with parchment paper or foil.

Cut grapefruit in half through the middle and place in pan. To make it easier to eat, you may want to cut around each section in the grapefruit using a serrated knife (I use grapefruit spoons instead).

Pour half of the vanilla onto the cut side of one of the grapefruit and the rest onto the other half. Use your finger or a spoon to spread.

Divide sugar between the two halves, sprinkling evenly. Top each grapefruit half with a very small pinch of nutmeg (or ginger or cardamom), cinnamon, and salt.

Place in preheated oven and cook for 8-12 minutes until the top is caramelized. If your oven does not have a low broil setting, the grapefruit will be done much faster so keep an eye on it. Eat right away.
Nutrition
Calories: 163kcal | Carbohydrates: 41g | Protein: 2g | Fat: 1g | Saturated Fat: 1g | Sodium: 4mg | Potassium: 332mg | Fiber: 4g | Sugar: 31g | Vitamin A: 2830IU | Vitamin C: 76.7mg | Calcium: 66mg | Iron: 0.2mg