These chocolate coconut balls are made healthier with unsweetened coconut, maple syrup, and coconut oil. They're so delicious you'd never know it though!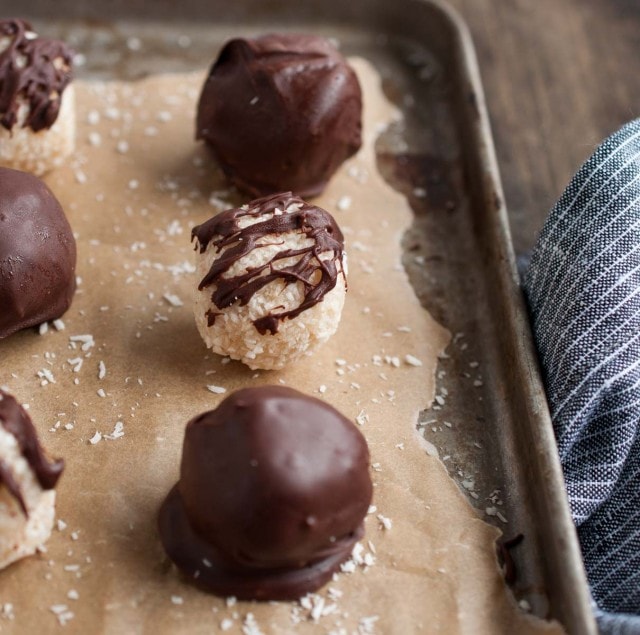 And just like that, Christmas is over. I hope the holiday was as great for all of you as it was for us. I got to spend tons of time with family, including loads of of baby snuggles from my new nephew and nieces. All this of course, was accompanied by oodles of sweet treats. Like yikes… waaay to much sugar.
Luckily, one of the treats I made was (pretty much) guilt free – chocolate coconut balls! Say what? How can anything with chocolate and coconut be healthy?
Well, friend, its possible. Instead of using high fructose corn syrup laden pre-sweetened coconut, heavy cream, and everything else that goes into your standard chocolate coconut candy, these tasty morsels are made with pure maple syrup and unsweetened coconut. A touch of coconut oil is stirred in for texture, and voila, chocolate coconut heaven without any of that processed garbage.
This recipe is both super easy and super delicious. If you're a coconut lover, you've got to try this one out. My husband said they taste just like Bounty bars, which are pretty much his fav, so I scored major wifey points there (obviously). For those of us from the US, think Mounds bars, but a little less creamy (in a good way). They've still got that same great coconutty taste but have more texture.
Another thing I love about this recipe is that its easy to do two different ways. You can either completely envelop them in chocolate or just barely drizzle it on top. Either way, these chocolate coconut balls are a win.
I preferred the ones with just a drizzle since this really lets the coconut flavor shine and is a tad healthier. My chocolate loving husband liked the ones with a complete chocolate coating where the chocolate takes center stage and the coconut is more of an undertone.
Either way, we both loved this recipe and can't wait to make more. If you're on the fence on which one you'd like more, just try 'em both. There's really no way to loose.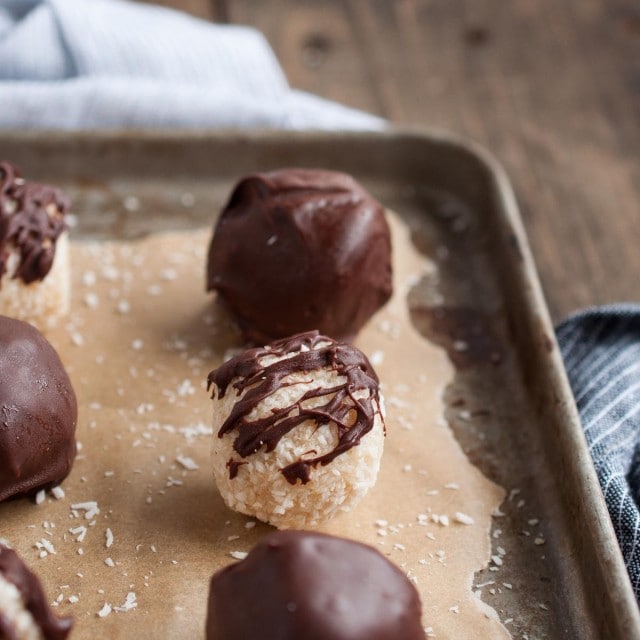 This recipe needs to be made in stages. Stage one involves stirring together the coconut mixture and shaping into rounds. As you can see in the picture below, using desiccated coconut makes the mixture a little harder to work with than pre-sweetened coconut. It's still workable, you just have to press firmly to get the mixture into balls.
It'll take a good 10 minutes to get them all ready and your hands will be covered in coconut. This is NOT a bad thing. Its completely edible and still totally delicious at this stage.
Then you freeze those little suckers while you prep the chocolate. They take about 45 minutes to an hour to freeze so you'll have some downtime before you even start having to mess with getting the chocolate ready. Or, if you want to prep the coconut balls one day and dunk in chocolate the next to break the work up a bit, that's totally fine too.
I used the extra time to figure out how I was going to create a double boiler out of a few random pots. My final solution was similar to this and used a pyrex measuring cup in a saucepan, half filled with water. I liked this because I was able to melt the chocolate chips in the same cup that I used to measure them in.
This might seem like a minor win, but for a lazy lady like me, keeping an extra dish from being cleaned is always appreciated. Ain't nobody got time for that.
The first time I did this, I used a bowl set on top of the saucepan that was heated by steam from the boiling water below. This took freakin FOREVER, so, if you don't have a double boiler, I highly recommend the pyrex in the pan method described on the Kitchn.
I didn't take any pictures of my dunking process, but its pretty easy. I used a soup spoon and then pushed the balls off the spoon onto the parchment paper with my fingers.
The drizzling was a little tricker. After trying a few different methods, I think using a small spoon or one of the tines on a fork works best. You have to move quickly on this and the chocolate has to be really hot and melty before you start.
If you are trying (or need) to avoid all refined sugar, these stevia sweetened chocolate chips might be a better option. I have not tried them myself but have read that they are a good alternative and melt well. The Amazon reviews also say they're much less expensive at grocery stores than on Amazon so you might want to check out your local health food store before buying.
If you aren't into coconut or just want to try something else, check out this avocado chocolate truffle recipe or these tasty roasted pears. Yum.
Enjoy these tasty treats and happy new year!
These chocolate coconut balls are made healthier with unsweetened coconut, maple syrup, and coconut oil. They're so delicious you'd never know it though!
Ingredients
2 cups unsweetened shredded (desiccated) coconut
1/3 cup melted coconut oil (must measure 1/3 cup after melting not before)
1/4 cup pure maple syrup
1 tsp. vanilla
1 cup chocolate chips
Instructions
Line a small plate or baking sheet with parchment paper.*

Mix coconut oil, coconut, maple syrup, and vanilla together with a spoon.

Use your hands to form 1" balls and place each one on the parchment lined dish. The mixture will be very sticky and it may be hard to form balls. I found that it helps to form the ball in one hand and use the other to smooth it and place it on the sheet.

Place balls in freezer for about an hour.

Prior to removing the balls form the freezer, melt chocolate in a double boiler (I used

this

method). It can take a while for the chocolate to melt so be patient. Once the chocolate starts to melt, you will need to stir often to prevent from burning and to allow it to melt all of the pieces evenly.

Remove coconut balls from freezer. For fully chocolate dipped balls - use a soup spoon to dip each one in chocolate and place back on the lined dish. For balls drizzled in chocolate, dip a small spoon or the tine of a fork in chocolate and drizzle back and forth on top of each coconut ball. Drizzling can take patience so be prepared for it to take more time to do this than the dipping method.

Place balls back in freezer for 30 minutes to harden chocolate. Serve or store in freezer until ready to serve.
Notes
* You can use wax paper instead or can place directly on the dish. If you do not line the pan, the balls might stick after dipping in chocolate so you will have to remove them very carefully. Nutrition information will vary depending on how much chocolate you end up using.
Nutrition
Calories: 149kcal | Carbohydrates: 9g | Protein: 1g | Fat: 13g | Saturated Fat: 11g | Cholesterol: 1mg | Sodium: 7mg | Potassium: 74mg | Fiber: 2g | Sugar: 6g | Vitamin A: 10IU | Vitamin C: 0.2mg | Calcium: 13mg | Iron: 0.4mg