This easy chicken enchilada casserole is full of flavor and an ultimate crowd pleaser. It has the same great enchilada taste but with way less work!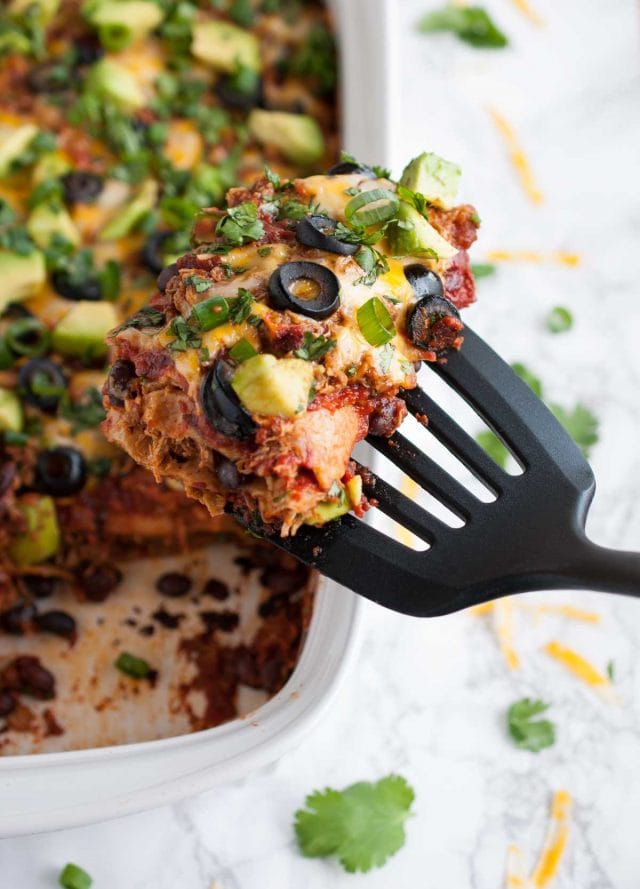 Enchiladas are probably one of my favorite foods. Not, probably, definitely. The downfall is they take sooo much time to put together. (insert downtrodden pathetic sad hopeless emoji here)
Stuffing, tucking, and folding just takes so stinkin long. And, making chicken and sauce from scratch? Híjole. Whose got time for those shenanigans. Luckily, I've found the perfect solution for turning this labor of love into a regular weeknight meal!
This easy chicken enchilada casserole uses a few make-ahead recipes to trim the prep time down to almost nothing. And if you can get your hungry husband (or another sideline snacker) to grate cheese and help a sista (or brotha!) out, you can have this casserole in the oven in 10 minutes flat. On my own, which is how it usually goes down, it takes more like 15 minutes.
Either way, NBD, and totally worth it.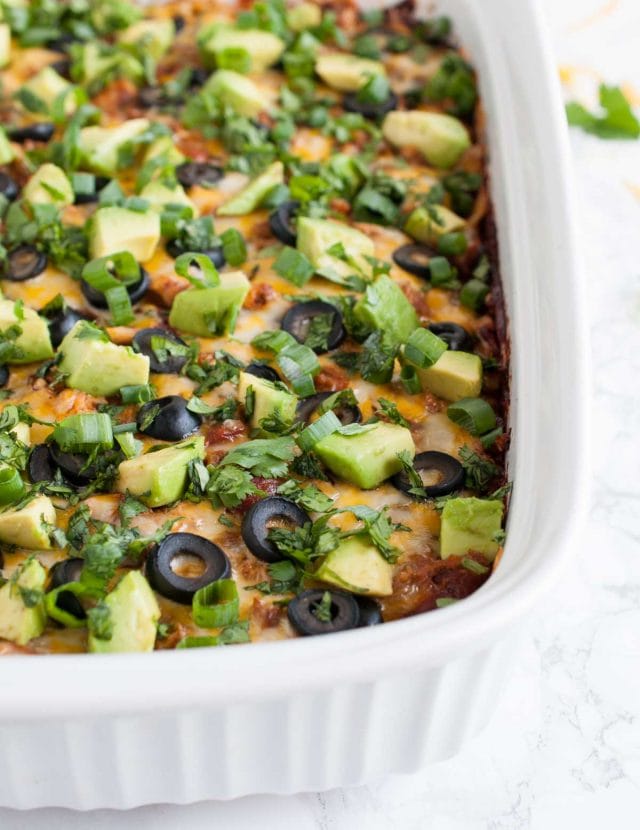 Now that I'm a working woman again, I'm pretty ridiculously obsessed with meal prep. I just love the idea of doing the work once for multiple meals so that weeknight masterpieces can be thrown together fast and haphazardly and still turn out satisfyingly awesome.
The best part about making the chicken and enchilada sauce ahead of time is making epically sized proportions so that you can bust the ingredients out of your freezer and have enchiladas on the table fast, a few times over. I recommend making double or triple (or dare I say quadruple) batches of these key ingredients every time since it isn't much extra effort, and saves boat loads of time for yourself in the future.
My future self always thanks me. She's pretty much always running behind schedule, tired and in need of a glass of wine and wants dinner to be ready stat.
Although the rest of you might not talk about yourself in third person like a weirdo, I'm pretty sure ya know what I mean. We could all use an extra hour or two in the day, and I'm game for anything that helps maximize the time I have. I especially love when cutting corners doesn't hurt the end result one bit and the finish line is still just as rewarding.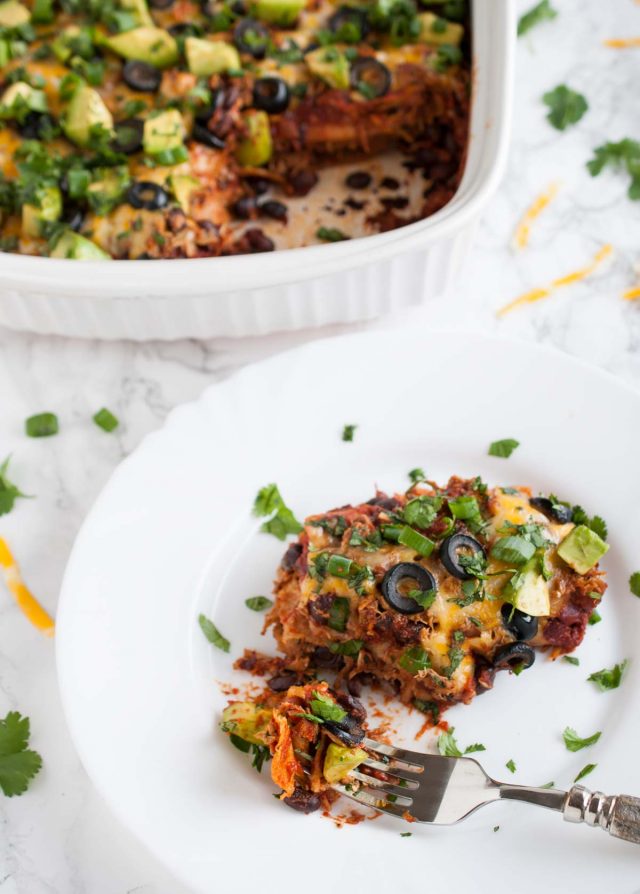 With this easy chicken enchilada casserole, you can cut multiple corners and the eaters will be none the wiser. They might actually be happier because you'll have had time to sip that glass of wine we discussed while making said casserole, and might share that with them too.
And for those of you who are rolling your eyes right now because you think meal-prep is for chumps, you can easily do all steps the same day. No harm done, it'll just take longer to prepare of course.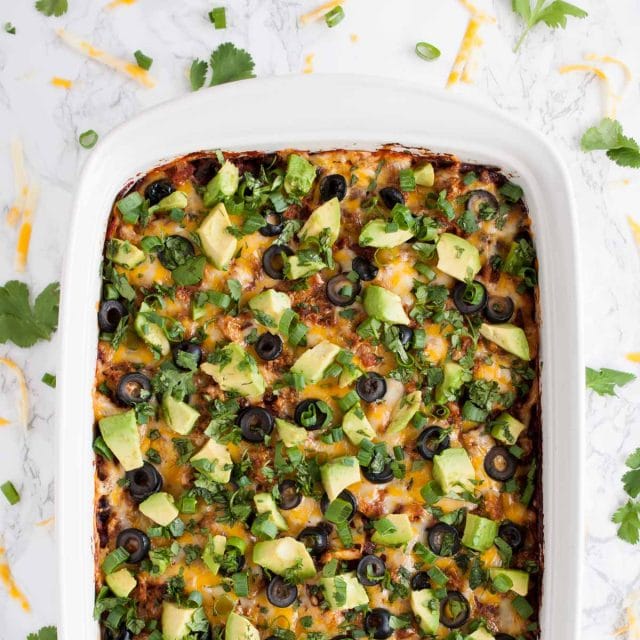 Not only is this easy chicken enchilada casserole fast, but its also just as good, if not better, than normal enchiladas!
This recipe is different than the creamy, sour cream based enchiladas that I've shared before. And they're way different than the veggie enchiladas that I posted back in the blog's infancy too. While those other recipes are both pretty darn delicious, this recipe is much saucier and the flavor is more smack you in the face than subtle.
All that being said – I highly recommend serving with sour cream to help balance the strong flavors. A dollop or two on the side makes all the difference in toning down the heat. They aren't all that spicy to me, but do have a mild kick to them.
Oh, and I haven't even told you the best part! You can't even tell that its a casserole and not individual enchiladas! Once they're served up and on your plate, you'd never know the difference. The trick is stacking the tortillas in layers. You can cut those overlapping parts to fill in the gaps if you want (like I did on the second layer), but it really isn't entirely necessary.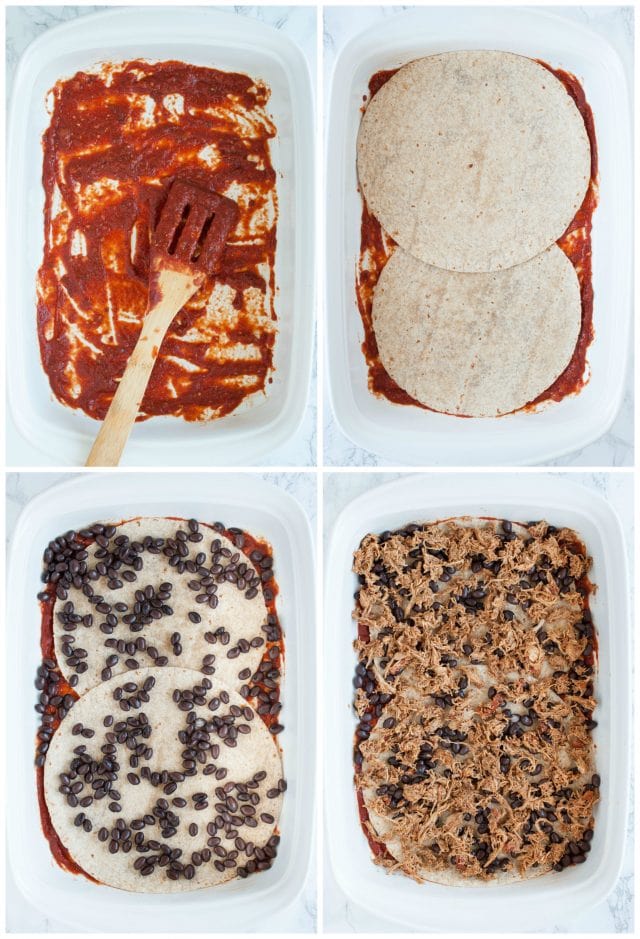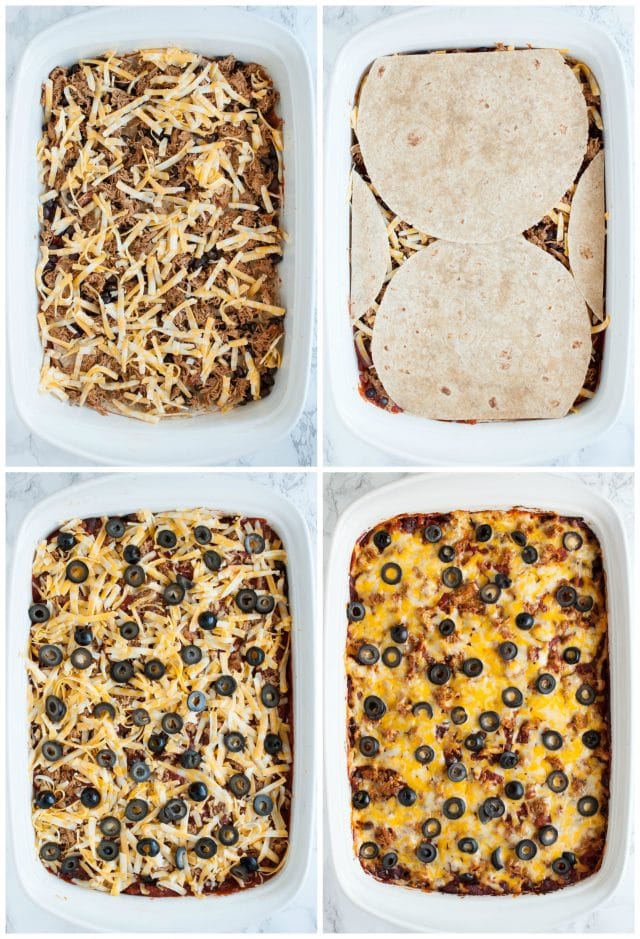 Now feast your eyes on this gorgeous Mexican montage.
Just think, that sexy casserole could be all yours. Never thought you'd hear sexy and casserole in the same sentence? Neither did I. Glad we could make that happen here.
Remember how I said to serve with sour cream? Well, I was a little too impatient with mine, but please ignore the picture above and slather sour cream on each serving to your heart's content.
This easy chicken enchilada casserole is full of flavor and an ultimate crowd pleaser. It has the same great enchilada taste but with way less work!
Ingredients
3 Cups shredded cooked taco chicken
3 cups red enchilada sauce
6 flour 8" tortillas
3 cups grated cheese (Colby, Monterey Jack, or a Mexican cheese blend works best)
2 cans black beans, drained and rinsed
1/2 cup sliced black olives
1/4 cup sliced green onion
1 large avocado, diced
1/4 cup chopped cilantro
Instructions
Preheat oven to 375° F (190° C).

Grease a 9 x 13" casserole dish with cooking spray. Spread a layer of enchilada sauce on the bottom of the dish (this keeps the tortillas from sticking).

Top with two tortillas. Cut the overlapping portions off and layer along the sides as shown in the assembly picture.

Sprinkle with 1/3 of the black beans, 1/3 of the chicken, and then 1/4 of the cheese. Repeat with a second layer in the same order. Before sprinkling cheese on the third layer, pour the remaining enchilada sauce evenly over the casserole and spread around. Add remaining amount of cheese (double the amount used in the first two layers) and sprinkle sliced olives on top.

Cover dish with foil and place in preheated oven. Let bake for 20 minutes covered. Uncover and bake another 10 - 15 minutes until cheese is melted.

Remove from oven and let sit for 10 minutes. Sprinkle green onion, avocado,* and cilantro on top. Serve with sour cream.
Notes
*If the entire casserole won't be eaten right away, put avocado on individual servings so that it doesn't turn brown in the fridge.
** This recipe was inspired by and adapted from Ali's Chicken Enchilada Casserole recipe over on Gimme Some Oven.
Nutrition
Calories: 554kcal | Carbohydrates: 29g | Protein: 36g | Fat: 32g | Saturated Fat: 14g | Cholesterol: 111mg | Sodium: 1827mg | Potassium: 435mg | Fiber: 5g | Sugar: 9g | Vitamin A: 1575IU | Vitamin C: 6.7mg | Calcium: 460mg | Iron: 3.2mg