And just like that, another year is over and a fresh year begins. I can't lie that 2015 was a tough one. All of the changes that were so hard at the time are looking like they will come to fruition in 2016 to make it one of the best years yet. Fingers crossed!
Despite the hiccups along the way, 2015 was still filled with all kinds of fun stuff for me. Like that time we went to Africa and checked a major bucket list experience off the list.
Or that other time we went to Barbados and had waaay to much fun in the sun. I got over my fear (and loathing) of snorkeling on this trip and swam with sea turtles. Sea turtles!!! 😍 It was pretty much the coolest thing ever. Getting (somewhat) over my fear of the ocean and sharks and all things sea related was empowering and freeing in a way I couldn't have even imagined beforehand. I can't wait for my next beach trip, which is coming up soon!
Then there's the big change. Quitting my job and leaving the career I've built over the last ten years. The dread of living out my working life in a cubicle was enough to push me to the brink of insanity. So, I quit. Some days this was terrifying. Others were exciting.
In all, my perspective at this point is that life is what you make it. If you feel that you're not on the right path for you, create change. It can be an uphill battle, but one you won't regret in the end. It sounds cliche, but you only get one life. Don't waste it trying live someone else's dream. Do what makes you happy. I'm so incredibly thankful for my husband's support and for the next chapter we're starting together this year.
Now, let's talk about food from 2015 shall we?
2015 Reader Favorites
I did a bit of sleuthing and based on page views alone, your favorite recipes this year were turkey cabbage rolls, egg muffins, and turkey spaghetti sauce. Avocado truffles and baked eggs in salsa came in close behind. Thank you for your continuing support and positive feedback! I love hearing from readers and have absolutely loved getting to know some of you over the past year.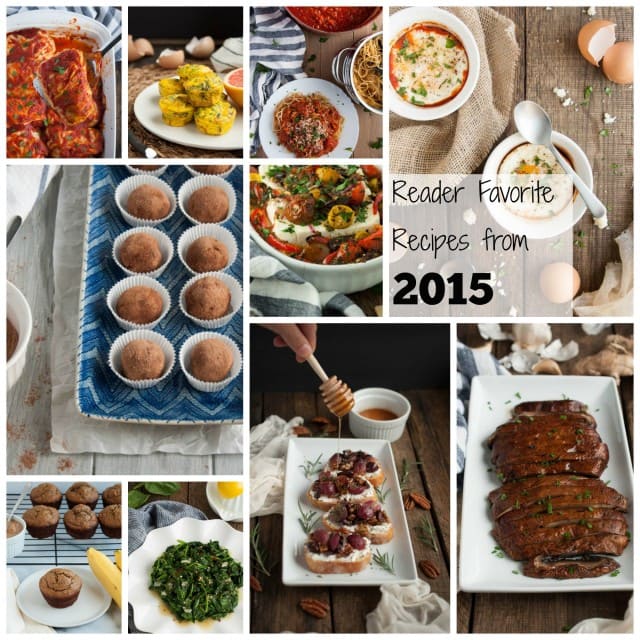 My 2015 Favorite Recipes
Although I think you all had pretty good taste, there are a few recipes that I am pretty fond of that didn't get as much attention. Like those browned butter brussels sprouts. Umm, can you say yum? Or that lemon poppyseed bread? I made that 5 times in a row because our household couldn't get enough of it. Yes, I know there's only two of us. And yes, we devoured each of the five loaves on our own.
Or that chili recipe. I've made that sooo many times this year. Chock full of lean protein and veggies with that classic chili taste we all love. I made some delicious granola too, which I'd highly recommend checking out.
What were some of the best foods you made last year? Or any big changes you created in 2015?