Watermelon mint salad is a refreshing side dish for any summer BBQ with lime adding a pop of unexpected flavor that makes this a surefire winner.
The Fourth of July is next Monday!?!? How is this summer flying by so quickly? Can we just pause for a hot minute and sloooow this whole thing down please. *sigh*
This watermelon mint salad is nothing new in my world. I first made the recipe two summers ago in the blog's infancy, but for some reason I never got around to posting it.
In going back through my old recipe creations, I'm unearthing some real winners that I'm stockpiling to share with you. Some never made it to the photoshoot stage and others never made it to the interwebs because of the absolutely dreadful photos I took.
To put it in perspective, I considered this picture good enough to post back then. So, umm, yeah. The photos I'm unearthing are pretty cringe worthy.
A recipe can be delicious as can be, but people eat with their eyes, especially when the food is staring back at them from a computer screen. Sooo, this watermelon mint salad went back under the camera for a re-do. Just in time for Fourth of July BBQing!
Normally I make red, white, and blue cupcakes for Fourth of July. Its kina my thang. After recipe testing for the cupcake recipe I shared a while back so many times over, I can't muster up the energy for that kind of endeavor this weekend. Needless to say, cupcakes and I are taking a little break from each other.
So, enter this watermelon mint salad.
Honestly, with all the flavor fresh fruit packs this time of year, I'd take this over cupcakes. The watermelon is the perfect level of sweetness and strawberries melt in your mouth like candy.
Since our strawberries bloomed early this year, I'm having to rely on the farmer's market by my house for candy-like strawberries. Strawberries have been my vice this year. Can't get enough of them.
Me and the Bernster might not be allowed back at the farmer's market after the move he made last time though. We stopped by a booth to check out the goods and before I could stop him, he lifted his leg and peed all over the fruit crates that were on the ground.
Mortifying. I can't take him anywhere. 😫
Luckily the ladies were nice and forgave him. I on the other hand, did not. He's still on my sh*t list.
Anyways, enough talk about embarrassing pug-mutt stories, back to fruit salad. Can we get an amen for the watermelon and mint combo? I know I've raved on about this before, but I can't help but bring it up again. If there's anyone out there that isn't pairing these two together, you must try it immediately!!!
I know to the newbies it probably sounds weird, but once you try it, there's no going back.
Both watermelon and mint are known for being refreshing on their own, but throw them together and the freshness knows no bounds. You'll find yourself craving watermelon mint salad instead of chocolate (or cupcakes).
Add a squirt of lime juice and a bit of zest and you've got yourself the most refreshing fruit salad you've ever tasted.
If you're struggling to find a ripe watermelon or your fruit just isn't quite as ripe and sugary as you want it to be, there's a trick for that. This happened to me once and I dissolved about 1/2 tsp. of coconut sugar in the lime juice before tossing on the watermelon and this did the trick.
It perked the watermelon right up and brought out its sweetness. Of course, ripe juicy watermelon is preferable, but this little cheat can be used in a pinch.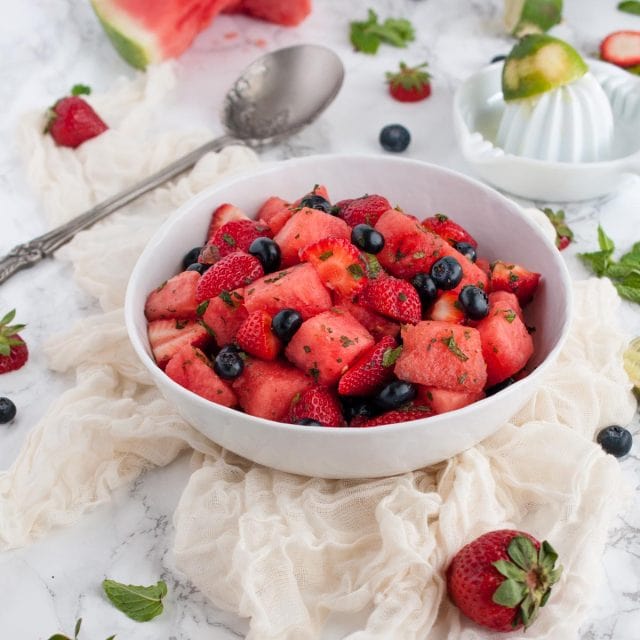 Watermelon mint salad is a refreshing side dish for any summer BBQ with lime adding a pop of unexpected flavor that makes this a surefire winner.
Ingredients
4 cups 1" watermelon cubes
1 cup blueberries
1 cup strawberries, cut into halves or thirds
1 Tbsp. chopped mint
1 T lime juice
1 tsp. lime zest
Instructions
Add watermelon cubes to a medium sized bowl. Stir in mint, lime juice, and lime zest.

Gently fold strawberries and blueberries in. Serve immediately or refrigerate until ready to serve.
Nutrition
Calories: 82kcal | Carbohydrates: 20g | Protein: 1g | Sodium: 3mg | Potassium: 274mg | Fiber: 2g | Sugar: 14g | Vitamin A: 1040IU | Vitamin C: 39.8mg | Calcium: 25mg | Iron: 0.8mg
What are your Fourth of July plans?