This post may contain affiliate links which means that if you buy a product through the link, I will receive a small commission at no extra cost to you. I only recommend products I truly love using that I think you will too. Using these links help support the running of this website and I genuinely appreciate your support!
Juicy, crispy shredded pork tenderloin carnitas uses a leaner cut of meat than traditional recipes for healthy, delicious pork tacos made in a slow cooker.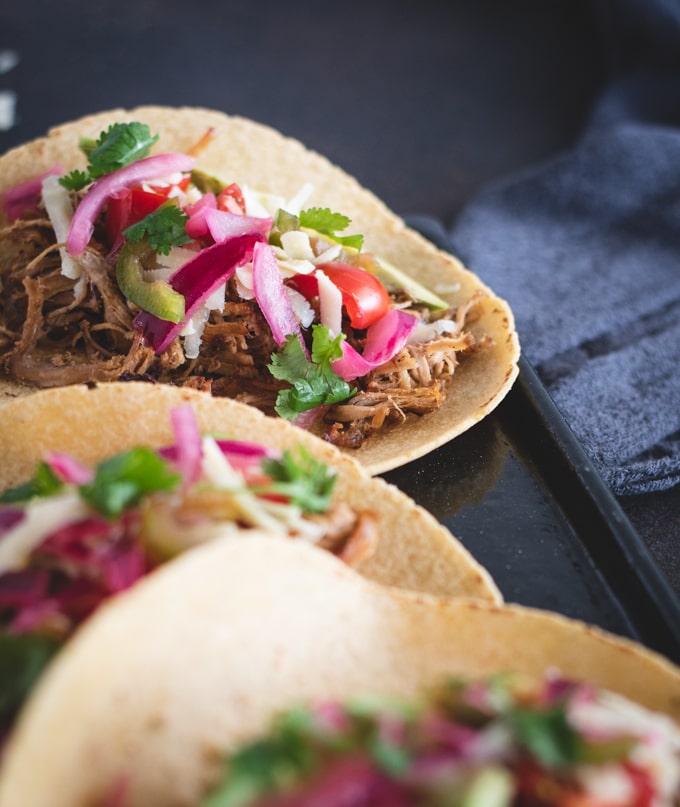 Traditionally carnitas is made with a fatty cut of meat like pork butt or pork shoulder, and the extra fat is part of what gives it that enticing mix of juiciness and crisp concentrated flavor. The grease dripping out the backend of the taco is part of the whole experience… but it doesn't have to be.
This recipe successfully lightens it up with a healthier leaner meat – pork tenderloin! Using tenderloin helps maintain that salty pork flavor and texture that are critical elements of good pork carnitas, but this recipe t has nearly half the calories as traditional carnitas.
Using a crock-pot makes this an easy weeknight meal too since the prep can be done the night before. Not to mention coming home to the smell of this will make all of your work woes quickly melt away.
How do you get the pork so crispy?
You may be wondering how you get the pork crispy if you use a slow cooker, and that's where a sneaky little trick comes in. I usually avoid making crock pot meat dishes like this altogether because I'm never quite satisfied by mushy meat. I usually rely on the oven to get that outer crust that makes stuff like this so amazing.
To get the right texture though, you basically have to slow roast it all day in the oven and being a working lady, I can't really leave my oven on all day when I'm not home… although I've been known to do this by accident on more than one occasion…. anyways – I saw a post on Pinch of Yum that had the brilliant idea of cooking in a crock-pot and then transferring to the broiler at the end to get that crispiness. Simply brilliant – I love these kinds of tricks.
I think all of us pork eaters can agree that there is something inexplicably intoxicating about carnitas. It may be in part the mandatory Corona or Pacifico that goes with it, but there is something about the meat itself that is so overwhelmingly delicious that even those of us that normally are models of self control (not I obviously), can't resist pigging out on these. This pork tenderloin carnitas recipe reduces the guilt so you don't have to feel like a total health-food failure as you load up taco number four.
What ingredients do I need to make this recipe?
It is such an easy recipe to make. I'm not just saying that, it truly is. Half of the ingredients are just spices that can be quickly dumped into the crockpot.
Here are the ingredients you'll need:
pork tenderloin
salt
pepper
cumin
oregano
chli powder
onion powder
garlic powder
chipotle chilis in adobo sauce (or 1/2 Tbsp. chili powder)
lime juice
orange juice
cilantro
What tools do I need to make this?
A crockpot is the main piece of equipment you need. I have this one, but any slow cooker should do. The recipe is relatively forgiving so you just might need to adjust the cooking time if yours cooks more quickly or slowly.
I got and used one of these baking sheets
, which are completely amazing. They bake evenly and clean up easily.
You can top these pork tenderloin carnitas tacos with whatever you want, but I highly recommend whipping up a batch of pickled red onion while you're prepping the pork for the crock-pot the night before. They come together in 10 minutes and add a fresh zip to the tacos that you really just can't replicate with anything else. Trust me – you won't regret making them!
What can I use pork tenderloin carnitas for other than tacos?
Umm… anything! Tacos, enchiladas, burritos, taco salads, toastadas, huevos rancheros, paired with polenta – the options are so limitless I need to stop myself here before the list takes up the whole page.
The leftovers are great on quesadillas, nachos, and salads. And since this recipe is a lean version of pork tenderloin carnitas, you can continue the guilt-free spree while you experiment using it in other dishes. With only two and a half eaters in our house, I usually get the chance to morph the leftovers into all of these variations and each one has been delicious!
Pork Tenderloin Carnitas
Juicy, crispy shredded pork tenderloin carnitas uses a leaner cut of meat than traditional recipes for healthy, delicious pork tacos made in a slow cooker.
Total Time
8
hours
10
minutes
Ingredients
2

lb.

pork tenderloin

(2-2.5 lbs. is best, may need two tenderloins for this)

1

tsp

salt

1/2

tsp.

pepper

2

tsp.

cumin

1

tsp.

oregano

1/2

tsp.

chili powder

1/2

tsp.

onion powder

1/2

tsp.

garlic powder

1 - 2

chipotle chilis in adobo sauce, finely chopped

(about 1 Tbsp., can use 1/2 Tbsp. chili powder instead)

1

Tbsp.

lime juice

1/2

cup

fresh squeezed orange juice

2

Tbsp.

fresh chopped cilantro
Instructions
Place pork tenderloins in crock-pot and sprinkle with spices. Add chilis, lime juice, and orange juice.

Cook on low heat for 6-8 hours or high for about 4 hours. Pork should be easily shreddable when done.


Use two forks to shred pork, adjust seasoning level if desired and simmer another half hour.

Preheat broiler and transfer shredded pork to a baking sheet, spread out in a medium-thin layer, leaving any juices in the crock-pot.

Broil on low for about 5 minutes until it starts to get crisp but is not burnt or dried out. Remove pork and toss with reserved cooking liquid to moisten.


Stir in fresh cilantro and serve with taco fixings or over Mexican flavored rice. Taco fixing ideas: pickled red onions, queso fresco, salsa, cheese, lime, guacamole, tomato, lettuce, black olives or whatever else you prefer.

Nutrition Facts
Pork Tenderloin Carnitas
Amount Per Serving (200 g)
Calories 189
Calories from Fat 27
% Daily Value*
Total Fat 3g 5%
Cholesterol 98mg 33%
Sodium 480mg 20%
Potassium 718mg 21%
Total Carbohydrates 4g 1%
Protein 32g 64%
* Percent Daily Values are based on a 2000 calorie diet.