Healthy banana oat cookies are made without any flour, sugar, or unhealthy ingredients, but are still an incredibly tasty snack! They are easily customizable, make a great breakfast and are just as healthy as a bowl of oatmeal but MUCH more satisfying since they feel like a treat.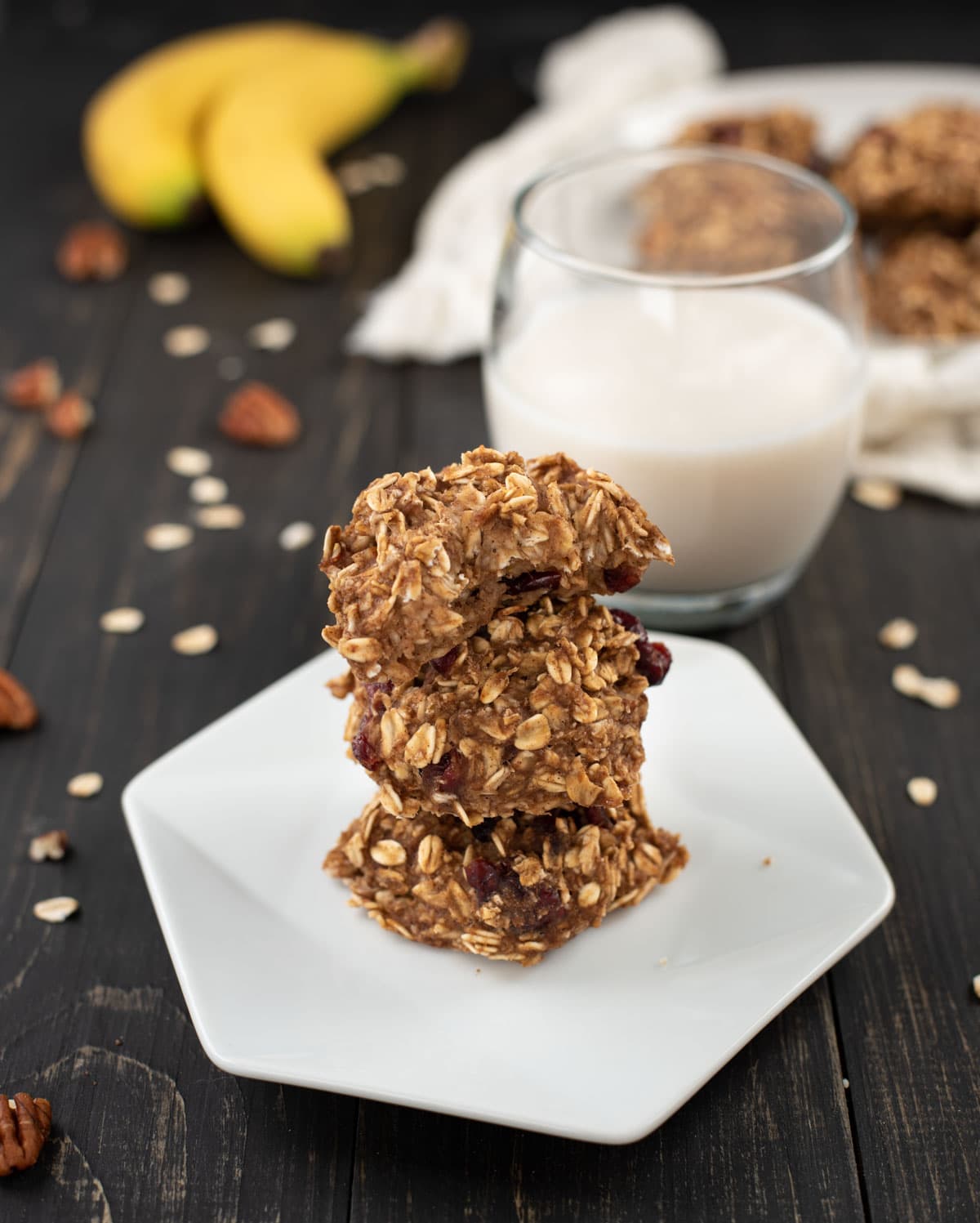 Calling these "cookies" may be a bit of a stretch, but hear me out. Doesn't calling them cookies make it feel more like a treat to eat these healthy little oat nuggets? Maybe I'm just simple minded but it tricks me into thinking I'm getting something more decadent than an all out health bomb. Buuuttt, since these banana oat cookies are so super duper healthy, you can munch away and have two if you want. NBD. Not gonna lie, the ability to down more than one without adding lbs. to the booty is a major plus in my book right now. #pregnancyweight
I'm officially about 5 lbs. away from my pre-pregnancy weight and trying to keep things nutritious since I'm feeding more than myself. Snacks like these banana oat cookies have really been helping with this. Although my body is much different now, I'm honestly so proud of it after witnessing what it can do. I know it seems like a cliche post-pregnancy statement, but damn, there's something absolutely magical about creating life yourself. Like witnessing a science experiment happening within your body. When I look down and see a bit of pudge where there used to be abs, I truly would trade that any day for getting to cuddle this little babe day in and day out (someone please remind me of this when she's a teenager – thank you in advance).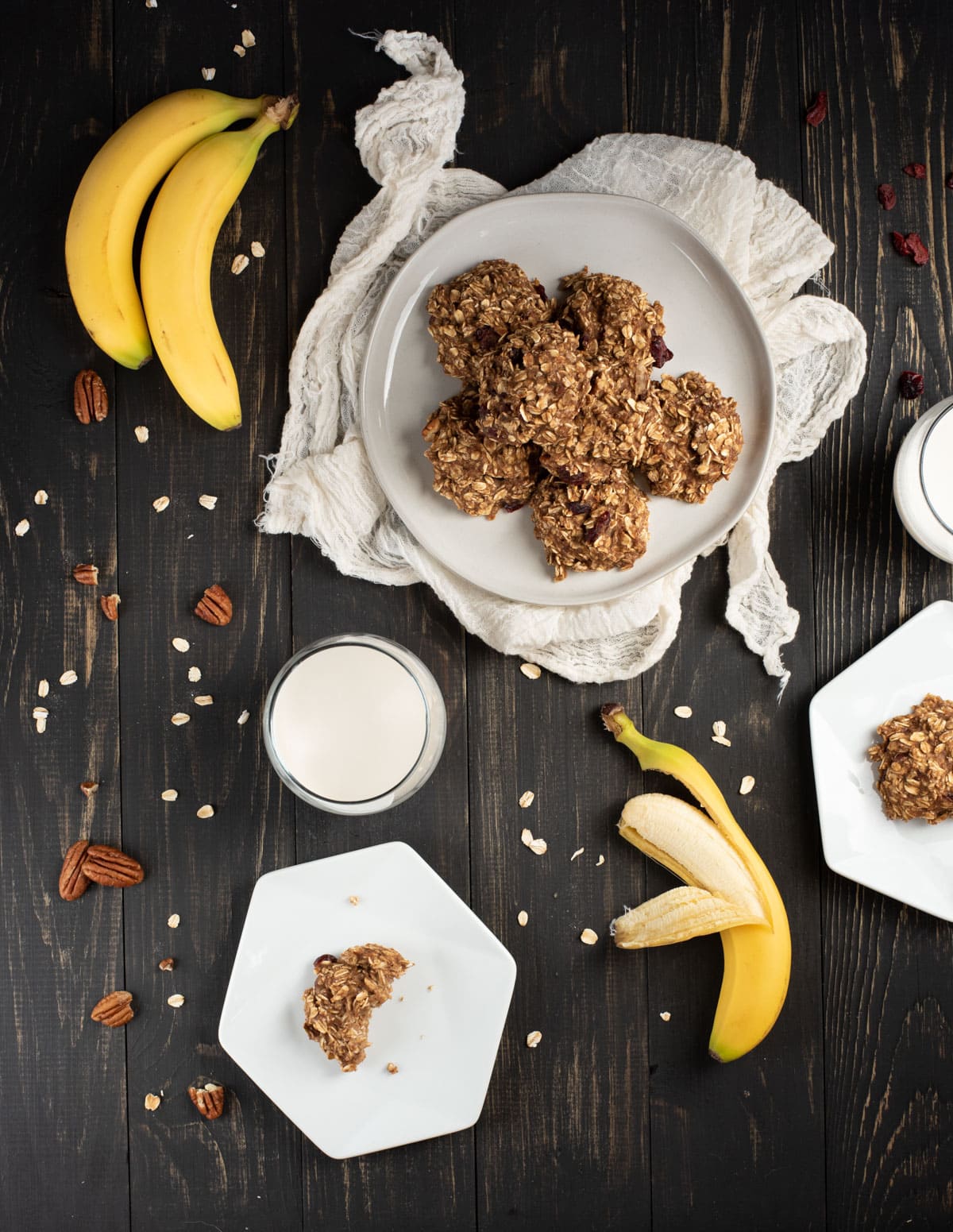 Having a daughter really has made me think and talk about my body in a different way. I was raised to embrace modesty, which in itself is not a bad thing at all, but there's often a lot of self depreciation that gets interlaced with being perceived as 'modest.' Instead of focusing on the last 5 lbs. of pudginess, why not focus on all the great stuff and form our sense of self around that instead?
Sounds good in theory, but in reality, it feels more comfortable for a lot of us to respond to a compliment by mildly insulting ourselves more often than not. Like, when someone says, "your hair looks great," and I respond by pointing out that its falling out and I'm in need of a trip to the salon instead of saying "thank you" and moving on. Its such a simple swap in wording yet working on evolving your mindset in this way can have such a huge impact on your overall perspective of life, self, and happiness.
I set out to share about these healthy banana oat cookies and didn't expect to get philosophical, but this has been something that has been on my mind lately and I felt sharing it may help anyone that is struggling with this too right now. For mothers of daughters, we are modeling how we want them to feel about themselves. When I look down at my dear sweet girl, I see nothing but perfection. I want her to see how wonderful she is even when the world seems to be so intent on making us all feel less than. It takes so much energy out of me to focus on the negative and I'm ready to flip the script and focus on positivity. The more I do this, the more naturally it comes and less effort it takes.
Moving on to banana oat cookies now… this might be one of the all out healthiest recipes I've ever made. Period. The cast of characters is shown below and only one didn't make the shot (I forgot to include salt, oops). Nothing to hide here – its all good stuff!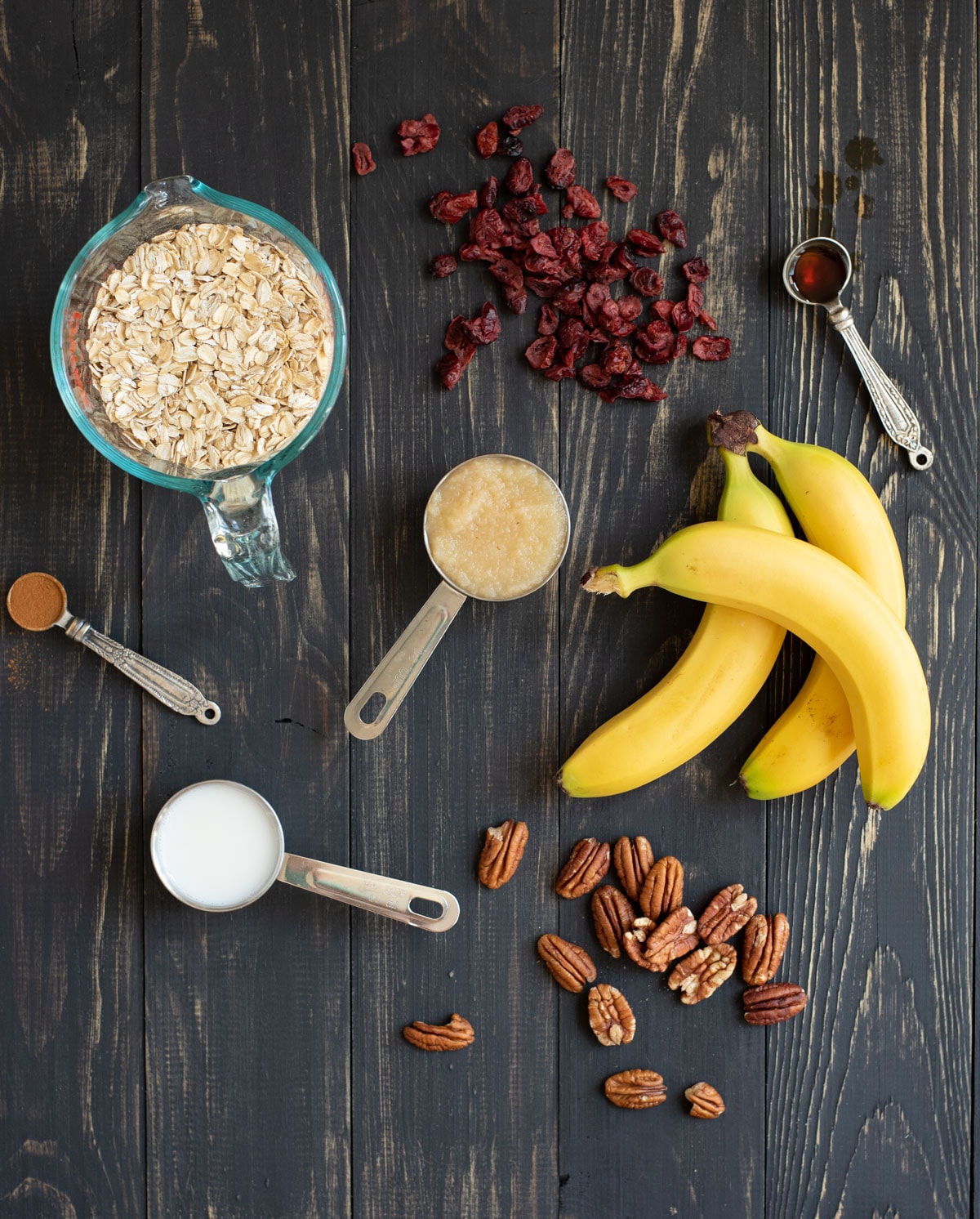 One fun thing about this recipe is that you can easily swap out the pecans and cranberries for whatever else fits your fancy. As written, these banana oat cookies are naturally vegan, but you can tweak to fit your preferences. I made a more decadent version with chocolate chips and coconut awhile back that was absolutely devine. Plug and play with whatever your favorite combos are.
One thing that's important though is the age of your bananas – it is crucial in this recipe. The ones pictured above are a bit misleading because you really want to use banana bread bananas. You know, the ones with the brown spots that are more sugary and sweet? If you don't use brown bananas, the cookies won't be as sweet unless you add sugar and that defeats the whole purpose of a sugar free recipe.
Here's a picture of what I'm talking about: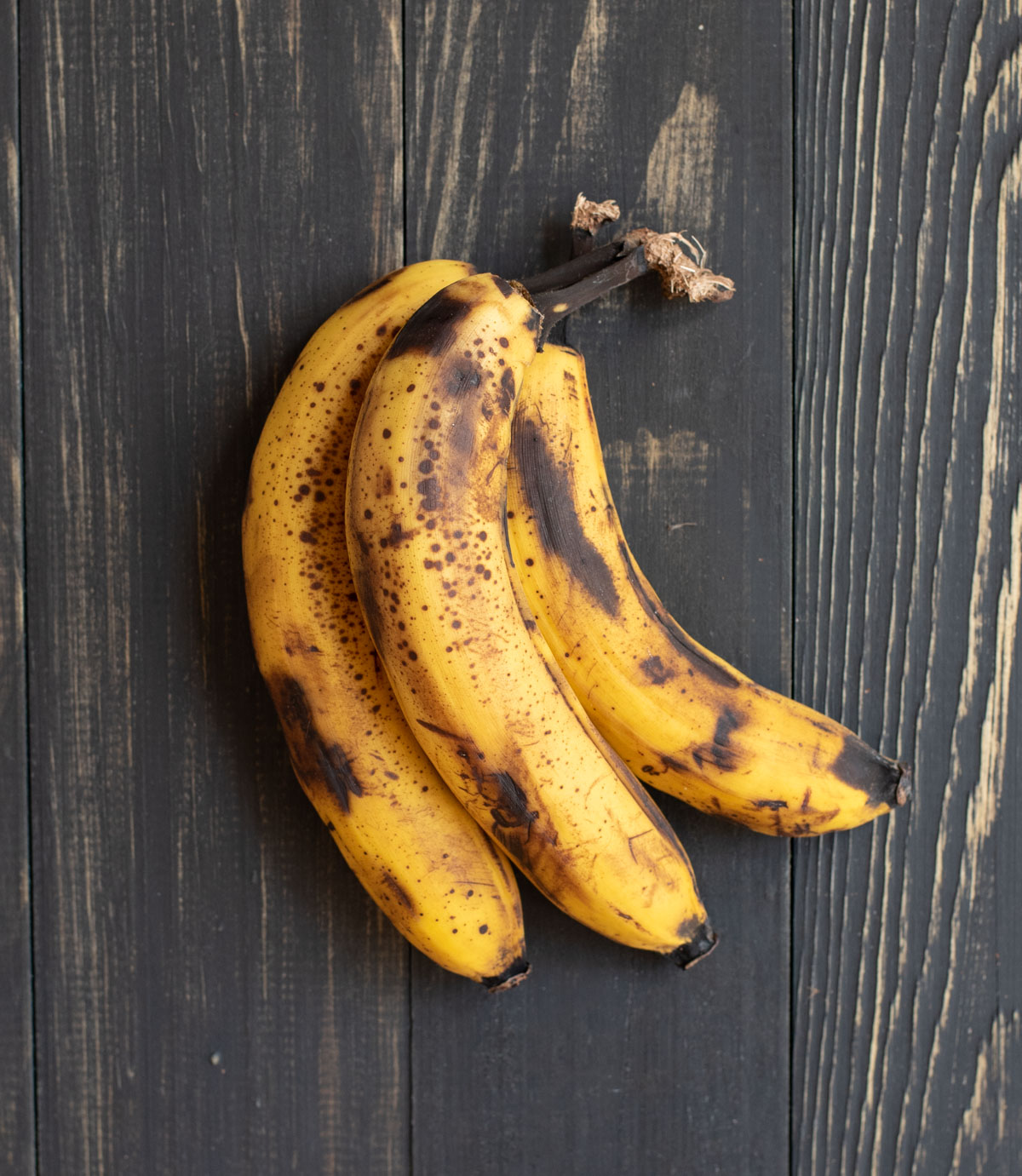 Now that we're on the same page with that critical part of the recipe, let's take a minute to go over how easy this recipe is. The instructions are basically, dump everything in a bowl and stir. No mixer needed, no separate bowls, just dump, stir, and bake.
This would be a great recipe to make with your kids for this reason. Easy, healthy, and feels somewhat like a treat. With those selling points (maybe don't mention the healthy part?), I don't know any kid that would be able to resist baking a batch with you.
I baked mine for 18 minutes but earlier on in recipe testing, I baked for 15 minutes when I made 12 smaller cookies and that worked fine too. Just putting that out there in case you want to make some minis instead.
Notice how they don't spread out much so you can put them pretty close together. This is helpful for making double batches when you've got a pile of brown bananas building up on the counter or in the freezer.
In putting this banana oat cookie recipe together (which was really a revamp of a recipe I posted in 2014), I realized how many brown banana recipes I have on this site. Its a serious collection guys. I seem to be a bit obsessed. My favorites are the banana coconut bread, peanut butter banana muffins, chocolate zucchini banana bread, zucchini cookies, and these chocolate peanut butter cupcakes. And I've probably concocted a dozen more banana recipes that I haven't shared yet. Would it be helpful to have these compiled somewhere for you? Let me know banana lovers.
I just love being able to leverage the sweetness of brown bananas to use less or no sugar in a recipe. Its a beautiful thing.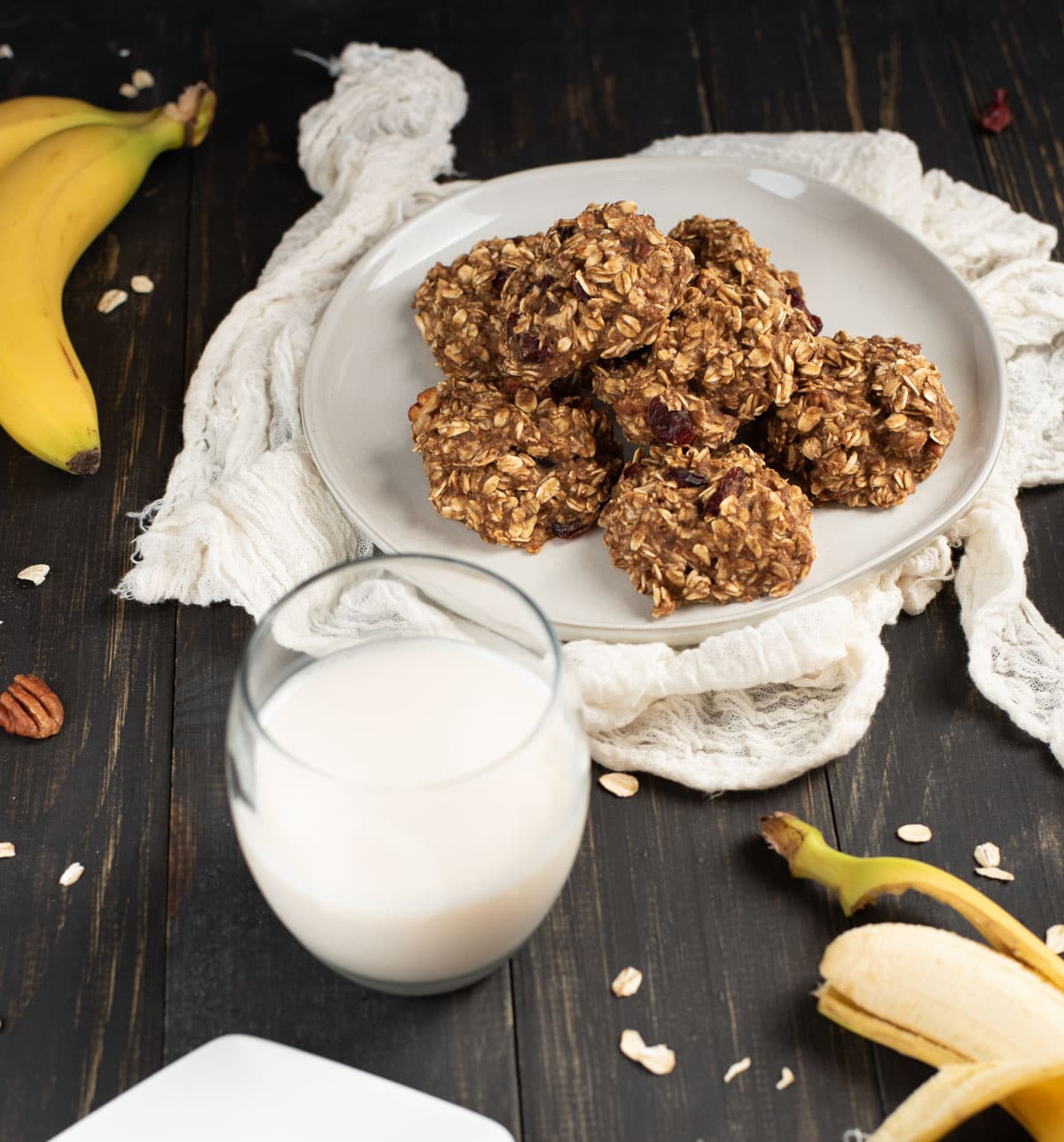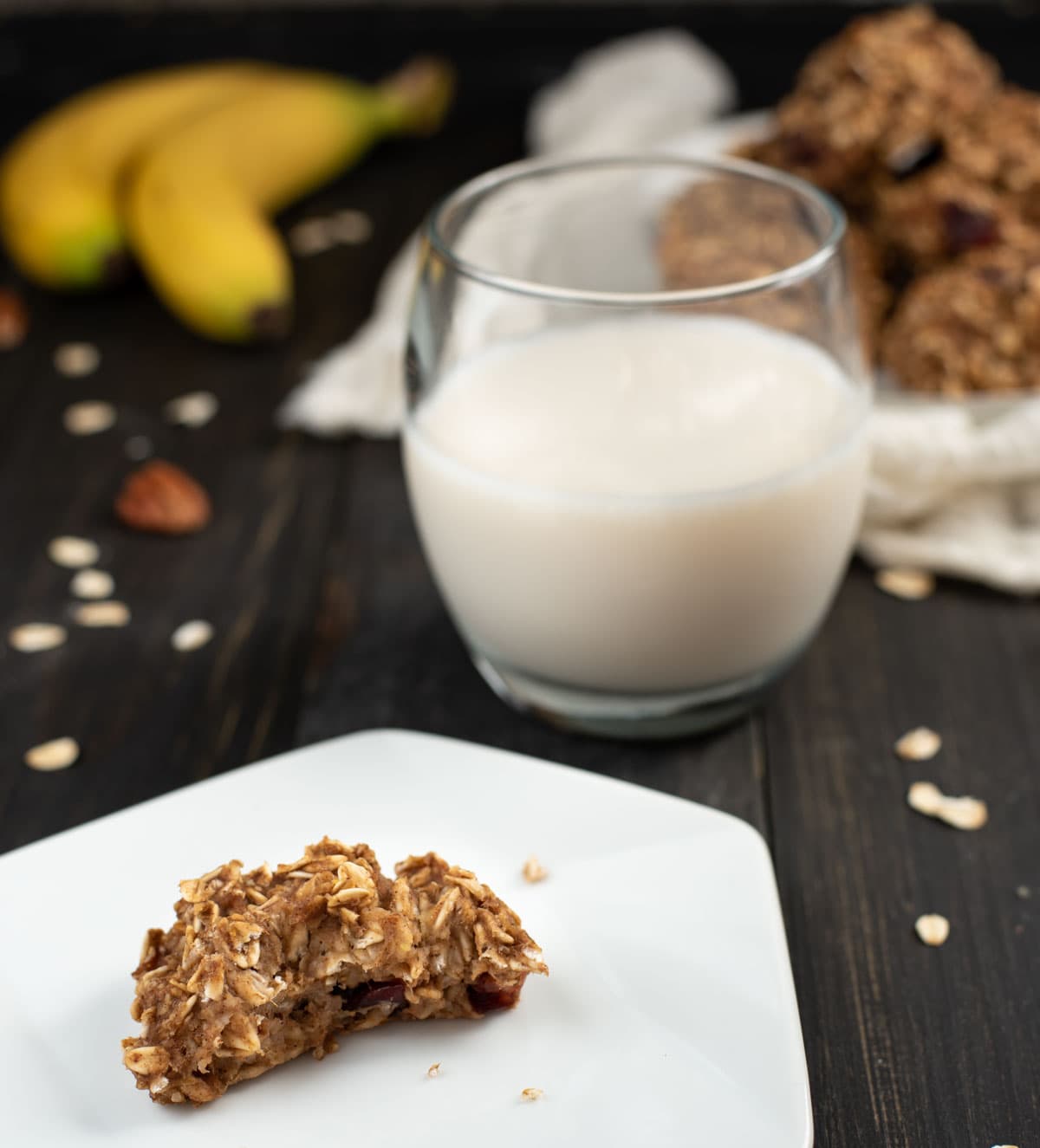 In closing, I really hope this recipe becomes a go-to for you like it is for me. Thank your body for everything it does for you and nourish it accordingly with these tasty little morsels.
Healthy banana oat cookies are made without any flour, sugar, or unhealthy ingredients, but are still an incredibly tasty snack! They are easily customizable, make a great breakfast and are just as healthy as a bowl of oatmeal but MUCH more satisfying since they feel like a treat.
Ingredients
1 cup mashed ripe banana (about 3 bananas)
2 cups rolled oats
1/4 cup unsweetened almond milk
1/3 cup applesauce
1 tsp. vanilla extract
1/4 cup dried cranberries
1/4 cup toasted pecans, roughly chopped
1 tsp. ground cinnamon
1/4 tsp. salt
Instructions
Preheat oven to 350° F.

Combine all ingredients in a medium bowl and stir to mix.

Drop batter onto greased or lined baking sheet in scant 1/2 cup scoops.

Bake for 18 minutes until cookies are firm and set.

Remove from oven and allow to cool for 10 minutes on baking sheet before removing and allowing to cool fully on a wire cooling rack. Store cookies in an airtight container for up to four days.
Notes
* You can toast nuts three ways: 1) In the oven by placing on a baking sheet and toasting for about 10 minutes in a preheated oven at 350°. 2) Stovetop by placing in a pan over low heat for about 10 minutes, stirring frequently. 3) In the microwave by placing in a small dish and microwaving for about a minute.  However you roast them, watch carefully because nuts burn easily! ** You can swap the cranberries and pecans with other nuts, dried fruit or even chocolate. Coconut and chocolate pairs really well with the banana flavor.
Nutrition
Calories: 127kcal | Carbohydrates: 22g | Protein: 3g | Fat: 3g | Sodium: 20mg | Potassium: 172mg | Fiber: 3g | Sugar: 6g | Vitamin A: 15IU | Vitamin C: 2.1mg | Calcium: 26mg | Iron: 1mg