This healthy curry chicken salad is a perfect snack or lunch, lightened up with grapes, yogurt, carrot, and some red pepper and pistachio for extra crunch.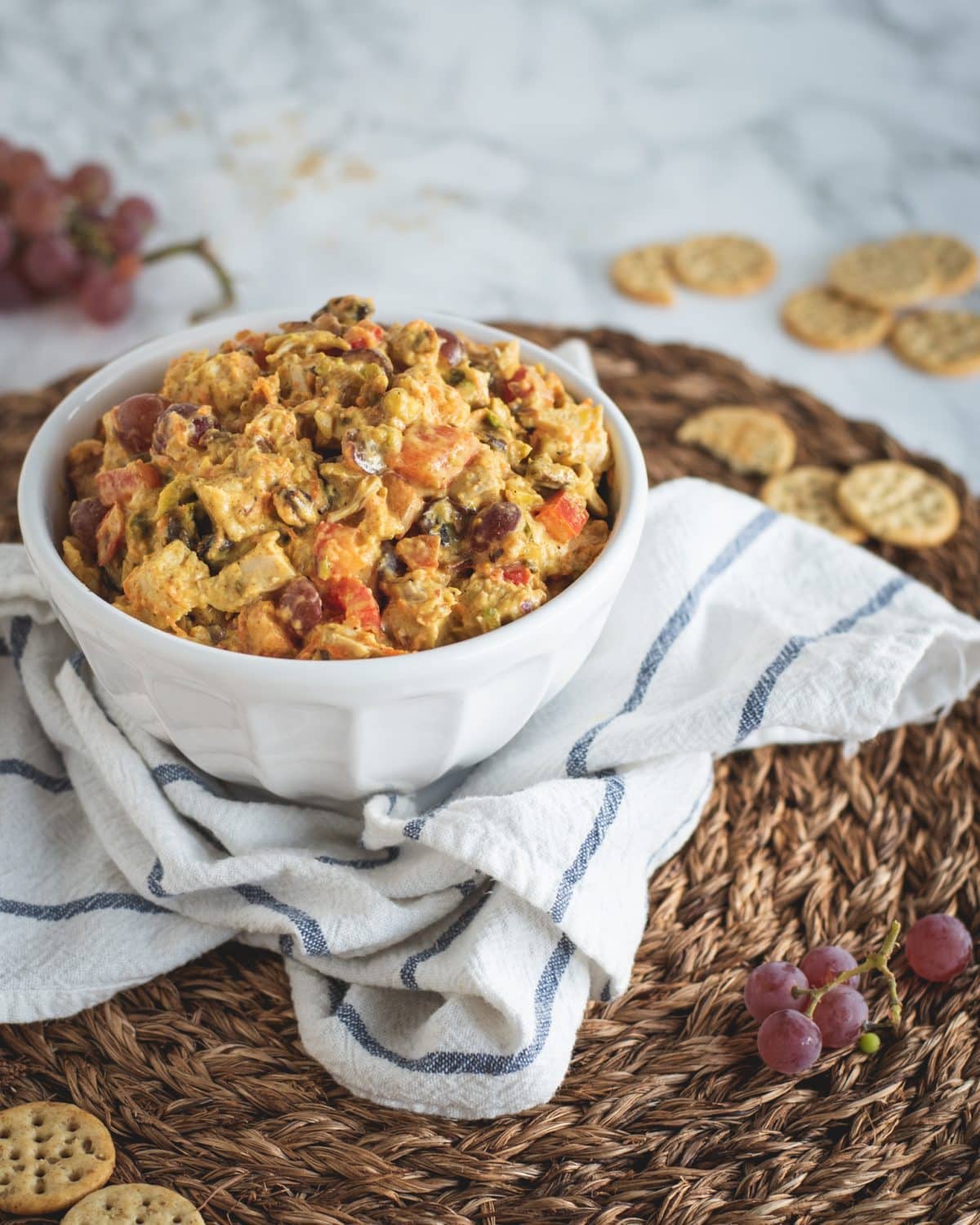 Now this is a recipe I just couldn't wait to share! I've made this curry chicken salad twice a week for the last month, that's how much I love it. Having protein rich salads pre-made in the fridge like this is great for eating healthy when days are busy and you can't be bothered with stopping to make food every time hunger strikes. Let's be honest – that's pretty much every day.
This recipe was entirely inspired by Trader Joe's chicken curry salad which I discovered earlier this summer and have been buying incessantly ever since… like any time I enter Trader Joe's. Beings that I have a TJ's five minutes from my house, I end up there all the time, and this salad was a permanent fixture in my fridge for a while. So, what's a food blogger to do? I had to try to copy it of course.
Luckily this recipe ended up pretty close so my craving can be satisfied without ever leaving the house. I've talked about my loathing of grocery shopping before so you may understand what a win that is for me.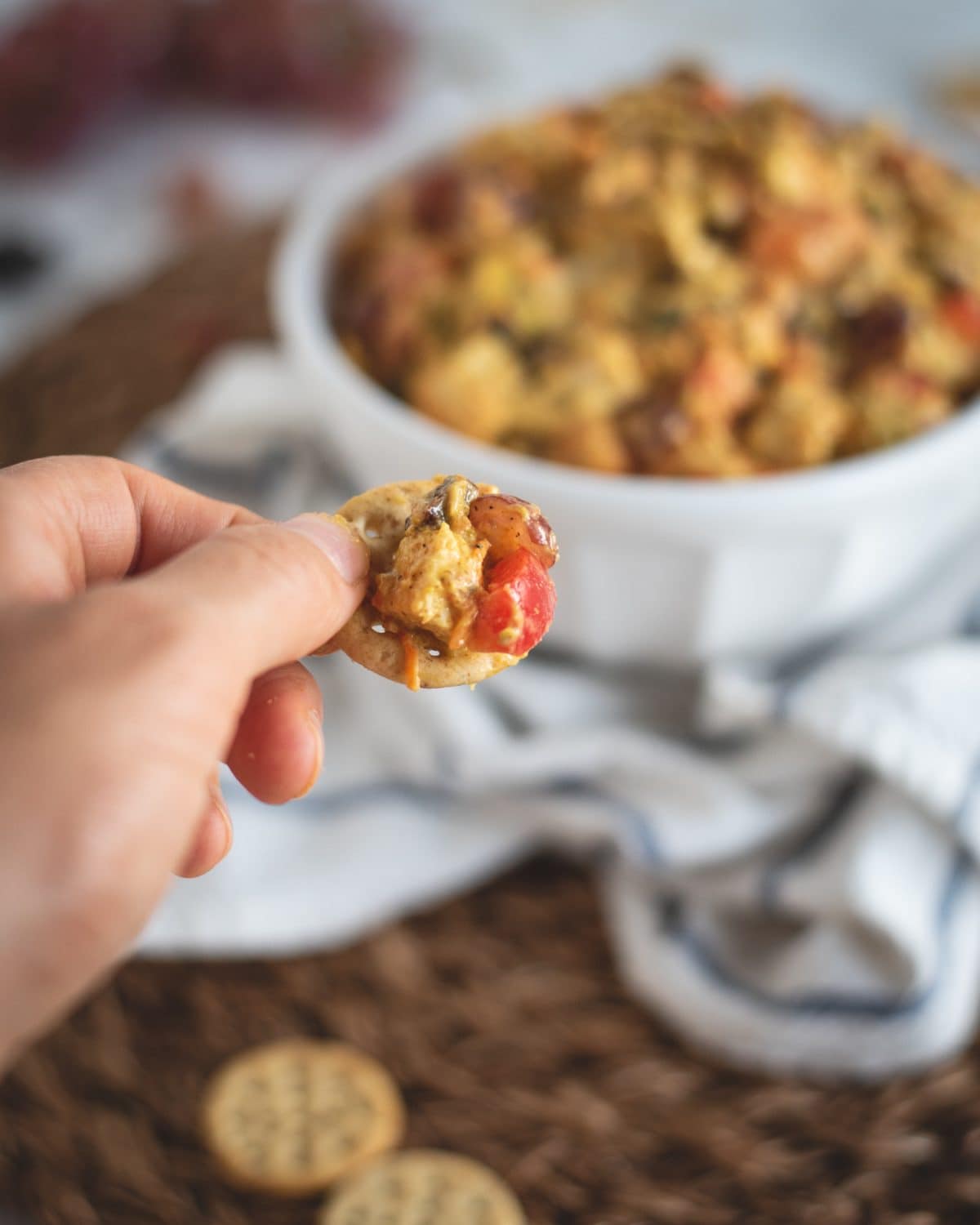 I lightened it up a little from the Trader Joe's version by using yogurt and adding in some extra veggies. The secret and most important ingredient in getting that same addicting taste is the mango chutney! It makes it so so tasty!
If you don't have a TJ's nearby, this chutney looks pretty similar and has good reviews on Amazon. It will still taste okay if you skip it, but the mango chutney adds depth and a unique twist to the flavor profile. I absolutely love the complexity it adds.
Also, another ingredient that is kind of unexpected – raisins. Before you go turning up your nose, hear me out! They're normally one of the most loathed dried fruits around. I cringe at the thought of them and avoid those dried little bites of nastiness at all costs. But, they're actually good here! Not just good, they're great. They loose their raiseny grossness and just add a pop of sweetness that simply can't be replicated by anything else. Trust me, I tried.
If other raisin haters think I've lost my mind, well, maybe, but not about this. Curry chicken salad may be the only acceptable place for raisins. That and this kale salad of course. They're masked by tanginess in both and totally delicious!
Just because there are raisins here, doesn't mean you can skip the grapes. The raisins are the concentrated sweetness and the grapes are the pop of juicy fresh sugary goodness that makes this curry chicken salad totally to die for! It balances out the savory side.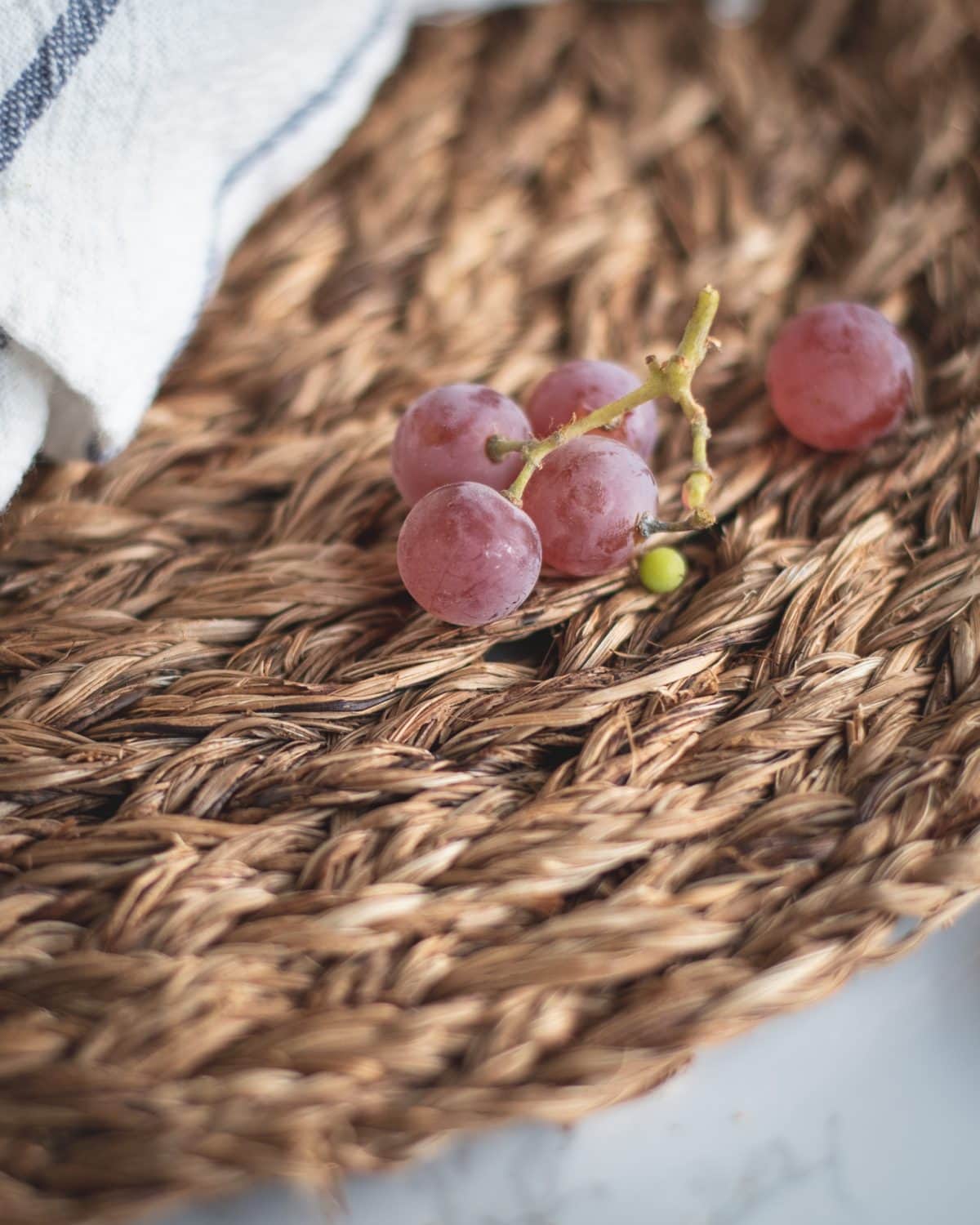 Unfortunately, salads like this don't photograph well. It looks like a blob in a bowl. It truly is delicious though and something I hope you try despite the it looking like a bowl of yellow goop.
I took a picture with crackers because that's how we were eating it that day but it makes a delicious sandwich filler, green salad topper, or I often just eat it as a dip with cucumber and red pepper slices. Sometimes I just eat it straight out of the bowl with a spoon too. No shame in my game.
With 30 grams of protein per serving, its a perfect high protein snack to keep on hand. It does take a bit of prep work in chopping, cooking the chicken, etc., but there are some cheats.
If I have a roasted chicken on hand, I'll just use that instead of poaching my own. Also, I love buying these roasted pre-shelled pistachios (they're cheaper at Costco!) and typically just use those in this recipe, but if you have another toasted nut on hand, you can sub that in to save time.
Sometimes, if I know I'll be sharing, I just go ahead and double the recipe too. Doubling barely adds any time to the prep but means it'll stretch for more meals so I do this with tons of recipes.
The spice level will depend on how spicy the curry powder you use is. My curry powder wasn't that spicy and added the perfect level of hotness, just a hint with more flavor than actual heat. I used a basic Indian curry powder but I know there are many types so if you have another preference, it might be good, I just can't guarantee it.
If you're a curry fan, check out this chicken curry noodle soup, this curry salad, this carrot curry soup, or this crockpot Indian chicken. Those are some of my all time favorites (this coming from a die hard curry fan).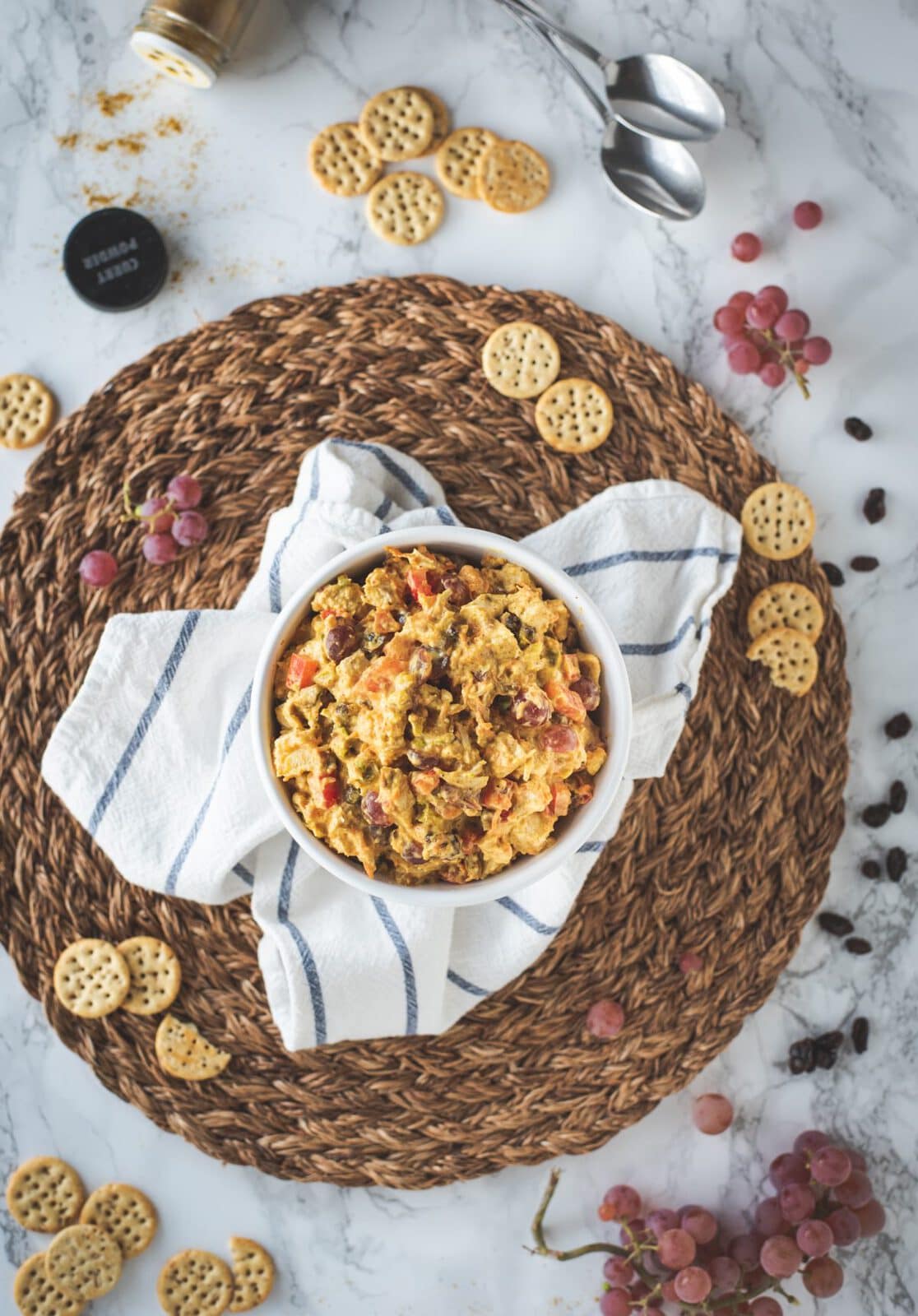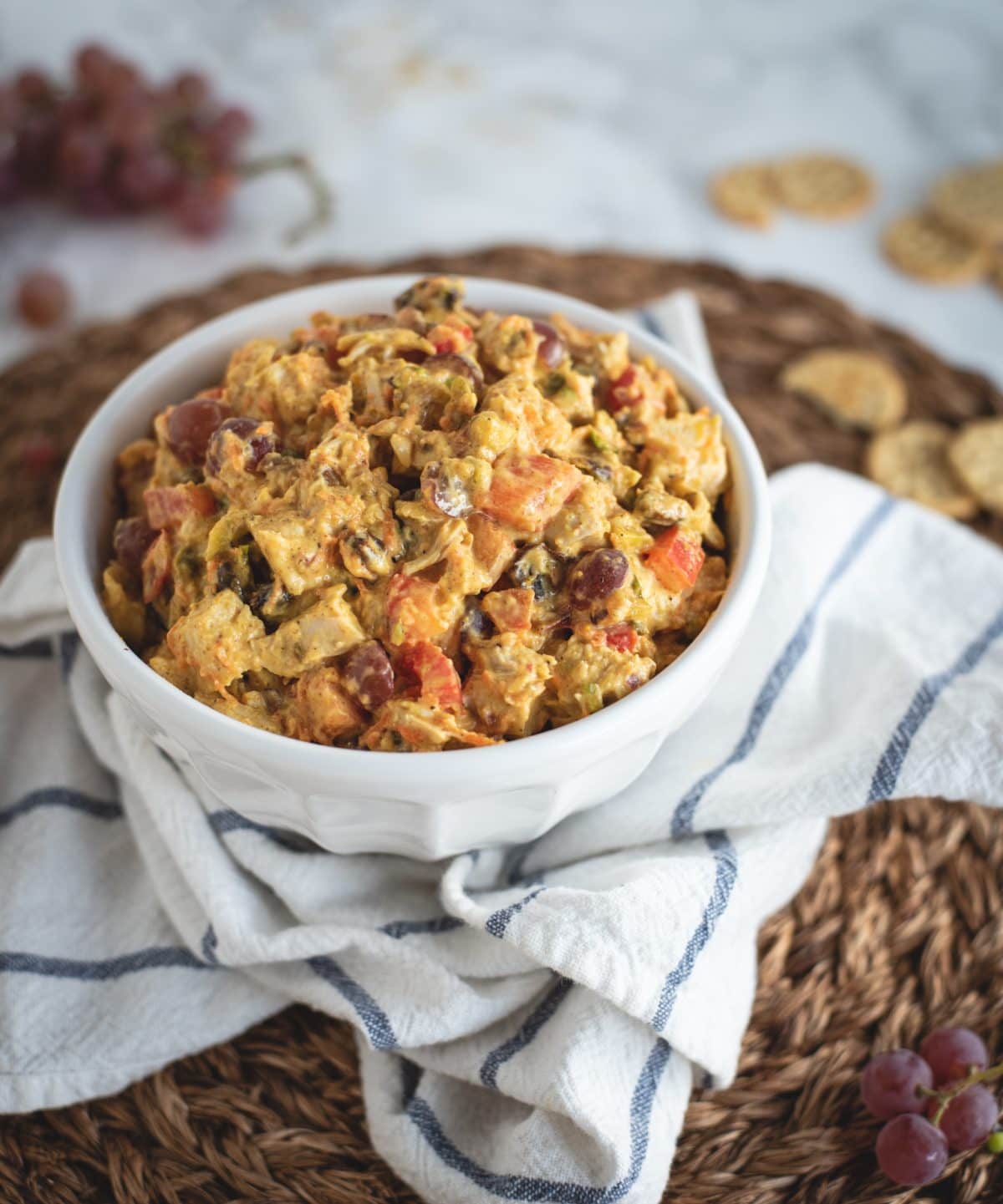 Are you obsessed with curry too? Tell me about your favorite ways to do curry!
This healthy curry chicken salad is a perfect snack or lunch, lightened up with grapes, yogurt, carrot, and some red pepper and pistachio for extra crunch.
Ingredients
1 lb. chicken breast (2 cups when diced)
1/2 cup plain Greek yogurt
1/4 cup mayonnaise
1/2 Tbsp. honey (or agave syrup)
1/4 cup mango chutney
1 1/2 Tbsp. curry powder
1/2 tsp. salt (or to taste)
1/8 tsp. black pepper
1/4 cup raisins
1/2 cup red grapes, halved or quartered depending on size
1/2 cup finely chopped red pepper
2 Tbsp. finely diced red onion
1 carrot, peeled and grated
1/3 cup roasted salted nuts (cashews, pistachios, or almonds all work great)
Instructions
Bring a saucepan of water to a boil. Add chicken and cook for about 10 minutes until chicken is cooked (internal temperature should read 165° F).

Remove chicken from water and let sit until cool enough to handle and dice into 1/4" cubes.


Mix yogurt, mayonnaise, honey, mango chutney, and curry powder, salt, and pepper together in a medium sized bowl.


Add chicken, raisins, grapes, red pepper, onion, carrot, and nuts and stir to coat all ingredients evenly.


Season with additional salt, pepper and curry powder if desired. Eat plain, in a sandwich, with crackers, with veggies, or any other way that sounds good to you. Keeps in the refrigerator for up to 3 days.

Nutrition
Calories: 434kcal | Carbohydrates: 37g | Protein: 30g | Fat: 19g | Saturated Fat: 3g | Cholesterol: 79mg | Sodium: 492mg | Potassium: 871mg | Fiber: 4g | Sugar: 18g | Vitamin A: 3260IU | Vitamin C: 30.8mg | Calcium: 82mg | Iron: 3mg