The best healthy cornbread recipe with white whole wheat flour that is still buttery, perfectly moist and absolutely delicious!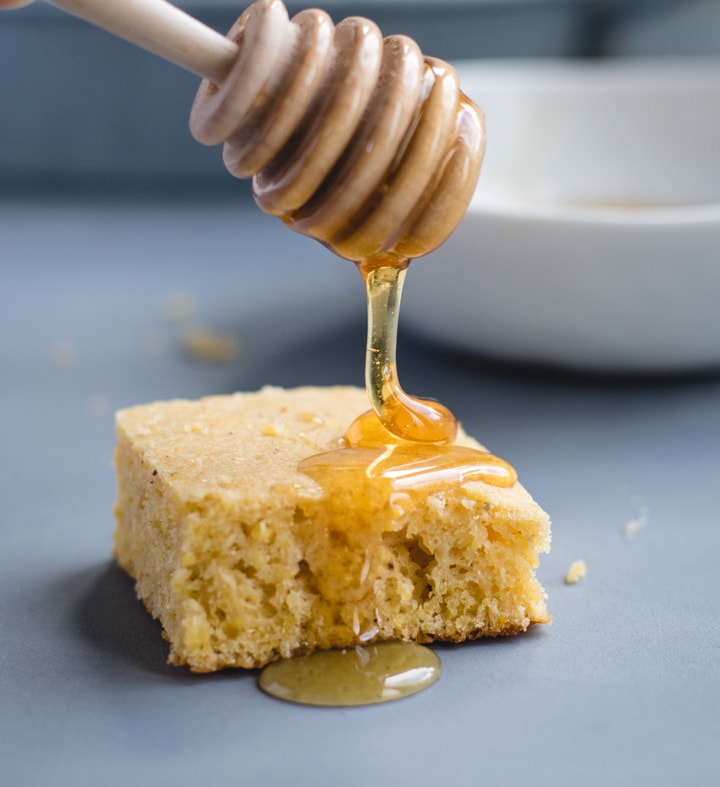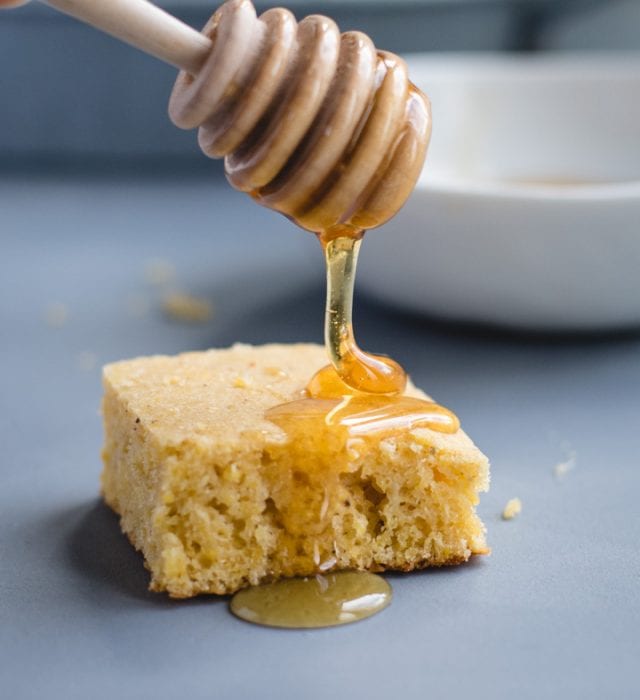 Cornbread is one food item that is absolutely wonderful when done well but can be god awful terrible when its bad. Not that it's particularly hard to make but it can easily turn out dry and/or flavorless if ratios are off.
But this cornbread? It's whole wheat and healthy but still moist, buttery and oh so good. This recipe took a ton of testing but the final whole wheat cornbread recipe is tried and true!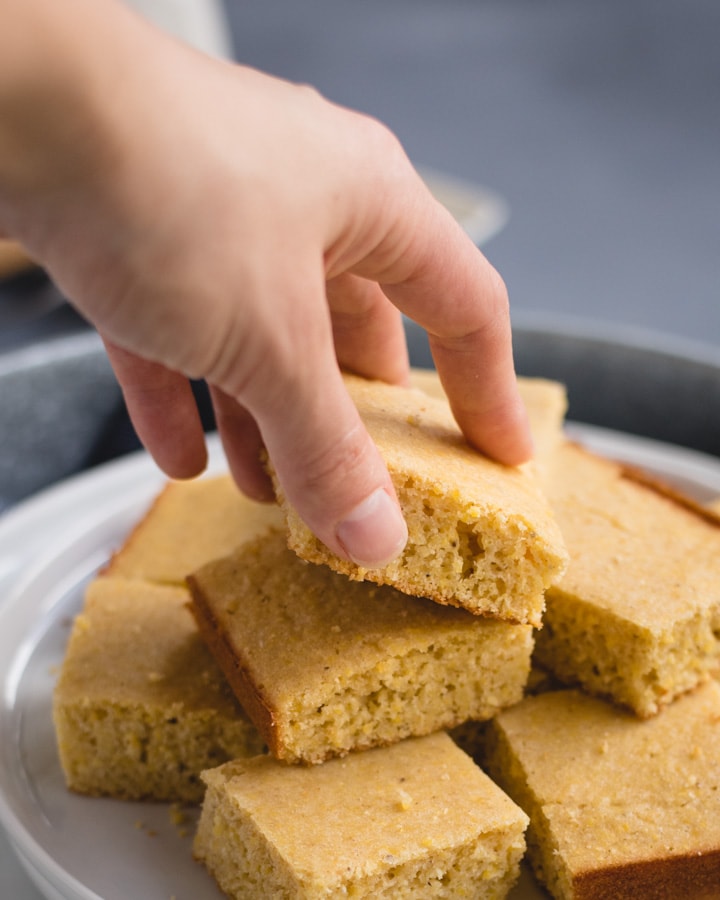 Why this is the BEST Healthy Cornbread recipe
This cornbread recipe is more nutritious than your standard cornbread since it uses white whole wheat flour and is lightened up from using less honey and butter than most recipes. You might be wondering if it's still edible and yes, it's far better than that!
My take on any healthy recipe re-vamp is that it still has to taste as close to the real full fat, calorie laden standard recipe as possible. I tested making it way more nutritious and no dice.
The early trials crashed and burned. Take it from me, when the cornbread is super dry, there isn't enough liquid in the world wash it down. I wouldn't wish that on anyone. Also, yogurt has no place here and butter and honey are a must.
Soooo, we met in the middle, and made it healthier not healthiest and I truly think this is the best of both worlds. Still absolutely delicious with great texture but better for the bod.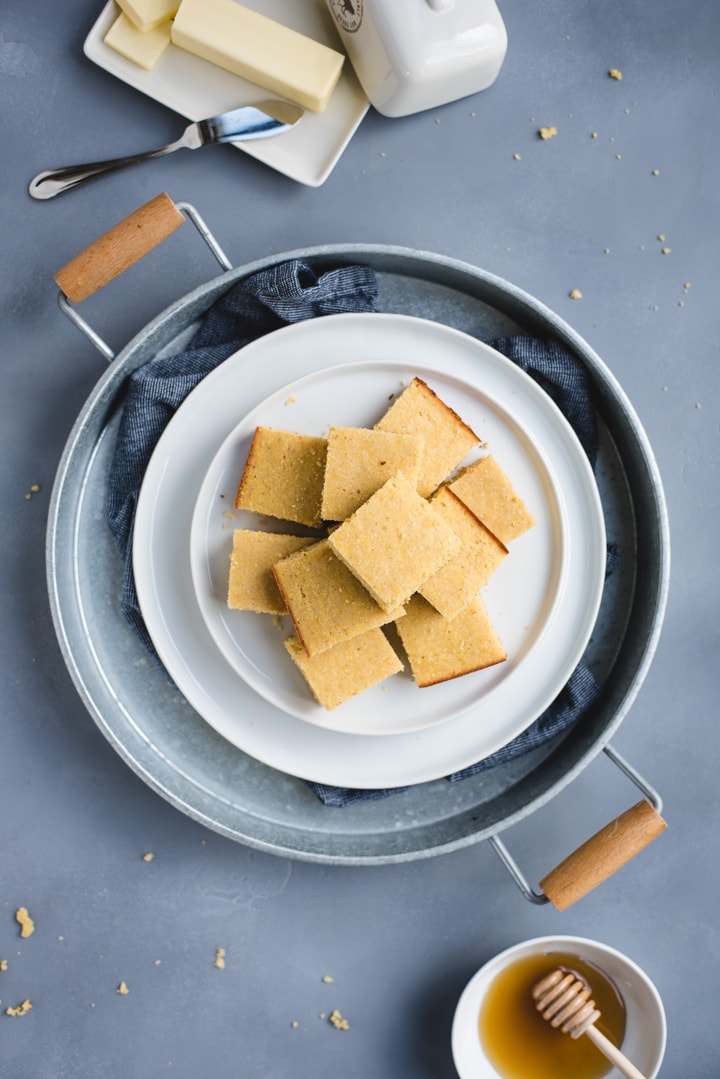 Ingredients
The ingredients in this recipe are pretty simple. I don't keep buttermilk on hand so I make my own with vinegar and milk, which is pretty much the most complicated step in the whole process. That's saying something since all you do is stir the vinegar into the milk.
Here's what you need to make this recipe:
cornmeal (fine ground is best but medium works too)
baking powder
salt
egg
honey
buttermilk (or just mix 1 Tbsp. vinegar into regular milk and let sit for 10 minutes)
melted butter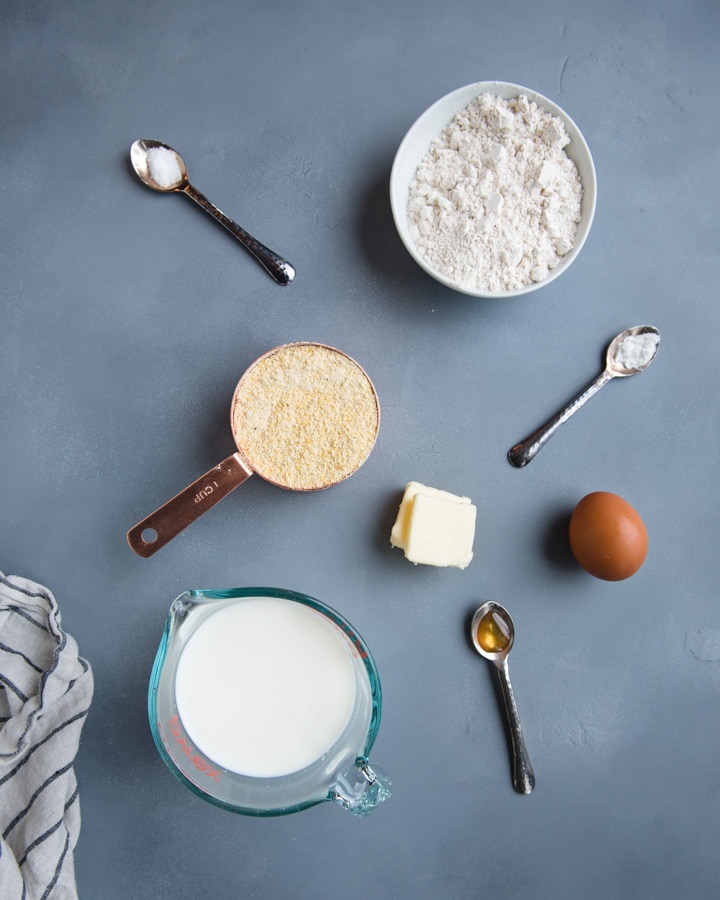 How to Make Healthy Cornbread
Most cornbread recipes are pretty easy to make and this one is no different. There are just a few simple steps and a short bake time and you're done.
First you mix the dry ingredients together. Second, mix the wet in another bowl and then whisk them together. I definitely recommend using two separate bowls to mix the dry and wet ingredients separately to avoid over mixing and keep it light and fluffy.
Grease a pan (I use butter) and pour the batter evenly into it. Bake for about 18 minutes and enjoy!
Making Cornbread Muffins
You can easily make this recipe into cornbread muffins by pouring the batter into nine spots in a greased muffin tin. I prefer and recommend greasing with butter but any oil will work.
Bake for 15-18 minutes until baked through and enjoy warm if possible. You can try the add-ins from
Cornbread Storage
While it's always best warm, cornbread can be kept for about 3 days, sealed on the countertop or up to five days in the refrigerator.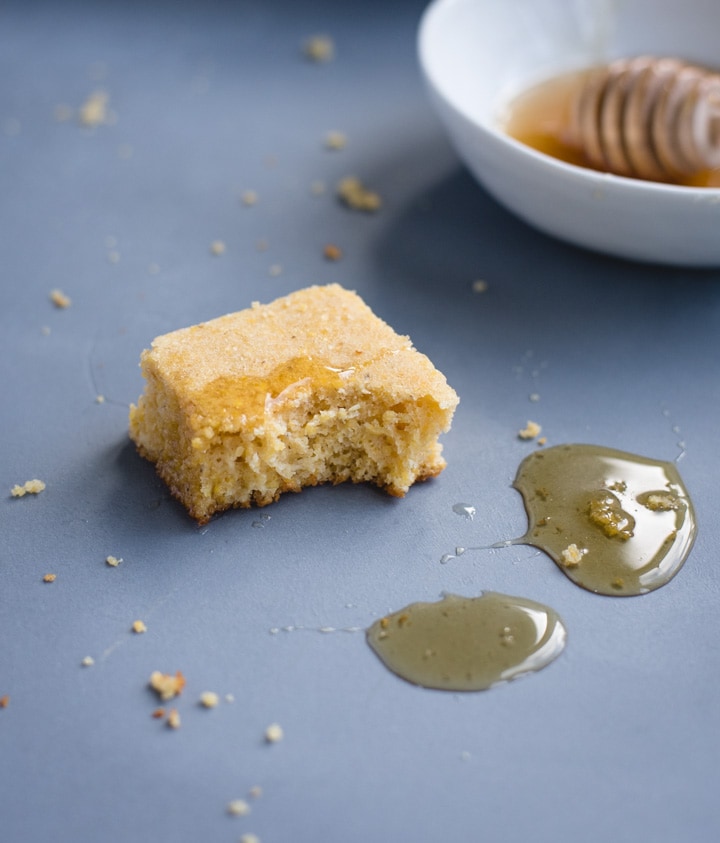 Add-In Options
The options for cornbread add-ins are bountiful but here are some of my favorites:
3/4 cup shredded cheddar cheese and a can of diced jalapeños or diced green chilis for a milder option
About one cup of blueberries or strawberries (they can be frozen) and serve with Honey or honey butter
1 cup corn (thawed if frozen) and 1 cup shredded cheese and 2 Tbsp. chopped cilantro
Add a few tablespoons of fresh herbs like rosemary, cilantro, thyme sage or anything that sounds good to you.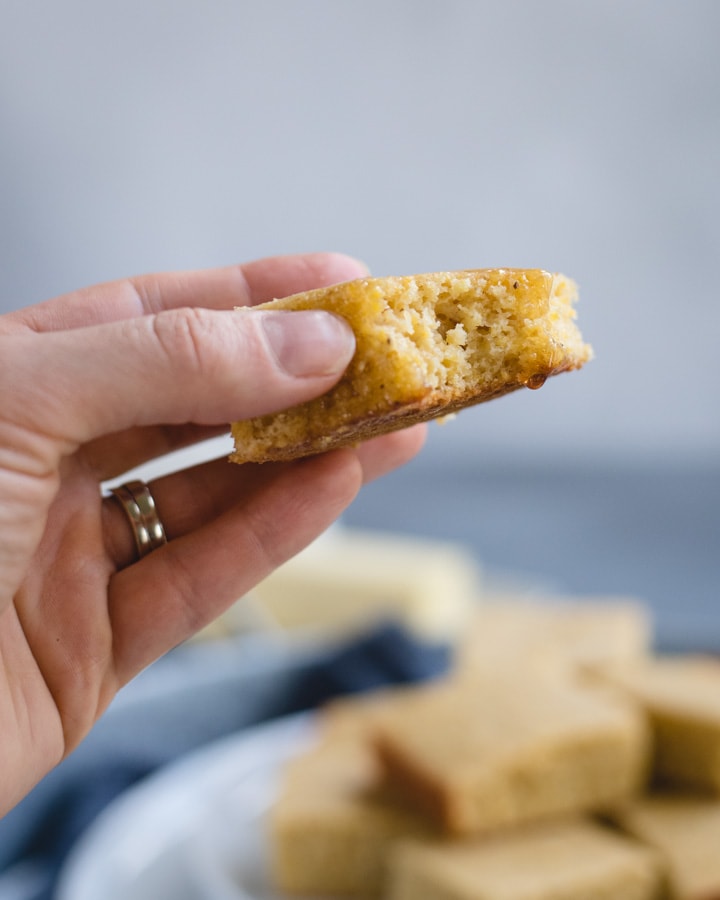 What to Serve with Cornbread
Well the most obvious is chili of course – here are my top suggestions of what to eat with cornbread: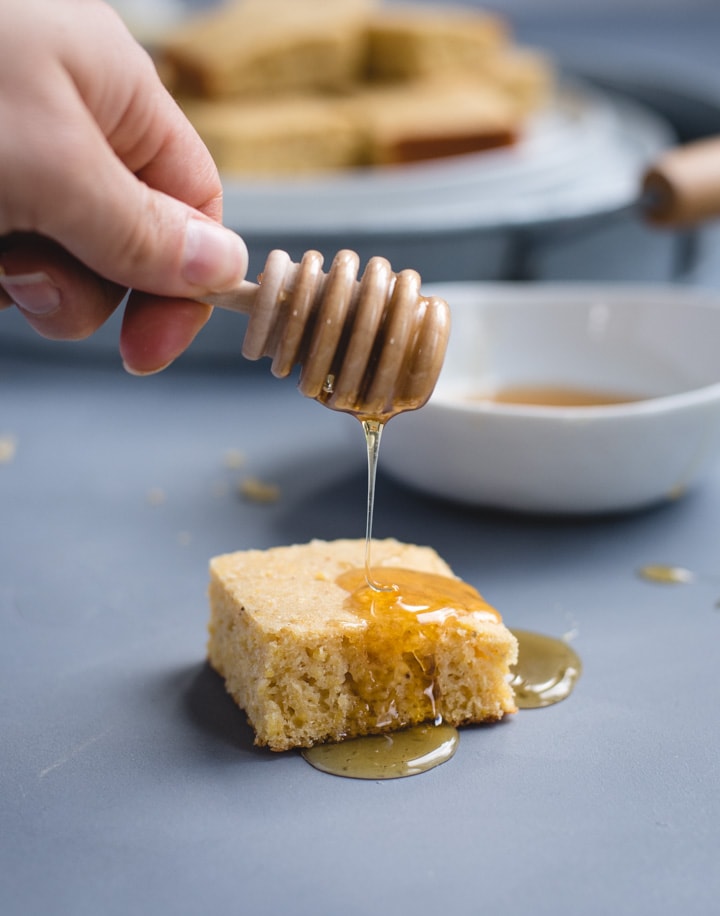 The best healthy cornbread recipe with white whole wheat flour that is still buttery, perfectly moist and absolutely delicious!
Ingredients
1 cup cornmeal fine ground is best but medium works too
1 cup white whole wheat flour
1 ½ tsp. baking powder
½ tsp. salt
1 egg
2 Tbsp. honey
1 ¼ cup buttermilk* preferably room temperature
2 Tbsp. cup butter melted but not still hot
Instructions
Preheat oven to 400°F (205° C).

Add cornmeal, flour, baking powder, and salt to a medium bowl.

In a separate bowl, whisk egg. Add honey, buttermilk then melted butter and whisk to mix in.

Butter an 8 or 9 inch square baking pan. Pour batter into pan and place pan into preheated oven.

Bake for 18-20 minutes until starting to turn lightly golden on top and cooked through (if not sure, test by inserting a toothpick into the center of the pan and if it's cooked it won't have batter on it when you pull it out).

Cut into 9 pieces and serve cornbread while still warm. Keep leftovers in an airtight container for up to five days.
Notes
* To make buttermilk, put 1 Tbsp. vinegar to 1 1/4 cup of milk. Stir and let sit for about 10 minutes before using. * To make cornbread muffins, grease 9 spots in a muffin tin and pour cornbread into prepared spots. Bake for 15-18 minutes.
Nutrition
Calories: 152kcal | Carbohydrates: 27g | Protein: 5g | Fat: 3g | Saturated Fat: 1g | Cholesterol: 22mg | Sodium: 150mg | Potassium: 218mg | Fiber: 3g | Sugar: 5g | Vitamin A: 126IU | Vitamin C: 1mg | Calcium: 86mg | Iron: 1mg