Instant pot beef stroganoff is a quick and easy one pot meal, loaded with stew meat, mushrooms and a creamy sauce coating the noodles. It's the absolute best comfort food and an instant family favorite that even the pickiest eater will love!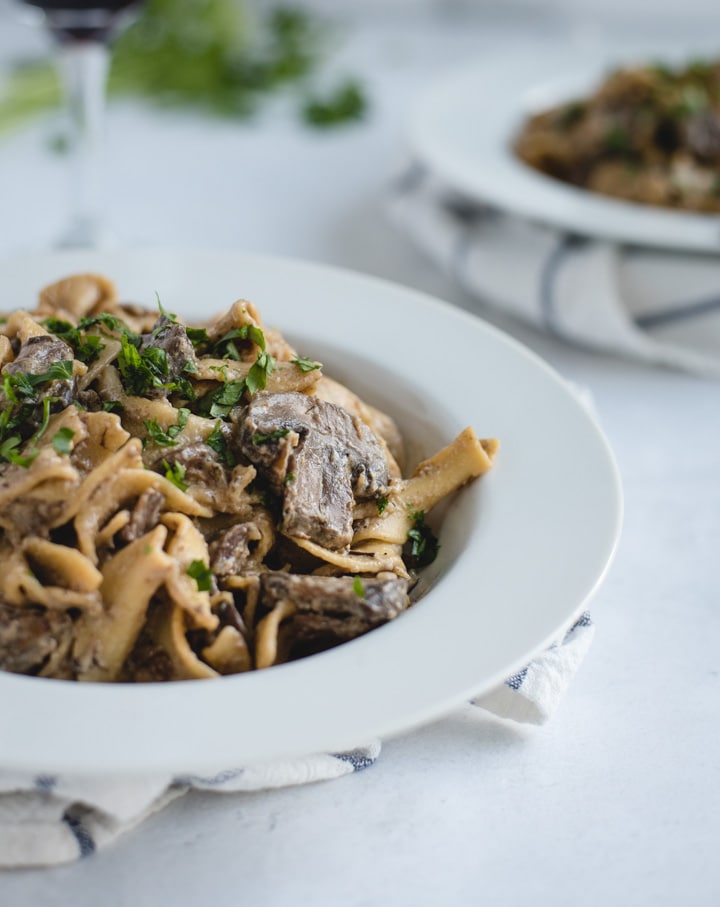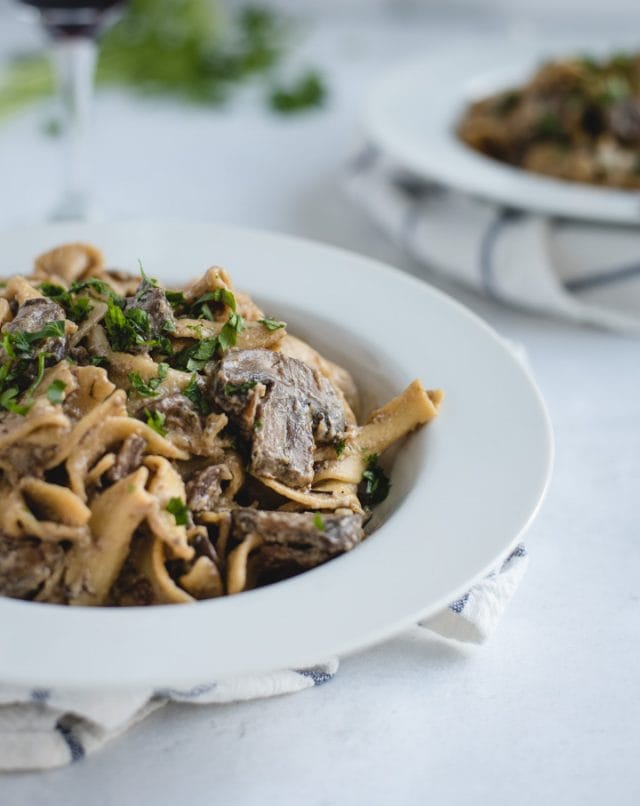 I can't say enough good things about this recipe! Instant pot beef stroganoff has become a staple at our house that graces our table once a month in the cold winter months when comfort food is mandatory.
Beef stroganoff comes together pretty quickly in the instant pot and the best part of cooking it this way is it only dirties up one pan (er, pot?), since the noodles cook right in the instant pot!
This recipe is tried and true and loved by everyone that tries it. Adding a lot of mushrooms helps lighten the stroganoff up and adds an immunity boost, which we all need this time of year. Try this one out soon, you won't regret it!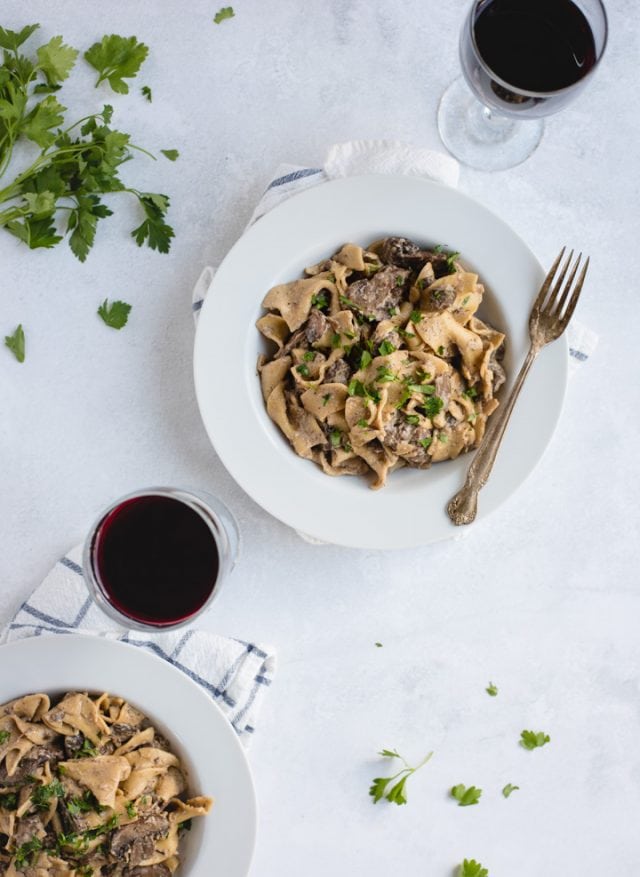 Instant Pot Beef Stroganoff Ingredients
To keep this recipe easy and approachable, the ingredients are all easy to find, basic items that you either have in your pantry, fridge or can easily find at the grocery store. That being said, the flavor its still complex and full of flavor since the ingredients come together in the best possible way.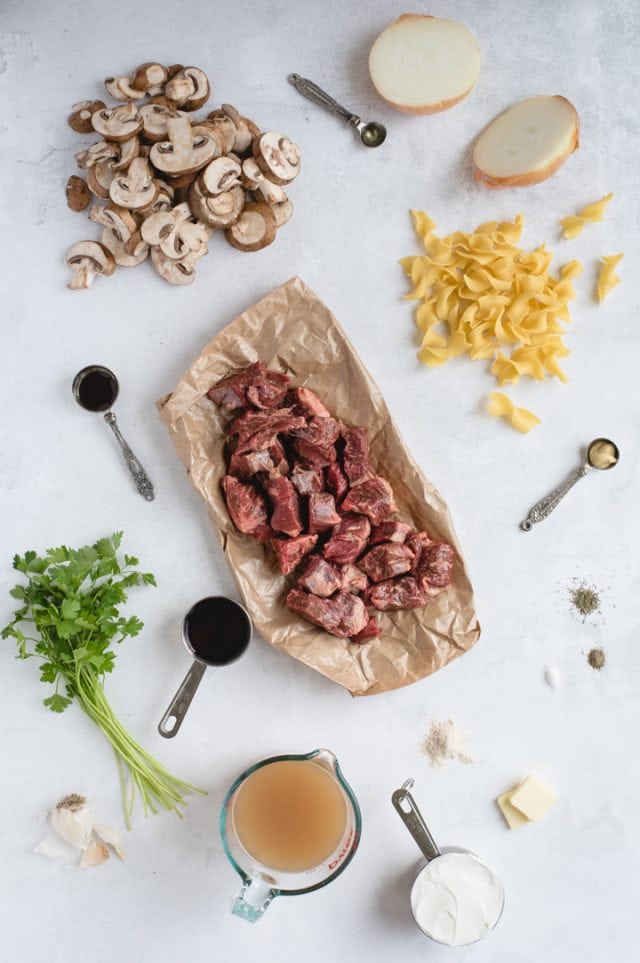 Here's what you'll need:
Oil – I use avocado oil since it has a high smoke point but any cooking oil will do really
Yellow onion
Stew beef – getting pre-cut stew meat will shave off prep time
Salt
Pepper
Garlic – I normally always recommend using fresh garlic, but pre-minced garlic is fine in a recipe like this
Mushrooms, and lots of them! I used basic cremini mushrooms
Wine – I have made it with both red and white wines. It's great both ways, just choose a dry wine that is less sweet.
White whole wheat flour – regular white flour works just fine here too
Worcestershire
Dijon mustard – or stone ground works great too
Dried thyme
Beef broth – I use this better than bouillon base to make the broth
whole wheat egg noodles – or regular, either way
Sour cream – low or reduced fat works fine, just don't use non-fat!
Chopped parsley – optional, but we eat with our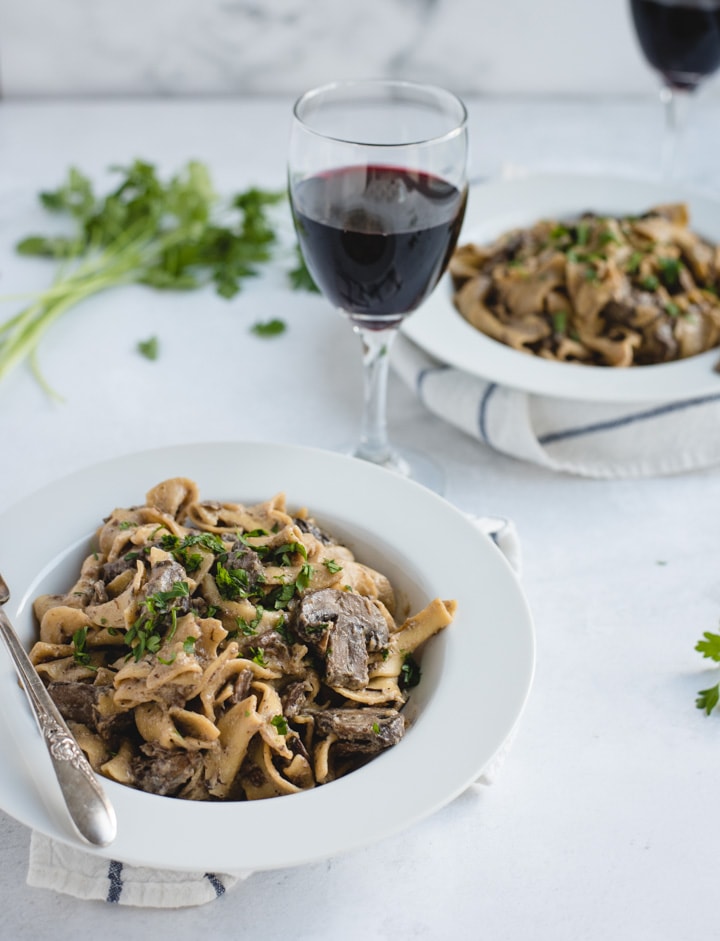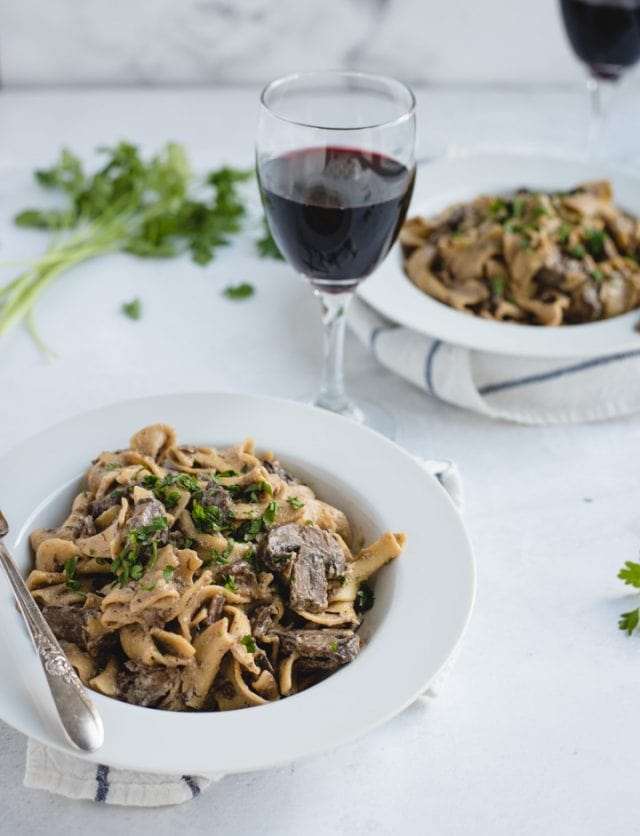 How to make Instant Pot beef stroganoff
Instant pot beef stroganoff is easy peasy to make. Here are the basic steps:
Sauté some onions in oil.
Add beef and brown, seasoning with salt and pepper.
Add garlic and mushrooms and cook down for 5 minutes.
Deglaze with red wine then sprinkle with flour and stir in.
Stir in broth, Worcestershire, dijon, and thyme.
Close the Instant Pot lid and pressure cook for 12 minutes (will take about 12 minutes to come to pressure so 24 minutes total for this step).
Manually release pressure and stir in egg noodles.
Close lid and pressure cook for another 3 minutes (will come to pressure faster this time since pot is fuller and food is hot).
Manually release pressure again and stir in sour cream.
Season with salt and pepper if needed and serve, topping each bowl with a sprinkle of parsley.

It takes time for the stroganoff to come to pressure and then to come to pressure again for the noodles, but the next best part about using the instant pot is that this time is hands off time. No stirring, no monitoring a simmering pot. This is the time to pour a glass of wine and clean up the kitchen, and set the table.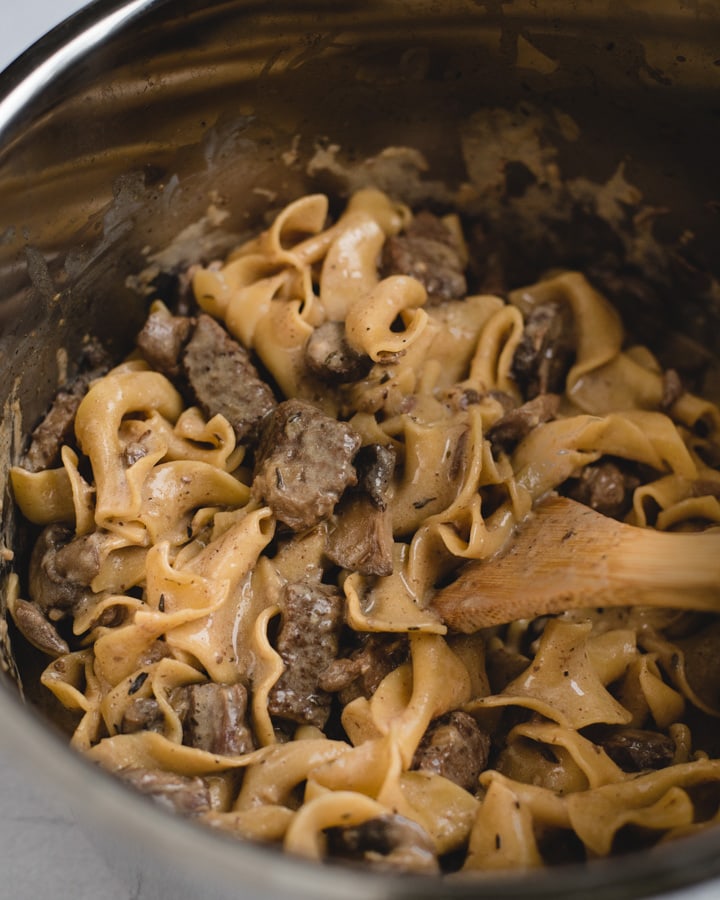 What kind of meat to use
Many beef stroganoff recipes use ground beef, but stew meat is really preferable when using the instant pot. The entire purpose of using a pressure cooker in a recipe like this is to make the meat tender in a fraction of the time, which ground beef doesn't really benefit from.
For this reason, buy stew meat for instant pot beef stroganoff. If you don't want to or can't buy pre-cubed stew meat, buy chuck beef or beef round meat and cut into 1″ pieces.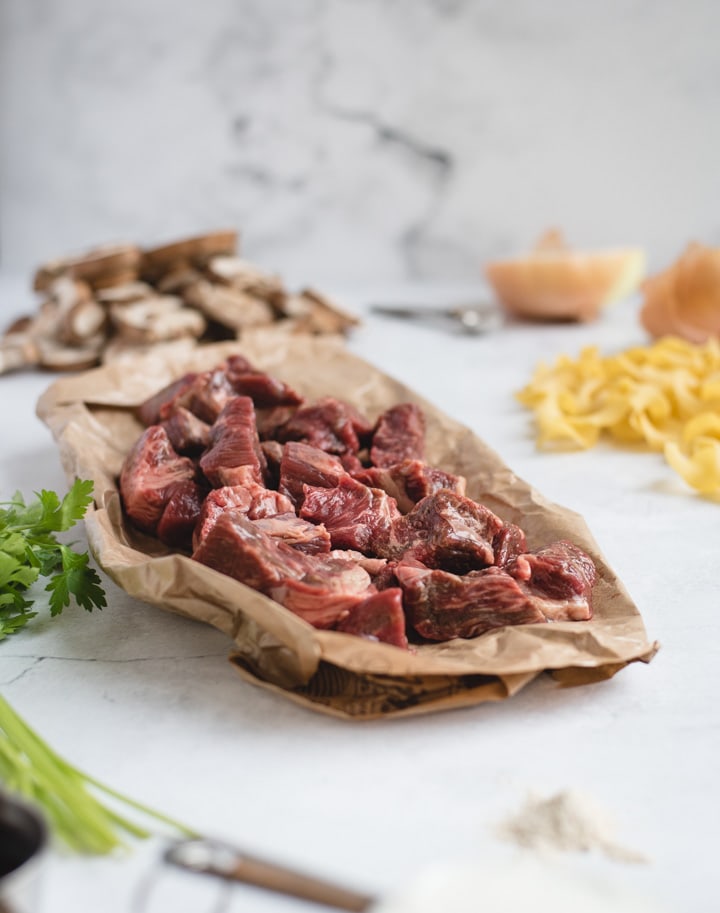 You can use sirloin or a better cut off beef if you prefer, but it really isn't necessary in a recipe like this. Pressure cooking turns even the toughest meat into fork tender, falling apart, flavorful beef bites.
Making beef stroganoff on the stovetop
This recipe can certainly be made on the stovetop. The only ingredient swap I'd recommend is using a more tender cut of meat like sirloin, instead of stew meat. You can certainly use stew meat, it just won't get as tender without simmering for a long time. Follow all instructions up to the point of sealing the instant pot lid, except use a large pot instead of the Instant Pot.
Also, instead of dumping in the broth, add 1/2 cup of broth after the flour absorbs into the mushroom beef mixture and stir that in until it is mostly absorbed by the flour. Slowly stir in the rest of the broth while stirring and then add the mustard, Worcestershire and thyme. Instead of pressure cooking, allow the meat, broth and other ingredients to simmer for 20 minutes, stirring occasionally.
While the beef simmers, bring a salted pot of water to boil for the noodles. Once the stroganoff is done simmering, stir in the sour cream, season with salt and pepper if needed and serve with parsley sprinkled on top.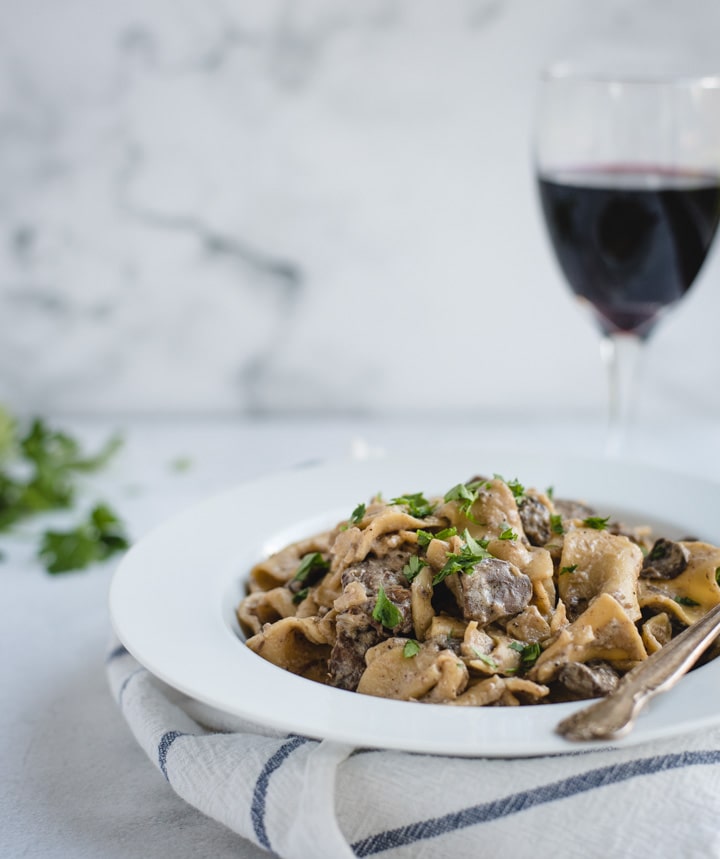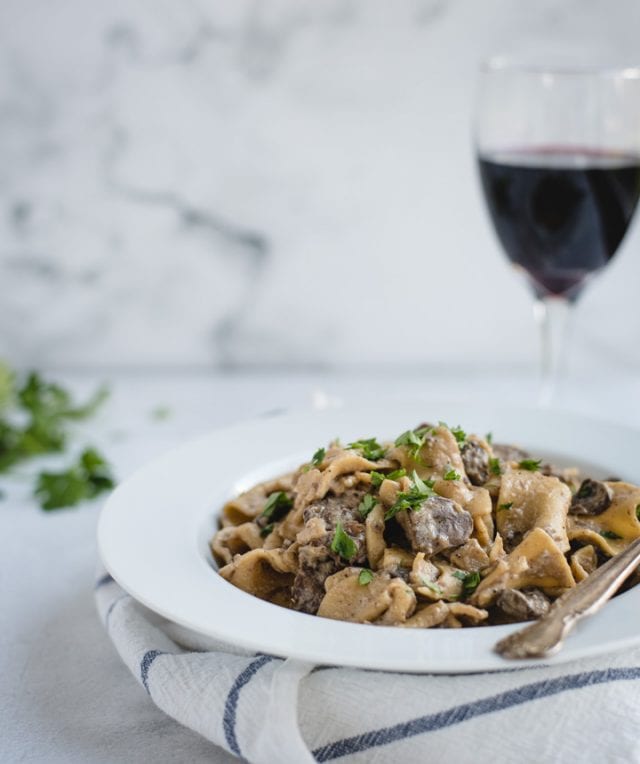 Other Instant Pot recipes
If you've fallen head over heals for the Instant Pot like I have, you're probably wondering what else you can make in this thing. Well, I've got a few ideas to get your wheels turning: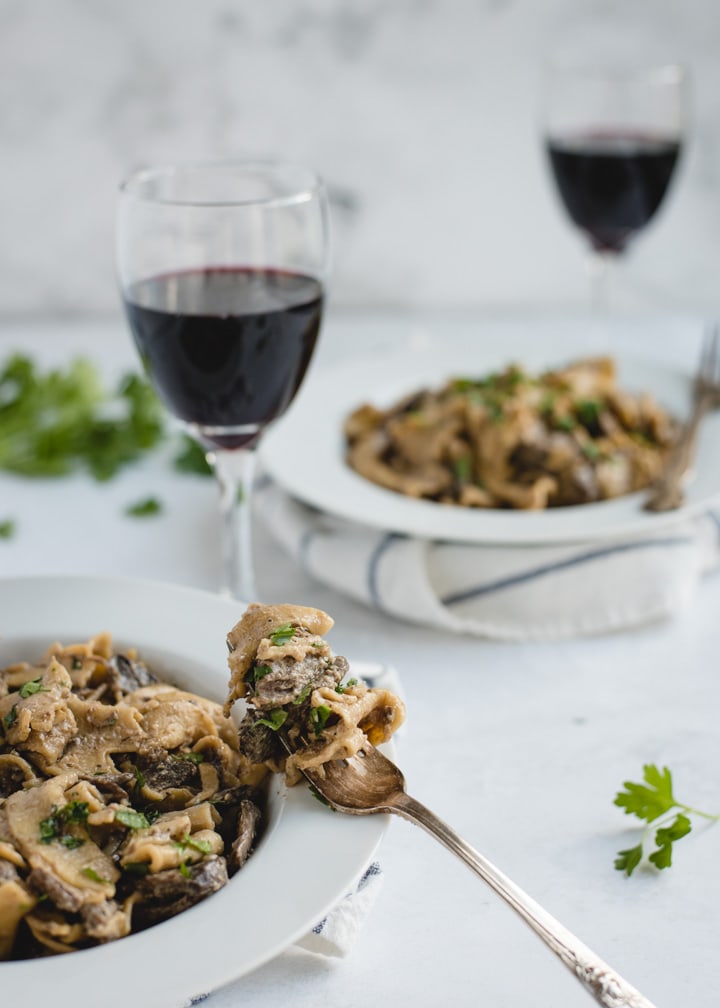 Instant pot beef stroganoff is a quick and easy one pot meal, loaded with stew meat, mushrooms and a creamy sauce coating the noodles.
Instructions
Turn Instant Pot on and set to sauté. Add oil and once oil is hot, add onion and cook for 5 minutes until translucent.

Add beef and sauté for 5 minutes until outsides are browned. Season evenly with the salt and pepper.

Add garlic and sauté for another minute before adding mushrooms. Cook mushrooms down for 5 minutes.

Add wine and deglaze pan, scraping up any cooked on browned bits. Sprinkle flour on top of beef and stir in to dissolve. Add Worcestershire, Dijon, thyme, and beef broth and stir.

Close and seal the Instant Pot lid and set instant pot to Pressure Cook on High pressure (Manual Mode) for 12 minutes.

When Instant Pot beeps, use a kitchen towel and wooden spoon to manually quick release pressure.

When pressure is done releasing, carefully open Instant Pot lid. Add noodles, stir and reseal lid.

Set to Pressure Cook on High pressure (Manual Mode) for 3 minutes. Once time is up, manually quick release pressure again using a wooden spoon.

Open the instant pot lid carefully and stir in sour cream.

Serve immediately, sprinkling each serving with parsley. Stroganoff will keep in sealed container in the refrigeration for 3-4 days. Reheat each serving in the microwave before serving.
Nutrition
Calories: 513kcal | Carbohydrates: 55g | Protein: 40g | Fat: 14g | Saturated Fat: 5g | Cholesterol: 131mg | Sodium: 891mg | Potassium: 1328mg | Fiber: 4g | Sugar: 4g | Vitamin A: 607IU | Vitamin C: 10mg | Calcium: 152mg | Iron: 6mg