Lemon brown rice seasoned with dill and other herbs, pistachios, garlic, and feta that pairs perfectly as a side dish for seafood, chicken, or anything else!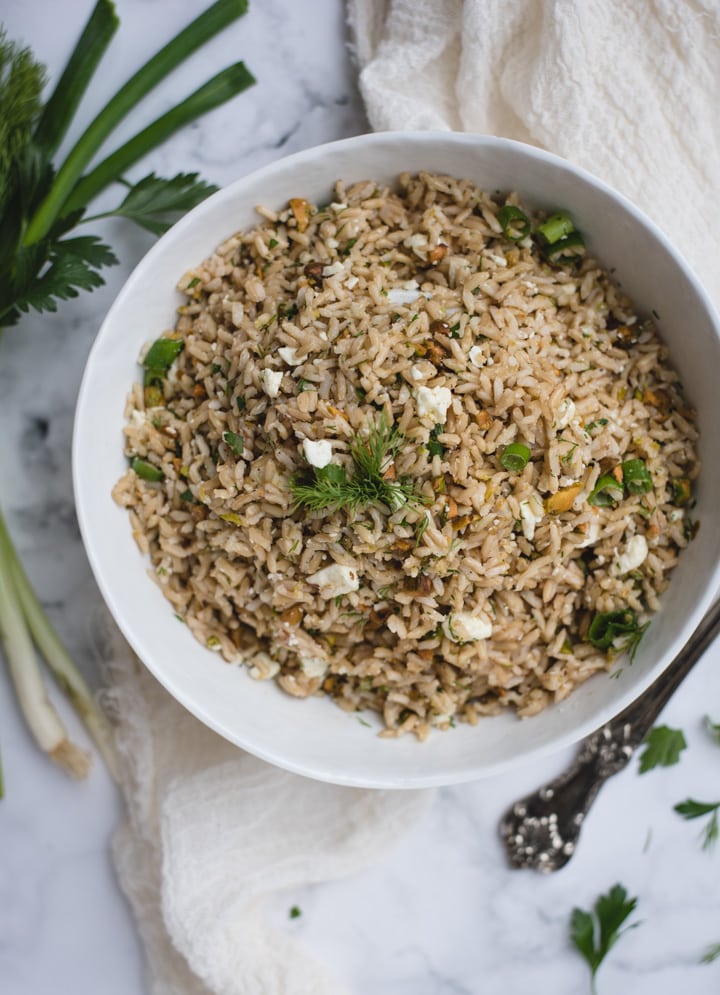 This lemon brown rice side dish is so quick and easy to make and versatile that it'll quickly become a favorite. Adding feta, herbs, and crushed pistachios elevates the lemon rice base and adds texture and complexity without much extra effort.
The flavors all balance together well and pair well with salmon or other fish dishes, chicken, or lamb. Or, if you can turn this into a vegetarian main dish by adding some chickpeas or pairing with a high protein vegetarian main dish.
What I love most about this twist on lemon rice is that it's healthy as can be but doesn't lack any flavor. The saltiness of the feta, crunch of the pistachios and freshness of the lemon and herbs adds a powerful yet simple flavor profile that won't steal the thunder from your main dish but won't be just another boring side dish either.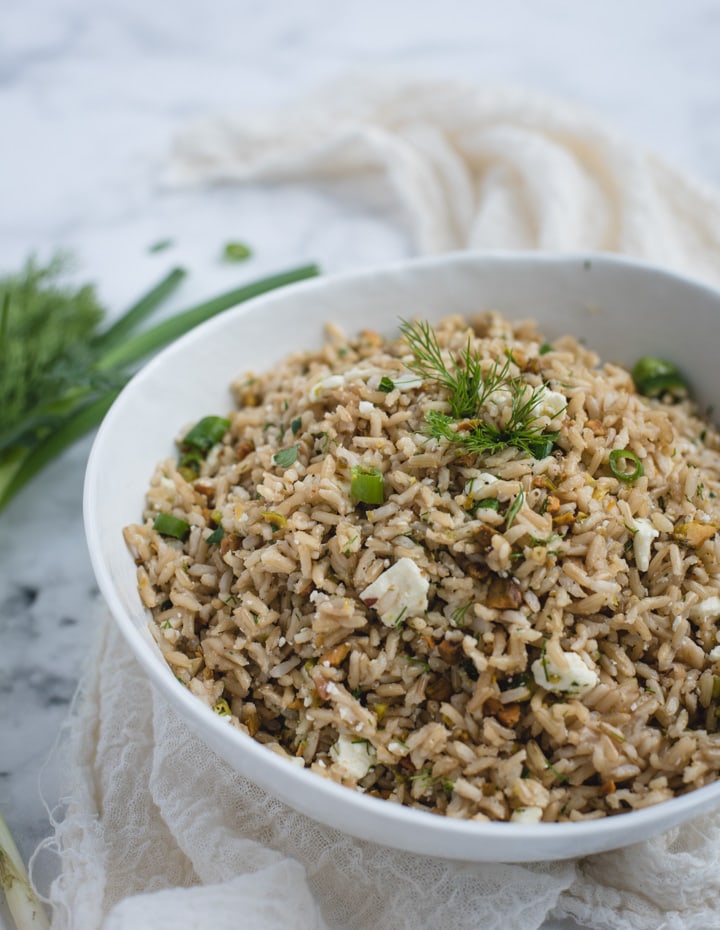 How to Make It
This recipe is designed to be easy enough to throw together as a quick weeknight meal side dish but elegant enough that you can double the recipe and serve it for a fancier meal.
As with all recipes, start by assembling the ingredients:
feta
parsley
green onion
dill
olive oil
lemon juice
salt
pepper
minced garlic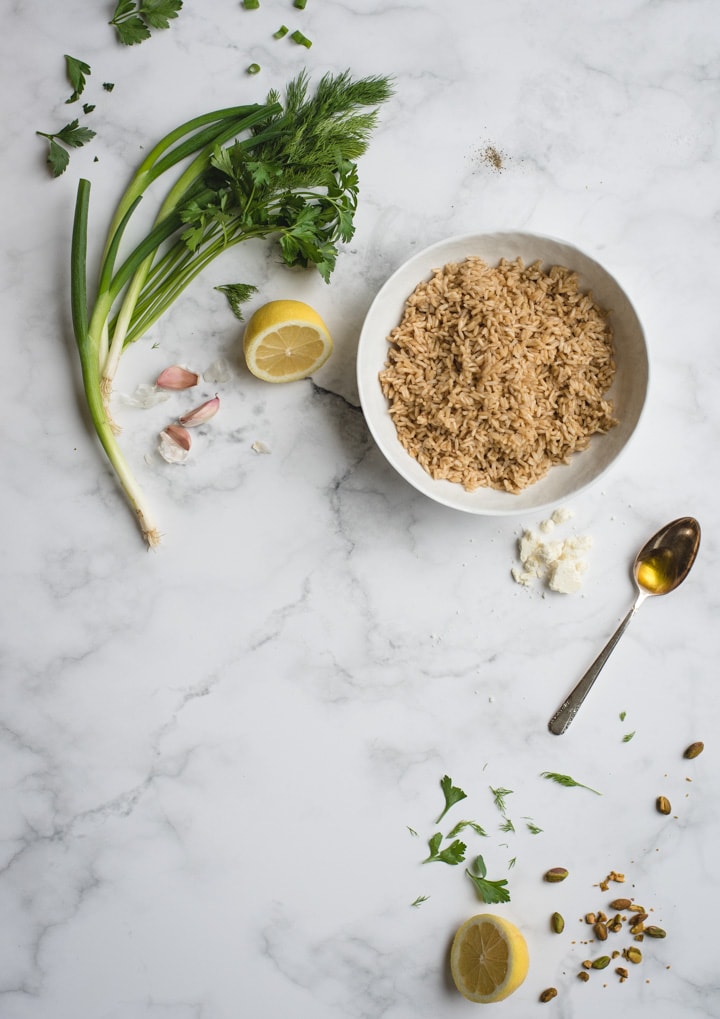 From here, you're ready to make the dressing. Add all of the dressing ingredients into a mason jar (or any jar with a tightly sealing lid) and shake it to emulsify. Shaking dressing is a fun one for a kiddo to do if you've got one lingering around the kitchen.
In dishes like this, mixing the dressing early on gives time for the flavors to settle and mellow out. While that's happening, the rice, pistachios, feta, and herbs can be tossed together.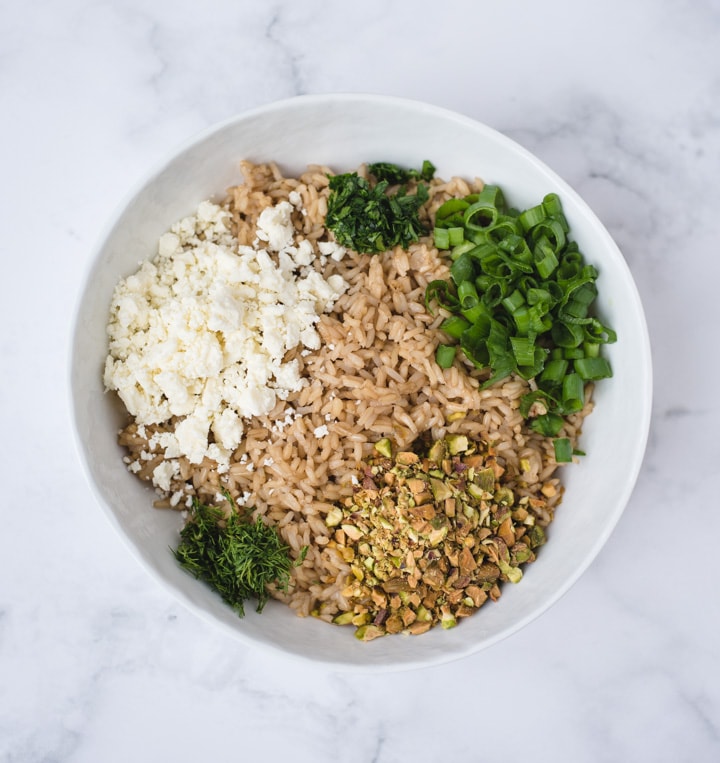 From here, you give that dressing one last shake and then pour it over the rice mixture. Toss to evenly coat the rice and serve – easy as can be!
If you're doing the prep work ahead of time and plan to serve this later on, you can cover and refrigerate the rice mixture as is and just leave the dressing sitting on the counter for up to 24 hours. Just shake the dressing and toss before serving.
Tips
While this lemon brown rice side dish is pretty easy even without these suggestions, it can be made in a matter of minutes with a few key shortcuts.
I recommend using basmati rice since it will retain the best texture for a rice salad type of dish like this.
Part of what makes the recipe so fast to make is using pre-cooked brown rice. If you're cooking the rice from scratch, it will take longer but is still a relatively simple side. If you're on your A-game, you can meal prep on the weekend and have the rice waiting in the refrigerator, but if you're like me and don't always plan that far ahead, use these microwavable packets of pre-cooked brown rice. There are a few brands that make these and I buy mine at Costco.
Similarly, while fresh garlic is best, I keep pre-minced garlic on hand for when I'm in a rush. I know all of you purist chefs cringe at the idea of that but us busy working women have to keep it real, and sometimes minor sacrifices are worth it.
Using pistachios that are already shelled, roasted and salted makes this step easy as can be. To crush them up, I think it's easiest to just chop them on your cutting board. Sure some people swear by using a plastic bag but why waste one for something like this? I just use a big cutting board to keep the nut pieces from flying everywhere.
In addition to these key tips, you can sub the garlic with 1/4 tsp. of garlic powder and the green onion with 1/4 tsp. of onion powder if you're feeling really lazy. I definitely recommend just using the real deal for both though.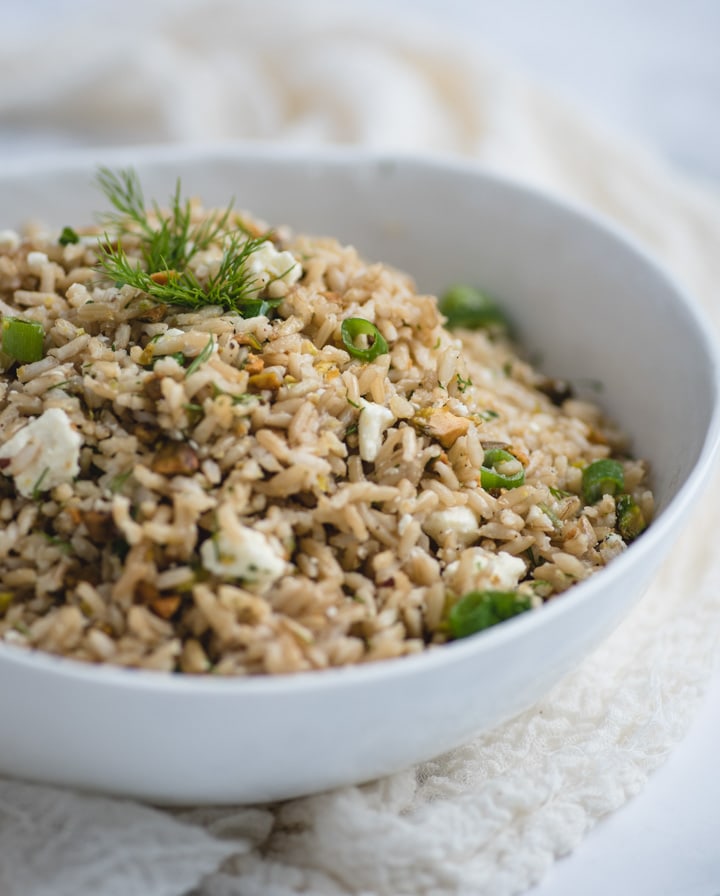 What to Serve with Lemon Brown Rice
What not to serve with lemon brown rice? Its pairs well with so many things! It would pair well as a side for:
Fish and seafood
Chicken
Lamb
Mediterranean food
Greek Food
Russian Food
Indian curries
The options are endless! Here are some recipe ideas to get your wheels turning:
Lemon brown rice seasoned with dill and other herbs, pistachios, garlic, and feta that pairs perfectly as a side dish for seafood, chicken, or anything else!
Ingredients
2 cups cooked brown rice (I used basmati rice)
1/4 cup roasted salted pistachios, lightly chopped
1/4 cup crumbled feta
1 tsp. chopped fresh parsley (optional)
1/4 cup chopped green onion
1 tsp. chopped fresh dill
Instructions
Add all dressing ingredients together into a small well sealing container (mason jars work well) and shake vigorously to emulsify. Set dressing aside and let sit

Stir rice, pistachios, and feta together in a medium bowl.

Shake dressing one more time and then pour over rice mixture and toss with a spoon. Serve right away.
Notes
Can be eaten warm or cold.
Keeps in a sealed container in the refrigerator for 2-3 days. If rice becomes too dry, add a small amount of oil and toss before eating. 
Pairs well with fish or any dishes seasoned with dill. 
Nutrition
Calories: 214kcal | Carbohydrates: 27g | Protein: 5g | Fat: 10g | Saturated Fat: 3g | Cholesterol: 8mg | Sodium: 228mg | Potassium: 182mg | Fiber: 3g | Sugar: 1g | Vitamin A: 333IU | Vitamin C: 6mg | Calcium: 71mg | Iron: 1mg