This lemon dill salmon will become your favorite oven baked salmon recipe! It's quick, easy and the best way to prepare salmon perfectly every time.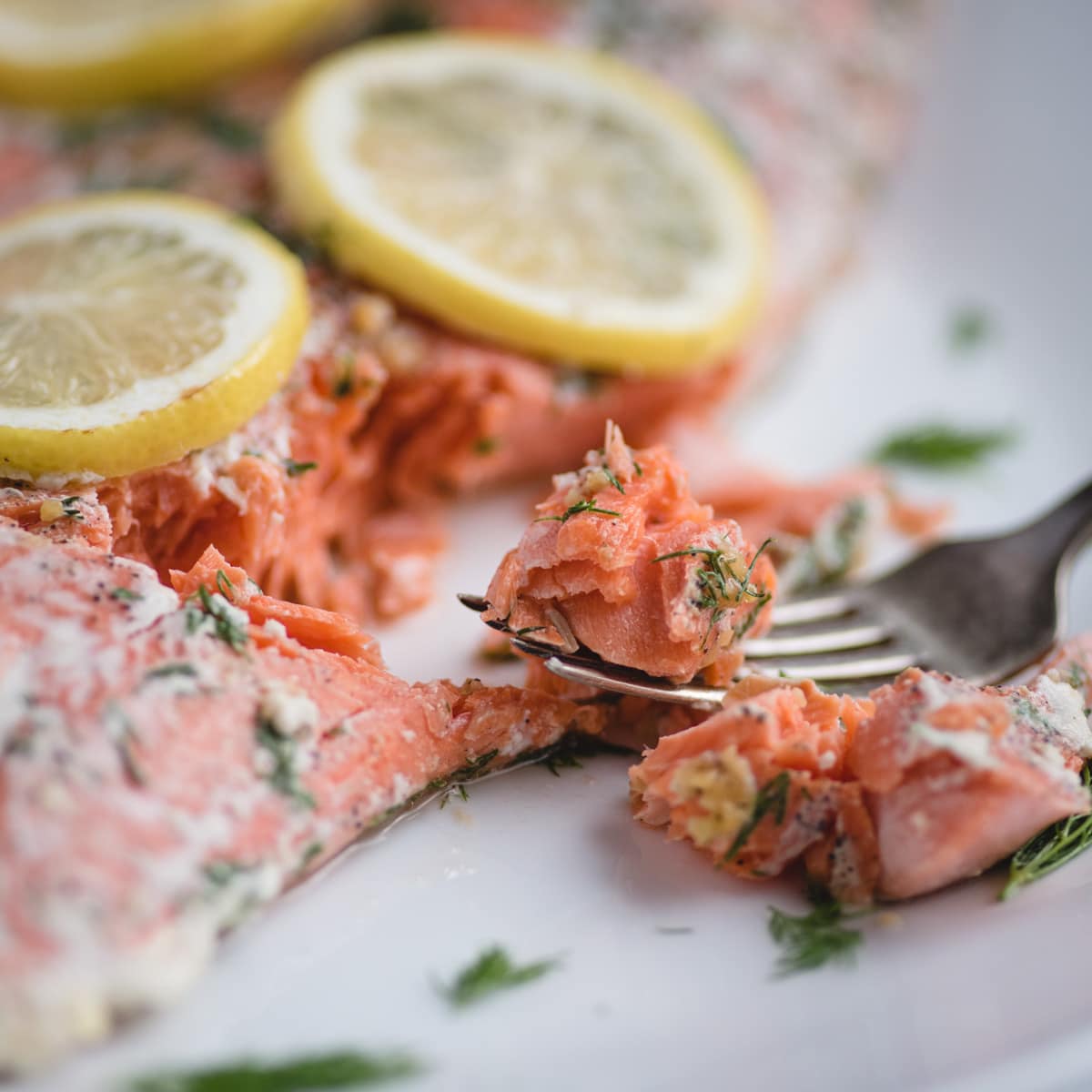 This is my go-to oven baked salmon recipe for a reason – its amazing! Making oven baked salmon in foil is a simple, easy dinner that never disappoints. Quick enough for a weeknight meal but fancy enough that you can serve when you want a dinner with a touch more elegance. There are many different flavor combos you can use, but lemon dill salmon has been my favorite since childhood.
Lemon and dill were made to be paired with salmon and go absolutely perfectly together. The lemon and dill merely complement and elevate the flavor of the fish without overwhelming it. If you're buying good salmon (which I highly recommend you do!), you probably want to taste the salmon itself, not just a sauce or seasoning.
Most Americans aren't getting enough seafood into our diets. Fish is one of the healthiest protein sources there is but not all fish are equal on that front. Fatty fish like salmon have omega-3 and Omega-6 fatty acids which are good for your body's cells, your heart, cholesterol, and even your brain. The American Heart Association recommends eating two servings of fish a week. Start now with this tasty salmon recipe!
Why Make THIS Oven Baked Salmon Recipe
First and foremost, Lemon dill salmon is one of the best ways to prepare this omega-3 rich fish. Amidst the sea of oven baked salmon recipes on the internet, you should make this one for a few reasons. Here are a few of them:
It's a 30 minute meal and only takes about 10 minutes to prepare.
While I've made this probably 50 times in my life, this version has been tested half a dozen times to make sure the seasoning levels and instructions are juuust right.
Wrapping in foil keeps the fish moist and makes clean up easy as can be.
Using simple ingredients allows the salmon flavor to really shine.
It pairs well with oh so many sides – the options are limitless! (ideas are listed further down in this post)
Lemon helps cut that "fishy" flavor that turns many off to fish.
Leftovers are excellent on salads since you don't need to reheat!
How to Make Lemon Dill Salmon
I know I've reiterated a few times how easy this recipe is, but I'll spell it out for you and walk you through the steps.
First, assemble the ingredients: Lemon, butter, garlic, dill, salt, pepper, and salmon. Check.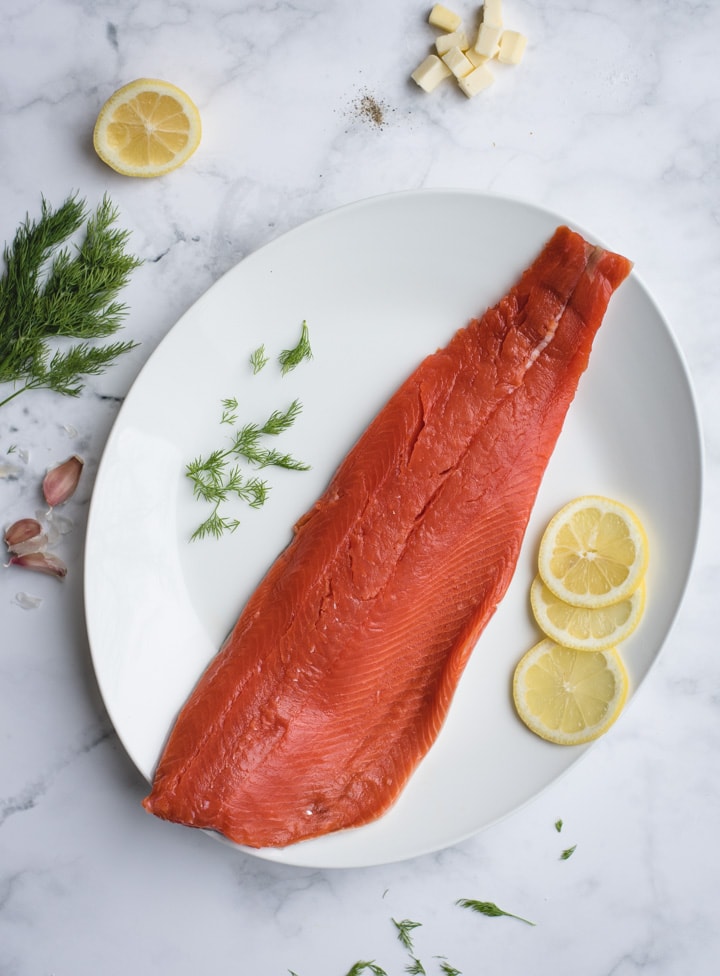 Then, place the salmon on a piece of foil and top with those ingredients. Pretty easy so far…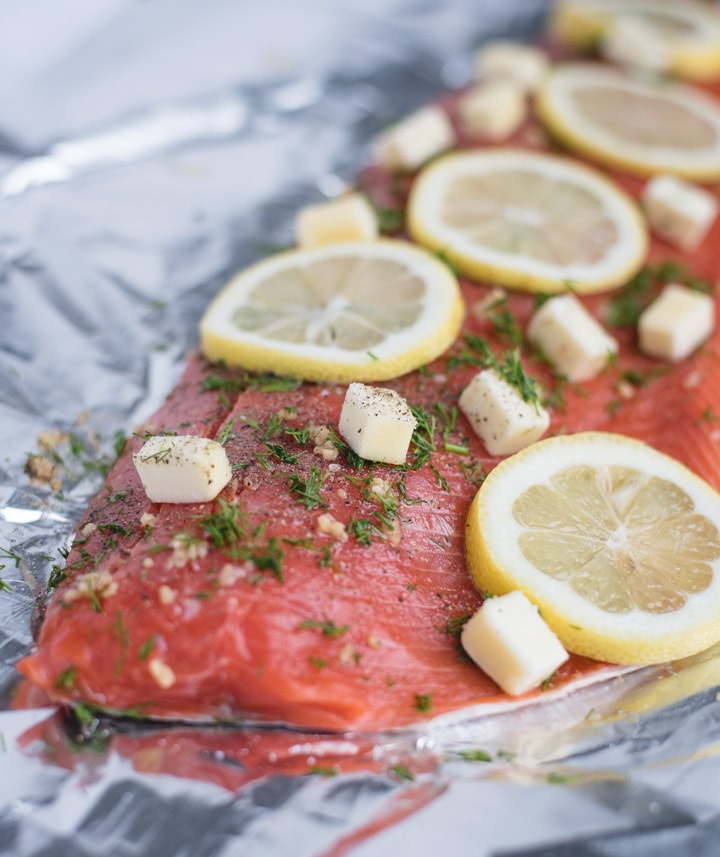 From here, you wrap the foil around the salmon and pop it in the oven. Bake for 15-25 minutes until done. Why the long range for baking time? Well, this is where oven baked salmon can get tricky. The cooking time is entirely dependent on how thick your piece of salmon is.
The one I used in this picture is much thinner on the tail end so that side cooked much faster. It's a hard thing to avoid with salmon but if possible, try to find a piece that is about the same thickness. If you can't find a filet with even thickness (which is most often the case), just give those thin end pieces to whoever cares least about it being overcooked or save those for a salad the next day. I notice it less tossed in with some dressing and greens.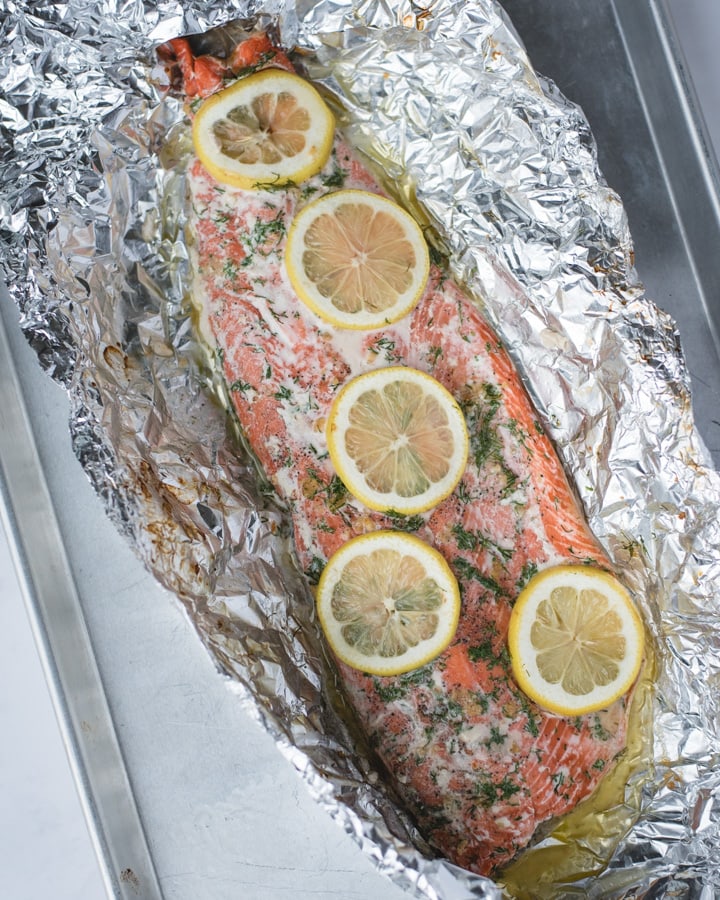 Tips for Making Lemon Dill Salmon Perfectly
If you cook salmon regularly, you're probably not new to overcooking it. There is a very fine line between under and over cooking salmon and once it's crossed, there's no going back. Salmon isn't like chicken where most pieces are pretty standard-sized at the store. Also, it isn't the most forgiving meat. Wrapping in foil helps keep it moist but timing is still a key part of this recipe.
To make sure your salmon dinner is a success, follow these tips:
Use high quality, fresh salmon. Get wild caught whenever possible and use it within a day or two of purchasing, the sooner the better.
Check the salmon early. You don't want to be peaking too often since you want to keep that moisture sealed in the foil, but after that 15 minute mark, I always check. If it's a thicker salmon filet, I might wait until 17 or 18 minutes, but I always check early.
The average sized filets I normally get are done around the 20 minute mark, while a thin one can be done several minutes earlier and a thick one, up to five minutes later. If you cook in the oven to the USDA recommended 145° F, your salmon will be over cooked. It's safer to pull it out at around 130 – 135° F when it still looks a bit undercooked in the very thickest part. If you leave it tented in foil outside the oven for a few minutes, it will continue cooking the rest of the way.
Continue cooking outside the oven. Although at a lower temperature of course, salmon will continue cooking if you pull it from the oven and leave it wrapped in foil. For this reason, if it seems perfectly cooked or on the verge of being over done, pull it from the foil immediately when done cooking. If slightly under done, leave it in foil for 2-5 minutes depending on how underdone it is.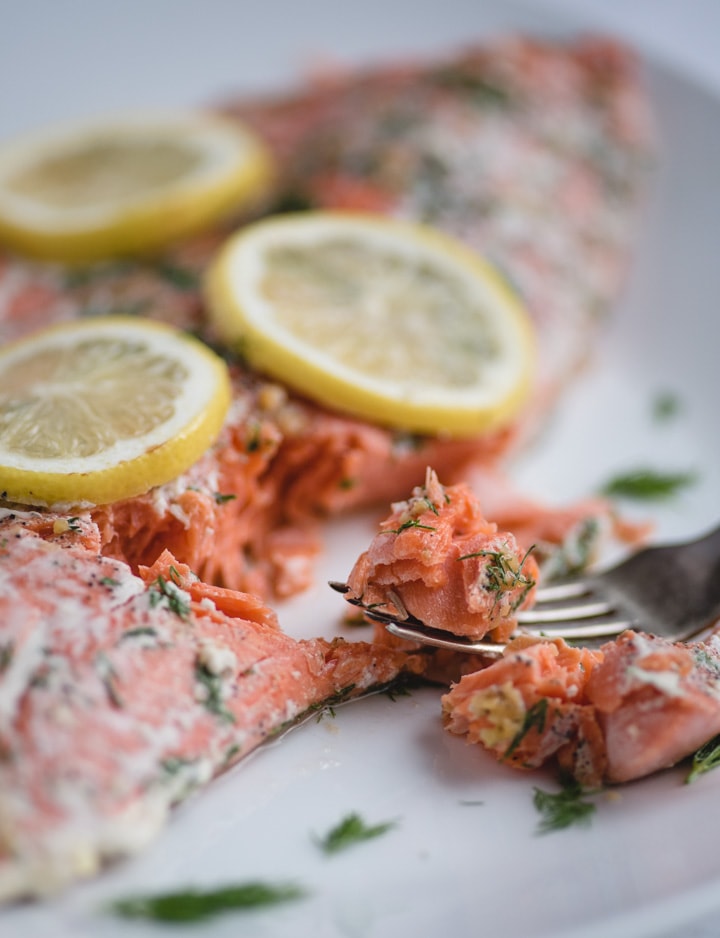 Substitutions and Variations
While I highly recommend making the recipe as written, here are a few to consider:
If you don't have dill or don't like it, rosemary goes well in this recipe too. Don't chop though. Just lay rosemary branches over and under the salmon when baking and the flavor will infuse into the fish.
To make dairy free, swap the butter with oil or avocado oil. Brush the oil onto the fish before adding other seasonings.
For a complete change of pace – forget all ingredients other than salt and pepper and slather salmon in pesto. Wrap in foil and cook per the directions in this recipe. This is my husband's favorite way to bake salmon!
If you know you like things extra garlicy, add more! Fresh garlic is more potent than jarred as well.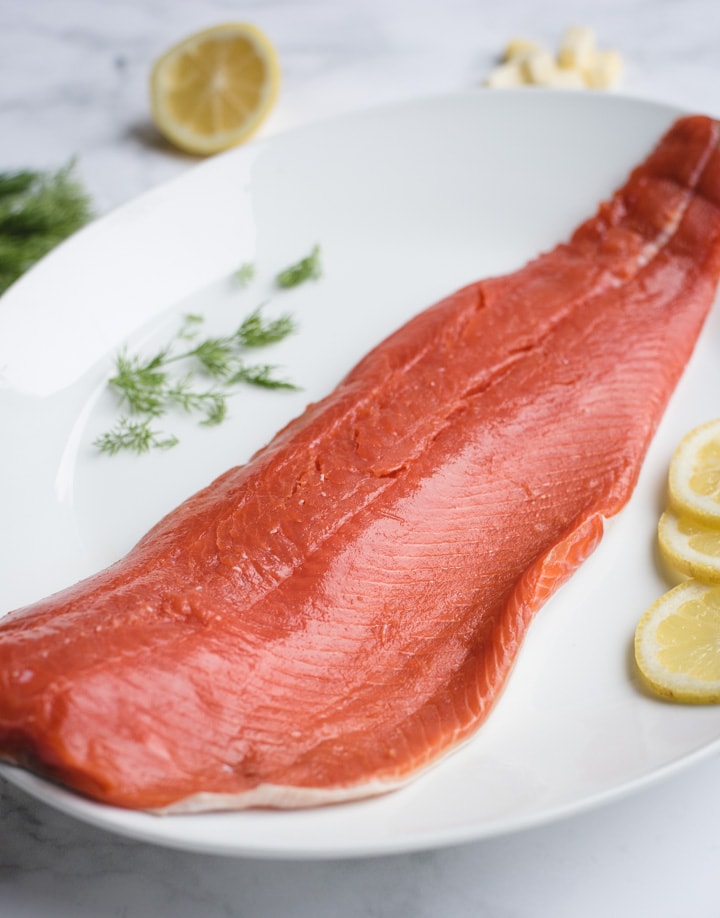 What to Serve with Lemon Dill Salmon
To perfect this baked lemon dill salmon meal, you'll need some sides.
This lemon dill salmon will become your favorite oven baked salmon recipe! It's quick, easy and the best way to prepare salmon perfectly every time.
Ingredients
1 1/2 lb. salmon filet
3/4 tsp. salt
1/8 tsp. pepper
1 tsp. minced garlic
1 1/2 tsp. chopped dill
1 Tbsp. cold butter, cut into 9 cubes
1 lemon, sliced
Instructions
Preheat oven to 375° F (190° C).

Lay a large piece of foil on a baking sheet or pan and place salmon on top of it.

Sprinkle top side of salmon with salt, pepper, garlic, and dill and rub in to evenly distribute seasoning.

Place butter cubes evenly across salmon. Top with lemon slices and fold foil over the top of the salmon.

Place pan in oven and bake for 15-25 minutes until salmon is cooked through in the thickest part but not over cooked (cook time depends on thickness of salmon).

Remove salmon from oven and serve right away.
Notes
Check for doneness by either by 1) using a meat thermometer - remove from oven when salmon reaches 130-135° degrees at thickest part 2) or with a knife - stick a knife or fork into the thickest part and check the inside. It should be pink and flakey yet slightly underdone in the very middle since it will continue cooking and that will keep it from becoming overdone. Undercooked is better than over cooked. If slightly undercooked (130-135° degrees at thickest part), just reseal the foil and let sit in pan outside of the oven for 2-5 more minutes.
Nutrition
Calories: 271kcal | Carbohydrates: 1g | Protein: 34g | Fat: 14g | Saturated Fat: 4g | Cholesterol: 101mg | Sodium: 461mg | Potassium: 847mg | Sugar: 1g | Vitamin A: 303IU | Vitamin C: 2mg | Calcium: 24mg | Iron: 1mg