Spinach pancakes that are gluten free, high in protein and barely taste like spinach at all! Get more veggies into your breakfast with these green pancakes.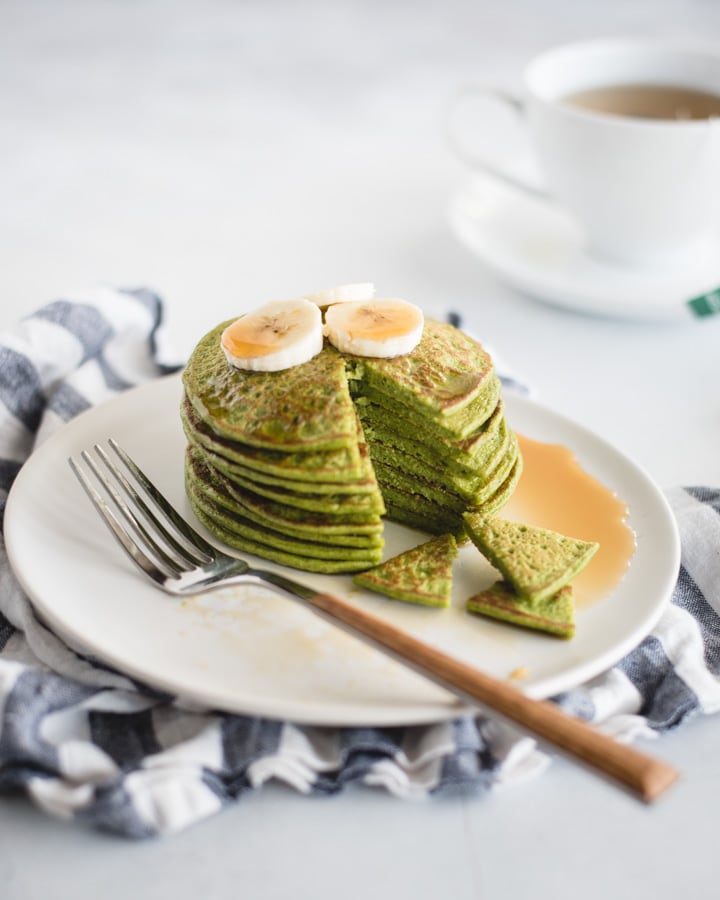 I look for any and every way to get more veggies into our diets, especially my toddler's. These spinach pancakes are the perfect way to do it since they're high in protein and you can barely taste the spinach (woohoo!). Don't let the green scare you, with 16 grams of protein per serving and a half cup of spinach per serving, you'd think they'd taste terrible but they're incredibly delicious!
They're perfect for baby led weaning too, which is really when and why I developed the recipe. I wanted something easy to eat with greens and protein and this fit the bill perfectly. And the fact that they can be easily frozen and reheated? I was in love and you will be too whether you've got a baby or not.
While most of the protein comes from eggs and cottage cheese, the spinach, oats and hemp hearts give a kick of plant based protein as well, which is something most of us omnivores probably need more of.
They aren't the fluffiest, but, while different than your standard pancake, the texture is still good. And I'm a total texture person so if it was weird, trust me, I'd be turned off. The pancakes are dense but the cottage cheese provides moistness and helps lighten up the oat flour.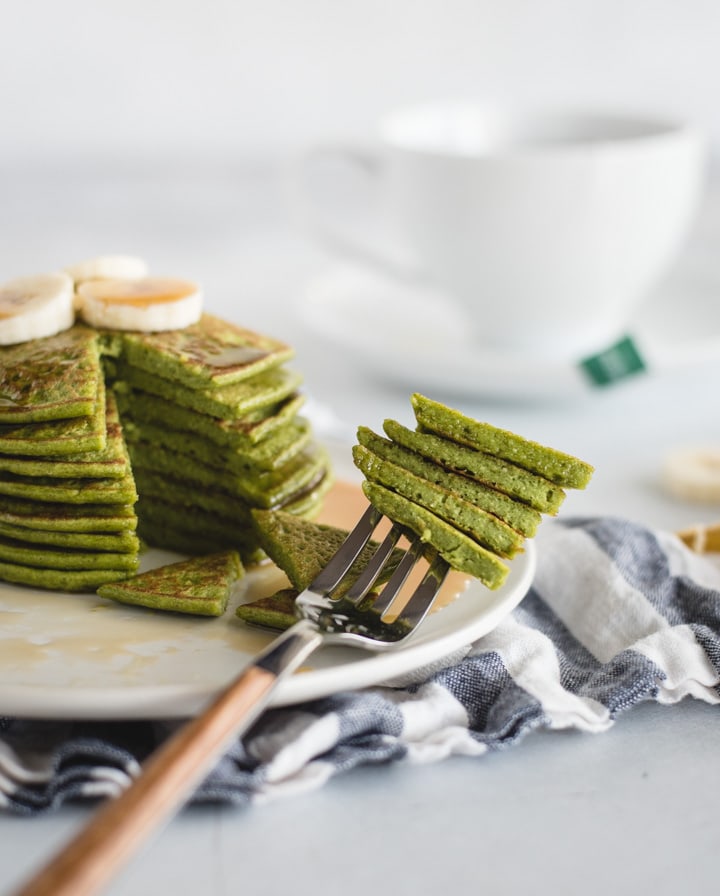 Ingredients in Gluten Free Spinach Pancakes
These green pancakes are full of good for you ingredients. With this ingredient list, you may be thinking they'll taste too healthy, but quite the contrary – they've still got that carby, satisfying factor that makes pancakes such a universally loved breakfast.
Here's the list of goodies that creates this stack of goodness:
eggs
cottage cheese
rolled (old fashioned) oats (choose gluten free to make recipe GF)
hemp hearts
spinach
baking powder (use aluminum free)
cinnamon
vanilla extract
pure maple syrup
cooking spray or oil (I use coconut oil cooking spray)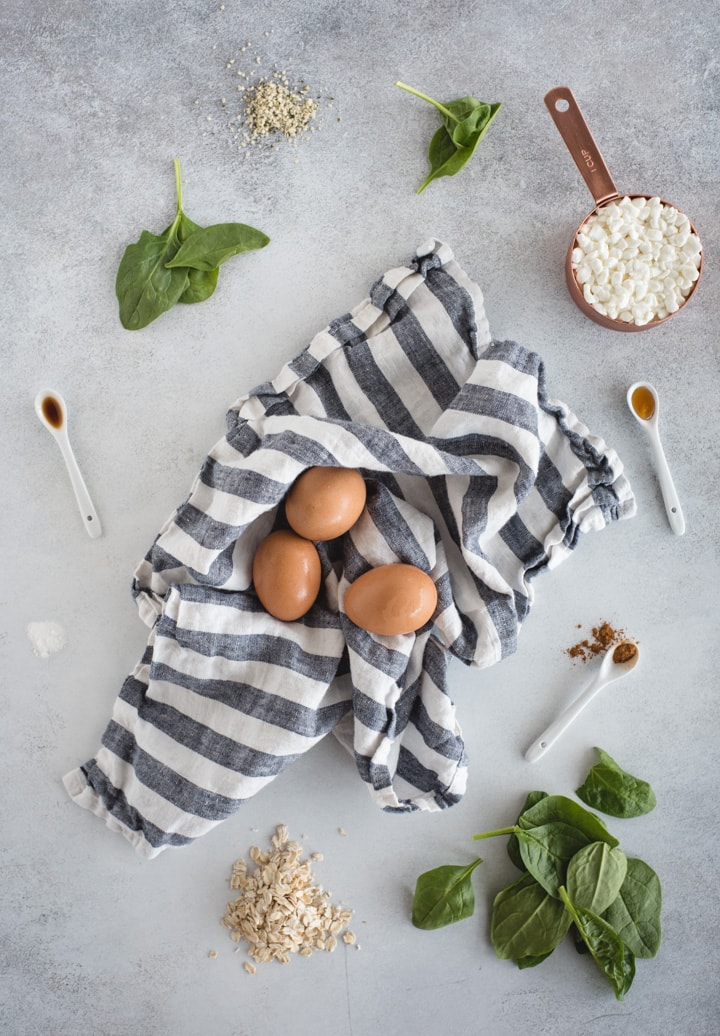 You'll need a blender, a flat pan and a pancake flipper of course as well but you're smart so you probably figured that. Spinach can't blend itself!
Why Put Spinach in Your Pancakes
If you're a long time green smoothie maker, you probably know that spinach is one of the easier greens to mask the flavor of. Kale and chard, not so much, but spinach, that's a veggie you can get sneaky with.
In these pancakes, the splash of maple syrup helps cut the bitterness of the spinach perfectly so you barely taste it, if you do at all!
Spinach is high in vitamin C, potassium, fiber, calcium, magnesium, iron, potassium and all kinds of other nutrients and macro nutrients. While it doesn't have a reputation for being the sexiest veggie on the planet (sorry Popeye), you can't disagree with it's healthiness.
Spinach is low in calories and is incredibly nutrient dense, making it a great veggie to try to work into all kinds of recipes. If your kids won't eat it raw (ha, whose would), try getting sneaky with it.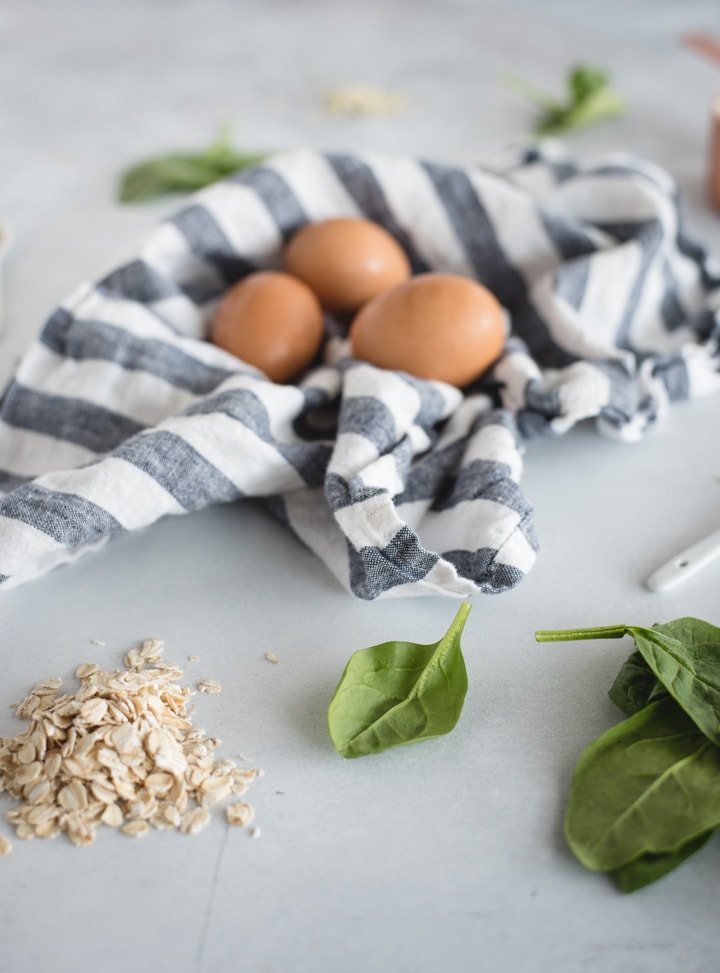 One of the main missions of this website is to get us all eating more veggies. And for those of us that eat breakfast in a hurry, what's faster than pulling a few pancakes out of the freezer to to microwave? Veggies always take more consideration to get into your diet since most of them need to be cooked or processed in some way, unlike an apple or banana that you can grab on your way out the door.
How to Make These Easy Spinach Pancakes
You basically pour everything into a blender, blend, spray, scoop onto a hot pan, flip and serve.
Okay, okay, that might be too simplified, but like most of my recipes, spinach pancakes really are an easy one. This only difference between these and regular pancakes is that they're made in a blender. This step is mandatory since you have to blend the spinach into the batter. If you don't have a blender, a food processor will work just find though.
I like that you can make it all in the blender and don't need to dirty up a bowl though. Dishes are my nemesis and dirtying something unnecessarily is a kitchen sin in my opinion.
Here are all of the ingredients pre-blending: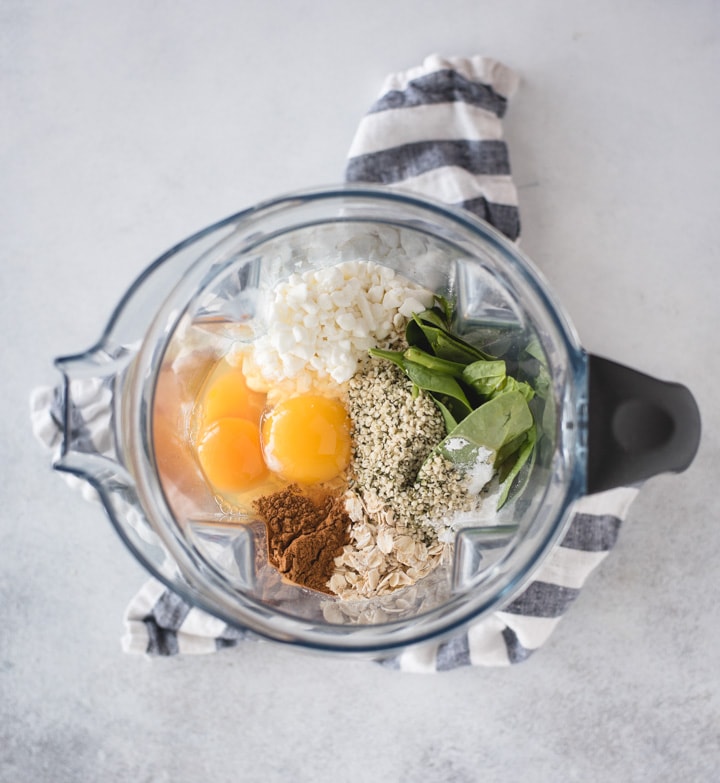 And after a quick blend: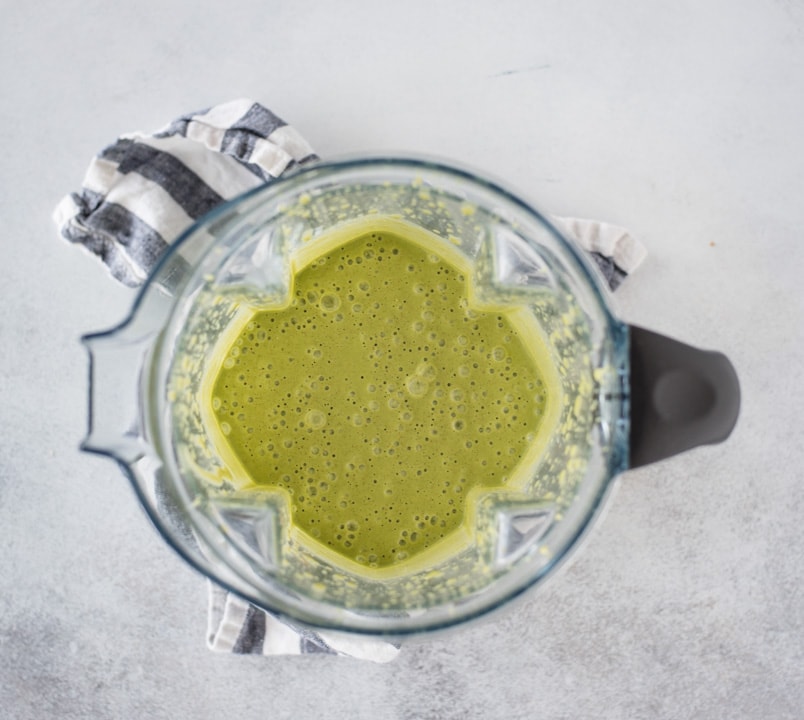 A few things to note for making the best green pancakes:
the batter will be runny
keep the pancakes on the smaller side
don't overpack the spinach, keep it loosely packed or you'll end up with too much and the batter will be even runnier than it normally is which will result in thinner pancakes
adjust the cooking temperature of your burner if your pancakes are cooking too quickly or too slowly
Substitutions / Variations
This recipe is naturally gluten free if you're using gluten free oats, but you've got to be careful doing too many swaps. Unfortunately, this recipe can't easily be made vegan, keto, paleo or any of those diets. The oats get in the way of that and I'd be remiss to recommend replacing them with anything else without trying it first.
If you're like me though and think any and all foods can be part of a balanced diet (can I get an amen please?!), you shouldn't be afraid of a little bit of oat in your diet. In fact, you should welcome it. Oats are heart healthy, full of fiber and absolutely great for you in moderation.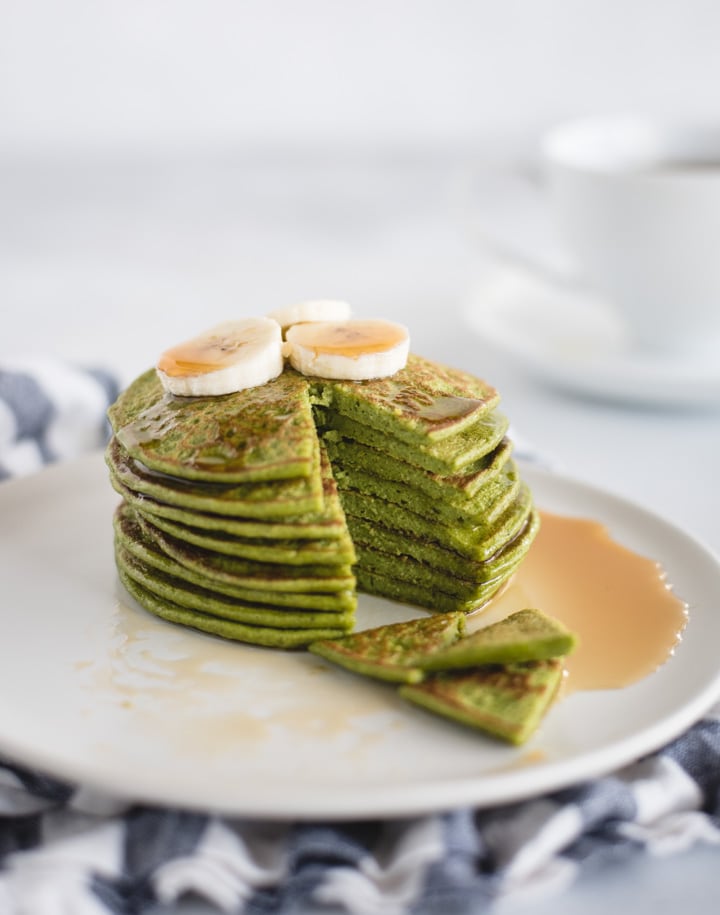 All of that being said, here are a few safe substitutions and variations you can do:
replace cottage cheese with ricotta
switch spinach with a other green, but it may taste bitter if you use bitter tasting greens
exclude the maple syrup from the recipe altogether (they won't be sweet but will still be good)
leave out the hemp hearts altogether if you don't have them
if you aren't a cinnamon fan, you can leave it out or replace with it with other spices, just use less if you're using something strong like nutmeg, cardamom, etc.
I'm sure other substitutions would and could work but I won't put them here unless I've tried it and can verify that it works. If you try any other tweak to the recipe, please let the rest of us know in the comments and I'll update the post once I try it!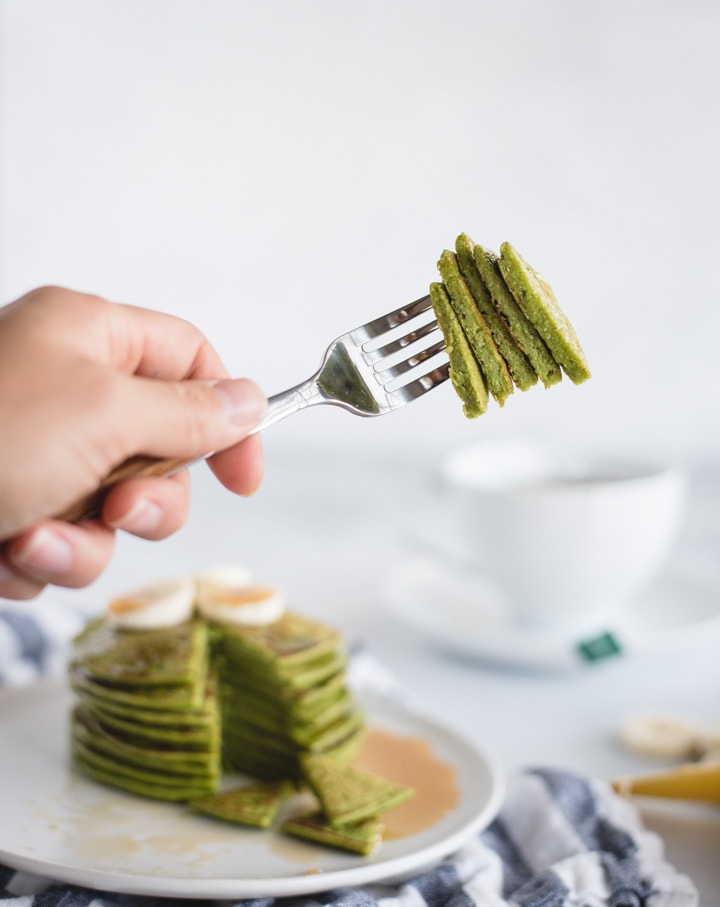 Storing Green Pancakes – Fridge and Freezer
I've already mentioned how freezable these spinach pancakes are a few times, but truly, they're a great make ahead, meal prep breakfast for this reason.
If you think you'll finish them off in about 3 days, just store them in a sealed container in the refrigerator. If you're getting to day two though and still have a fair amount left, you may want to freeze them just in case.
When I was doing baby led weaning, I actually made a double batch just for the purpose of freezing them. I still do this when I have a bunch of spinach to use up in the fridge since having them on hand makes for quick, convenient healthy pancake breakfasts.
To freeze, just place fully cooled pancakes in a freezer bag and place in the freezer. I use these reusable bags and highly recommend them. They'll keep for up to 3 months in the freezer. To reheat from frozen, place a few pancakes on a microwave safe dish and microwave for 30 – 60 seconds depending on the strength of your microwave. I normally microwave for about 20 seconds and check and rotate before microwaving again if there are any sections that are still cold.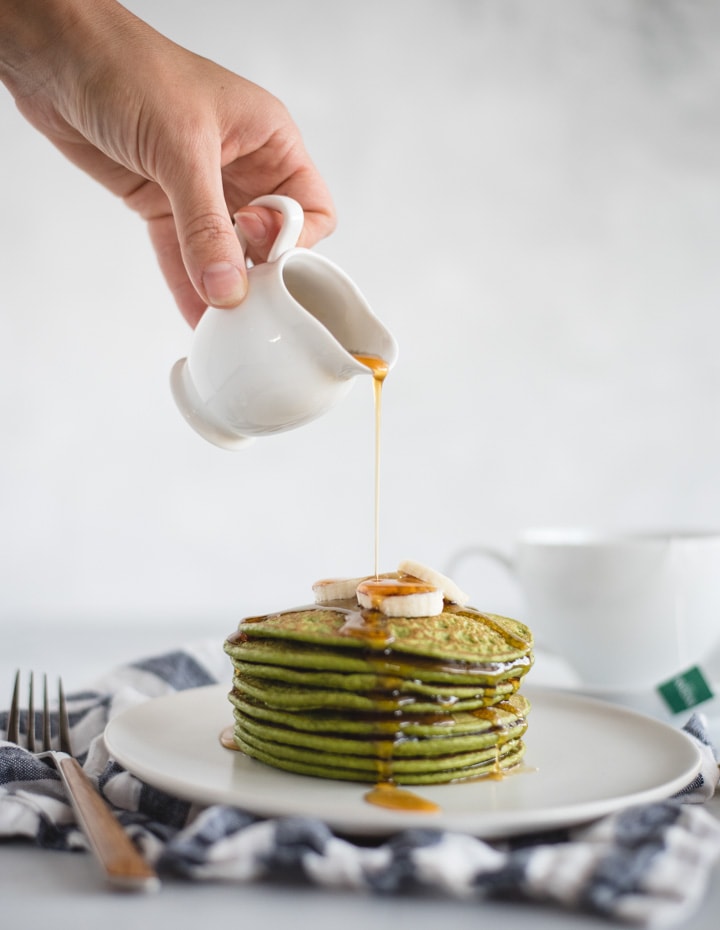 What to Serve with Spinach Pancakes
They are pancakes so syrup is a given, but there are other options too. If you're going sugar-free, consider topping with fruit. Bananas and berries pair especially well.
You can also choose to go a more savory route and top the pancakes with an egg, bacon, avocado, hollandaise and/or any other savory topping that sounds good to you. The sky is the limit here.
As far as sides go, they aren't necessary here but you can serve these with any other favorite breakfast or brunch recipe. The next section has some suggestions.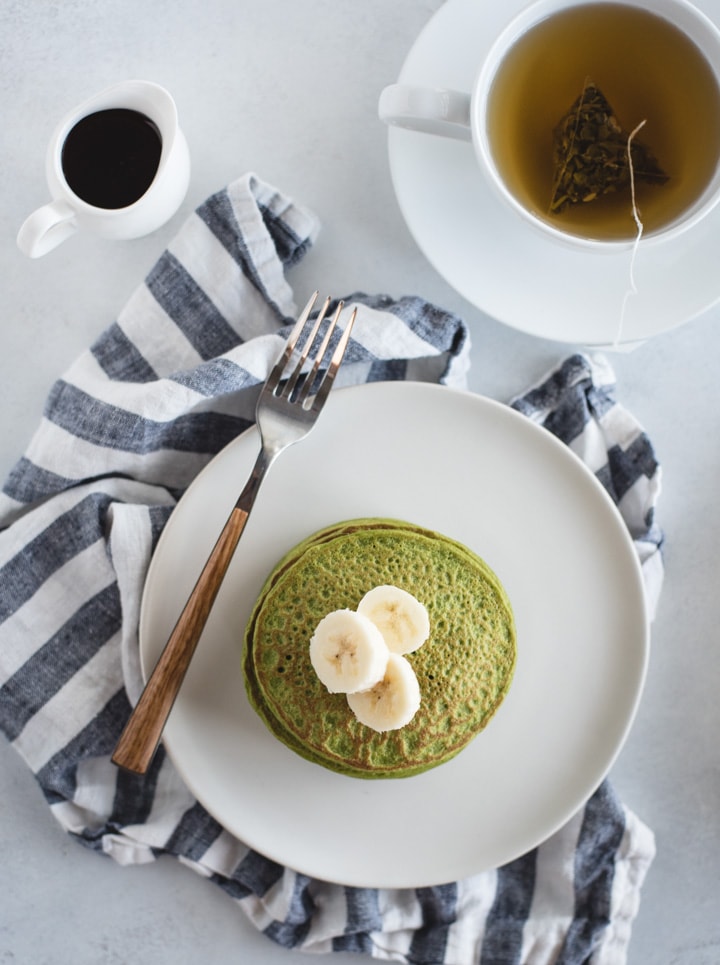 Other Healthy Breakfast Recipes
I have several other healthy pancake recipes I recommend and some other sweet and savory breakfasts to try:
Whatever breakfast you choose, I hope it's a good one. If you try out these green pancakes come back and tell me how you liked them!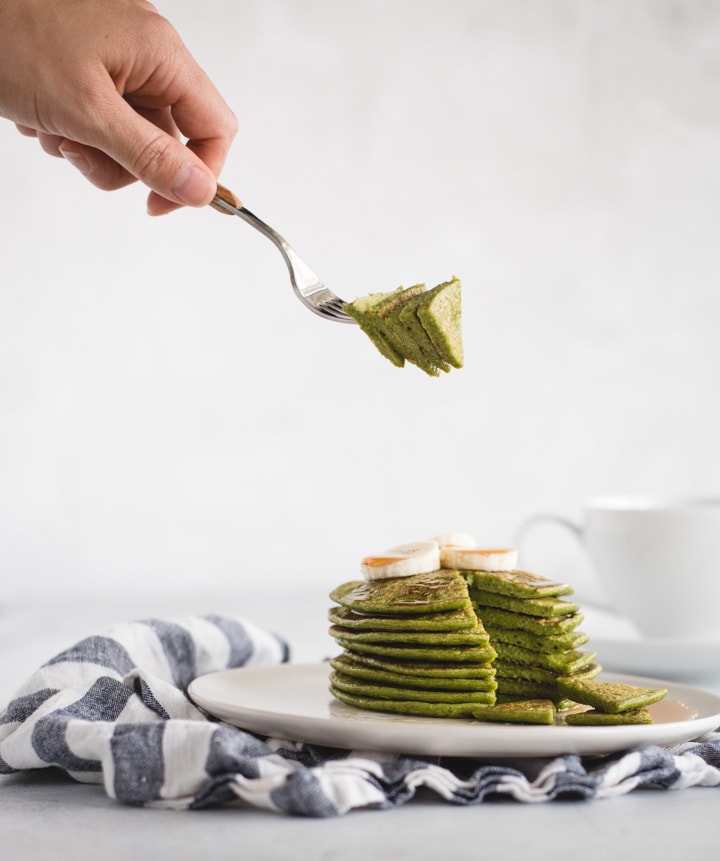 Spinach pancakes that are gluten free, high in protein and barely taste like spinach at all! Get more veggies into your breakfast with these green pancakes.
Instructions
Start heating pan to low/medium heat.

Add all ingredients to blender and blend until smooth. Let sit for 5-10 minutes to allow oat flour to absorb the liquid ingredients.

Spray pan lightly with cooking spray then scoop batter in 1/4 cup increments with space between for pancakes to spread.

Wait until pancakes start bubbling and then flip (about 3 minutes). Cook for another 1-2 minutes on other side before removing and placing on a serving plate.*

Remove finished pancakes from pan and set aside until all pancakes are done (keep warm in oven if desired) and then serve with syrup, fruit, or your favorite pancake toppings. Recipe makes 12-14 pancakes.
Notes
If pancakes are cooking too quickly, turn burner down. If cooking too slowly, turn up gradually.
Keep leftover pancakes in a sealed container in the refrigerator for up to 3 days or up to 3 months in the freezer.
Nutrition
Calories: 241kcal | Carbohydrates: 22g | Protein: 16g | Fat: 10g | Saturated Fat: 2g | Cholesterol: 132mg | Sodium: 254mg | Potassium: 506mg | Fiber: 3g | Sugar: 4g | Vitamin A: 1697IU | Vitamin C: 4mg | Calcium: 221mg | Iron: 3mg