Crispy on the outside and soft on the inside, these zucchini cakes are a tasty way to use that garden produce. The tangy yogurt dill dipping sauce makes these a perfect appetizer.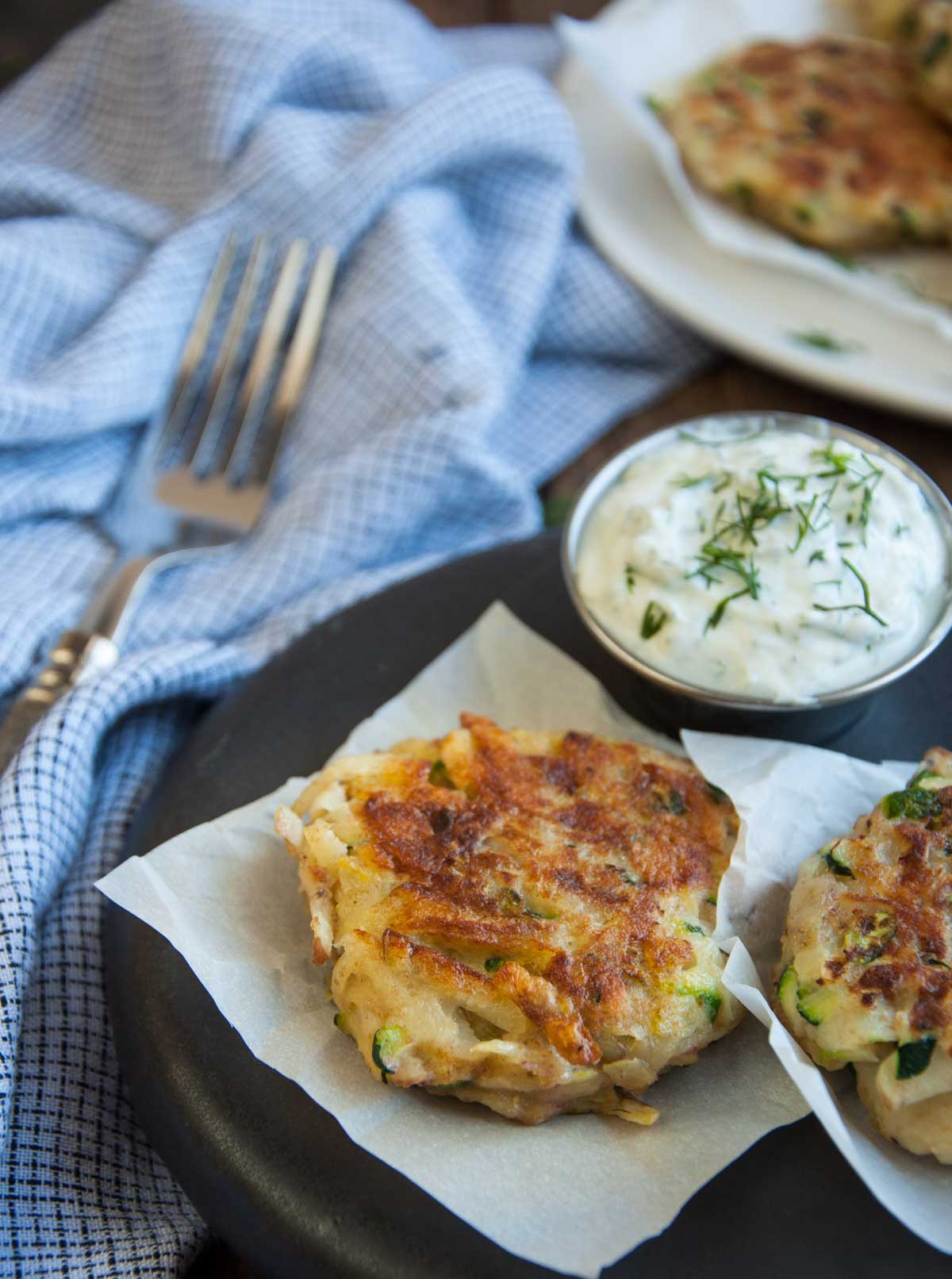 Want to hear a sad story? We've been spoiled every year with more zucchini than we can possibly use. Normally we're eating zucchini with everything this time of year. Its like that scene from Forest Gump but with zucchini instead of shrimp ("zucchini cakes, zucchini bread, zucchini fries, sautéed zucchini"… you get the picture).
So, here I am twiddling my thumbs waiting for my zucchini plants to start poppin' off goodies… but nothing's happening. Everyone else in the gardening world on Instagram seems to be flush with zucchini, but not this house. But have had some mysterious holes in our garden from time to time though. Sooo, a hunting friend was passing through and solved both mysteries for us in an instant. Turns out those holes are deer hoof prints, which seems obvious now. Those little f-ers have been hopping up into our garden beds and nibbling away!
Yeesh, and I was mostly joking about moving to the country. I mean we're 10 blocks from city hall for christ's sake!
So, even though this recipe was made with store bought zucchini, it was still made with all the love a home grown garden normally conjures. Just pretend okay. And to clarify, the love is directed at the zucchini, not the deer.
This might seem like a hassle to make, but this recipe is easy peasy and comes together in no time at all. Zucchini is easy to grate because its so soft. I used a big box grater but any kind with both small and large holes will do. You need both hole sizes because you want the zucchini to be grated into big pieces and the onion and cheese to be more micro and easily blended in. It just makes the zucchini cakes come together better and the flavors meld more seamlessly.
The sauce I guess is somewhat optional. You could go another route with egg and hollandaise somewhat like this recipe or dip in some other saucy creation. This combo is tried and true though. Something about the yogurt, dill, and chive combo adds just the right amount of fresh creaminess to offset these hearty little patties.
If you don't have fresh dill, dried will do in a pinch. Just add it in slowly and taste until you get to the right amount. The dill was also store bought since ours didn't turn out this year. *sigh* #gardenproblems
So, if you're looking for another way to use that garden (or store bought) zucchini, give these zucchini cakes a try. Then, come back and tell me how much you loved them and we'll be best friends forever, okay? Okay.
Crispy on the outside and soft on the inside, these zucchini cakes are a tasty way to use that garden produce. The tangy yogurt dill dipping sauce makes these a perfect appetizer.
Ingredients
1 large zucchini
2 medium potatoes (or one large)
1/4 cup finely grated onion
1/4 cup whole wheat flour (either pastry flour or whole wheat white flour)
1/3 cup cheddar cheese (grated)
1/8 tsp. fresh cracked black pepper
1/2 tsp. salt
1 egg
1 tsp. minced garlic
1/2 tsp. coconut oil
Dipping Sauce
1/3 cup Greek yogurt, full fat (I used Fage brand - low fat will be watery!)
1/4 tsp. garlic powder
1/8 tsp. salt
1 tsp. lemon juice
1/2 Tbsp. minced dill
1/2 Tbsp. minced chives optional
Instructions
Grate zucchini and potatoes using the large holes in a grater. Grate cheese and onion using the smaller holes on the grater. Set cheese aside and use a kitchen towel or paper towels to squeeze the water out of the grated vegetables.

After getting as much water out of the vegetables as you can, put the vegetables in a bowl. Add flour, cheese, pepper, salt, egg, and minced garlic. Mix together with a spoon.

Preheat a skillet to medium-low heat and melt coconut oil.

Use your hands to make patties out of the mixture using about 1/4 cup for each one. They will be sticky and wet.

Spread coconut oil over skillet using a spatula. Place patties on skillet let cook for about 5 minutes until patties are browned on bottom. Flip and cook for an additional 3-4 minutes until golden brown on both sides and cooked through.

If patties are cooking too quickly, turn the heat down. If cooked too quickly, the potatoes and zucchini on the inside will still be raw and crunchy. Place zucchini cakes on paper towels to let excess oil drain. Serve while warm.

While patties are cooking, whisk dipping sauce ingredients together in a small bowl. Serve sauce with warm zucchini cakes.
Nutrition
Calories: 173kcal | Carbohydrates: 23g | Protein: 10g | Fat: 5g | Saturated Fat: 3g | Cholesterol: 52mg | Sodium: 395mg | Potassium: 671mg | Fiber: 4g | Sugar: 2g | Vitamin A: 475IU | Vitamin C: 25.2mg | Calcium: 139mg | Iron: 4.3mg