Taco vegetarian lettuce wraps with quinoa and black beans are a tasty meal that will keep you full with 15 grams of protein per serving!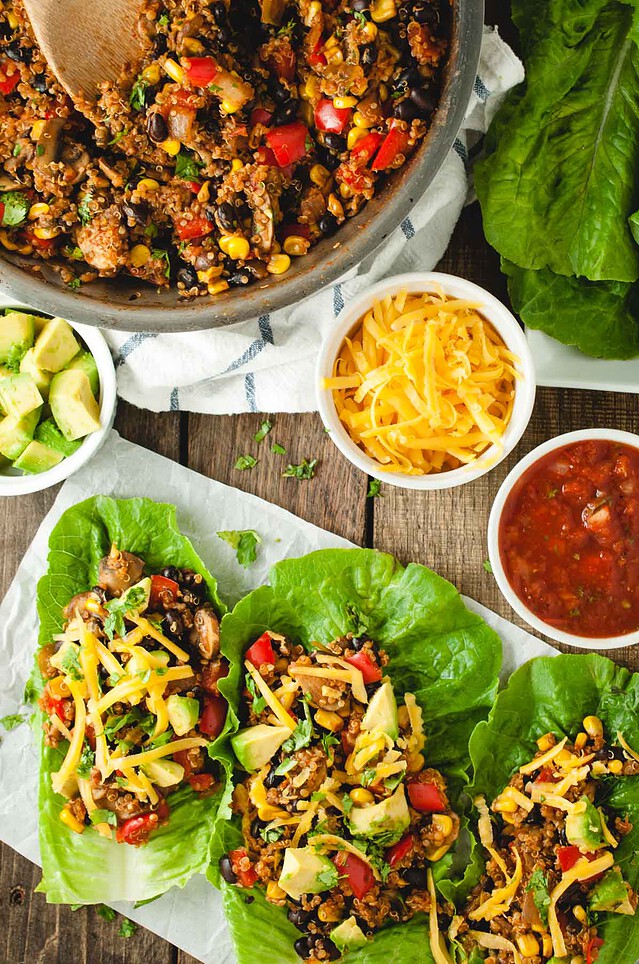 If there's one kind of food I'm always game for, it's Mexican food. Tacos specifically have a special place in my heart and these tasty taco vegetarian lettuce wraps hit all the marks, even without – *gasp* – the tortilla. 😮
When I first started dabbling in vegetarian dinners, I ate a ton of boca and meat substitutes. These days I shy away from prepared, packaged meat substitutes and prefer to make my own preservative free veggie taco meat. It's sooo much tastier, preservative and random chemical free and I love knowing what goes in it. Top with these pickled red onions and its pretty much perfection!
As with many of my recipes, the idea for these tacos came from rummaging through the fridge, trying to figure out what to make for dinner. I had everything but the tortillas and figured why the heck not use lettuce. It adds the perfect crunch to Asian style lettuce wraps, and with a Mexican flair, it's bound to be just as delicious.
I've made my turkey tacos into lettuce wraps before, but wanted to go the vegetarian route with these. The beans provide plenty of protein and the quinoa is filling enough that you won't even miss the meat. Given all this, there's no reason to add it. It's just as satisfying of a meal without meat or a tortilla and that's coming from a tortilla fiend!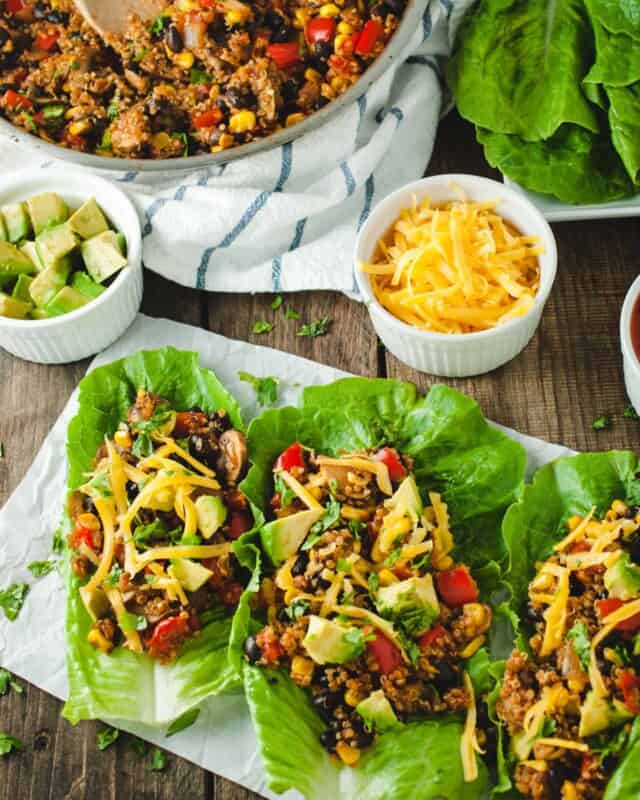 Ingredients
The ingredients for these taco vegetarian lettuce wraps are simple in nature
quinoa – you can substitute for rice easily if you prefer and/or can use pre-cooked rice or quinoa packets to make the recipe even faster and easier.
corn – either fresh or frozen works best. Canned will work in a pinch too.
black beans – I used canned but you can cook your own if you prefer of course
coconut oil
bell peppers – any color will do!
onion
garlic
mushrooms
cilantro
salsa – this quick pico style blender salsa is an easy one you can make yourself
cheddar cheese
lettuce – I used butter leaf but romaine or another type would work fine too. Anything other than iceberg really, since that type tends to break instead of bend like a taco shell.
avocado – I mean, are they even tacos without some form of avocado? If you want to make guac, that's even better.
Ingredient swaps
The recipe is delicious as written but there are so many ways you can swap things around and still have it turn out fantastic.
To make it vegan, just leave out the cheese or swap with vegan cheese. Yup, it's already vegan without that so easy as can be.
To make it paleo and Whole30, leave out the corn and cheese.
Don't like quinoa? Swap for rice.
Feel free to use or add in any other veggies you like (sauté zucchini, carrot cauliflower or whatever you like best or add fresh veggies like tomato, cucumber, etc.).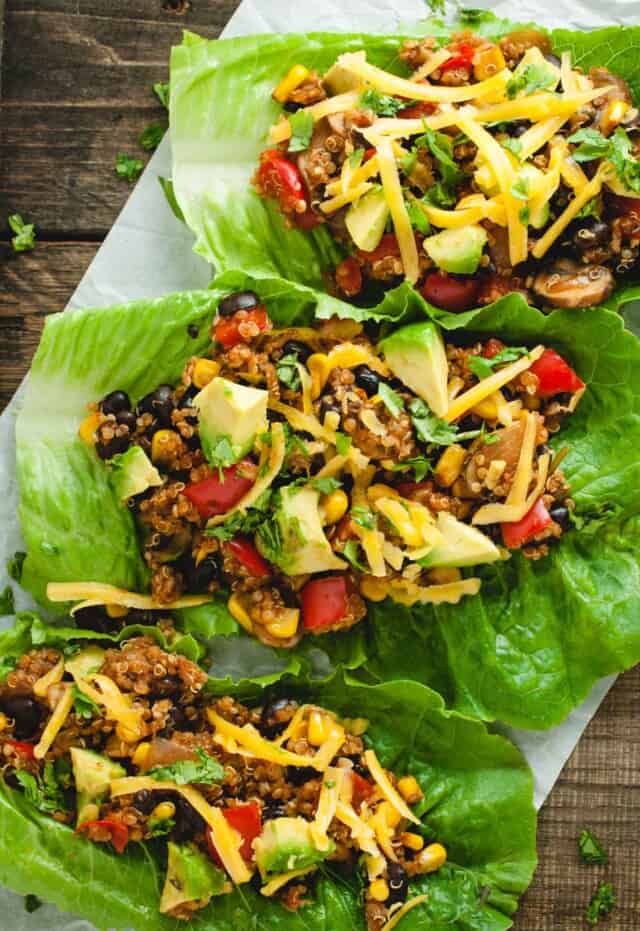 How to make taco vegetarian lettuce wraps
If you're new to making vegetarian lettuce tacos, this is an easy recipe to follow and will be a new favorite for you. To make the vegetarian taco filling, there are a few steps, but it all is pretty simple to put together. Here's what you need to do:
First cook the quinoa in a pot. Or, you can cut the prep time in half if you have pre-cooked quinoa already ready.
While the quinoa is cooking, sauté the veggies.
Once they're seared, add spices, some of the cilantro and salsa, the black beans and quinoa.
Remove from heat and serve with your favorite taco fixings!
Vegetarian taco lettuce wraps with quinoa and black beans are a tasty meal that will keep you full with 15 grams of protein per serving!
Ingredients
1/2 cup quinoa (you can substitute 1 1/2 cups of cooked quinoa or brown rice to make this faster)
1 15 ounce can black beans
1/2 tablespoon coconut oil
2 bell peppers seeded and chopped
1 cup chopped onion
1 1/2 teaspoon minced garlic
2 ears corn shucked (or 1 cup frozen)
1/2 pound mushrooms washed and sliced
1/2 teaspoon salt
1 1/2 teaspoon chili powder
1/2 teaspoon paprika
1 teaspoon ground cumin
1/4 cup chopped cilantro split in half
3/4 cup salsa
1 cup shredded cheddar cheese
1 head lettuce washed and leaves separated (I like butter leaf)
1 avocado diced
Instructions
Rinse quinoa and bring to a boil with 1 1/2 cups of water (or broth) in a small pot. Cover, reduce heat to low and let quinoa cook for 15 minutes before removing from heat and fluffing cooked quinoa with a fork (or just cook according to package directions).

While quinoa cooks, melt coconut oil over medium-high heat. Add onions and bell pepper and sauté until peppers start to sear.

Add garlic, corn, and mushrooms and continue cooking until veggies are cooked and lightly browned.

Stir in salt, chili powder, paprika, cumin, half of the chopped cilantro, and 1/4 cup salsa. Add quinoa and black beans. Stir and remove from heat.

Serve veggie filling, grated cheese, additional salsa, cilantro, and avocado with lettuce using each leaf as a taco shell.
Notes
To make recipe vegan, leave out the cheese.
To make paleo or Whole30 compliant, leave out cheese and corn.
Leftover taco filling keeps well in a sealed container in the refrigerator for up to 4 days. Reheat before serving.
Nutrition
Calories: 343kcal | Carbohydrates: 42g | Protein: 16g | Fat: 15g | Saturated Fat: 6g | Polyunsaturated Fat: 2g | Monounsaturated Fat: 5g | Trans Fat: 1g | Cholesterol: 19mg | Sodium: 851mg | Potassium: 1050mg | Fiber: 13g | Sugar: 9g | Vitamin A: 2428IU | Vitamin C: 65mg | Calcium: 213mg | Iron: 4mg