Healthy turkey tacos recipe that's loaded with peppers, spices and comes together in 30 minutes or less! We eat this all the time – it's simply the best!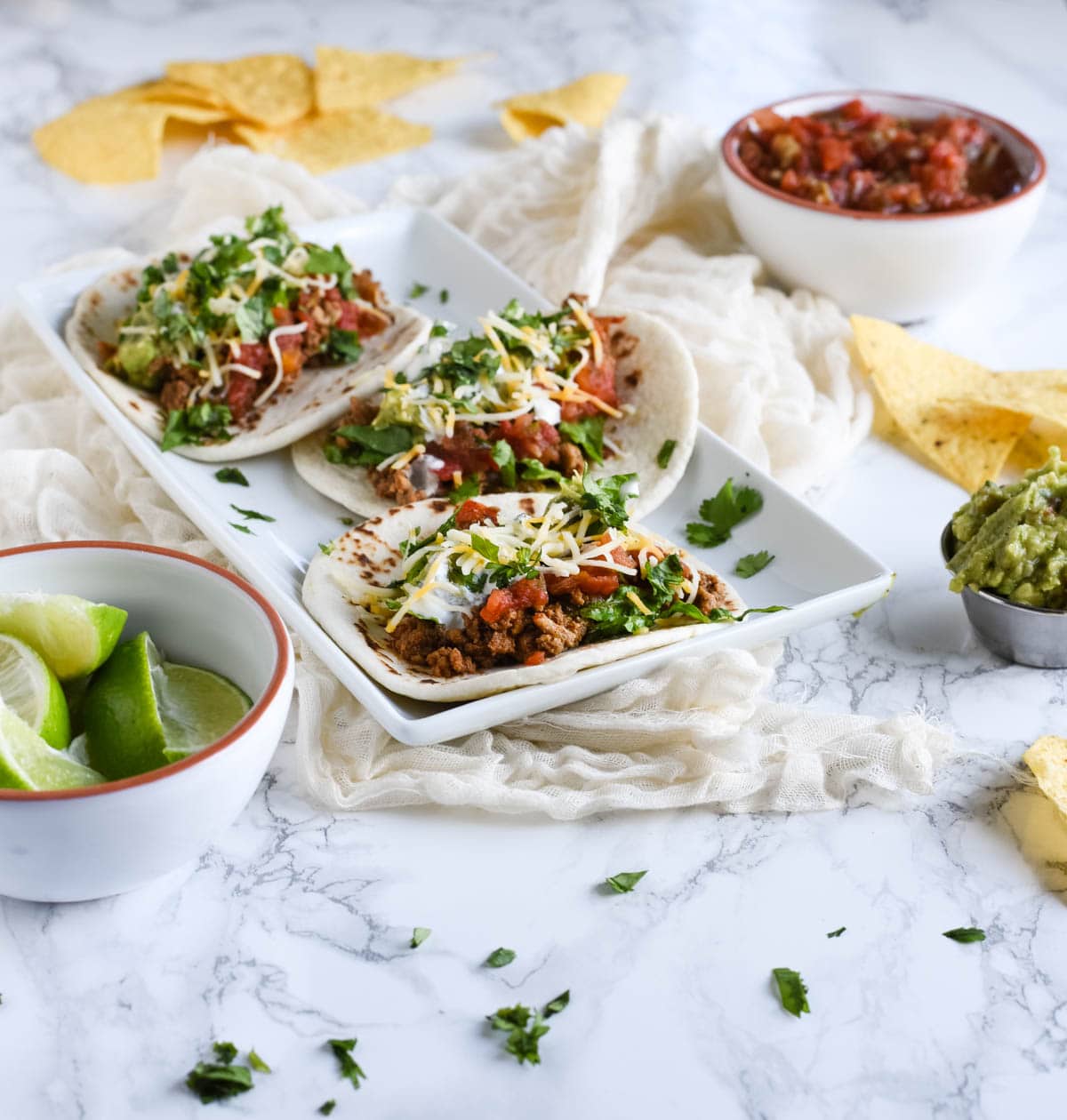 Recipe originally published on May 4, 2017. Post has been updated since then to include more details and tips.
Tacos are probably my favorite food, but aren't they everyone's favorite food? There is just so much variety in the taco world, it's hard not to find a taco that you'll love. Most tacos aren't very healthy though… which is perfectly fine in my opinion! There's a place for grease dripping barbacoa tacos, but for quick weeknight dinners I like to keep it light and easy.
This my friends is where healthy turkey tacos come in to play. They'll satisfy that taco craving and are absolutely bursting with flavor but have nearly half the calories as your standard beef taco.
I've been making a variation of these healthy turkey tacos for yeeears! The other day, it hit me that it's high time I share them with you. I mean, it is only fair when a recipe is this good that I don't hoard it to myself. So, I whipped up a few batches, and actually took notes on how I made them.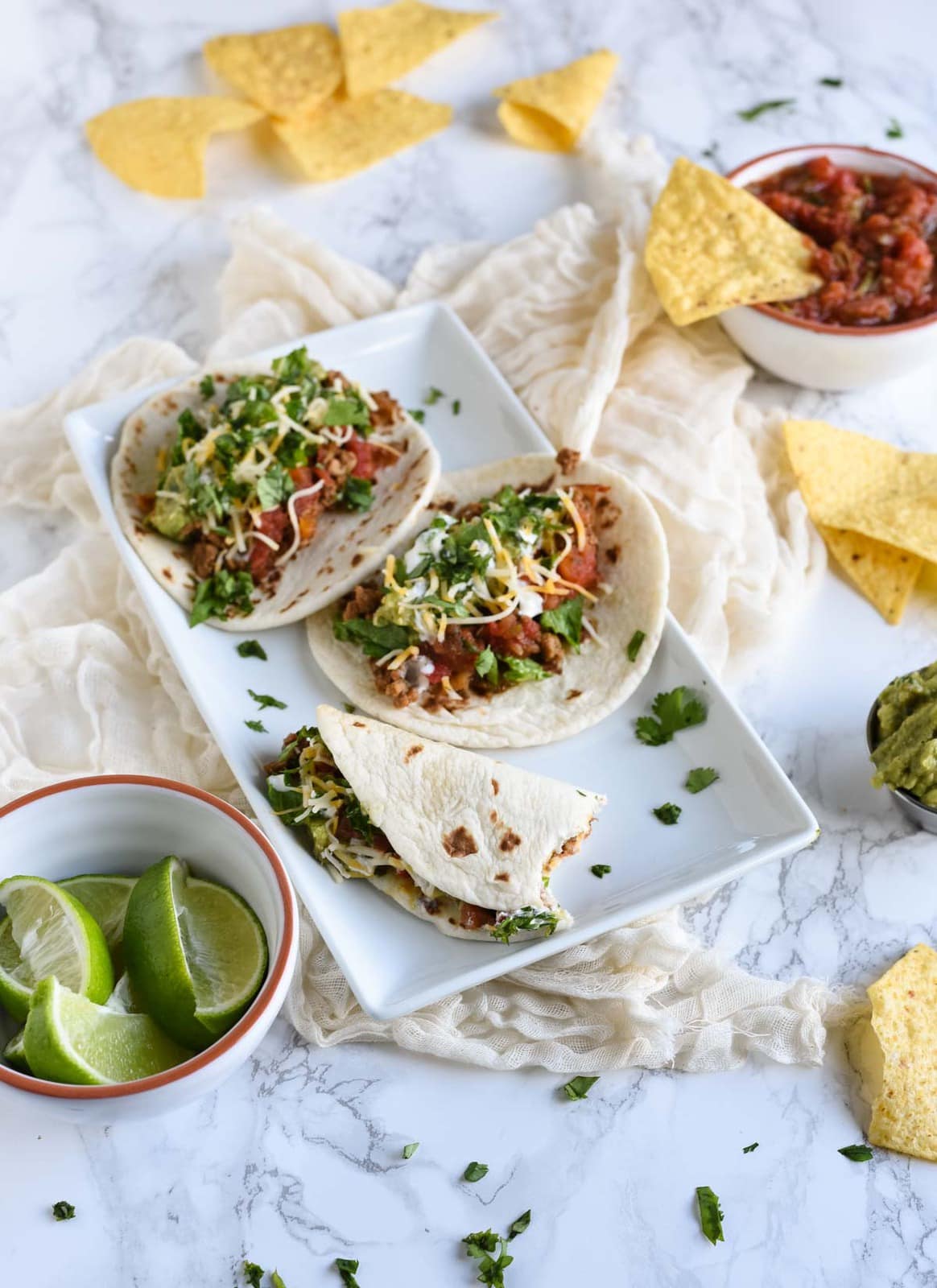 Why Turkey Tacos Instead of Another Meat?
Lean ground turkey makes for light and healthy tacos, plain and simple. And with all of the seasoning in this turkey taco recipe, they don't taste "healthy" in the end, just delicious. Eat beef when you can taste the difference, like in a nice steak, but for an every day, quick 30 minute dinner, this is the meat you want.
That being said, there several variations in types of turkey based on fat content. If you choose a package labeled, "Ground Turkey," one serving can contain 220 calories with 17 grams of fat. Compare this to "Extra Lean Ground Turkey" varieties which are around 120 calories with 1.5 grams of fat. That's a HUGE difference! So, just pay attention to labels when buying ground turkey.
If you're going for lean as can be, buy ground turkey breast or extra lean varieties, not just "ground turkey." Turkey breast is all white meat without any of the fattier dark meat. Using all white meat can result in a drier end product in some recipes. Luckily, in this turkey taco recipe, the added veggies put some moisture back into the meat so you don't notice dryness.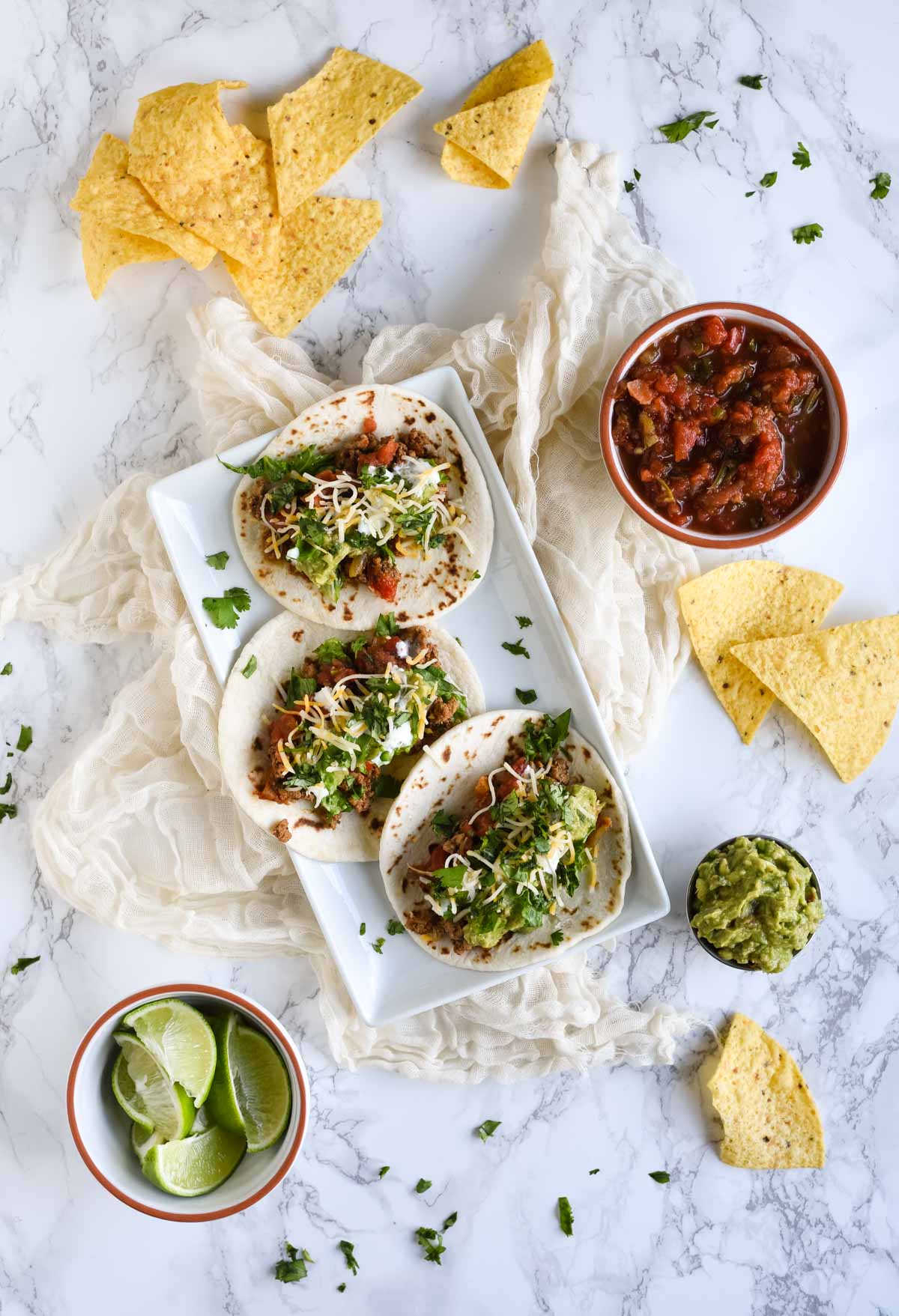 Why You Should Make This Turkey Taco Recipe Over Any Other
Because they're absolutely delicious of course! Well that, and quick to make (30 minutes total), healthy, budget friendly, loaded with veggies, low cholesterol (my husband needs this), and overall the best damn turkey tacos you've ever had. Ha, is that enough reasons?
One thing I love about this over other healthy turkey taco recipes is the veggies. They make it kind of fajita like and add a whole new element of flavor. The peppers fit seamlessly in the recipe so you don't feel like you're adding a veggie just to get a vegetable snuck into the meal, they actually elevate the end product. Check these veggies out and tell me you don't want to eat them. I dare you.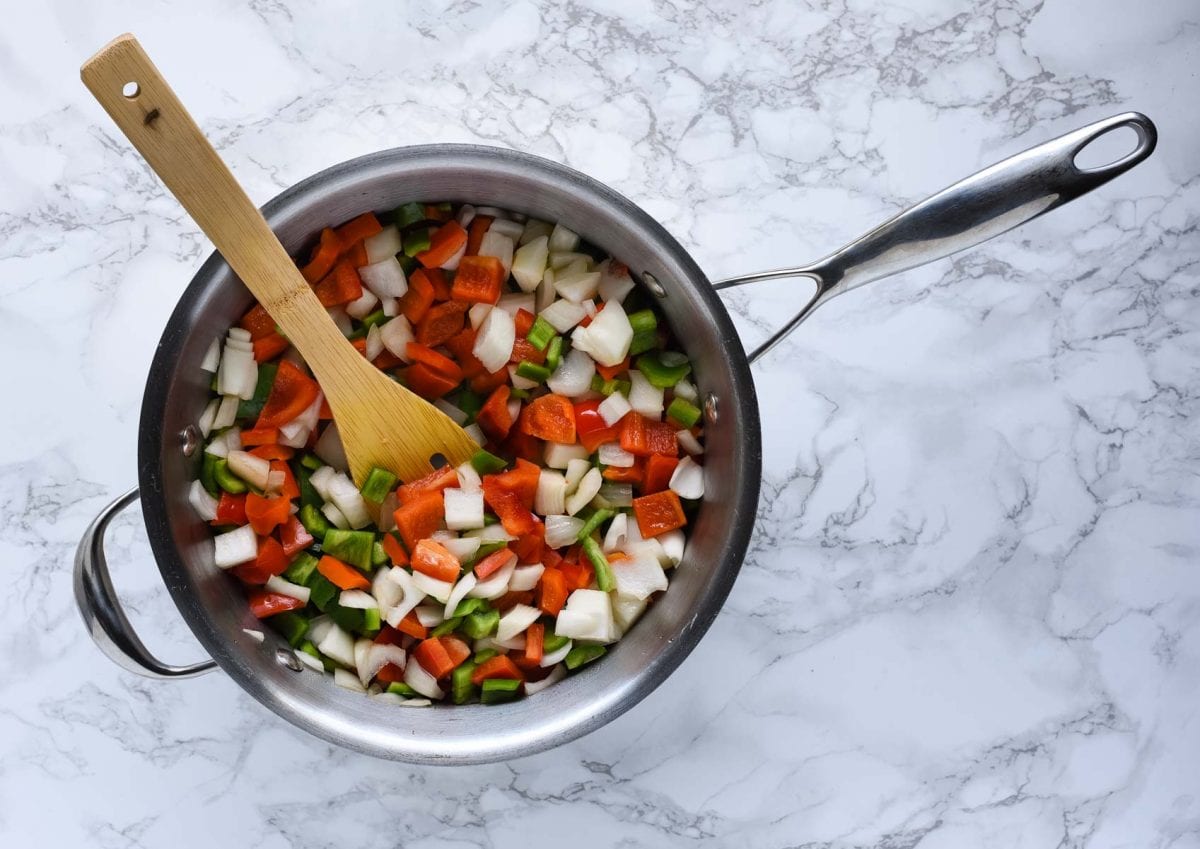 How to Make This Recipe Perfectly
Luckily, this recipe is extremely easy to make so even novice cooks shouldn't be intimidated. If you've tried turkey tacos before and they were too bland, don't let that scare you away. These ones aren't bland in the slightest. Here are my key tips for making sure these healthy turkey tacos are the best you've ever eaten:
Make sure to sauté the spices in with the ground turkey while it cooks. This infuses the spices into the meat making it more flavorful.
Make sure the veggies get a good sear to them by cooking over medium-high heat, waiting a minute or two between each stir. This makes sure the veggies soften but some will also get a nice brown sear mark in the process which adds extra flavor.
Use decent tomatoes. I know, I know – they're hard to find in the winter. Canned tomatoes can be subbed in a pinch.
Choose your favorite type of tortillas! I am a flour tortilla person all the way and can't get behind corn ones but some people prefer them. Don't conform to other people's tastebuds on this and get the ones you like best so they taste good to you. If you're looking for a low carb option, try lettuce leaves or these low carb tortillas.
For the love of god, serve your tacos with guacamole and all the fixings.
And that's pretty much it! These tacos are so easy to make that they don't need many pro tips.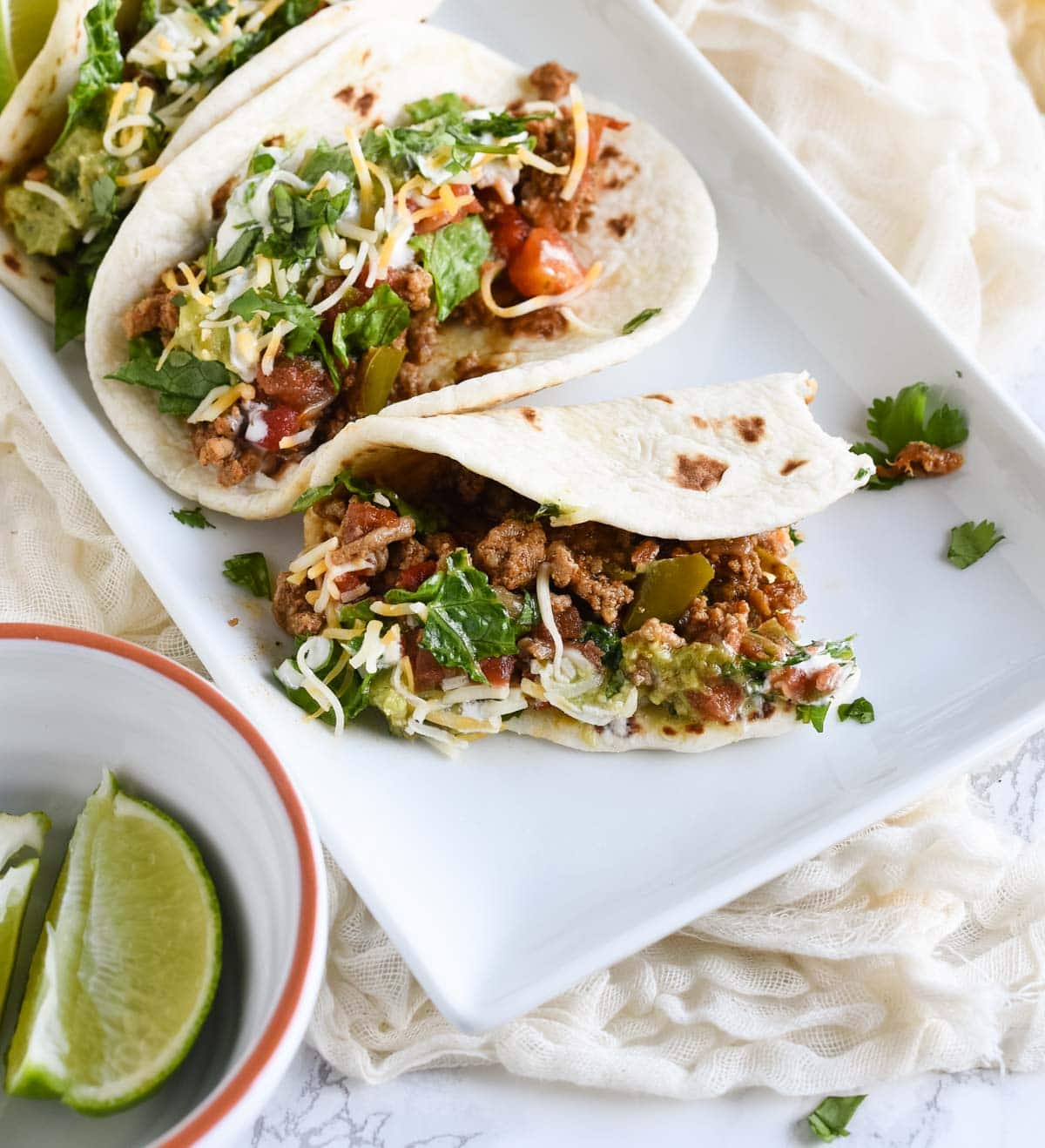 What to Pair with Turkey Tacos
In my opinion, tacos are just fine to serve on their own without sides, but I like to add a side or two when having guests over. Here are some ideas for making this a full meal: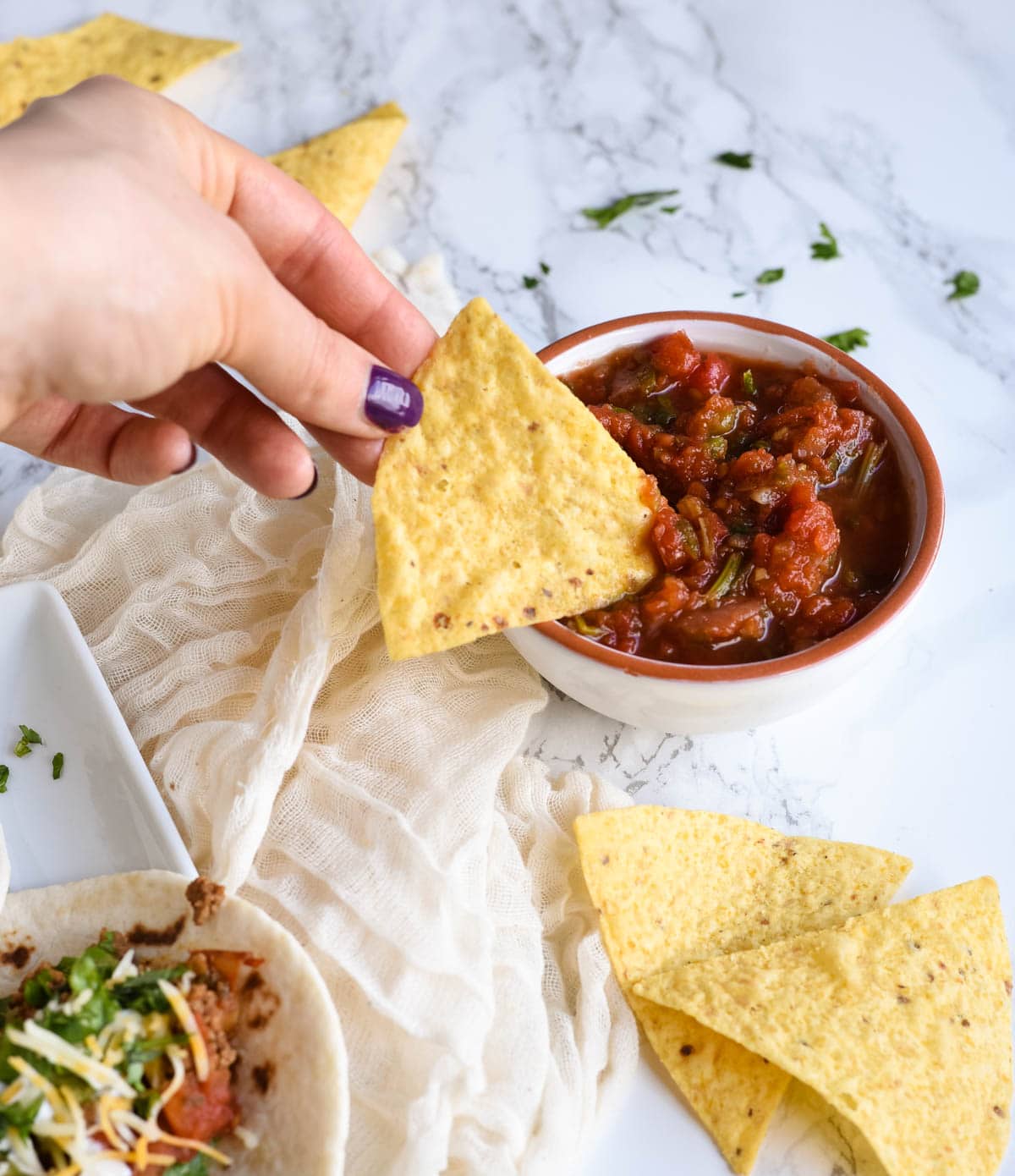 Toppings for Turkey Tacos
Part of the fun with tacos is the toppings! I'm a topping gal and will load mine up to the max. Having good toppings is just as important as good taco meat in my opinion. While the options are endless, these are some of my absolute favorites:
Chopped Tomatoes
Chopped Lettuce
Salsa (this blender salsa is delicious and easy)
Guacamole
Cheese – either cheddar or cotija are my favorites
Black olives
Chopped cilantro
Sour cream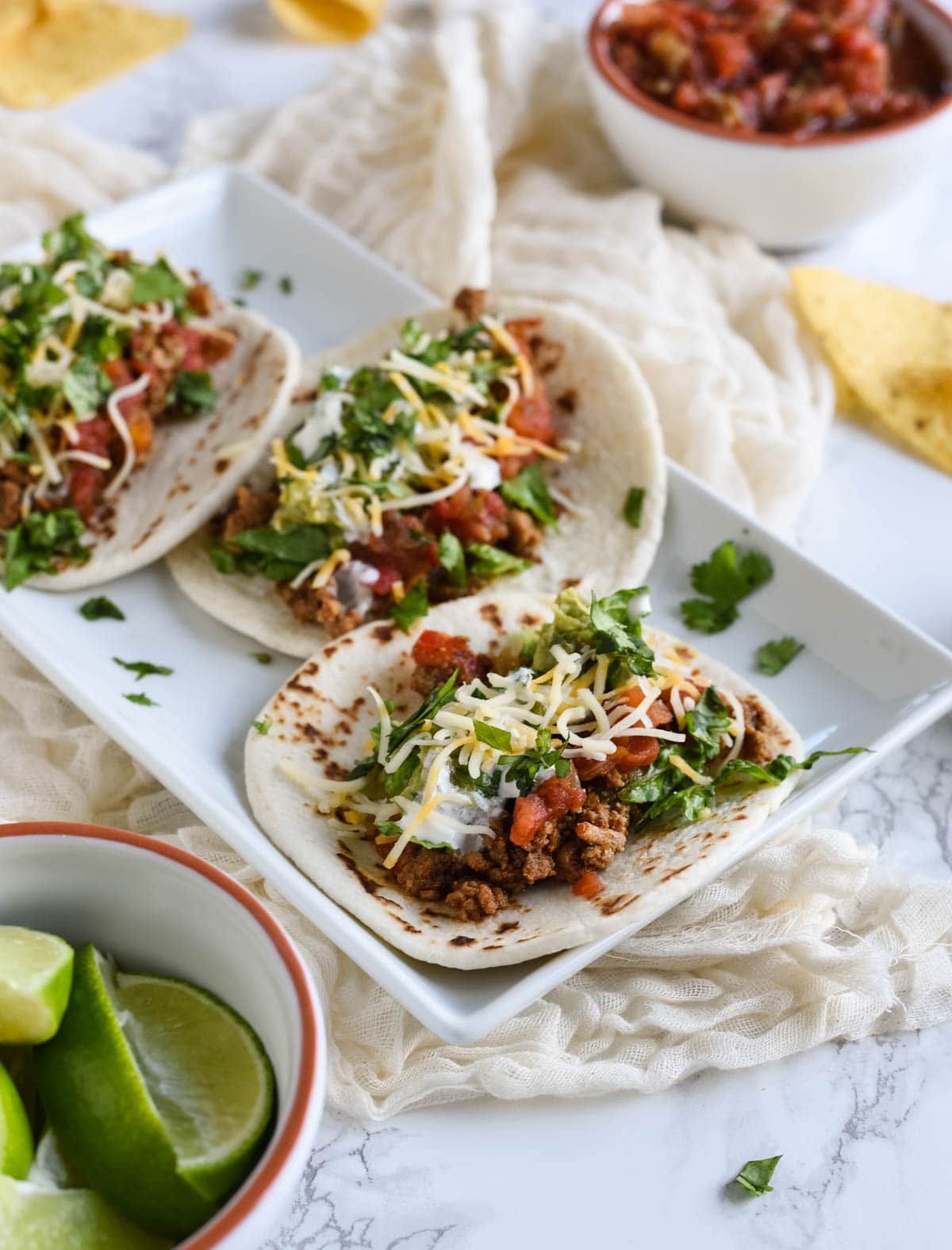 Ways to Use Turkey Taco Meat
In the off chance you end up with leftovers (or for you smarties that make a double batch), there are more ways than I can count to use up those leftovers.
Plus, this recipe is freezer friendly so you can keep freeze cooked turkey taco meat and keep this list handy for quick weeknight dinners. Having pre-cooked meat is one of my main go-to ways to keep weeknight meals quick, healthy, and easy.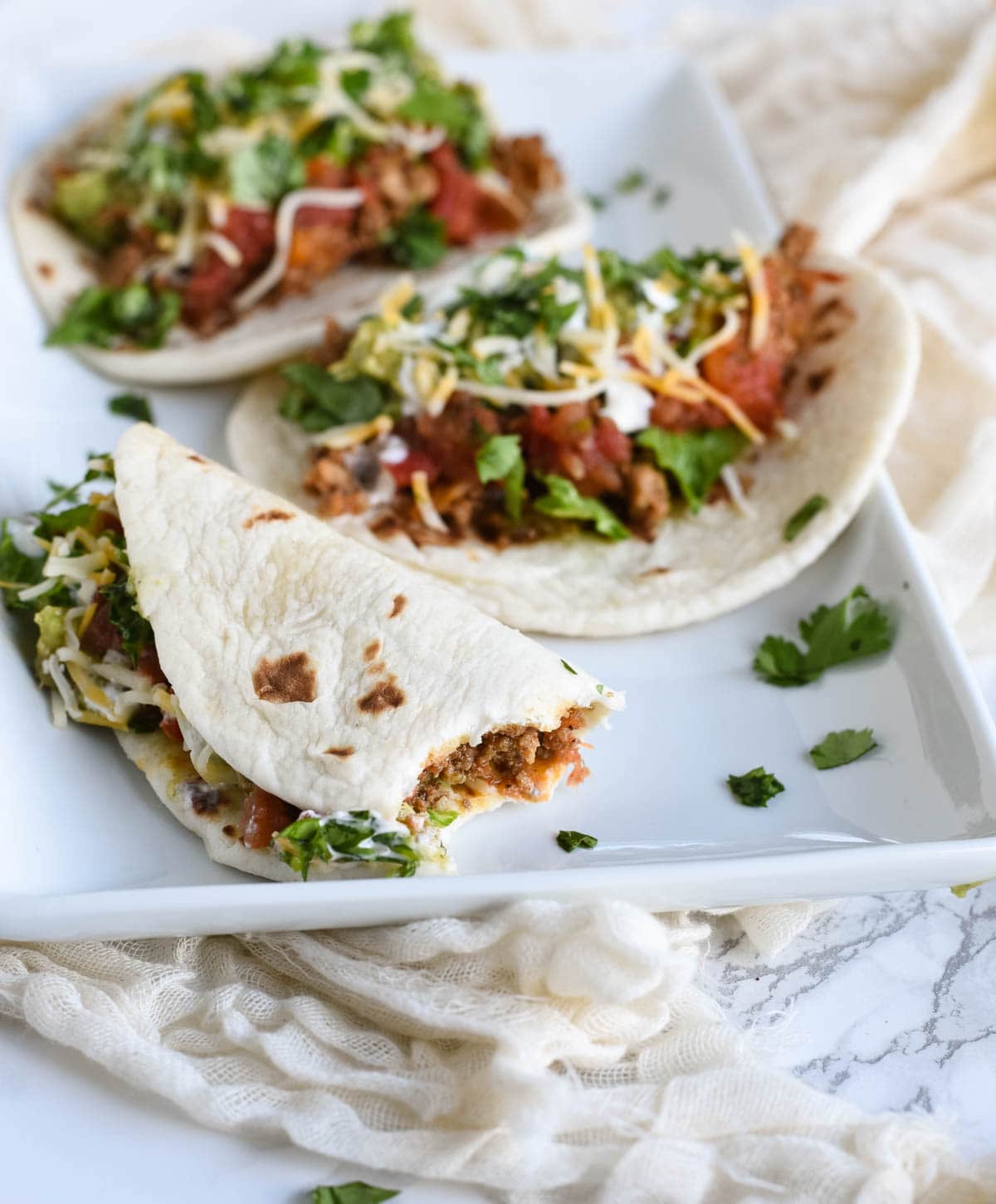 Substitutions
This recipe is flexible so you can confidently swap many of the ingredients. Here are some easy swap ideas:
A regular green pepper can be used instead of poblano.
The peppers can be swapped out for mushrooms, zucchini, or whatever veggie you prefer.
I've left the onion out before when I didn't have one and used 1/2 Tbsp. onion powder instead. If leaving the garlic out, sub with 1 tsp. garlic powder.
Lean ground beef can be used instead of ground turkey.
While not ideal, canned tomatoes can be used instead of fresh.
I wouldn't mess with the spices too much unless you add more ingredients and need to add more to accommodate them. Add the listed amount and then tweak upward from there once the turkey is cooked and you can taste and see what it needs.
I'm sure there are other swaps that I've missed so please comment if you try a different variation to let us all know how it turns out!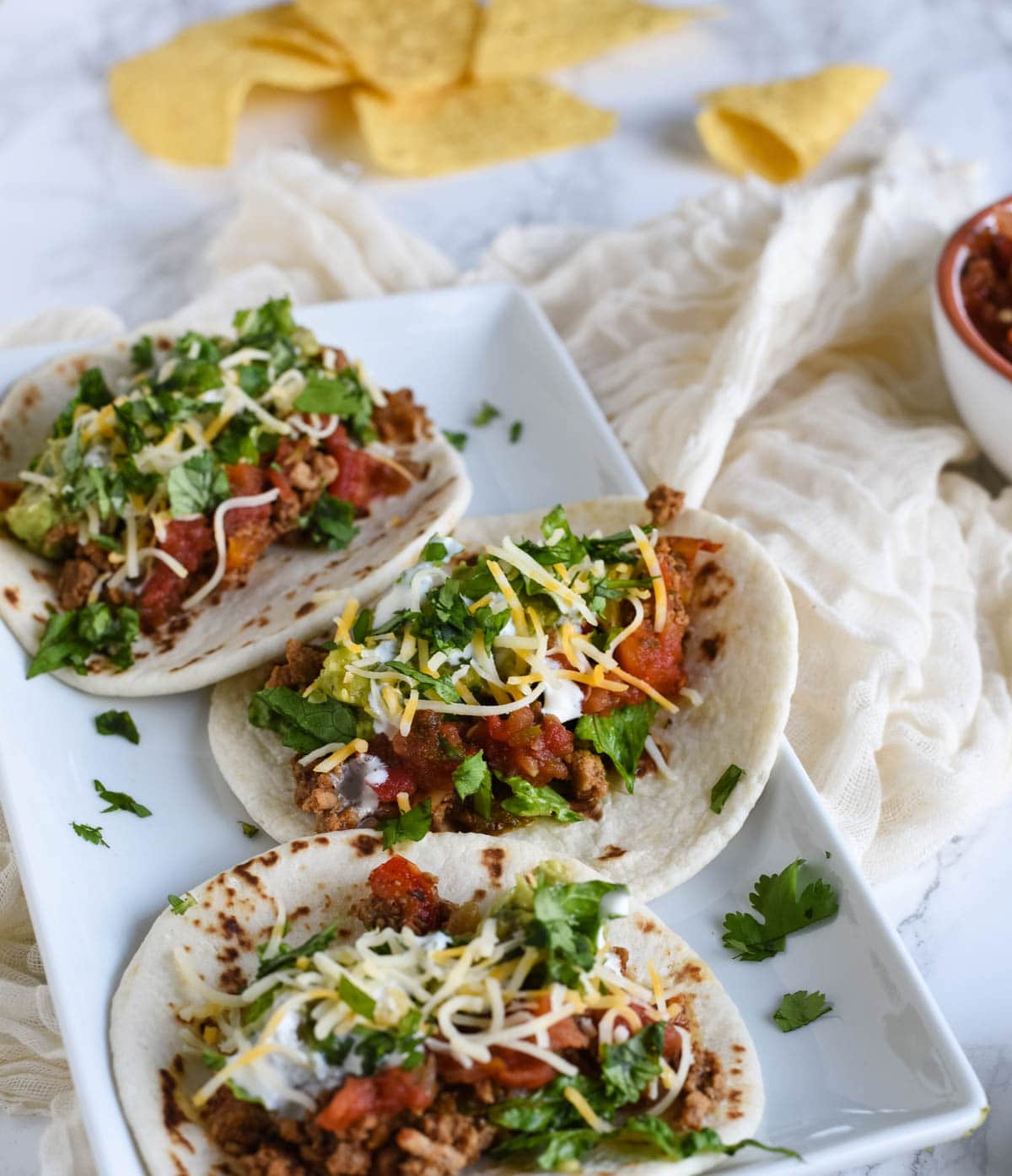 Healthy turkey tacos recipe that's loaded with peppers, spices and comes together in half hour or less! We eat this all the time – its simply the best!
Instructions
Heat oil over medium-high heat. Add onions and peppers and sauté for 6-7 minutes until veggies start to soften.

Add garlic, turkey, chili powder, cumin, paprika, oregano, and 2 tsp. salt, and pepper. Break turkey up with a large spoon or spatula and cook for 7-10 minutes until cooked through.

Once turkey is cooked, add tomato and continue cooking for 2-3 minutes. Taste and adjust salt level if desired. Remove from heat and serve.

Serve with tortillas, and toppings like salsa, guacamole, sour cream, chopped lettuce, diced tomato, shredded cheddar cheese, cilantro, olives, and your favorite other taco toppings.
Notes
Taco meat leftovers freeze well in freezer safe ziplocks for several months. Defrost in refrigerator overnight.
Nutrition
Calories: 179kcal | Carbohydrates: 7g | Protein: 28g | Fat: 4g | Cholesterol: 62mg | Sodium: 95mg | Potassium: 583mg | Fiber: 2g | Sugar: 2g | Vitamin A: 1980IU | Vitamin C: 36.9mg | Calcium: 39mg | Iron: 2.8mg
What are your favorite taco toppings? And what do you do with leftover taco meat? I'd love to hear your ideas!