Thai cucumber salad with tangy lime, fresh cilantro and a hint of spice will rock your taste buds. Perfect paired with other Thai dishes or on its own- Yum!
My love of Thai food keeps rearing its delicious head. I just can't get enough of the stuff. Doesn't matter what dish either – from curry to pad ki mao to pad prik king – bring it on. I'm not picky. With how many Thai restaurants there are in Portland, I haven't had much of a need to learn to cook this tasty cuisine. After a few failed attempts though, I'm on a mission. Must. Master. Thai. Food.
I have made a few attempts at curries and fried rice. Although they turned out good, the flavors just weren't quite right. The husband is taking me to a Thai cooking class this fall, but fall is just so far away and I want to make Thai now! If you haven't noticed by now, patience is not a virtue I possess. I decided to try making a Thai cucumber salad after having a tasty one at a restaurant. Now this is one recipe that actually came out, not only good, but absolutely delicious!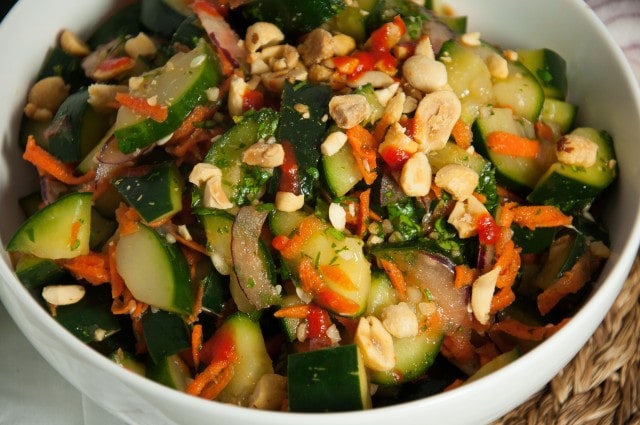 To make this recipe vegan, try replacing the fish sauce with soy sauce. It won't be as authentic tasting, but should still be tasty. Leftovers don't keep well at all so plan to make it within an hour before serving and don't make a bigger batch than you need. We brought this to a friend's house that was making Tom kha soup (another favorite) and it was the perfect amount as a side for seven of us.
With this heat wave we're having, salads are the perfect way to cool off. If Thai cucumber salad isn't your thing, try this strawberry spinach salad or this one with delicious jalapeño lime vinaigrette. Enjoy!
Thai cucumber salad with characteristic thai influenced flavors that will rock your tastebuds and leave you craving more.
Ingredients
4 cucumbers
1 Tbsp. salt
1 carrot peeled and shredded
1/4 cup thinly sliced red onion
1/4 cup chopped roasted salted peanuts
Dressing
Juice of 2 limes 1/4 cup
1 tsp. sriracha
3 tsp. fish sauce
1 Tbsp. apple cider vinegar or rice or white distilled vinegar
1/4 cup chopped fresh cilantro
2 Tbsp. coconut sugar or regular white sugar
1 tsp. minced garlic
Instructions
Trim ends off cucumbers and cut each in half long ways once, then cut each of the halves in half longways once more. Slice into 1/4 inch pieces. Toss with salt and sweat cucumbers by sitting in a colander for 20 minutes.

While cucumbers are sitting, whisk all dressing ingredients together and set aside.

Drain cucumbers and rinse. Pat dry using paper or kitchen towels.

Toss cucumber, carrot, and red onion in dressing. Add peanuts and serve right away.
Nutrition
Calories: 84kcal | Carbohydrates: 12g | Protein: 3g | Fat: 3g | Saturated Fat: 1g | Sodium: 1193mg | Potassium: 367mg | Fiber: 2g | Sugar: 7g | Vitamin A: 1885IU | Vitamin C: 8.6mg | Calcium: 38mg | Iron: 0.7mg