Whipped feta dip is tangy, salty, filled with fresh herbs and the richness makes small amounts go further! Its high in protein and can be a dip or a spread!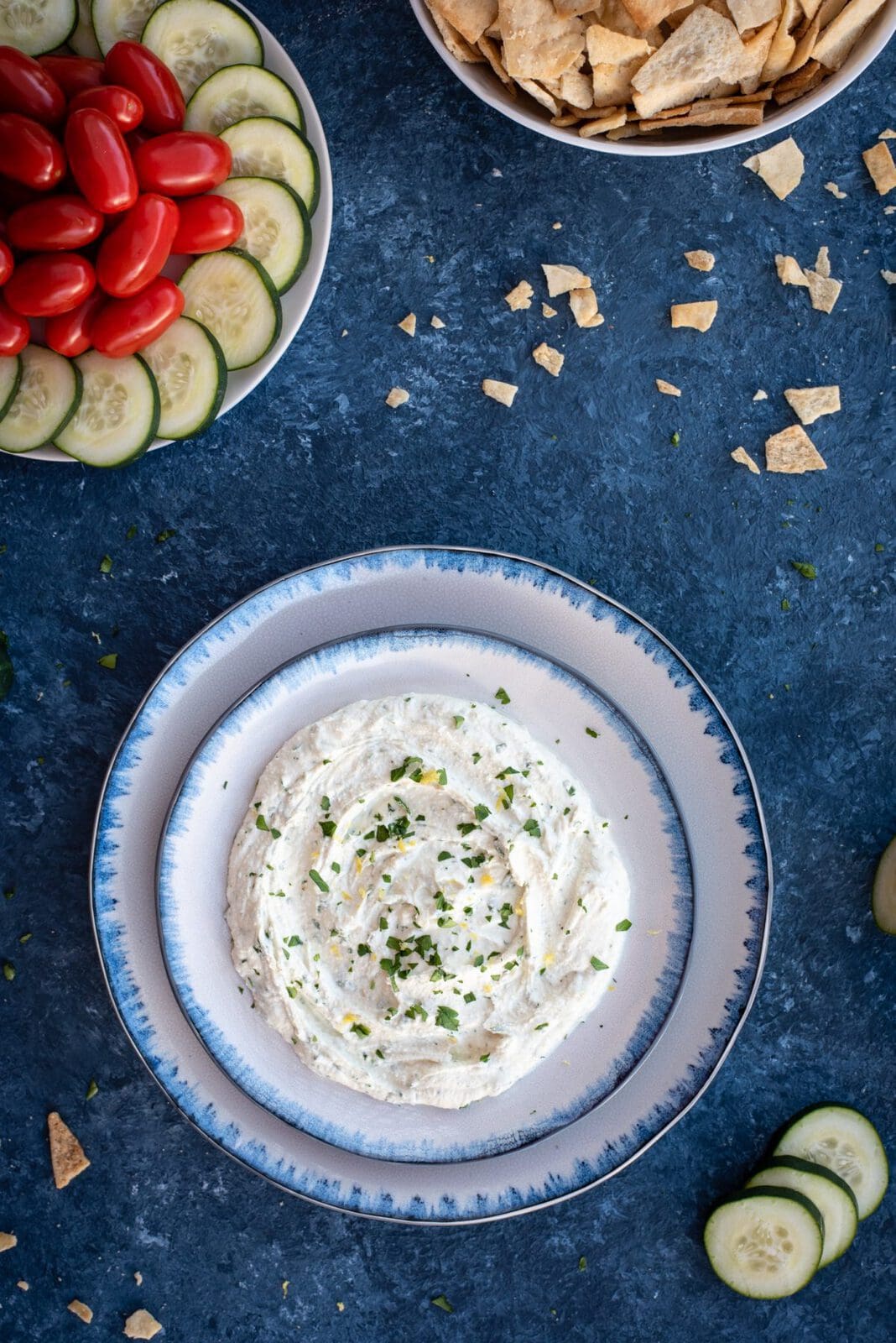 Looking for a unique appetizer for labor day weekend? Or maybe you just need a dip that will entice you to eat more veggies? This whipped feta with herbs is it people. Its nice and tangy with a touch of freshness and depth of flavor from the fresh herbs. Plus feta is naturally salty so it'll hit the spot for those afternoon salty snack cravings. You know you've got them.
Feta is by no means classified as an all out health food but it is lighter than other cheeses, easier to digest, and if using a fresh, non-pasteurized feta, it has all kinds of beneficial probiotics. Dr. Axe has a good article on the health benefits of feta if you want to delve deeper into this. Me? I'm a cheese fiend and enjoy all kinds of cheeses but choose feta a lot, mostly just because I like it, but also cause its a healthier way to get my cheese fix.
In fact, I've got quite a few recipes with feta in them on this site like this delicious baked feta, grilled zucchini, this salad or a half dozen other feta-filled options. I even paired it wither watermelon once. Yeah, apparently I really like feta if you haven't gathered that by now.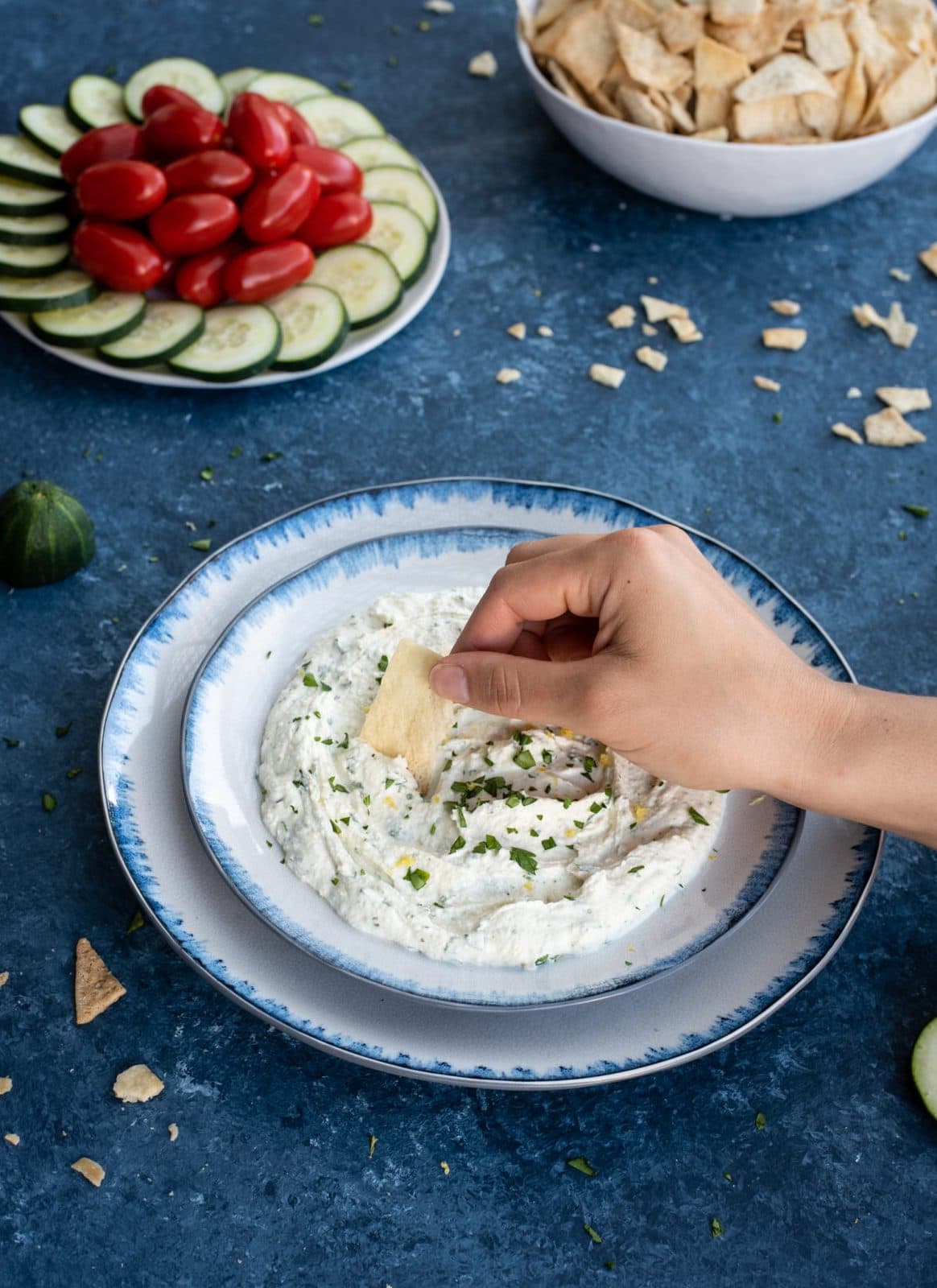 Whipped feta with herbs is super easy to make. It takes just a few minutes in a food processor or blender so all the work is just in prepping the ingredients (mincing garlic, chopping some herbs, etc.). And it all gets blended anyways so nothing needs to be chopped that fine or pretty.
Here's everything needed: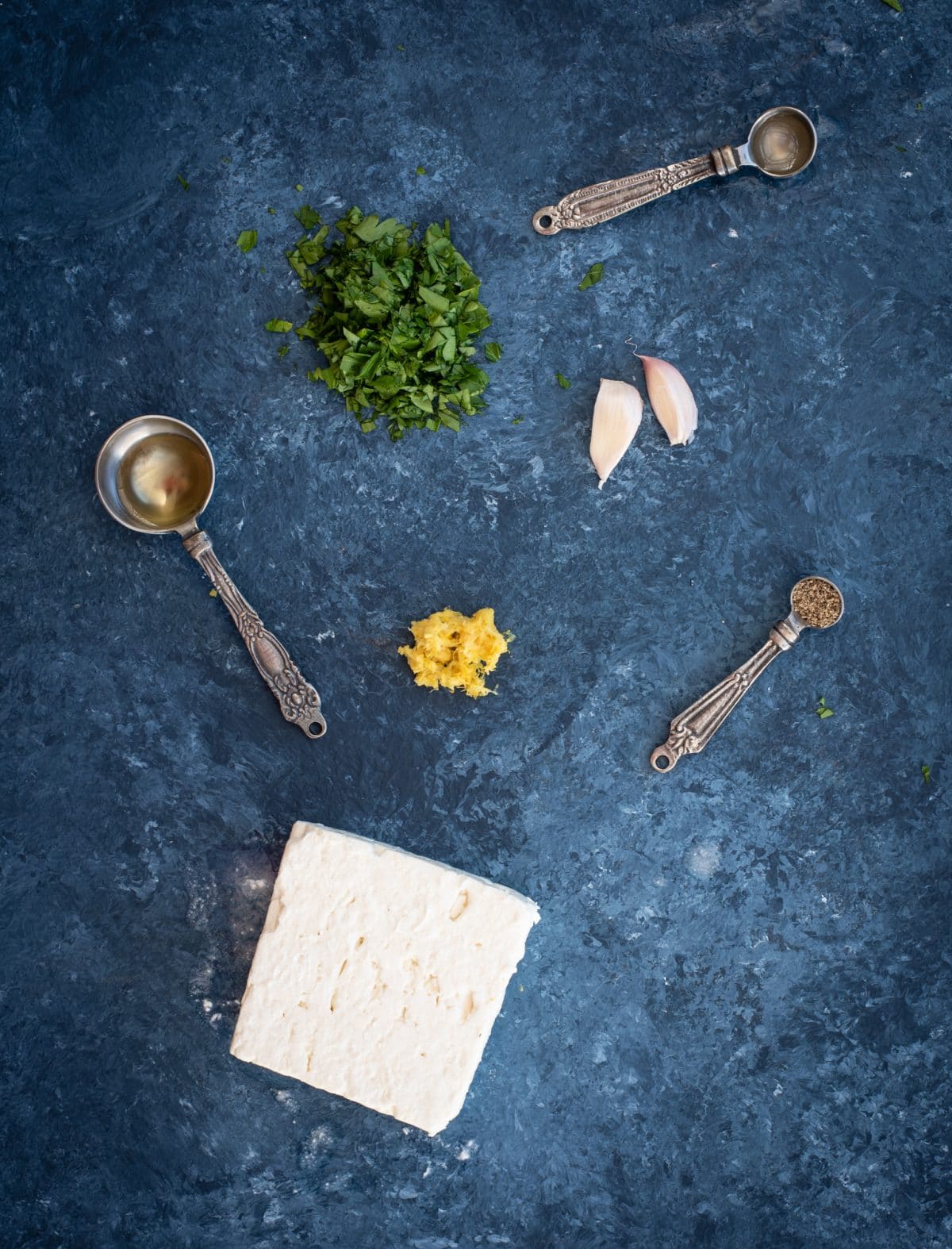 Its a pretty simple cast of characters. Just make sure to get good feta that's packed in water! Its absolutely imperative in this recipe since the base is, well, feta.
One word of caution – since this is a pretty small quantity of stuff, it didn't work in my Vitamix but it worked in my food processor just fine. If you have a smaller blender that isn't a 64 ounce bohemoth, it should work, just be wary if you've got a big blender that needs a certain amount of liquid to work. The first time I made it, I ended up having to scrape the barely processed dip out of my blender and transfer over to a food processor which was a total pain so I wanted to make sure to pass along this nugget of wisdom.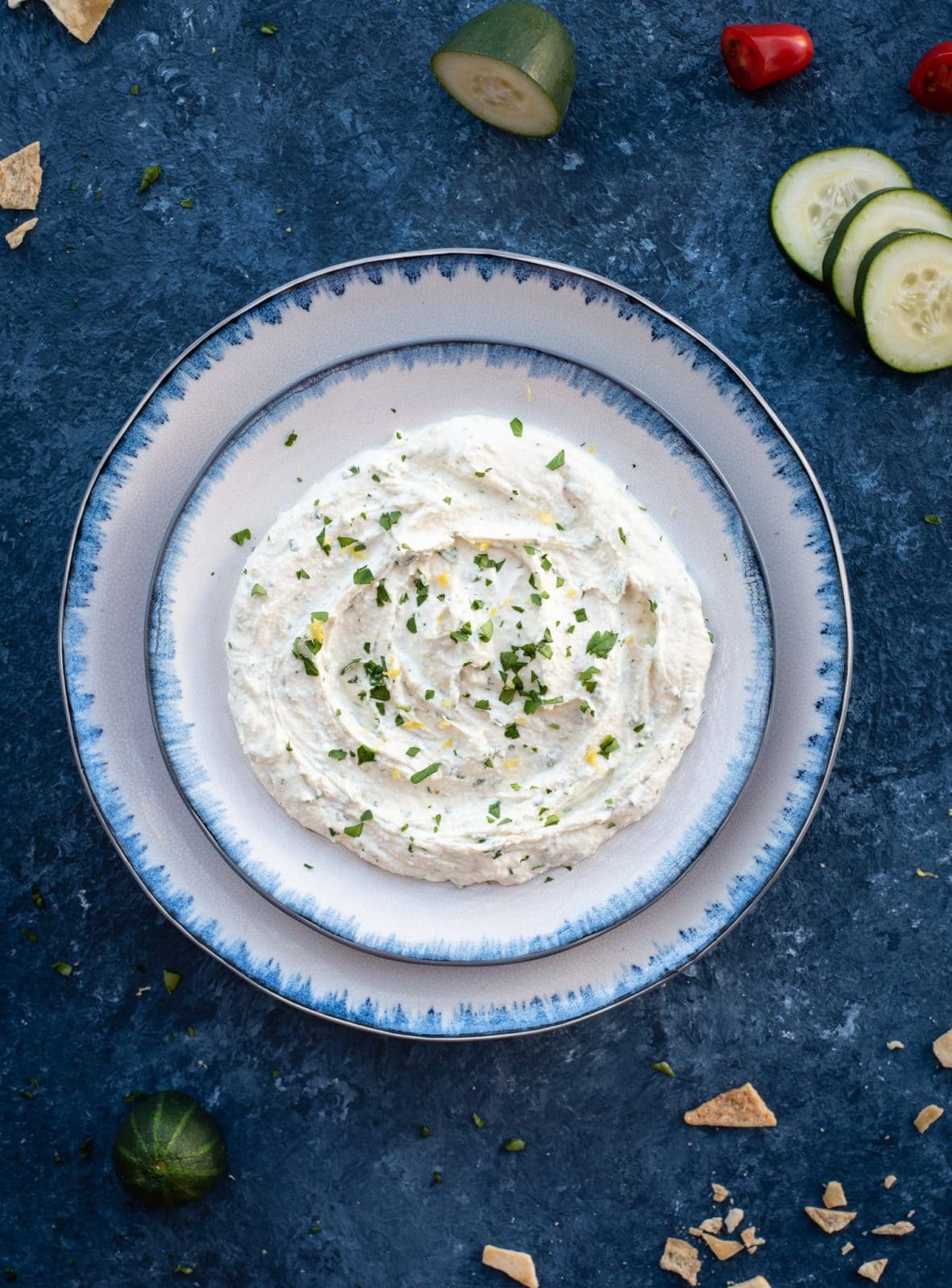 I served this with both cut up vegetables and pita chips and I almost preferred it with the veggies. I have always been a big veggie eater but ever since being pregnant, I haven't been all hot for veggies like I used to be. Don't get me wrong, I still eat them, but the level of love I used to have for any and all vegetables is muted, especially when raw. But snacking on raw veggies does the body so much good, I'm finding ways to choke 'em down.
This is part of what drove me to make this dip. I needed something I could keep in the fridge for a few days that was high in protein that I would actually want to dip my veggies into. Sure, I pretty much always have hummus on hand but my tastebuds demanded a change of pace and new flavor profile.
Between the lemon and natural tang of the feta, whipped feta ends up being a tart dip, but the saltiness helps balance that out and make it more smooth. This is another reason it pairs so well with a veggie platter since most vegetables aren't tangy but taste great accompanied with a zesty, smooth dip
Since the recipe is whipped feta with herbs, we should probably touch on which herbs are acceptable to use. I used a basil, parsley, chive combo, but I bet dill would be fantastic in this. Maybe swap out the basil with dill for another twist. Or, its totally fine with any one of those herbs. No need to use all three!
Tweak the herbs you use to your preference, whatever you have on hand, or what you're serving it with. Ooh, side note – I just read this article on The Kitchn on how to store basil and ever since I started storing it in a glass of water on the counter with a plastic bag on top, it stays fresh for over a week! Total game changer for someone that hates to grocery shop like me. Just make sure to set it somewhere out of the way. I learned this after knocking the glass over. Twice.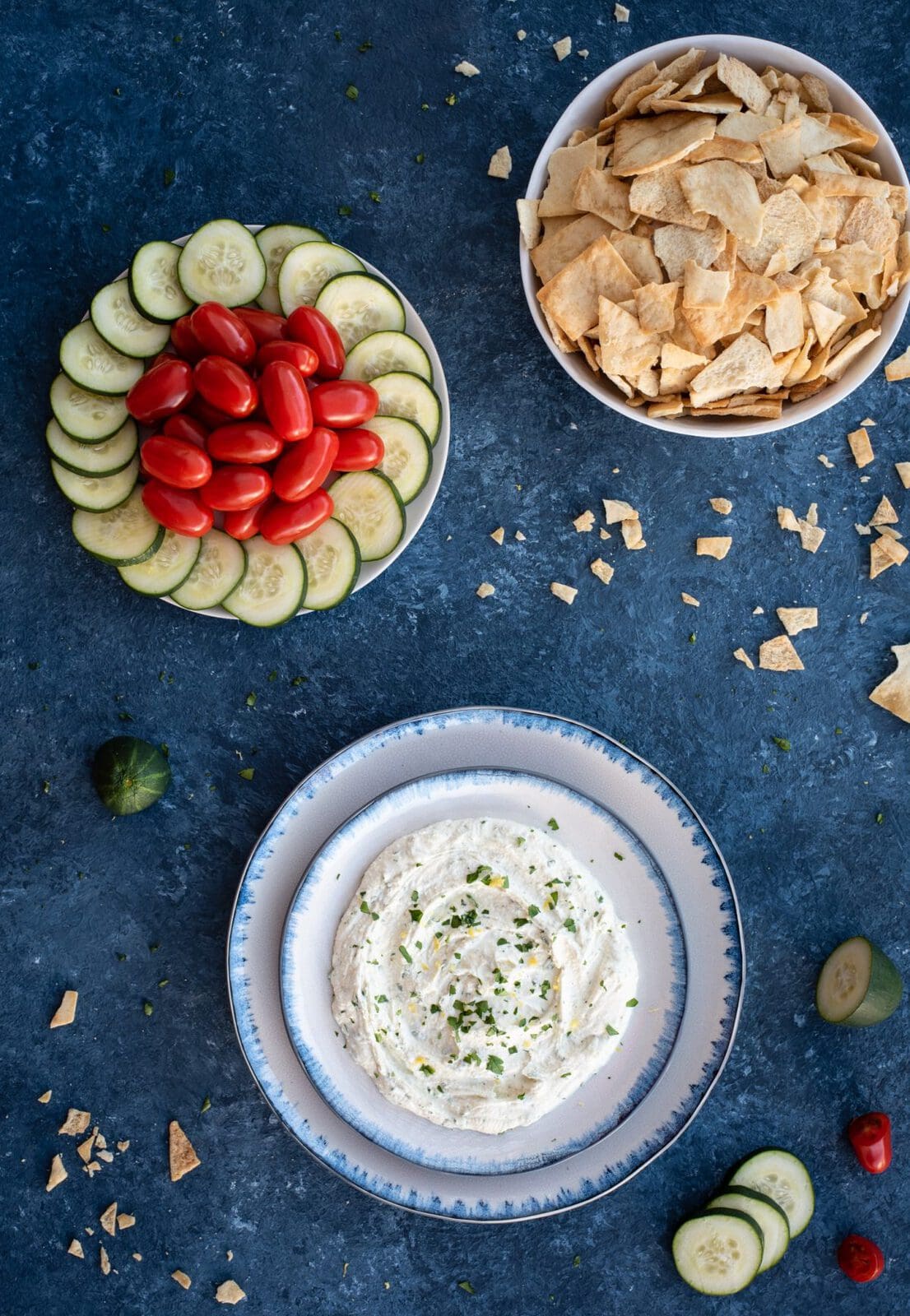 What's your favorite way to eat your veggies? Any suggestions for when you're just not feeling the green love?
Whipped feta dip is tangy, salty, filled with fresh herbs and the richness makes small amounts go further! It is high in protein and can be a dip or a spread.
Ingredients
8 oz. feta (packed in water)
2 - 4 Tbsp. milk or water
1 Tbsp. olive oil
1/4 tsp. black pepper
1 garlic clove, minced (about 1/2 tsp.)
2 Tbsp. chopped herbs (parsley, basil, chives work well - use one or all a mix of all three!)
1 tsp. fresh lemon juice
1 tsp. lemon zest
Instructions
Place feta and milk or water in a food processor. Process until smooth and creamy.

Add remaining ingredients and pulse until just combined.

Place in a serving bowl and garnish with additional parsley and/or lemon zest if desired. Use as a dip for crackers and vegetable crudités or as a spread for sandwiches. Keep in an airtight container in the refrigerator for 4-5 days.
Nutrition
Calories: 125kcal | Carbohydrates: 2g | Protein: 5g | Fat: 10g | Saturated Fat: 6g | Cholesterol: 33mg | Sodium: 424mg | Potassium: 50mg | Sugar: 1g | Vitamin A: 575IU | Vitamin C: 8.1mg | Calcium: 193mg | Iron: 0.6mg