Raspberries with lemon zest and mint are the most refreshing way to eat a bowl of fruit! This naturally vegan healthy dessert is low calorie yet full of flavor!
(Recipe originally published August 2, 2014, but pictures and post text have since been updated)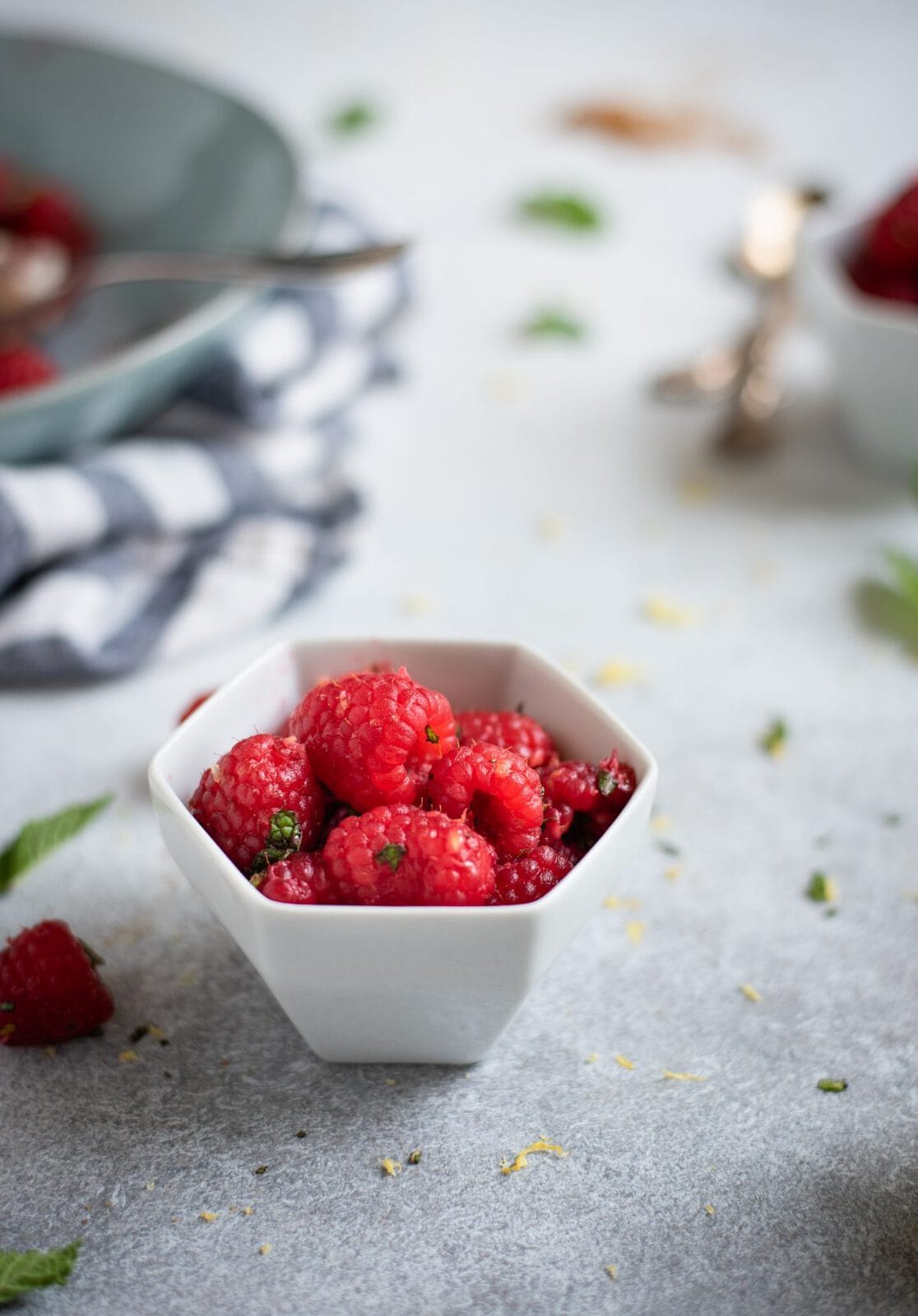 Has anyone else become totally obsessed with fruit and mint? No? Okay, so here I go again getting weird with food, but I swear by this combo. I've done it with watermelon in a fruit salad and in skewers before and figured with raspberry season upon us, its about time to dig up this recipe and refresh it for you all.
I originally made this recipe over four years ago. Four? Holy hell! How does FOUR years of blogging fly by so quickly?! Reviving these old recipes is making me feel internet-old over here. I'm not an amazing photographer by any means but every time I redo pictures, its rewarding to see how much I've grown. Here's a snapshot from the original post in case you don't believe me. 😉
We have had such hot weather lately in Portland that chilled berries have been the perfect go-to treat to cap off summer BBQs. This raspberries with lemon zest and mint recipe was created on one of those, "I don't feel like putting in any effort or going on a store run, but I'm in need of sugar" moments. I know this is a very specific problem to have, but I'm afraid its such a common occurrence for me that I don't even bat an eye when it pops up.
It normally results in scouring the fridge and cupboards for random odds and ends that can be thrown together to create something delicious. This time it was lemon, mint, and plump, juicy raspberries. The plump and juicy part is critical for this recipe because that makes them sweet enough that you can get away with barely using any sugar. If your berries are tart, you'll need to add more sugar.
We grow a bunch of fruit in our garden but raspberries seem to be tricky so I'm still stuck buying them from the farmer's market, which is completely fine with me. With fruit at its peak this time of year, its pretty much a crime not to take advantage of it too. Well, at least it is in my little foodie world.
We're constantly battling our blackberry hedge so the thought of planting another similar fruit isn't exactly on the forefront of my mind. I have to delve into allll the fruits of summer though before the season is over so these juicy red berries have been finding their way into our kitchen over the past few weeks.
I love eating them plain but dressing them up into raspberries with lemon zest and mint is a welcome change of pace. I've been eating this combo plain but it makes a superb topper to vanilla ice cream, chia pudding, bread pudding, or other tasty desserts that just beg for a touch of fruit.
I don't normally have any problem scarfing fruit down but adding a touch more flavor is just fun on occasion. Plus, it seems impressive and fussy when it really only takes 5 minutes to prep. Yup, you heard me right, you can prep these raspberries with lemon zest and mint yourself in under 5 minutes.
Here are the ingredients you need to have: Raspberries (duh), mint, lemon zest, and coconut sugar
Why coconut sugar? Its still sugar so it should be used sparingly, but it has a lower glycemic index than plain white sugar so your body processes it a bit more slowly so your blood sugar doesn't spike as highly. Making these swaps might seem like peanuts in your overall pursuit of healthy living, but they truly add up. I'm not one to turn down a decadent dessert when out and about but making healthier choices when I eat at home (which is most of the time) makes me feel good about treating myself.
You can use white sugar of course, this is just my two cents on why I think you should choose coconut sugar instead. It used to be expensive but now it's really pretty cheap. If you don't have any in your pantry, give it a try!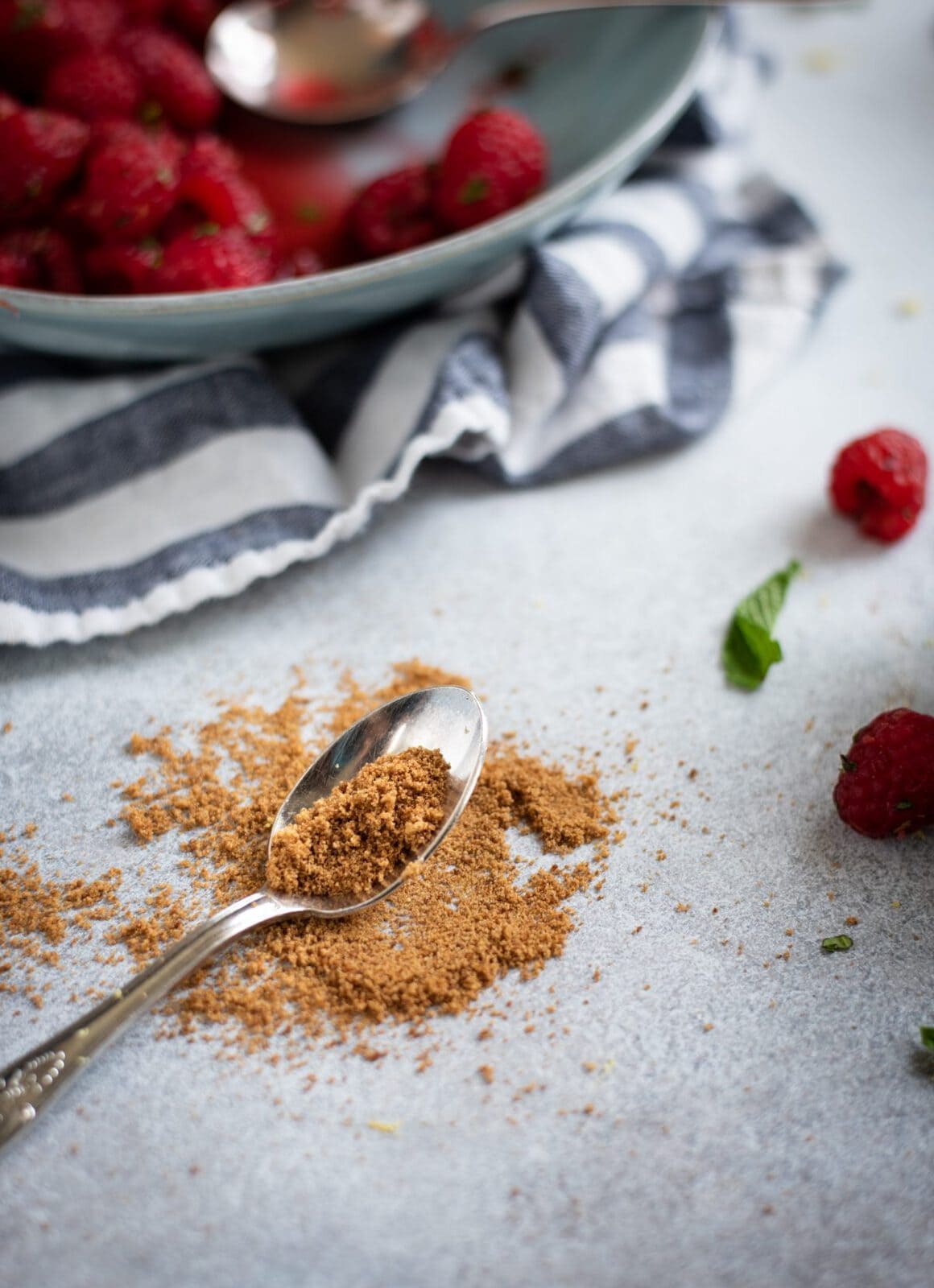 When I eat this healthy dessert, its satisfying that it checks the box for getting a fruit for the day. And berries are some of the best fruit around for your body.
Plus its the kind of desert that won't zap your energy and leave you feeling like garbage the rest of the night. I've been really tuning in to how different food makes me feel lately and notice such a difference on the days I choose to eat food that nourishes me. I love the days that are full of tasty treats, but when I need to be productive and go into get sh*t done mode, eating junk just doesn't cut it. Plus, something refreshing, cool and tasty after a hot 90 degree day in the sun is always welcome. Definitely add this one to your summer bucket list!
Raspberries with lemon zest and mint are the most refreshing way to eat a bowl of fruit! This naturally vegan healthy dessert is low calorie yet full of flavor!
Ingredients
1 lb. fresh raspberries, gently rinsed and drained
1/2 Tbsp. lemon zest
1 1/2 Tbsp. chopped fresh mint
2 tsp. coconut sugar*
Instructions
Gently stir all ingredients together.

Chill for 15 - 20 minutes before serving.
Notes
*If raspberries are tart, add a touch more sugar.
Nutrition
Calories: 95kcal | Carbohydrates: 22g | Protein: 2g | Fat: 1g | Sodium: 10mg | Potassium: 270mg | Fiber: 10g | Sugar: 8g | Vitamin A: 365IU | Vitamin C: 45.1mg | Calcium: 56mg | Iron: 1.4mg