This delicious, creamy ranch dressing recipe is ready in 10 minutes for the perfect salad dressing or dipping sauce made healthier with yogurt!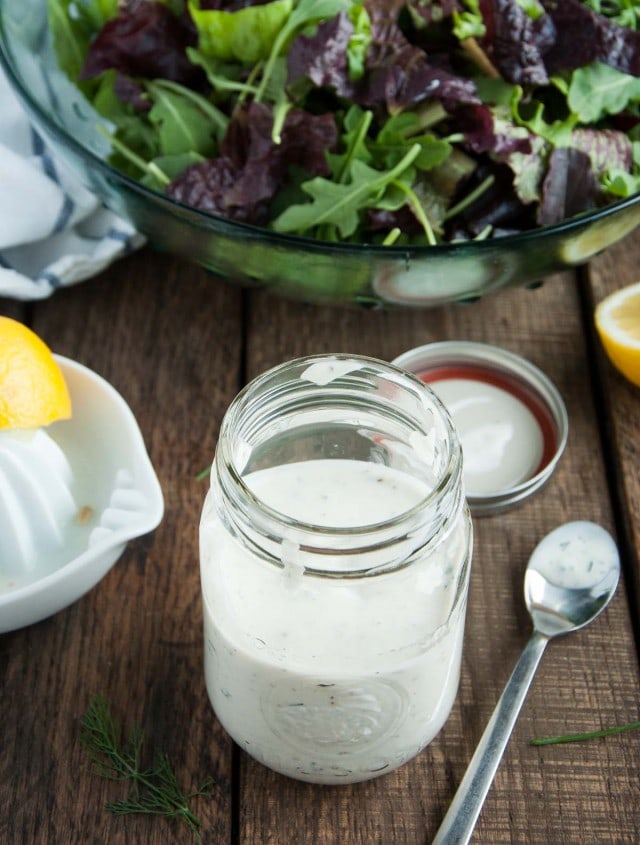 Balsamic is great and all, but sometimes, ranch is just that much better. Not all the time, but there are definitely times where ranch wins, hands down. Lately I've been all about the creamy salad dressings. Our garden has been poppin off lettuce like crazy so I've been making this ranch dressing recipe pretty much around the clock. It keeps for a few days in the fridge so I just whip up a fresh batch once or twice a week. It makes eating a healthy dinner incredibly easy.
I still love vinaigrettes and salads like this roasted fig one or this honey lime zinger, but for those days where all you want is ranch, this dressing hits the spot. It gets thicker after sitting in the fridge overnight too so if I'm using it as a dipping sauce, I either mix in a tad bit more mayo or I let it chill overnight. Either (or both) normally work.
If you want to get really crazy, add some Tapatio and make it a spicy ranch! Its pretty epic with sweet potato fries. Almost too delicious so consider this recommendation somewhat of a warning.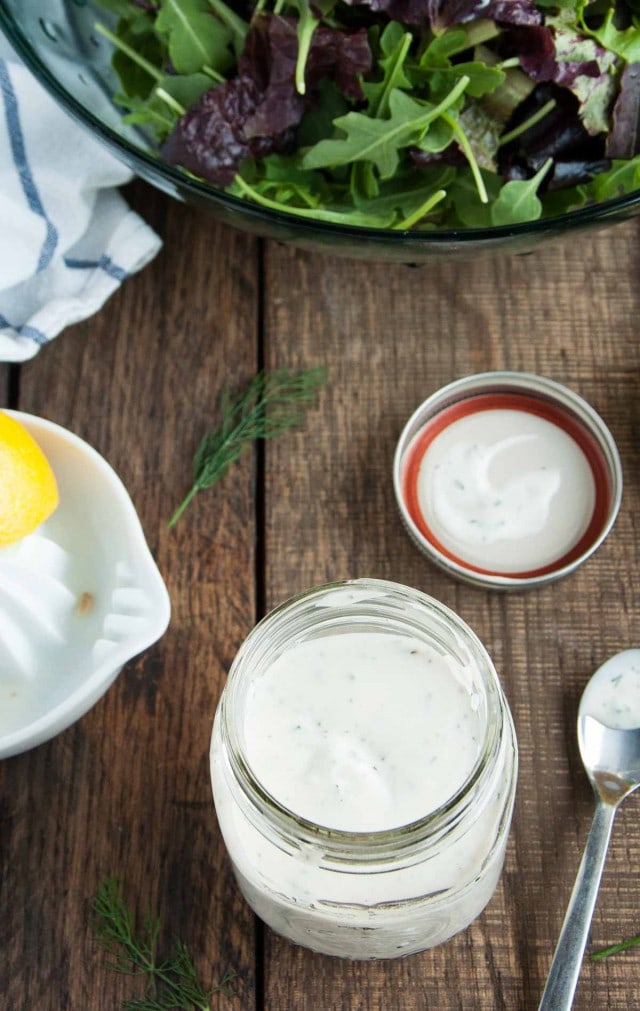 One majorly important word of advice – DO NOT use fat free yogurt in this ranch dressing recipe! It will turn out watery and the consistency will just be weird. Just don't do it.
I've used 2% Fage and full fat versions from other brands and both have turned out great. I made the mistake of using nonfat once though and, ugg, never again. It was downright gross.
This recipe was heavily influenced by this ranch dressing recipe from Jenn at Once Upon a Chef. She uses sour cream, which is absolutely delicious in ranch, but I wanted to add a bit more nutritional value considering the sheer quantities we've been consuming, so I did a yogurt swap and tweaked a few other ingredients to make it perfect for my tastebuds. You can definitely sub in dried dill though in a pinch like she does. I've done it a few times and it was still just as delicious.
I'm not sure if I've told you all about this yet, but both of my little sisters are pregnant and due within a few weeks of each other. Aaaand, drumroll please, their due dates are creeping up quickly and the first is only two weeks away! I'm one excited auntie to say the least.
So, my mom and I threw them a combined baby shower last weekend. We did a rainbow theme since one is having a girl and the other a boy, and it was all kinds of adorable. Everything baby related seems to be endlessly adorable though. We made a candy bar, rainbow layered cupcakes, and a few other rainbow-like items.
I'm normally pretty good at holding myself together, but when surrounded by mountains of baby stuff, every other word out of my mouth becomes, "ooh" or "aww" and I can't do anything to stop it. If there's a solution for not becoming a total sucker for everything baby related, pleeeease let me know.
In the mean time, I'll be over hear ooing and awing over everything in sight… cause I'm a total sucker like that.
This delicious, creamy ranch dressing recipe is ready in 10 minutes for the perfect salad dressing or dipping sauce made healthier with yogurt!
Ingredients
1/2 cup Greek yogurt don't use non-fat
1/2 cup milk
3 tsp. lemon juice
1/4 cup mayonnaise I used low fat
1/4 tsp. black pepper
1/2 tsp. salt add more to taste
2 Tbsp. chopped chives
1 tsp. chopped fresh dill if using dried use an additional 1/2 tsp.
1/4 tsp. Worcestershire
1/2 tsp. distilled white vinegar
Instructions
Mix milk with lemon juice and let sit for 10 minutes while preparing other ingredients.*

Whisk all remaining ingredients in a medium bowl with a wire whisk. Once milk has sat for 10 minutes, whisk into dressing.

Toss with salad or use as a dipping sauce for fries, veggies, or anything else.
Notes
*You can use 1/2 cup of buttermilk instead and add it directly to the other ingredients. If using buttermilk, just add 1 tsp. lemon juice and skip the remaining two.
Nutrition
Calories: 89kcal | Carbohydrates: 2g | Protein: 3g | Fat: 8g | Saturated Fat: 2g | Cholesterol: 7mg | Sodium: 236mg | Potassium: 71mg | Fiber: 1g | Sugar: 2g | Vitamin A: 310IU | Vitamin C: 4.5mg | Calcium: 48mg | Iron: 0.1mg