Almond joy chia seed pudding is a delicious and healthy way to satisfy a sweet craving any time of day – for dessert or an easy make-ahead breakfast.
(Recipe originally published December 18, 2014, but pictures and post text have since been updated)
Yes, yes, it's another chia pudding recipe. This isn't just any old chia seed pudding though – its ALMOND JOY chia pudding, and that makes all the difference in the world considering that almond joys are pretty much the best thing ever. Chocolate, coconut, and almond are all perfectly fine on their own, but together it's sheer heaven.
What is it about this time of year that just makes me crave sugar? Ahh! Its everywhere! I'm all about treating yourself when it's worth it, but sometimes you just need a snack and prefer it to be on the healthier side. A satisfying snack, not a sugary junk food one.
Unlike a candy bar or cookie, this tasty desert has 9 grams of fiber, 5 grams of protein, and only 9 grams of sugar. A regular almond joy has 20 grams of sugar and isn't nearly as filling. Its two little nuggets of chocolate that you munch through in less than two minutes. Chia pudding on the other hand, will leave you feeling more satisfied since it's actually nutritious. Chia seeds are filled with all kinds of omegas that'll do your body good long term, not just for the few minutes you're eating them.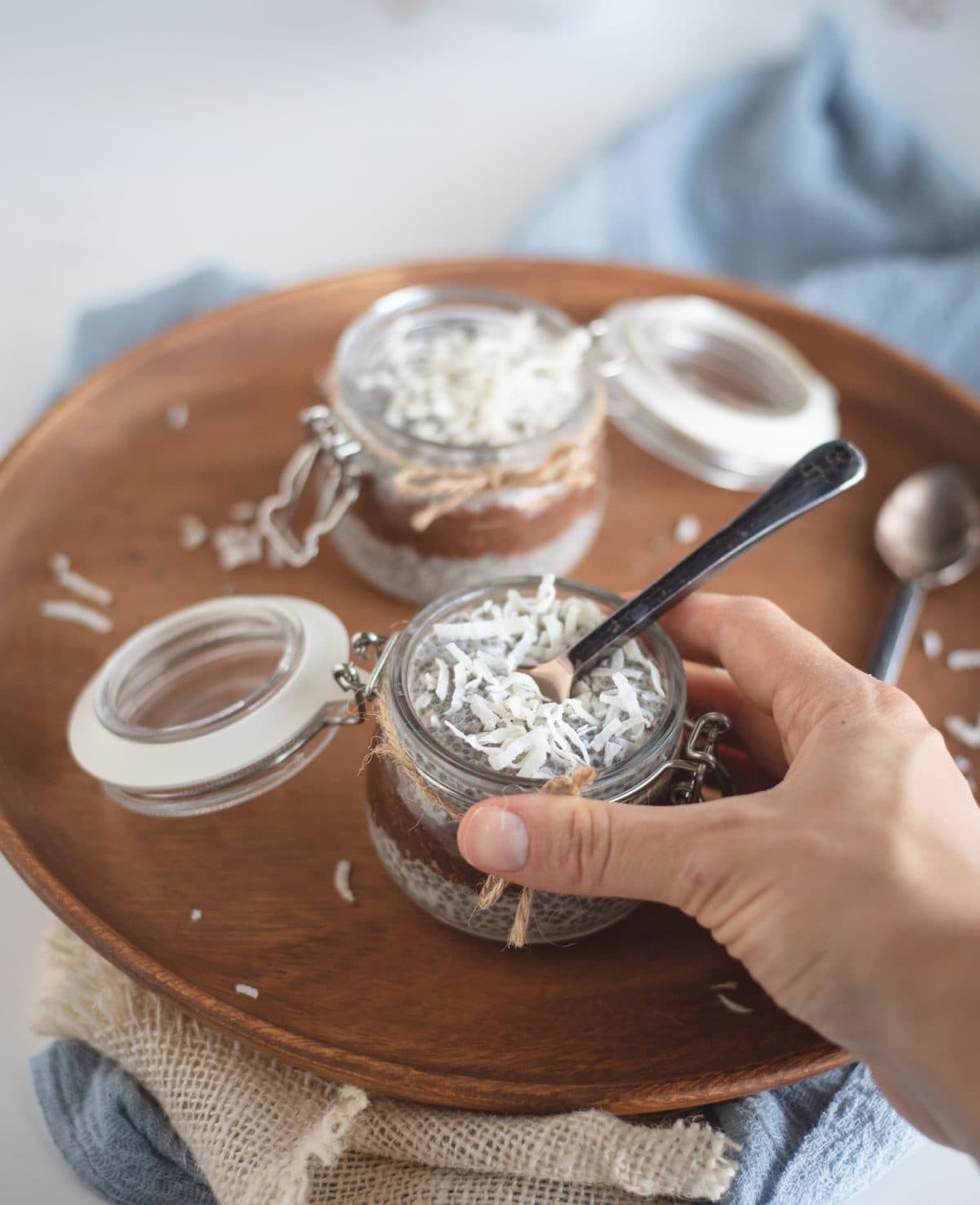 Chia seed pudding is one of my go-to healthy desserts. Between this, almond chia pudding, and my husband's favorite, my decadent coconut chia pudding recipe, we have some form of chia pudding in the fridge all the time.
Plus, babies love this stuff! I make it for my little bean all the time, toning down the sweetness a bit, but otherwise the same. It's excellent for baby led weaning and teaching baby to use a spoon! As long as you get the right spoon and don't put too much maple syrup in, its completely baby friendly. Mine wasn't crazy about the chocolate (surprisingly) but loved the almond/coconut layer.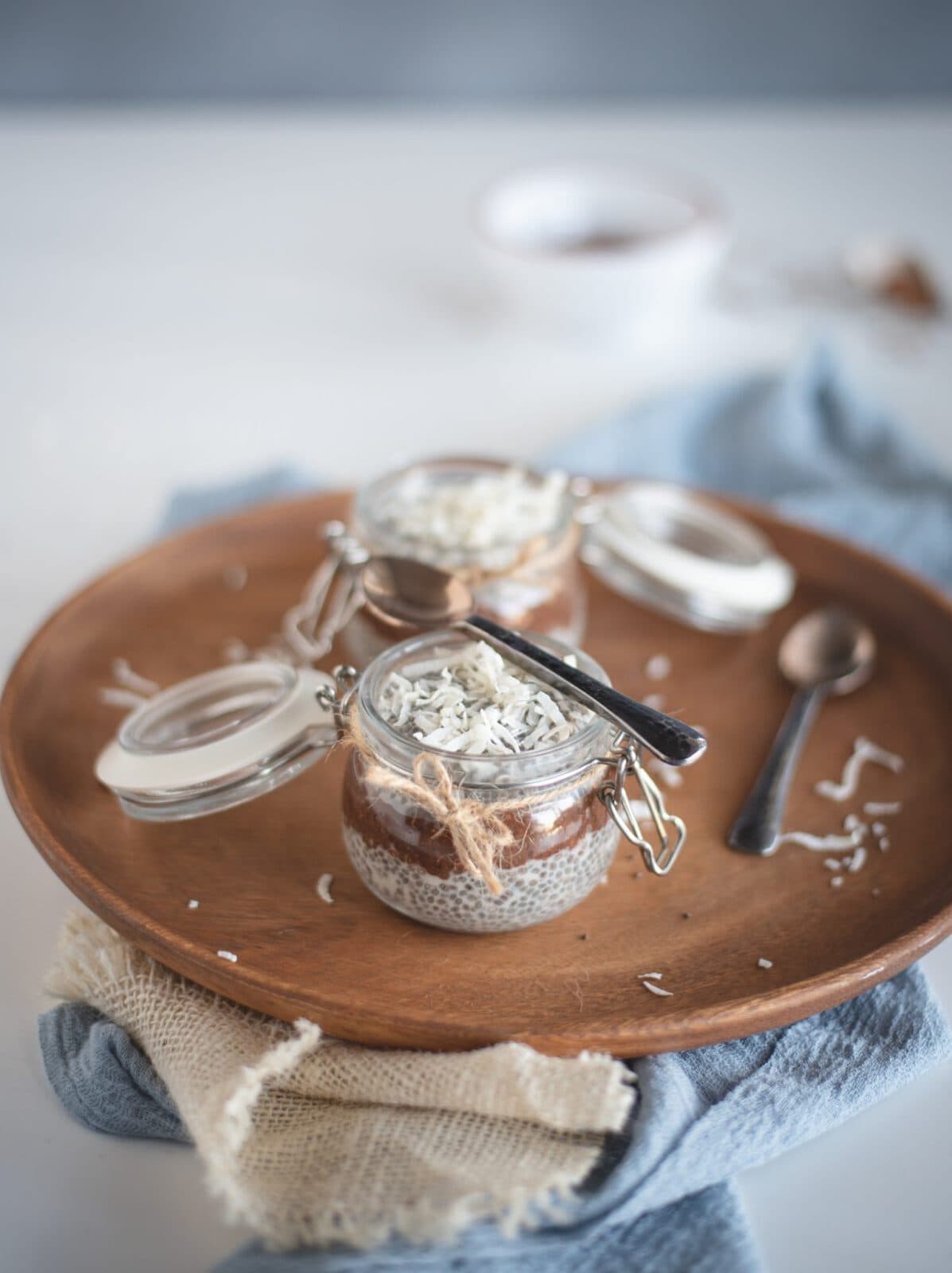 This recipe is a fun change of pace from other chia seed pudding recipes since it's got layers! The layers aren't just there for fun, they add a flavor contrast that you just don't get if you mix the two pudding types together.
Trust me, I tried mixing them and it just wasn't anything special. The layers make this one. Plus it makes it fancy enough for sharing even. I served some to a friend that had never had chia pudding before and she was instantly converted.
Its a great healthy dessert option for even your pickiest of health minded friends. If you have people with different dietary constraints, this is a good go-to since it's vegan, gluten free, diary free, paleo, and fits nicely into most diet plans. With January – the season of dieting – right around the corner, you need a recipe like this in your back pocket.
Sooo, why eat chia seeds? I went on and on about the health benefits back in my last chia seed pudding post so I'll spare you those details, but overall, they're a great addition to you diet since they're full of omegas, fiber, protein and all kinds of micronutrients.
And is there any benefit to cocoa powder? From what I've gathered, it's a solid maybe. To be clear, we're talking about unsweetened raw cocoa powder here, not the sweetened stuff.
A lot of cocoa powder is too processed to retain much nutrition unfortunately. Studies indicate that cocoa consumption *may* lower blood pressure and LDL cholesterol but as far as I know, this link has been tenuous. If you know of any new info, shoot it my way – I'd love to feel better about my chocolate consumption!
Either way, chocolate is one of the good things in this world and, in my opinion, all things are fine in moderation.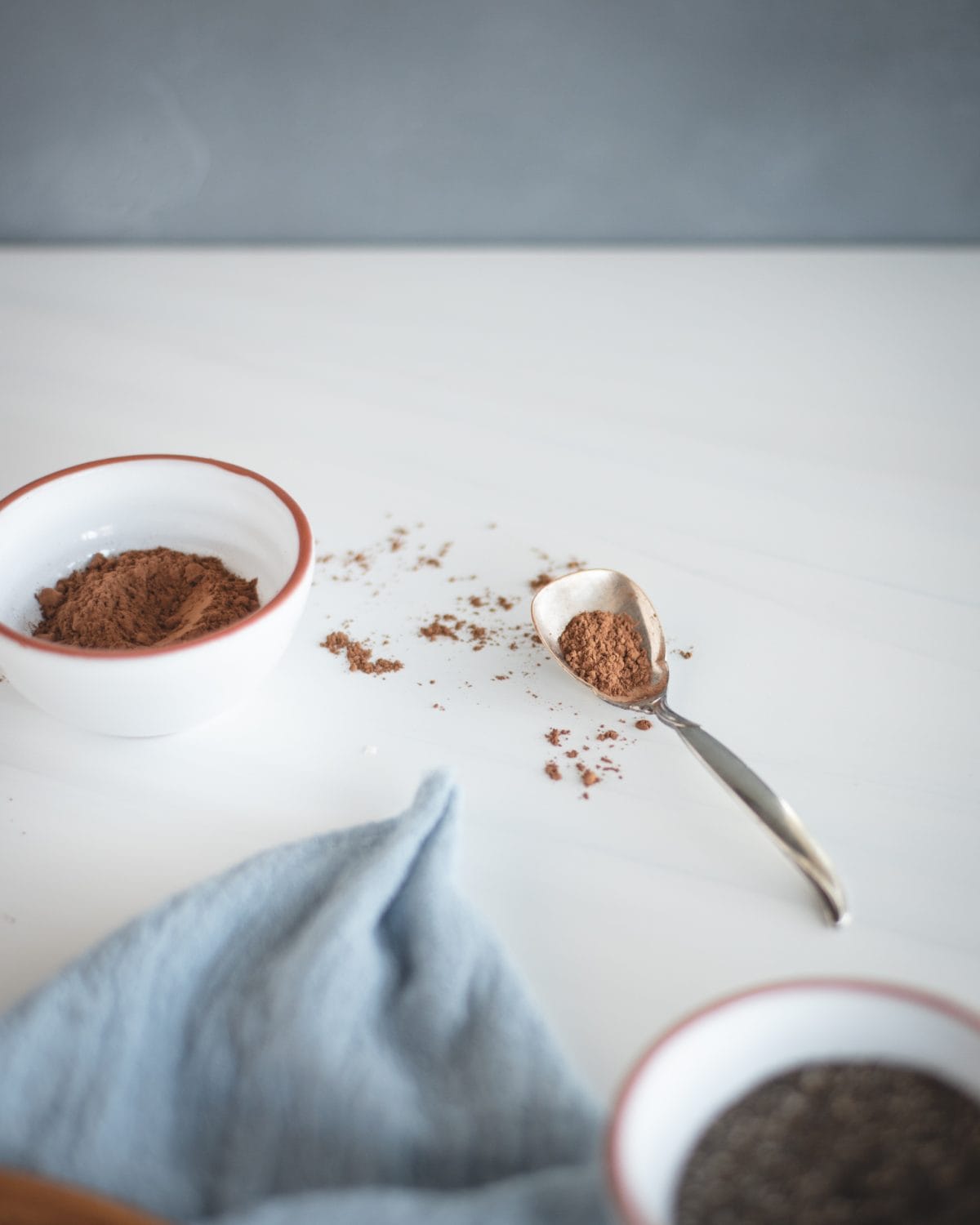 The last major component is the coconut. Use unsweetened desiccated coconut since we're adding a touch of sugar with the maple syrup. Why does this matter? Because most sweetened coconut uses high fructose corn syrup and other crap like that.
I still use sweetened coconut for treats, but for every day healthy snacks like this, it isn't necessary and there are far better options out there.
You convinced that you need almond joy chia seed pudding yet? If not, check out these baked pears, these chocolate coconut balls, or this piña colada "nice-cream". You're bound to find a sweet treat you'll love. 😉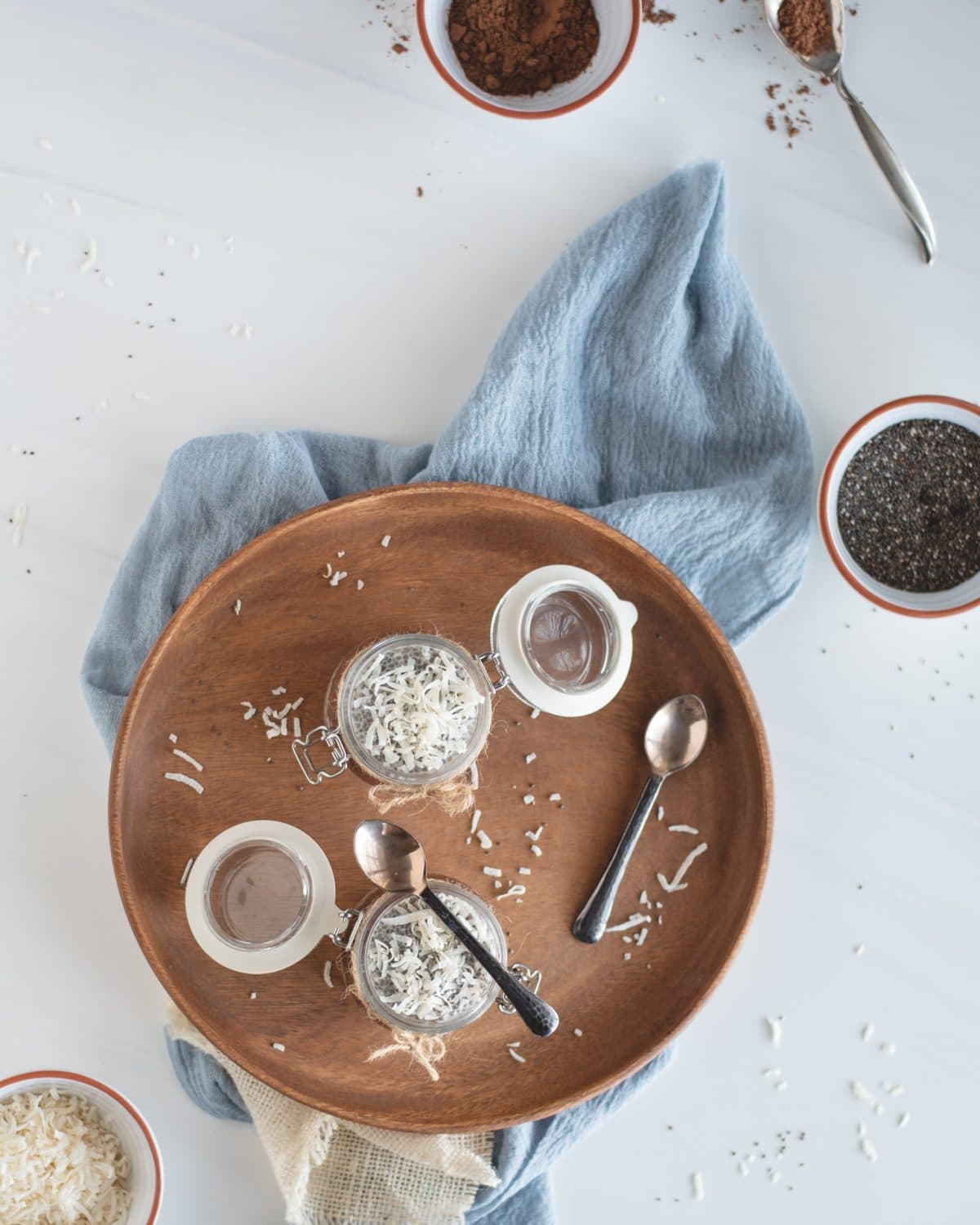 Almond joy chia seed pudding is a delicious and healthy way to satisfy a sweet craving any time of day – for dessert or an easy make-ahead breakfast.
Instructions
Stir all almond layer ingredients ingredients together in a medium sized container with a sealing lid.

Stir all chocolate layer ingredients together in a separate small container. You may need to use a whisk to break up all of the clumps.

Place both containers in refrigerator for at least two hours, preferably overnight. The pudding will be smoothest if you stir it once or twice at some point during this time, but fine even if you don't.

Remove containers from refrigerator and stir each pudding.

Spoon about 1/4 cup of the almond pudding into four glass serving dishes (my jars were 1 cup sized). Top this layer with a little less than 1/4 cup of chocolate pudding. Top with remaining layer of almond pudding.

Sprinkle additional coconut on top and serve. Prepared layered puddings will keep for two days in the refrigerator.
Nutrition
Calories: 210kcal | Carbohydrates: 23g | Protein: 5g | Fat: 12g | Saturated Fat: 4g | Sodium: 170mg | Potassium: 200mg | Fiber: 9g | Sugar: 9g | Vitamin C: 0.2mg | Calcium: 307mg | Iron: 2.4mg