Spicy pork tenderloin with apples, carrots, and potatoes all seared to perfection and then baked to completion and topped with tangy apple brandy sauce.
This pork tenderloin with apples, potatoes, and carrots is one of my favorite new recipes! I know, I know, I say that a lot. This is truly a gem of a recipe though and I really really think you should make it. Plus, the best part is it's a one dish meal! Booya! And even with the brandy and butter, it's still a pretty light and healthy dinner.
The vegetables get caramelized to perfection, the pork is perfectly plump and juicy, and the brandy sauce is absolutely the best way to top it all off. I want to pour this brandy sauce all over everything from here to the end of time. It's that freakin good.
Its overall pretty simple too. A few more steps than some of my other one dish meals like this chicken potato bake. Its more in line with my one dish citrus chicken recipe except in that one you need another dish for the sauce, where this one can all be made in the same skillet. Yup, it's truly a one dish wonder.
I used this Lodge 12″ skillet and the pork tenderloin and veggies just barely fit. You'll need to have a big skillet or dutch oven like that or else it won't be a one dish meal. You'll have to transfer the pork and veggies to another pan to bake and then pour as much of the pan drippings as possible back into a skillet for the sauce. If you skip that final step, it'll still be flavorful without the drippings, but lack that depth that takes it from good to phenomenal.
If you've had pork tenderloin with apples, you know they're a match made in heaven. Pork and apples are tried and true companions. There are so many kinds of apples that you can use and I left it open ended in the recipe so use what you prefer. I tried it with fiji, gala, and envy apples. All were seamlessly delicious. I think a tart apple would be fine too. The sauce is pretty sweet so it would compliment the whole ensemble perfectly.
There is a wide array of root vegetables in this recipe too! From sweet potato to carrot to cute little baby potatoes. This not only adds variety but adds different nutrients as well.
Potatoes get a bad rep, but they're a good source of vitamin C. Leave the skin on and you'll get the most benefit from them. Sweet potatoes are more nutrient dense and one serving actually has all the Vitamin A you need for the entire day. Plus they're absolutely delicious covered in pork drippings.
And pork tenderloin is one of the healthier cuts of pork. It's incredibly lean, which can sometimes lead to being drier in some cuts of meat, but not so much here. When pork tenderloin gets seared and then baked, it locks in the juices keeping it incredibly moist.
Tenderloin is such a tender cut of meat, I end up buying it a lot since it's pretty easy to cook with. I actually have a lean version of carnitas made out of pork tenderloin that you've gotta try. Its sooo good!
Pork tenderloin with apples seems fancy enough that you could serve it to guests even. It means you'll be trapped in the kitchen making the sauce while your guests are there but that part doesn't take that long, so no big deal.
Unlike a lot of sauces, its really a 5 minute ordeal once you pull the pork out. With plating and all, probably 10 minutes to wrap up the sauce and get everything out on the table. To me, that isn't a big deal but you can decide for yourself whether you want this little last minute push or not. I can guarantee you won't regret that sauce though! The brandy cooks down and doesn't taste boozy at all, just rich and delicious. When you drizzle it over pork tenderloin with apples and perfectly seared and roasted veggies, you'll see what I mean. Its divine I tell you.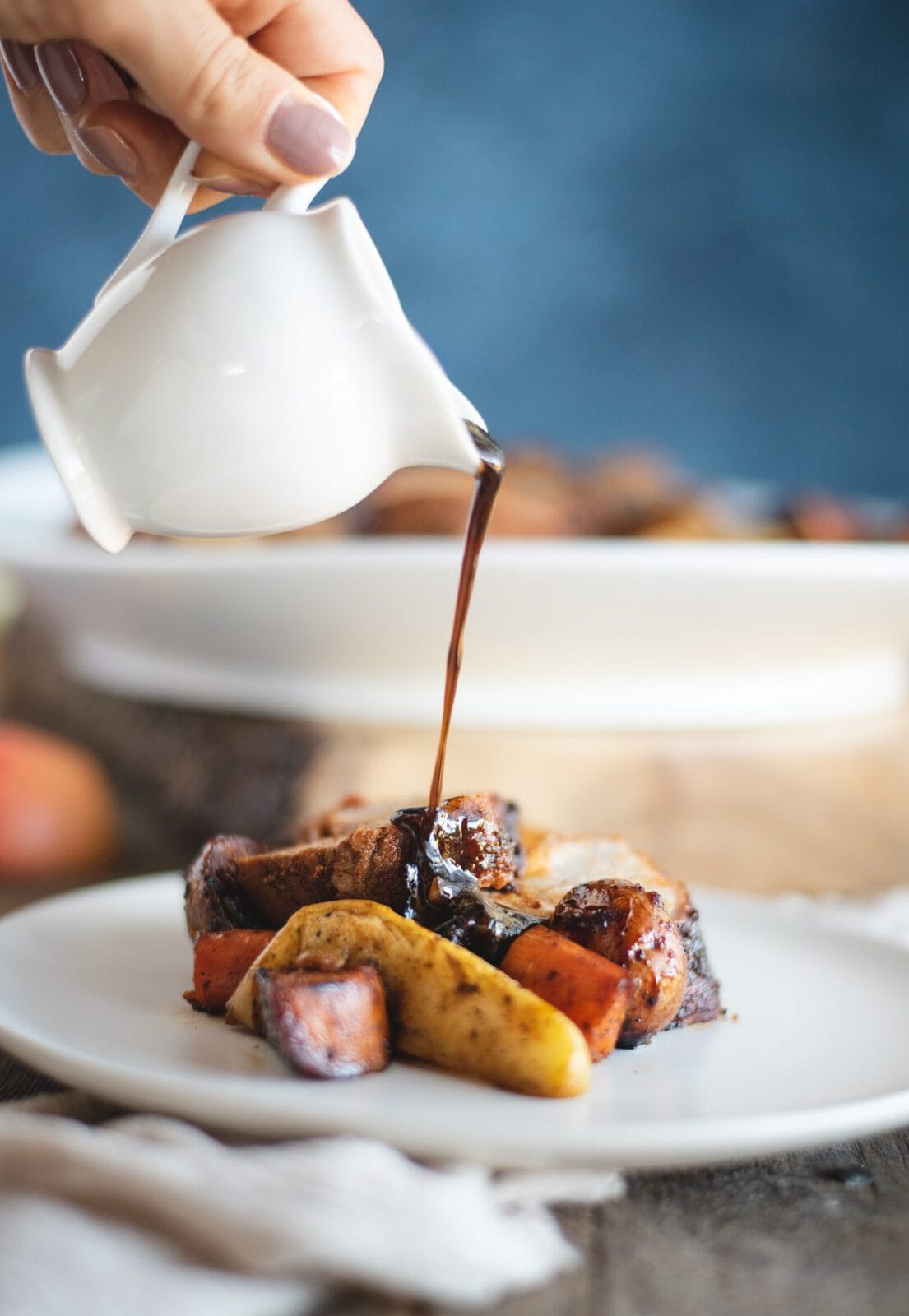 And if you ever get annoyed at not having enough veggies to pair with the meat in dishes like this, you don't have to stress it here. There are TONS of veggies so you truly don't need another side dish. I paired this with a simple cheese board appetizer when I had a few guests over for dinner a while back and they raved over it!
This pork tenderloin with apples recipe is pretty easy to throw together so don't be intimidated. It's not for the novice 'can barely boil water cook' but isn't expert level by any means. It'll look expert level though. I never consider meat to be a specialty of mine so I was over the moon that this one turned out so good.
Here are the basic steps:
Sear tenderloin
Sear veggies
Add apples
Add pork back in and bake
Remove from oven and plate
Make sauce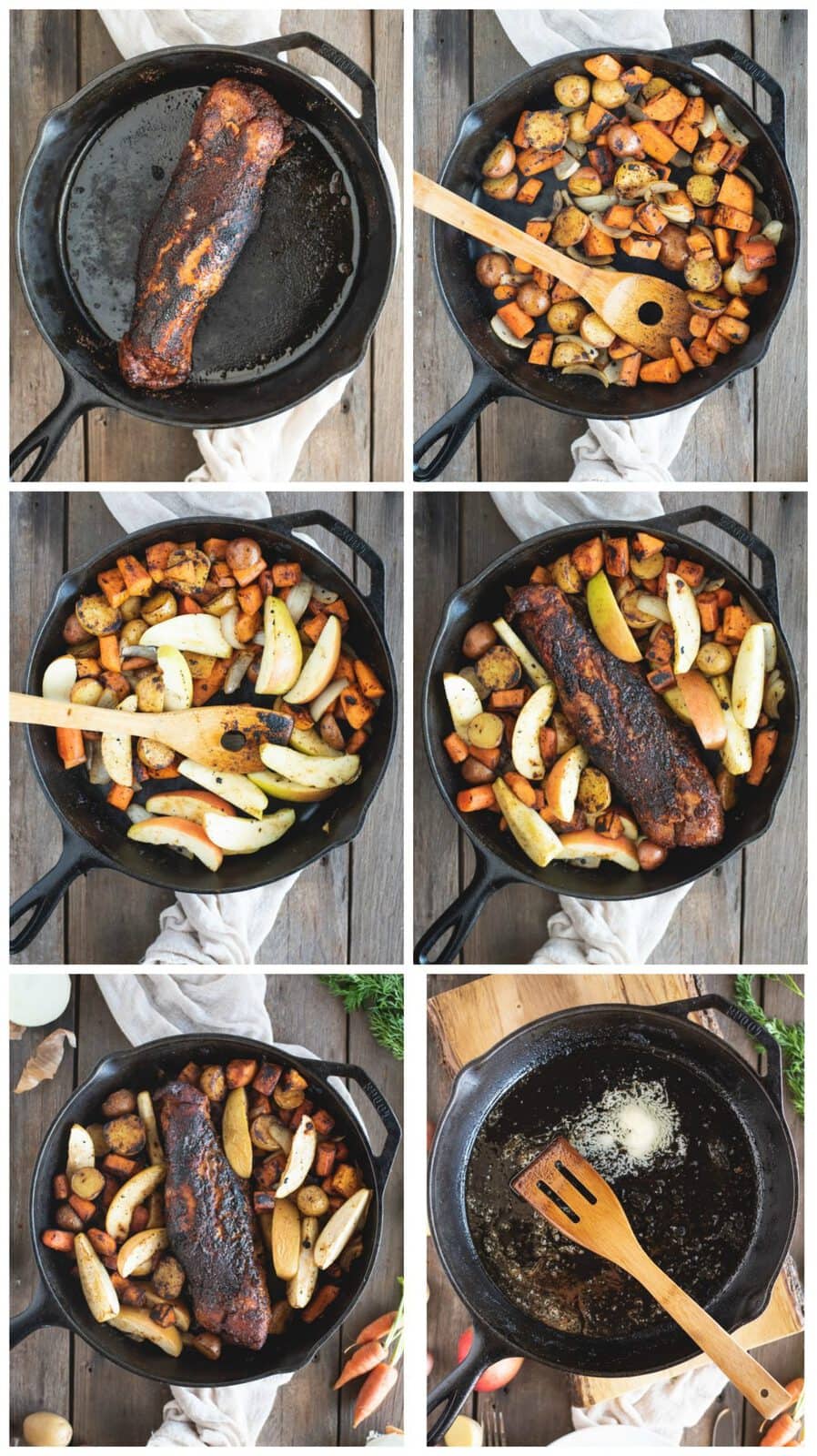 Then EAT!!! It's that easy.
No need to overthink it. It takes a little over an hour from start to finish but a lot of that is downtime while the pork is in the oven.
Oh and did I mention that a kid ate this and approved? A picky kid? I can't make any promises that your picky eater will like it but a veggie hating 12 year old approved and that's saying something.
And before we wrap up and call it a day, let's touch on that spicy rub. I made pork tenderloin with that rub over the summer and threw it on the grill and it was de-licious. The sugar makes it stick a bit (hence the need for rubbing some of the sugar off after searing), but that little bit of trouble is worth it. I used coconut sugar, but you could easily sub for brown sugar if you want.
If pork isn't your thing, but you're in the mood for something tasty, check out these turkey quinoa cabbage rolls or this crockpot chicken curry. Or just visit my main dish page and look through for yourself. I'm sure you'll find something that works for you!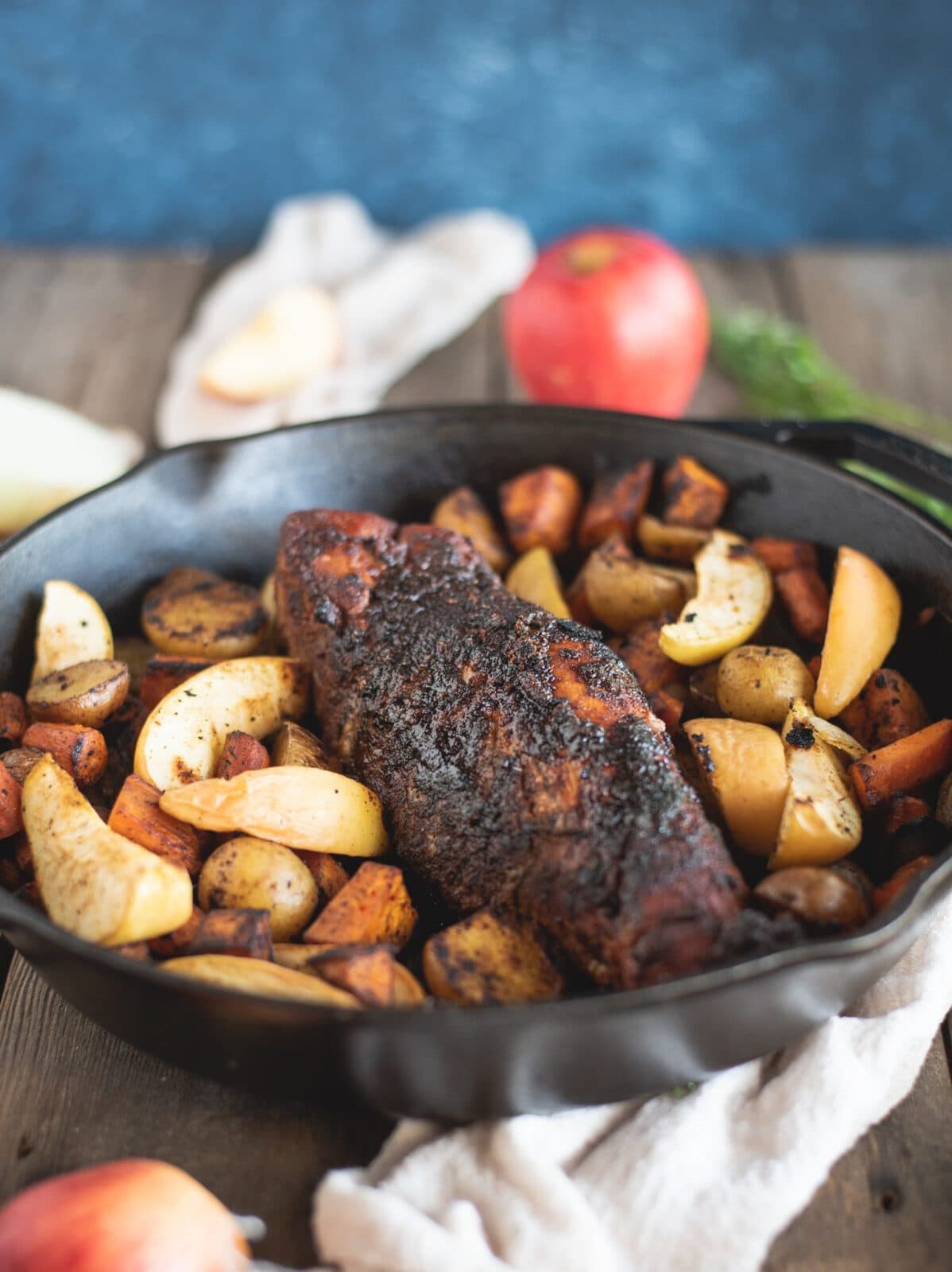 Spicy pork tenderloin with apples, carrots, and potatoes all seared to perfection and then baked to completion and topped with tangy apple brandy sauce.
Ingredients
Other Ingredients
1.75 lb. pork tenderloin (anywhere between 1.5 - 2 lbs.)
1 Tbsp. grape seed oil, divided (or other oil with a high smoke point)
1/2 lb. baby potatoes, halved or quartered into 1" pieces
1/2 lb. carrots, peeled and halved and cut into 1" pieces
1 small sweet potato, peeled and diced into 1" pieces
1 medium onion, sliced into 8 large wedges
2 medium apples, cored and sliced
Sauce
2 Tbsp. brandy
1 cup apple juice
1 Tbsp. butter
salt and pepper to taste
Instructions
Preheat oven to 400° F (205° C).


Mix all rub ingredients together in a small bowl and then rub onto pork tenderloin.

Heat half of the oil in an oven proof skillet* or dutch oven to medium-high heat. Add pork tenderloin and sear for 2-3 minutes per side. Remove and let rest on a plate. Scrape as much of the burned sugar off the pan as you easily can and discard.


Add remaining oil, potatoes, carrots, sweet potato, and onion. Let vegetables caramelize, stirring every 1-2 minutes for 7-10 minutes. Season vegetables with salt and pepper and then stir in apple slices.


Push vegetables to outer rim and lay pork tenderloin in middle.


Place pan in oven and bake for 25-35 minutes until pork and vegetables are cooked through. The internal temperature of the pork should be 145 – 150° F (63-66° C) since it will continue cooking as it rests.


Remove pan from oven and place pork and vegetables on a serving platter. Cover or tent with foil to keep warm while you make the sauce.


Place the pan on the stovetop and turn the burner to low heat. Add the brandy and use a wooden spoon to scrape up as much of the browned bits as you can.


Add apple juice, bring to a simmer, and reduce to about half a cup (5-7 minutes). Add butter and season with salt and pepper.


Slice pork tenderloin and serve with vegetables and sauce.

Notes
*If using two smaller tenderloins instead, you will need to cook the vegetables longer on the stovetop before baking with pork in the oven to make sure they are done at the same time. You will also need to adjust the cooking time for the pork.  *If your skillet isn't oven proof, transfer pork and vegetables to an oven safe dish to bake. When finished, try to get as much of the pan drippings off and back into the original pan to make the sauce. The skillet I used was 12 inches.
Nutrition
Calories: 452kcal | Carbohydrates: 57g | Protein: 30g | Fat: 10g | Saturated Fat: 3g | Cholesterol: 89mg | Sodium: 957mg | Potassium: 1365mg | Fiber: 8g | Sugar: 28g | Vitamin A: 15925IU | Vitamin C: 22.5mg | Calcium: 80mg | Iron: 3.3mg