Pork tenderloin with apples and onions is a flavorful one pan dinner that is seared, baked with carrots and potatoes, then topped with a rich apple brandy sauce made from the pan drippings.
If you've had pork tenderloin with apples, you know they're a match made in heaven. Pork and apples are tried and true companions. Add onions and root vegetables and you have yourself a delicious full meal. And the combination of spice rub, sauce and caramelization that happens and it turns from already delicious to wow-worthy!
This delicious meal showcases one of my favorite meats to cook with – pork tenderloin. It's so versatile, and I love that it's a leaner and super tender cut of meat. I'm obsessed with it in this recipe and also these pork tenderloin carnitas are always a hit if you're looking for more pork tenderloin recipes.
While plant based meals have their place, we eat meat regularly as well. If you want to check out some of my other healthy meat forward dinner recipes, I highly recommend my turkey quinoa cabbage rolls, these bison meatballs, or my famously easy citrus chicken which is similar to this recipe in it's simplicity and being paired with a decadent sauce.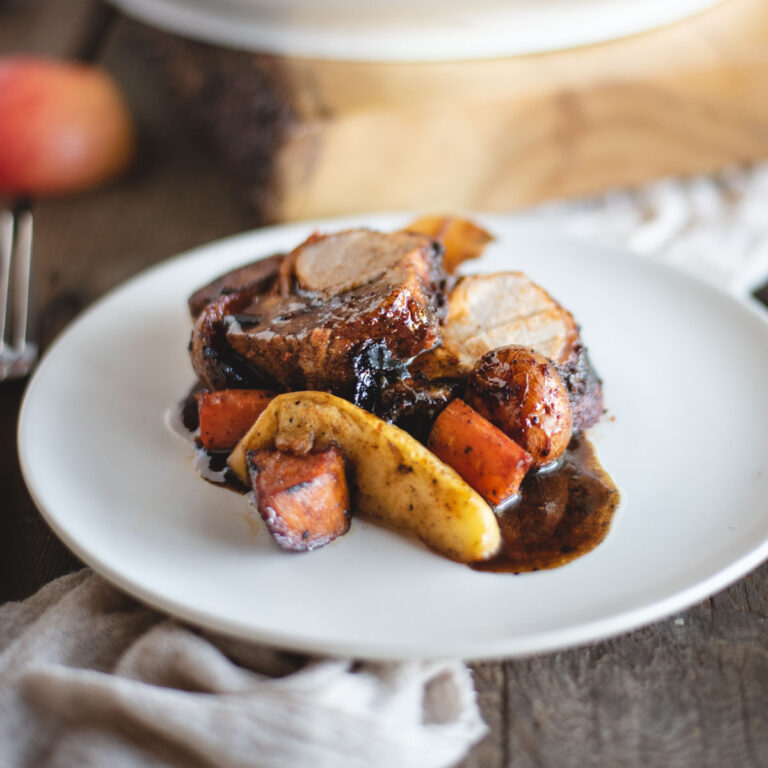 Why you'll love this recipe
Caramelized vegetables + juicy pork + rich and delicious 5 minute brandy sauce made with pan drippings = A DREAM!
Simple one-dish meal
Light and healthy due to using a lean cut of pork … even with brandy and butter!
Variety of nutrients from sweet potatoes, carrots, onions, apples and baby potatoes
Impressive to serve to guests and only takes 5 minutes to make the sauce and another 5 minutes to plate and serve meaning more time to hang out and relax
There are lot of recipes out there for pork tenderloin with apples that use as slow cooker or crockpot but in this recipe the apples stay intact and don't disintegrate! This is just as easy and so much more satisfying.
Ingredients
There are three different ingredient groupings from the main ones, spice rub to the apple brandy sauce. That doesn't mean the recipe is complicated though! It all comes together in no time.
Main Ingredients
Pork tenderloin: Pork is the perfect, impressive lean meat to serve for a gathering or simple night in! When pork tenderloin gets seared and then baked, it locks in the juices keeping it incredibly moist!
Avocado oil: You'll use this as the base when searing the pork. You can substitute it with another oil with a high smoke point but I do not recommend olive oil since it will smoke.
Baby potatoes: You'll halve and cut baby potatoes before caramelizing. They're a good source of vitamin C, and you'll get the most benefit from them if you leave the skin on.
Carrots: Carrots are another perfect veggie to add to the mix in this recipe. They provide extra flavor, an extra texture, and extra nutrients!
Sweet potato: Yay for another versatile vegetable. Sweet potatoes are nutrient dense, and one serving actually has all the Vitamin A you need for the entire day!
Onion: A sliced onion adds an extra kick of flavor and adds great texture.
Apples: Apples and pork are a match made in heaven! You can use whatever apples you'd prefer!
Spice rub ingredients
Here's what you'll need to pull from the spice cabinet to make the spice rub.
Sauce Ingredients
Apple brandy – or you can sub in regular brandy, whisky or bourbon or even white wine, pinot noir or whatever you're drinking
Unsweetened apple juice – I used a kid's juice box and it turned out great and was just the right amount.
Butter – can sub dairy free butter or ghee here to make this dairy free.
Salt and black pepper to taste – trust me, you'll be wanting to taste test the sauce at this point!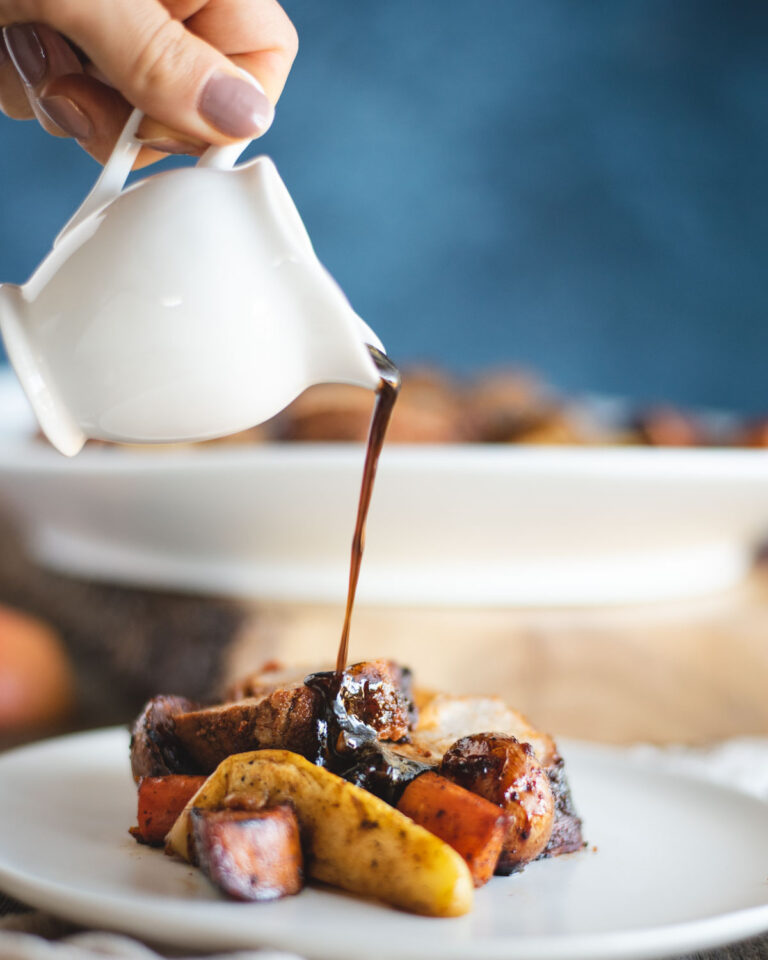 Substitutions and variations
This recipe is easy to tweak and make your own or adjust to what you have on hand. Here are some ideas:
Add fresh thyme, rosemary or other fresh herbs to the spice mix or use instead of the chili powder for a different flavor altogether. Dijon mustard would be lovely paired with herbs too if you go that route.
Add a dash of cinnamon to the spice mixture and a splash of maple syrup to the brandy sauce for a unique, warm fall flavor.
Add or swap parsnips, cubed butternut squash or other firm winter vegetables that cook at the same rate as potatoes and carrots.
I would NOT recommend substituting the pork tenderloin for another cut of pork without making other adjustments. If using a pork loin roast it will need longer to cook. Adjust cooking time to 20 minutes per pound and add the veggies and apples for the last 40 minutes of the cook time.
Step by step process
Cut all of the veggies and apples on your cutting board.
Mix all rub ingredients together before rubbing the mixture onto your pork.
Sear tenderloin in oil in a large skillet or dutch oven on medium-high heat. Remove from the pan.
Sear veggies and allow them to caramelize. Season to taste.
Add apples to the pan and toss, pushing veggies and apples to the sides.
Add pork back into the center of the pan and bake until cooked through.
Remove the veggies and pork from the oven and then place on a large platter.
Make sauce in that same pan and then serve on top of the the tender pork and veggies.
Then, of course, EAT! It's that easy!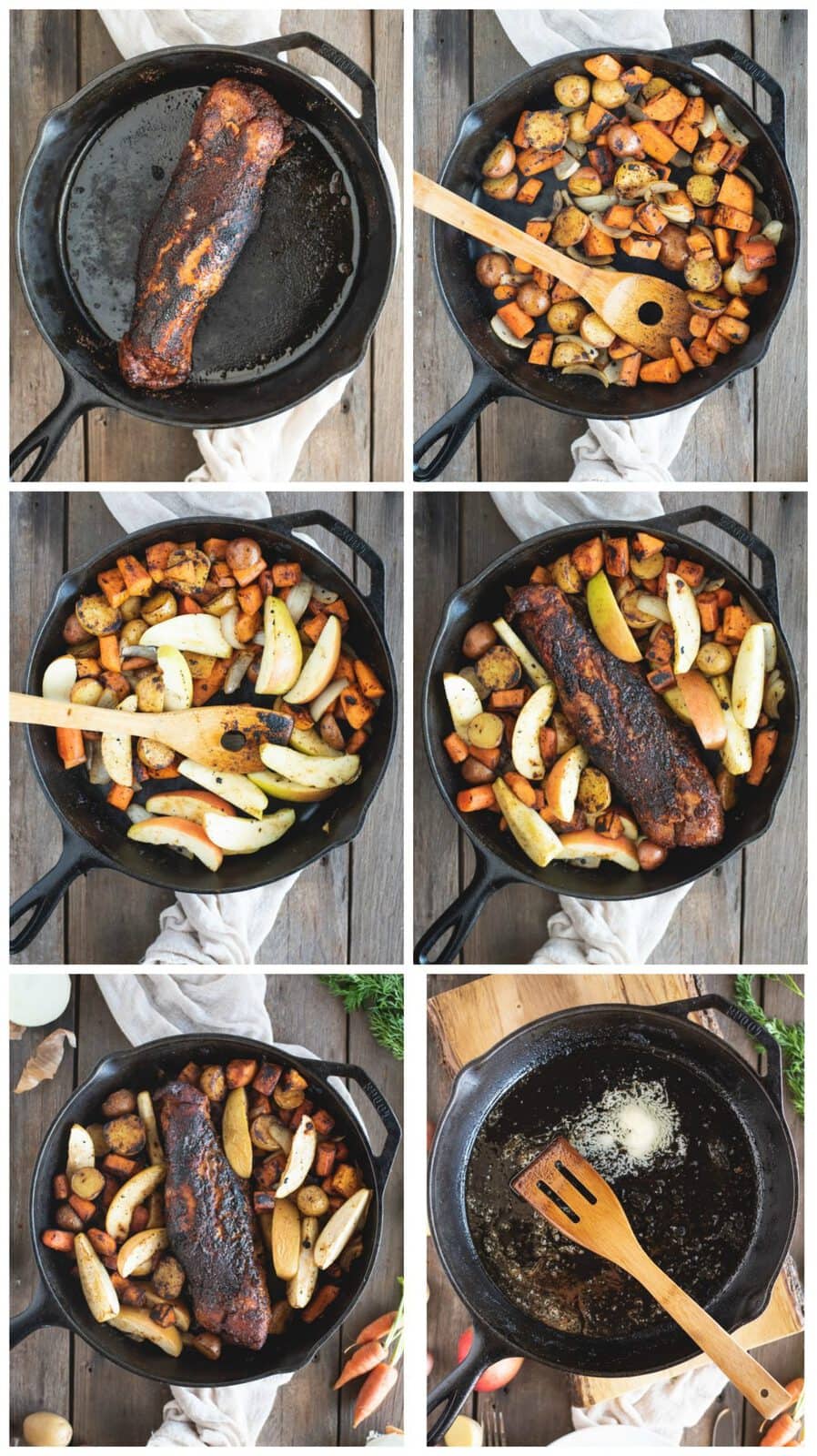 Tips and tricks for making pork tenderloin with apples and onions
Don't skip the sauce – I can guarantee you won't regret it. The brandy cooks down and doesn't taste boozy at all, just rich and delicious.
Don't skimp on the seasoning – If your pork is larger than the size listed in the recipe, be sure to make a bit more seasoning so that it is evenly covered.
Scrape up the sugar – this prevents it from burning when you cook the meat. I used coconut sugar, but you could easily sub for brown sugar if you want OR if you don't want to deal with this, you can leave out the sugar.
Use a large pan – I used this Lodge 12" cast iron skillet, and the pork tenderloin and veggies just barely fit. If you don't have a big oven proof skillet or dutch oven like that, you'll have to transfer the pork and veggies to another pan to bake and then pour as much of the pan drippings as possible back into a skillet for the sauce so you don't loose that meaty flavor.
Frequently asked questions
What type of apple pairs best with pork?
If you've had pork tenderloin with apples, you know they're a match made in heaven. There are so many kinds of apples that you can use, and you can truly use what you prefer or have on hand! I tried it with sweet apples like Fuji, gala, and envy apples and all were seamlessly delicious. I think a tart green apple like granny smith apples would be great too.
Should I bake my pork tenderloin covered or uncovered?
Covering pork in the oven can help preserve the flavors, but in this recipe, it's not necessary! The oven temperature and cook time can help keep this meat nice and juicy without the tent. However, I would recommend covering the dish with aluminum foil after removing from the oven to keep it warm while you make the sauce.
What is the best temperature to cook pork tenderloin?
I recommend cooking the pork at 400 degrees Fahrenheit. Cooking it in a hotter oven for a shorter amount of time can help prevent the pork from drying out!
How long do you cook pork tenderloin in the oven at 350?
All ovens bake differently, so it's best to cook pork until a meat thermometer inserted into the thickest part of the tenderloin reaches about 145-150 degrees F. The pork will be juicy and slightly pink in the middle. Simply cook for an extra few minutes if you'd rather not have any pink meat.
Other recipes you'll love
Pork tenderloin with apples and onions is a flavorful one pan dinner that is seared, baked with veggies, then topped with apple brandy sauce.
Ingredients
Other Ingredients
1.75 lb. pork tenderloin anywhere roughly between 1.5 – 2 lbs.
1 Tablespoon avocado oil, divided or other oil with a high smoke point
1/2 lb. baby potatoes, halved or quartered into 1″ pieces
1/2 lb. carrots, peeled and halved and cut into 1″ pieces
1 small sweet potato, peeled and diced into 1″ pieces
1 medium onion, sliced into 8 large wedges
2 medium apples, cored and sliced
Sauce
2 Tablespoon apple brandy or regular brandy, whisky or bourbon
1 cup unsweetened apple juice
1 Tablespoon butter can sub dairy free butter
salt and pepper to taste
Instructions
Preheat oven to 400° F (205° C).

Mix all rub ingredients together in a small bowl and then rub onto pork tenderloin.

Heat half of the oil in an oven proof skillet* or dutch oven to medium-high heat. Add pork tenderloin and sear for 2-3 minutes per side. Remove and let rest on a plate. Scrape as much of the burned sugar off the pan as you easily can and discard.


Add remaining oil, potatoes, carrots, sweet potato, and onion. Let vegetables caramelize, stirring every 1-2 minutes for 7-10 minutes. Do not stir too often since you want to sear the veggies.

Season vegetables with salt and pepper and then stir in apple slices.

Push vegetables and apples to outer rim and lay pork tenderloin in middle.

Place pan in oven and bake for 25-35 minutes until pork, vegetables and apples are cooked through. The internal temperature of the pork should be 145 – 150° F (63-66° C) since it will continue cooking as it rests.

Remove pan from oven and place pork on a serving platter with apples, onions and vegetables around it. Cover or tent with foil to keep warm while you make the sauce.

Place the pan on the stovetop and turn the burner to low heat. Add the brandy and use a wooden spoon to deglaze and scrape up as much of the browned bits as you can.

Add apple juice, bring to a simmer, and reduce to about half a cup (5-7 minutes). Add butter and season with salt and pepper.


Slice pork tenderloin and serve with vegetables and sauce.

Notes
If using two smaller tenderloins instead, you will need to cook the vegetables longer on the stovetop before baking with pork in the oven to make sure they are done at the same time. You will also need to adjust the cooking time for the pork. Make sure to leave space between the two tenderloins so that they aren't touching.
If your skillet isn't oven proof, transfer pork and vegetables to an oven safe dish to bake. When finished, try to get as much of the pan drippings off and back into the original pan to make the sauce. The skillet I used was 12 inches.
Nutrition
Calories: 452kcal | Carbohydrates: 57g | Protein: 30g | Fat: 10g | Saturated Fat: 3g | Cholesterol: 89mg | Sodium: 957mg | Potassium: 1365mg | Fiber: 8g | Sugar: 28g | Vitamin A: 15925IU | Vitamin C: 22.5mg | Calcium: 80mg | Iron: 3.3mg
Originally published December 16, 2018 but post content has been revised since then.