Mushroom brown rice pilaf is the perfect side dish! Its easy, filling, loaded with veggies and flexible enough to go with whatever main dish is on the menu.
A mushroom brown rice pilaf may sound like a boring healthy side dish, but I can assure you dear friends, this one is not. This recipe is full of flavor, yet won't steal the spotlight from whatever you're serving it with. The flavors are versatile enough that it goes with pretty much anything too.
This is great for someone like me that likes making larger dishes and reheating leftovers for weeknight meals. When I get home, I'm normally too ravenous to wait for brown rice to cook for an hour, but if I've got leftovers I can reheat, I've automatically got a healthy side dish that makes dinner prep that much easier.
After being subjected to my camera, this particular pilaf got paired with two different entrees on two different nights. The first was a simple lemon dill salmon, and the next night the leftovers were munched alongside a saucy chicken dish. Both worked perfectly, complimenting the main dish as if it was made especially for it. Win, win, and win again.
As if brown rice isn't nutritious enough, this recipe gets waaaay healthier when you add 1/2 pound of mushrooms to it. Mushrooms are an immunity superstar so this healthy side dish does double duty in keeping you functioning this time of year when colds and flus are running rampant.
This is excellent news for me because mushrooms are one of my all time favorite veggies. They've got all the satisfying umami flavor and meaty texture to hit all the savory cravings you don't even know you have. Mmmmmm mushrooms…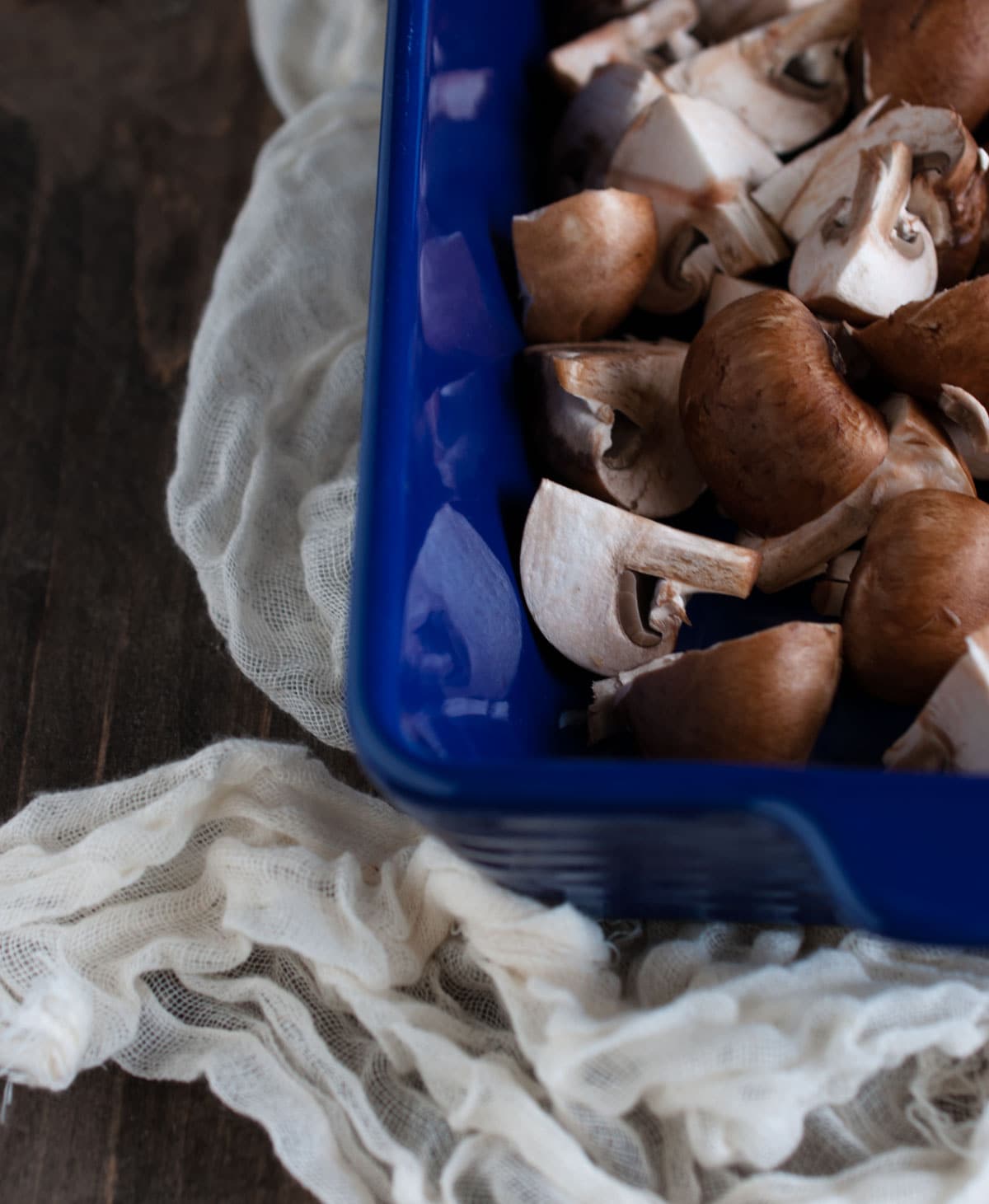 Between the mushrooms and brown rice, there are eight grams of protein per serving in this healthy side dish. That's pretty incredible for a side! Especially if you're vegetarian and really need that extra protein push.
I myself, really relish any plant based protein that I can get. Countless studies and articles have preached about the positive impact plant based lifestyles have on your longterm health. It reduces your risk of heart disease, cancer, high blood pressure, and the list goes on and on. Veggies are good stuff ma frands. Embrace them.
Even just going veg a few days a week can be a game changer. The trick is replacing those meat based meals with recipes that will nourish you, not vegetarian junk food. This mushroom brown rice pilaf is exactly the type of dish that you should be incorporating.
If all of this hasn't been enough to convince you to add this recipe to your standard healthy side dish repertoire, let me take a minute to tell you about how easy it is.
Healthiness aside, this recipe can be prepped in 10 minutes flat. How many other side dishes can you say that about? While I like scalloped potatoes, mac and cheese, and all the other delicious starchy carb sides, none can compete with this mushroom brown rice pilaf when it comes to keeping prep work simple.
Step 1: plop mushrooms down into a baking dish.
Step 2: Add brown rice, water, and seasonings.
Step 3: Cover with foil and bake away.
*Please note that it is mandatory to consume a full glass of wine while the rice cooks.
Step 4: remove from oven and sprinkle with parmesan cheese. Broil to melt that cheesy goodness alllll over.
Step 5: Sprinkle with parsley and serve!
Easy as can be right? I thought that play by play might help convince you that this recipe is worth trying. Seriously folks, this mushroom brown rice pilaf is the lazy chef's new best friend. If you still need convincing, please just take yet another minute to consider the dishes you can pair this bad boy with.
If you're looking for another side that plays together, this lemon asparagus is money. This easy sautéed spinach is even simpler and is one my most popular recipes to date. Both of those recipes are a hit every time I make them and I'm sure you'll find the same is true for you.
If you're looking for a vegetarian main dish to serve with this side, try these carrots with cashew cream sauce. Paired with the rice, you'll be getting all the protein you need for a well rounded meal.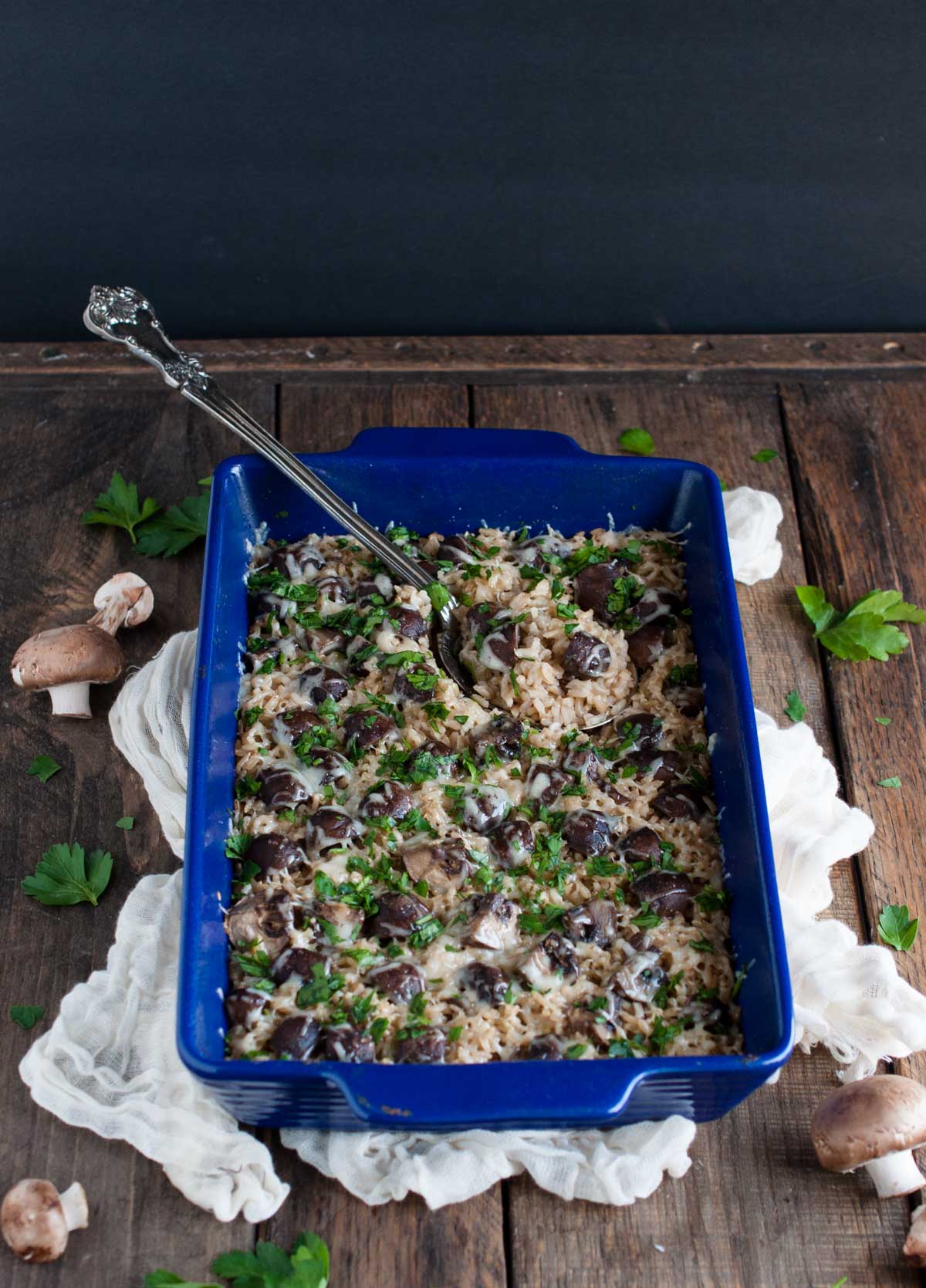 In this recipe, I used this brand of brown basmati rice, which turned out great. I used to use short grain brown rice a lot but lately I've been just loving the longer grains. The texture just seems more delicate and fluffy. We all need some fluff in our rice and this does the trick.
I bet other types of brown rice would work well too but you might have to tweak the recipe a bit to get it just right. If you do any tweaking, please report back to us via a comment so that we can all learn from your sacrifice. 😉
Enjoy this one and the rest of your weekend!
Mushroom brown rice pilaf is the perfect side dish! Its easy, filling, loaded with veggies and flexible enough to go with whatever main dish is on the menu.
Ingredients
1 1/2 cups basmati brown rice
1/2 lb. mushrooms, washed and quartered
2 cups low sodium vegetable, chicken, or beef broth
1 1/4 cups water
1/2 tsp. salt
1/4 tsp. onion powder
1 tsp. garlic powder or 1 1/2 tsp. fresh minced garlic
1/2 tsp. olive oil
1/2 cup parmesan cheese, grated
1 Tbsp. chopped parsley
Instructions
Preheat oven to 375° F.

Add rice and mushrooms to medium sized casserole dish. Pour broth and water into dish. Add salt, onion powder, garlic, and olive oil.

Stir lightly to mix seasonings in evenly.

Cover with aluminum foil.

Place dish in preheated oven and bake for 1 hour. Remove from oven and remove foil. Be careful or you'll burn your face from the steam! Turn the broiler on.

Sprinkle with parmesan cheese and place in oven. Broil for 2-3 minutes to melt cheese. Remove from oven and sprinkle with parsley before serving.
Nutrition
Calories: 233kcal | Carbohydrates: 39g | Protein: 9g | Fat: 4g | Saturated Fat: 1g | Cholesterol: 5mg | Sodium: 324mg | Potassium: 346mg | Fiber: 2g | Vitamin A: 275IU | Vitamin C: 4mg | Calcium: 121mg | Iron: 1.5mg