Roasted kale chips are given a touch of cajun spice and then baked until crispy. This recipe makes two generous servings, each with under 100 calories!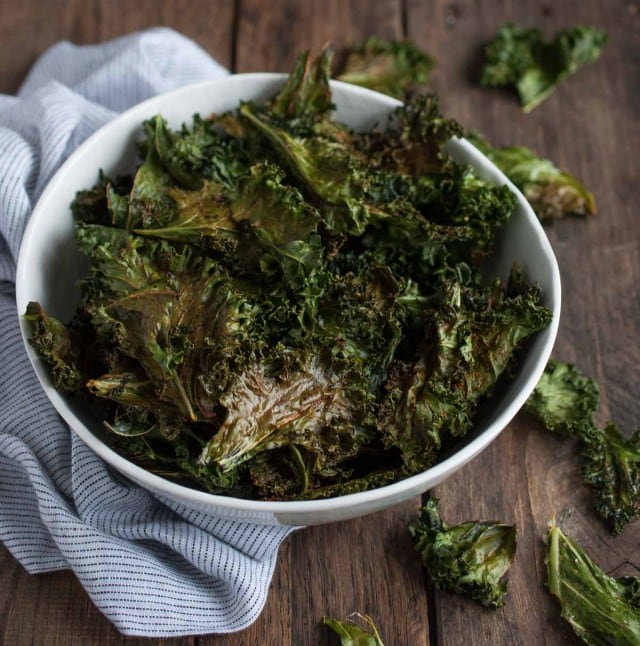 I have yet another easy recipe to share with you all today – cajun kale chips! I know there are countless kale chip recipes on the web today and a lot of you have probably tried making them at this point. As you've probably found though, some turn out much better than others.
After numerous notes and tests, I want to share my favorite way to make kale chips with you. The secret to getting them crispy surprisingly makes them better for you, which never happens with food. Normally, whatever makes them taste better is also responsible for making a food unhealthy. Not with kale chips!
Although oil cooking spray is an important ingredient in this kale chip recipe, using more doesn't lead to crispier chips. Quite the opposite actually! A light mist of olive oil is all you need to crisp these puppies up. Using too much is what makes them soggy and gross. No one needs that in a chip.
I used this olive oil spray but you can use one of those fancy misters people are using these days or whatever else you have on hand. Just make sure that you are doing a quick, light spray. The goal is NOT to coat the kale. It just needs a fine mist to make the seasonings stick and to give just enough oil to let the kale crisp up like chips.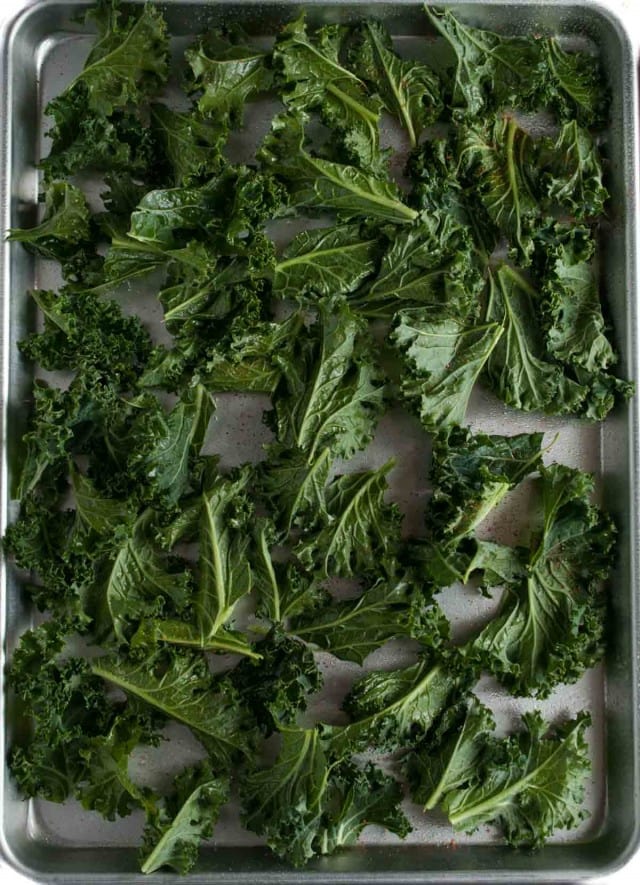 Before we get too much further, I want to clear the air on one thing. Although these have that satisfying crunch of a chip and a tasty cajun flavor, these won't taste exactly like chips. It is kale after all, and its going to taste a bit like kale. Before you click out of here in a huff, please trust that although different, kale chips can still be all kinds of delicious.
So why eat kale chips when potato chips taste better? Because your body will love you for it! Kale has numerous health benefits and is loaded to the brim with nutrients, particularly ones that act as antioxidants. Numerous studies have found that cruciferous vegetables like kale are helpful in both preventing and treating certain types of cancer. We are all in need of a good dose of antioxidants on a regular basis, so why not make them taste good?
I like to think of kale chips as a healthy alternative to regular chips. With under 100 calories in each (huge!) serving, you can munch the day away and be none the worse for it. I'm all about those kinds of snacks.
You can really see the cajun flavor in action on the picture below. Look at all that spicy yummy goodness. I use about 2 tsp. of cajun seasoning and about a tsp. of salt, but some bunches of kale are bigger than others so you might have to play with this a bit based on how much kale you have. Remember that you can always add more but can't take it away. 😉
After being ripped into chip size pieces, a bunch of kale normally fills two half bakers sheet pans. Or if you hate doing dishes as much as me, just cycle them through in two batches.
If you want to try another cajun roasted healthy snack, these chickpeas are loaded with protein and super tasty. Or if you want a healthy sweet snack to go along with this, check out these banana oat cookies or these cocoa roasted almonds.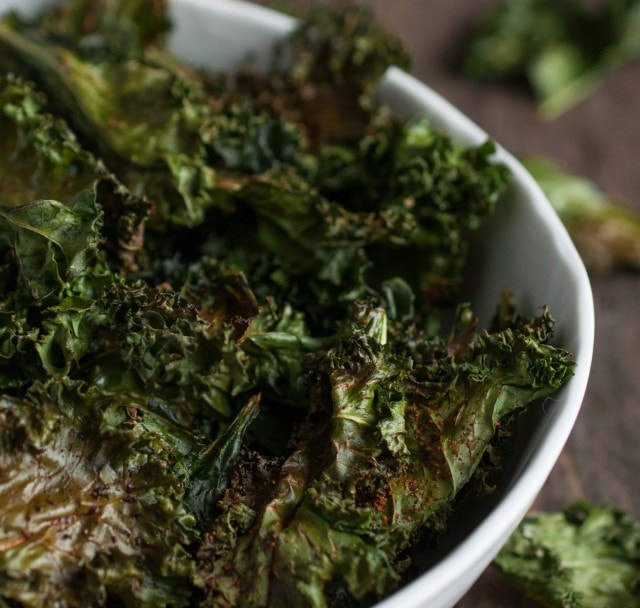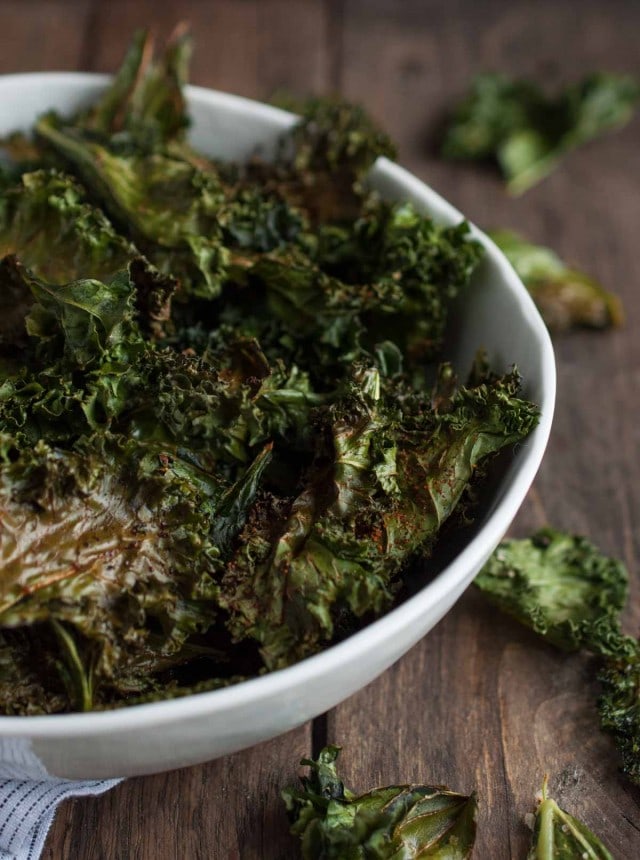 One thing to note – the crunch doesn't keep long so you need to eat your kale chips right after baking. It isn't hard when they taste this good though.
I re-made these cajun kale chips last week to take pictures and my friend Liz and I devoured them in record time. She lives a dreamy homesteader's life on a ranch about four hours from Portland in the middle of one of Oregon's picturesque forests near the coast. I love visiting their little slice of country heaven, but for now, we'll munch away on kale chips up here.
Roasted kale chips are given a touch of cajun spice and then baked until crispy. This recipe makes two generous servings, each with under 100 calories!
Ingredients
1 bunch kale (use a curly variety for best results)
Olive oil cooking spray
1 tsp. salt
2 tsp. cajun seasoning
Instructions
Preheat oven to 425° F (218° C).

After rinsing kale, make sure it dries completely. A salad spinner works well for this. The drier, the crispier.

Rip kale into 1-2 inch pieces, discarding the hard center stem of each leaf.

Lay kale out on in a single layer on a baking sheet (or two) making sure the pieces do not overlap.

Spray lightly with cooking spray and sprinkle with half of the cajun seasoning and salt. Flip the kale pieces over and lightly spray the other side with cooking spray and sprinkle remaining salt and seasoning on top.

Bake until crispy (about 10 minutes). Remove from oven and eat right away.
Nutrition
Calories: 62kcal | Carbohydrates: 11g | Protein: 4g | Fat: 1g | Sodium: 996mg | Potassium: 599mg | Fiber: 1g | Vitamin A: 12340IU | Vitamin C: 119mg | Calcium: 160mg | Iron: 2.5mg
What's your favorite seasoning to use on kale chips?