Thai fried brown rice that's loaded with veggies to lighten up without loosing any of the tasty flavor and spice that we all love and crave.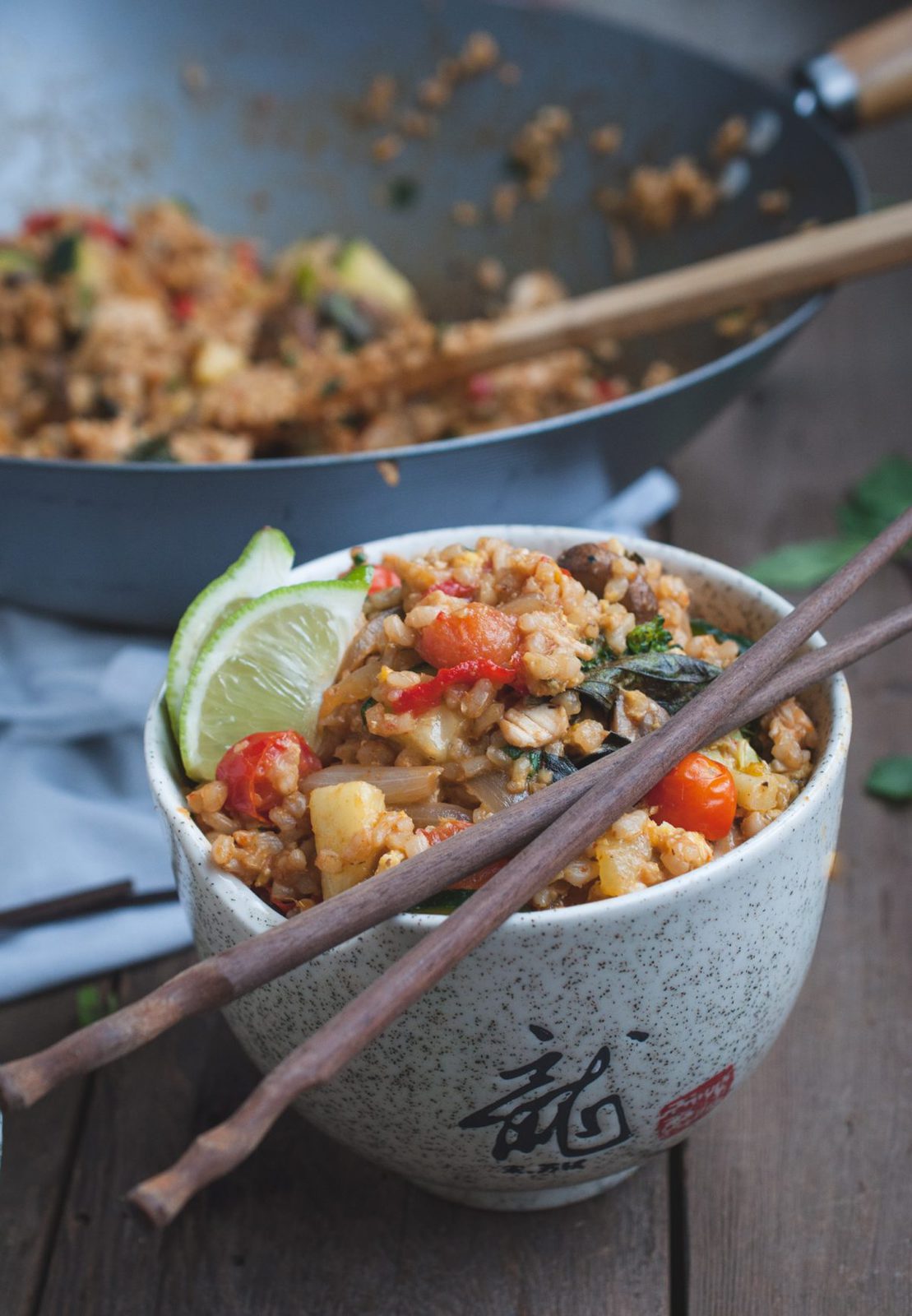 Fried rice is one of my favorite Thai dishes, hands down. Between the basil, curry paste and general carb overload, this dish hits all the right spots for me. I'm trying to phase unhealthy takeout out of our lives though so this meal gets a makeover! This is the make at home version: Thai fried brown rice, absolutely loaded with veggies.
No joke, there's more veg than rice in this dish. Perfect for those of us aiming for a greens overdose. As I shared in my end of year post, ever since re-entering the working world last spring, I've really struggled with eating healthy. Worst healthy food blogger of 2016 award may just go to this lady right here.
In fairness, I didn't spend the entire year gorging myself like a college freshman. I just spent more time eating poorly than I normally do though and once you start that downward spiral, it can be hard to get back on track. After long days, its way too easy to stop and pick up greasy Thai food, pizza or whatever other junk pops into your head. Then, a week goes by and you realize you've barely cooked at all.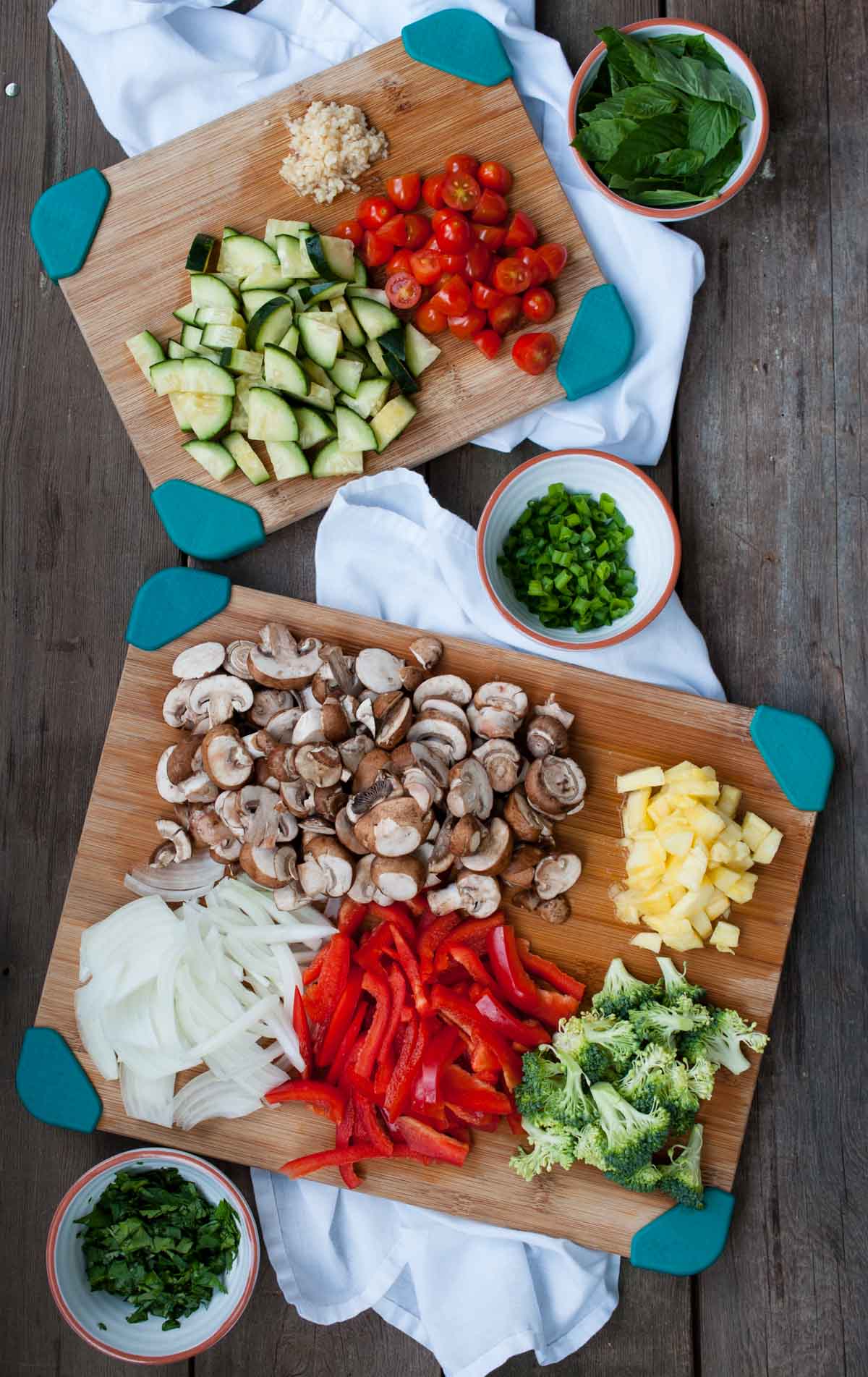 Lately, I've been getting back into a cooking routine though and I've gotta say, its feeling pretty good. This small change is making a huge impact in every area of my life. When I see what goes into the dish, I make it way healthier. Then I have nutritious leftovers for the next day and don't have to eat out. This gives me more time in my work day so that I get more work done and don't have to stay late to wrap up. Then, I get home at a reasonable time so that I can cook and start the cycle all over again.
Its been the same thing with working out and going to bed early. If I get sleep, then I'm more likely to work out the next morning. Simple as that. A little bit of forethought can have a huge positive impact. We all know this, but putting it into practice and knowing are two very separate beasts.
Granted, I don't work out every morning and still eat out for lunch sometimes, but that's besides the point. Or maybe that is the point?!?! My goal is to get back to a balance that works for me, not to be perfect.
This is the only way healthy eating really sticks. Enough with the fad diets and just use common sense.
Beyond the obvious benefits of eating better and working out, taking back control can feel like a breath of fresh air in itself.
Either way, healthy eating or not, I still crave flavor! There's no stopping that. This fried brown rice recipe luckily has it all – the taste of your local Thai joint and the nutrition you need to stay on your A game.
As you can see in the step by step pictures above, this fried brown rice recipe is a one dish meal with a few easy steps. Make sure to chop everything up ahead of time because the cooking process goes fast. Soft, overcooked veggies are gross so make sure you're prepared.
The other trick is using day old, dry rice. If your rice was cooked with too much water, its not going to work for this recipe. Be wary of that when you prep the rice ahead of time. Its got to be dry, the way takeout rice normally is on the second day. What do you think those restaurants do with their old rice? Exactly.
You can make fried rice in a regular pan but a wok really works best. Mine is a ghetto one from Ikea which I would NOT recommend. Its cheap and has almost burned through the bottom and I haven't even used it very much. This wok is the one I'm lusting after. One day you will be mine fancy wok…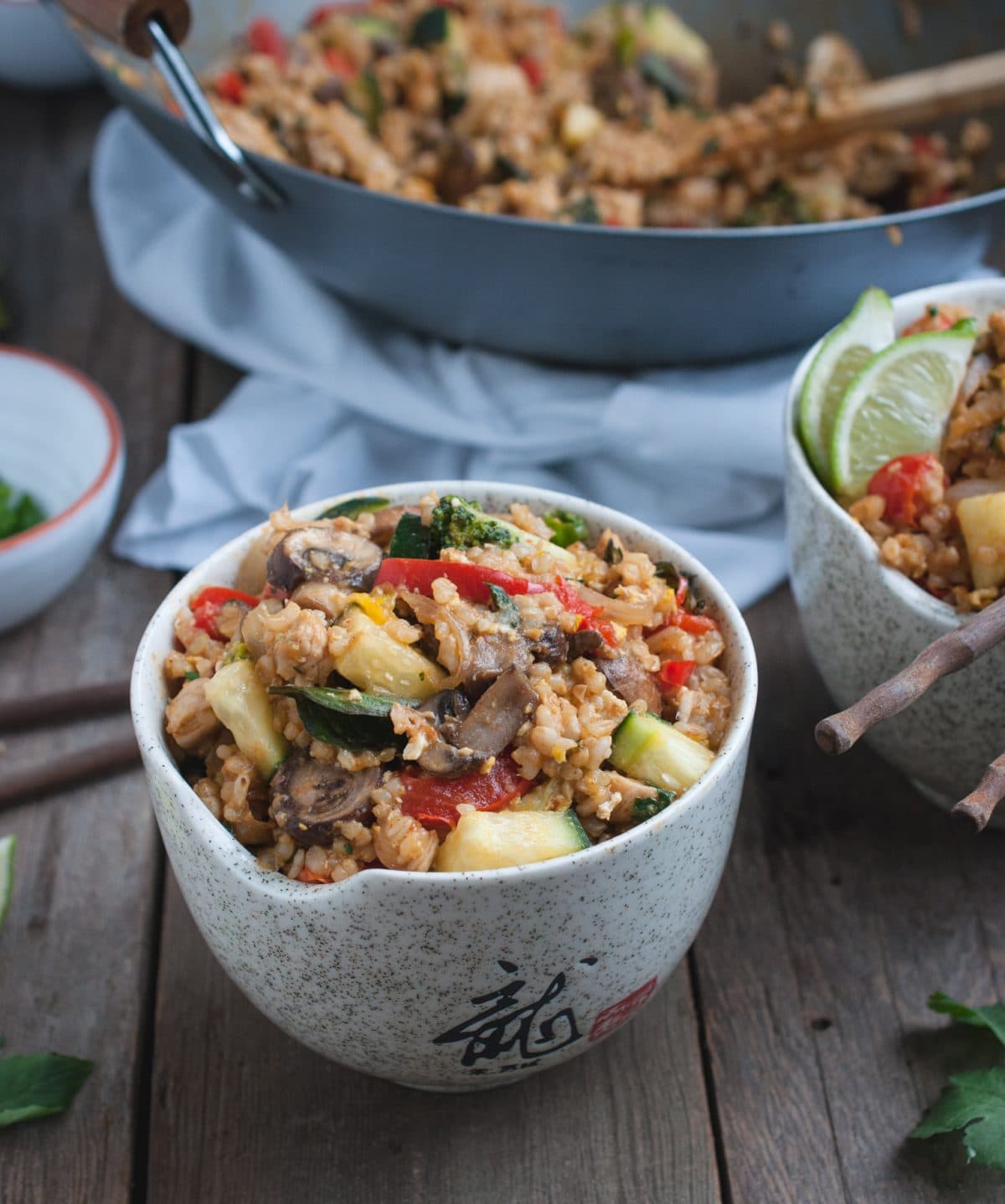 With the series of snow storms that's hit the Pacific NW recently, takeout wouldn't even be an option for me right now if I tried. I'll post a pic or two on Instagram later. I haven't seen this much snow hit this city since 2004!
Luckily, I had the forethought to pick up some groceries last night so we can make our own Thai fried brown rice, salad, and curry soup for an awesome Thai dinner at home. When the food's good, I don't mind being snowed in. Not one bit. Stay warm west coasters!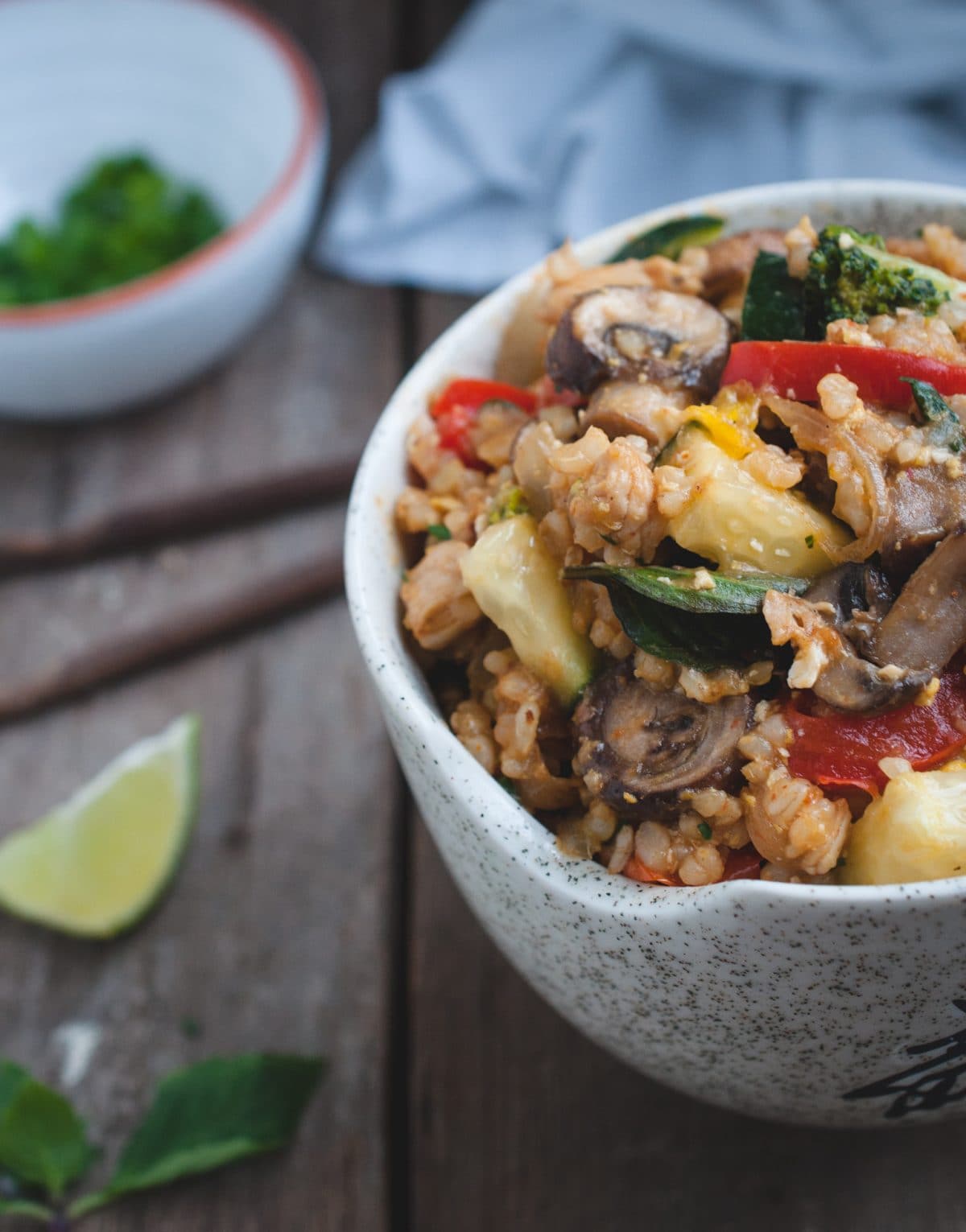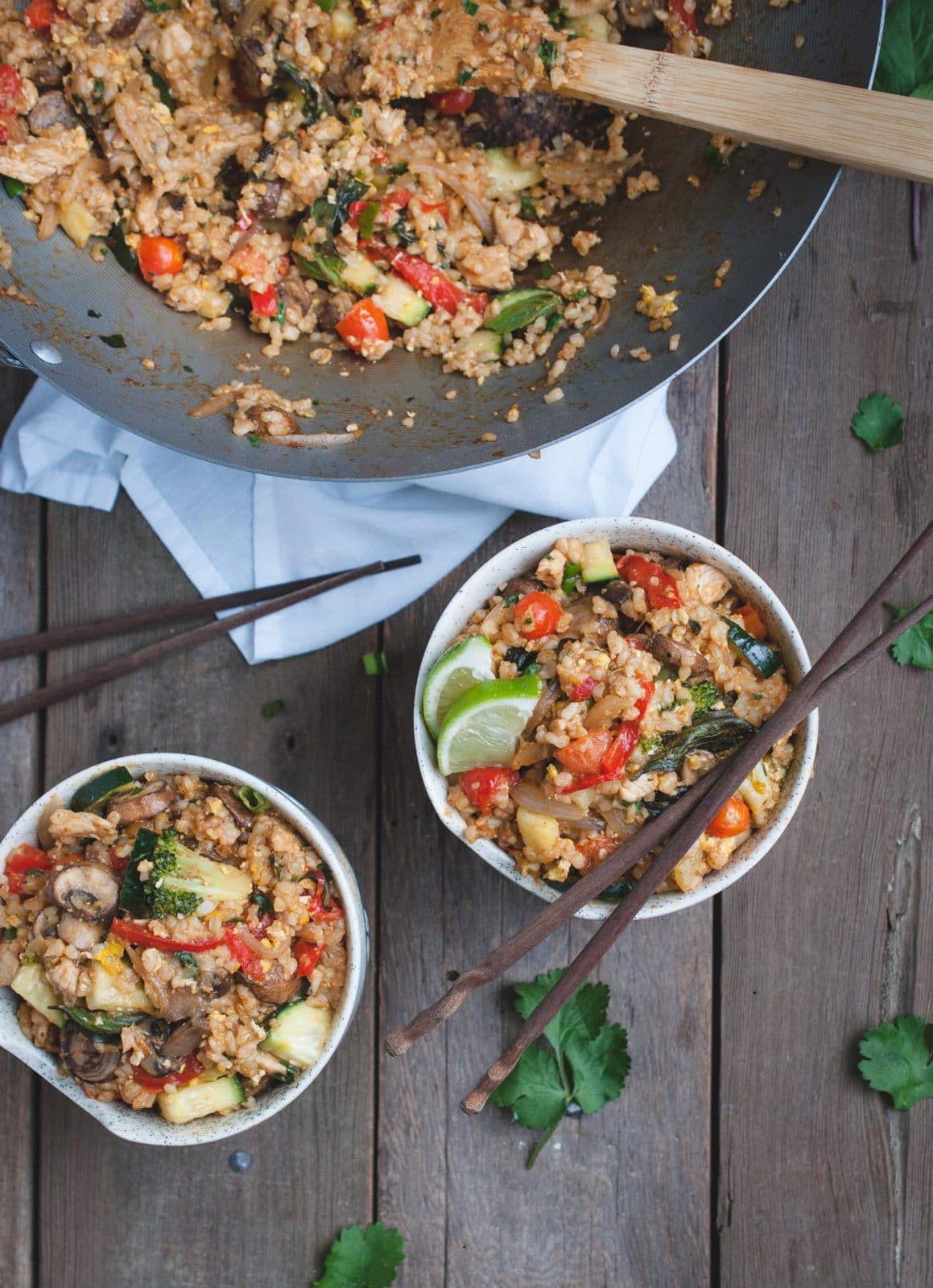 Thai fried brown rice that's loaded with veggies to lighten up without loosing any of the tasty flavor and spice that we all love and crave.
Ingredients
2 Tbsp. coconut or peanut oil
2 tsp. minced garlic
1 tsp. minced ginger
2 Tbsp. Thai red curry paste
1 chicken breast, sliced into thin, small ¼ inch pieces
1 red pepper, thinly sliced
1 small onion, thinly sliced
½ lb. mushrooms, sliced
2 cups broccoli florets
4 cups cooked long grain brown rice (use day- old, cold rice - it can't be mushy!)
2 Tbsp. fish sauce
2 Tbsp. oyster sauce
2 eggs
1/2 cup diced pineapple
1 cup cherry tomatoes
2 Tbsp. lime juice
1 cup loosely torn Thai basil leaves
¼ cup chopped cilantro
3 green onions sliced
1 cup cucumber cut into ¼ inch thick quartered pieces
Instructions
Break up any rice clumps so that rice is separated into individual rice pieces. Heat oil in a wok over high heat.

Add garlic, ginger, chili paste and chicken. Cook, stirring occasionally for 2-3 minutes to brown chicken. Add red pepper and onion and cook for about 2 minutes. Add mushrooms and broccoli and cook 2-3 minutes longer until chicken is fully cooked.

Add rice and stir for about about 1 minute. Add fish sauce and oyster sauce and mix in.

Push rice to the edges and crack both eggs into the center, scrambling and breaking into pieces as the egg cooks (1 minute).

Mix scrambled egg in with rice, add tomatoes and pineapple, and stir fry for 1-3 more minutes until rice starts to turn toasty and all ingredients are mixed well.


Remove from heat and stir in lime juice, basil, green onion, cilantro, and cucumber.
Nutrition
Calories: 312kcal | Carbohydrates: 42g | Protein: 16g | Fat: 9g | Saturated Fat: 5g | Cholesterol: 78mg | Sodium: 250mg | Potassium: 634mg | Fiber: 5g | Sugar: 6g | Vitamin A: 2130IU | Vitamin C: 72.4mg | Calcium: 70mg | Iron: 2.1mg