Delicious quinoa turkey cabbage rolls are filling, light, and healthy with 18 grams of protein in each 214 calorie sauce covered roll.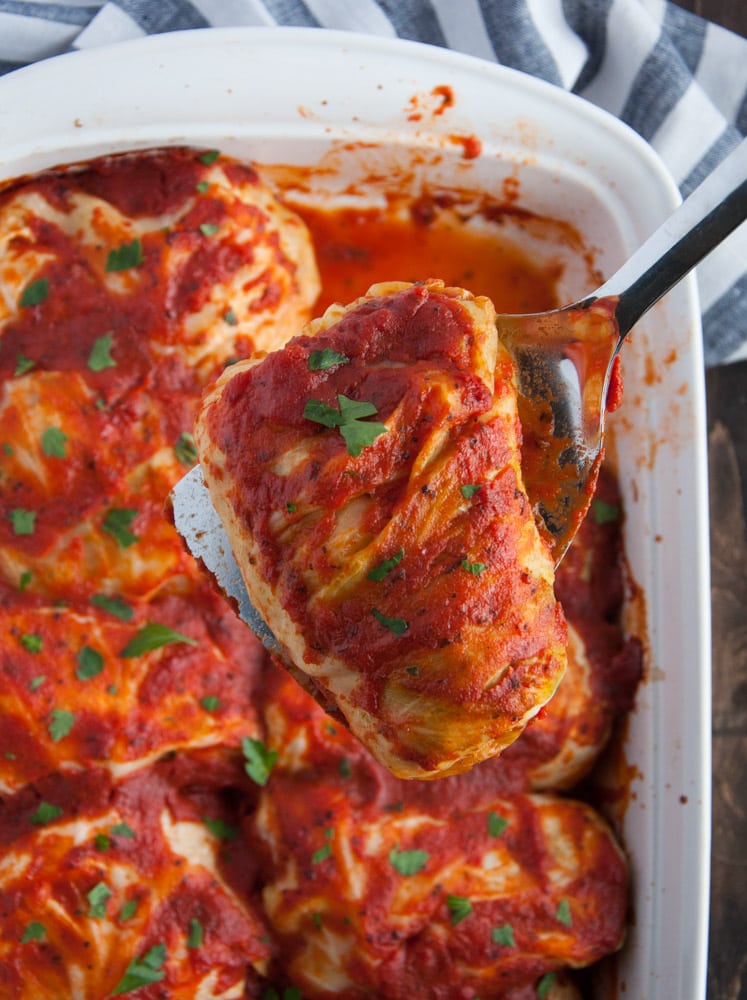 After countless tries at making this dish, I've finally got a fabulous recipe for cabbage rolls that I can't wait to share with you all!
There's something about the sauce, the cabbage, the filling, and that dollop of sour cream that warms you up like traditional comfort food, when really, its a deceptively light and healthy dish. Just writing two sentences about them was enough to make me saunter over to the fridge and check for leftovers, but unfortunately they must've all gotten gobbled up. * sad sigh*
Luckily, this is a recipe that will make it onto our dinner tables on a regular basis so I'm sure it won't be long until these tasty cabbage rolls are back in my life. For weekday meals, I normally shoot for some kind of one dish casserole like my easy enchiladas or black bean quinoa casserole. Although all of these are tasty as can be, this recipe has a unique flavor profile that I find myself craving.
All deliciousness aside, I'm not going to lie to you – these cabbage rolls do take a little extra effort than your standard casserole, BUT I promise that your work will be rewarded! Once you get the routine down, they're really no sweat at all and you'll find yourself, like me, craving this Eastern European classic more often than not.
Although there are a few steps to this recipe, there are also a few short cuts built in too. For one, I normally just use my favorite jarred marinara sauce to cut down on the prep time. Don't get me wrong, homemade marinara sauce usually can't be beat, but sometimes, you've gotta cut a few corners to make a recipe manageable for a weeknight dinner.
And to think, it all starts with cabbage, an often overlooked character in the veggie world. I admit, cabbage isn't always my go-to favorite, but in this case, its merely a vessel for the savory, hearty filling and sauce ensemble, which are the real shining stars of this recipe.
Regardless of which part is best, the seamless cohesion of ingredients come together in neat single-serve bundles that are low in calories and high on flavor. The cabbage rolls themselves are dairy free, but I absolutely love serving with sour cream. I love it so much that I added sour cream to the ingredient list. Trust me, you'll love it too!
If you're dairy free, maybe find a dairy free sour cream option? Topping the piping hot cabbage rolls with cool, creamy sour cream is part of what makes this dish so delightful. Don't skip this step. You can use plain yogurt if you want to be ultra healthy, but the dairy really makes this top notch.
The gluten free-ers can rejoice though, because using quinoa makes the recipe completely gluten free. I personally could not care less about a touch of gluten, but I know a lot of you don't have that luxury so I thought I'd point out that this recipe is safe to add to your meal repertoire.
This recipe is totally flexible too. Easy enough for a weeknight meal, but impressive enough for company. No matter how and who you serve them to, these cabbage rolls are a fun change of pace from the standard casserole. There's no arguing that fact.
If you're intimidated by the rolling part of this endeavor, don't be. Its easy as 1, 2, 3. Well, 1, 2, 3, 4 to be exact. After boiling the cabbage and removing the leaves, you plop some filling down into the inner part of the roll, fold it over, tuck in the ends, and fold the top down.
It goes really fast and is much easier than rolling tortillas in my opinion. The cabbage holds together well and is pretty easy to work with.
Don't mind how gross the stuffing looks there or how weird my hand looks. Its totally delicious and holding a camera and a cabbage roll at the same time is more challenging than it sounds.
PS – If anyone has a burning desire to buy me a tripod, I'd merrily accept it.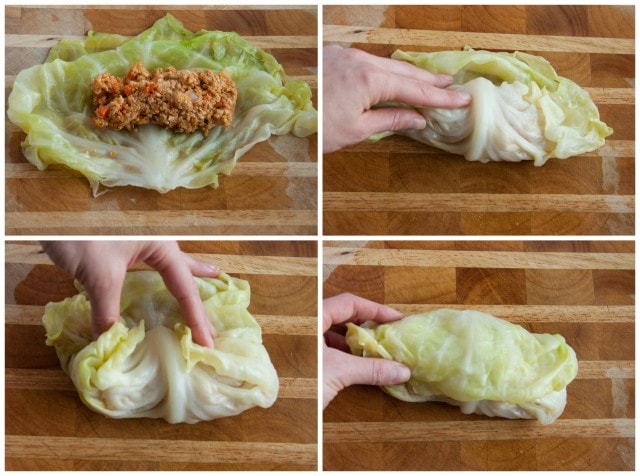 After slopping some sauce into the bottom of a casserole dish, put each cabbage roll in, folded side down and repeat. When the dish is full, cover with sauce and pop it in the oven. Yup, its as easy as that.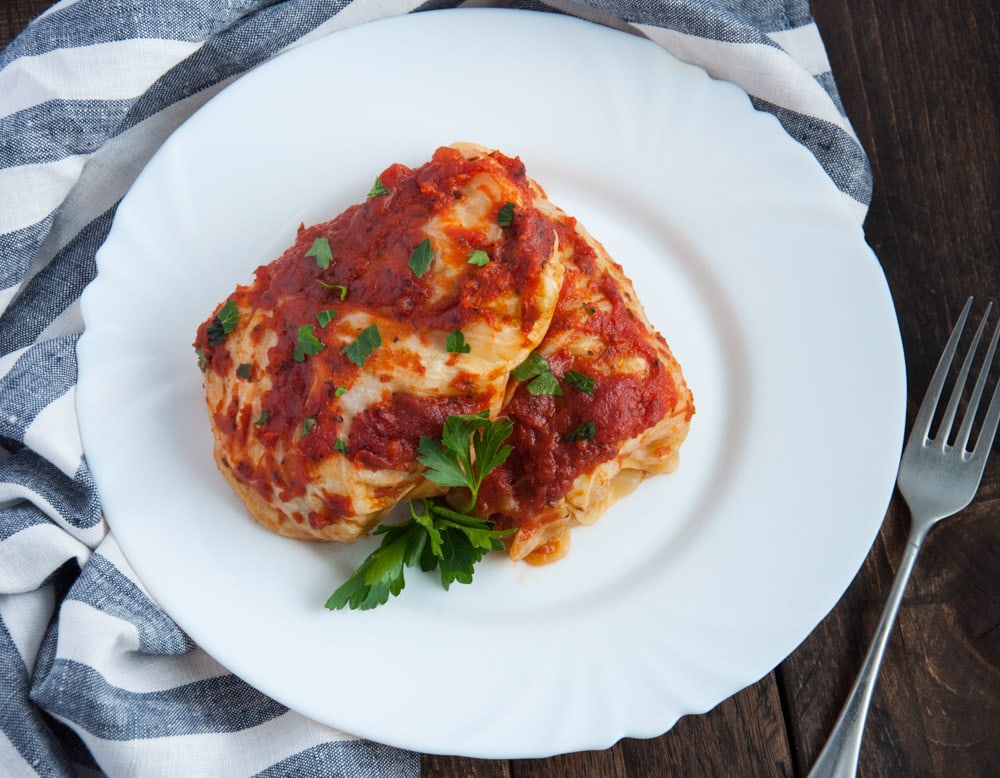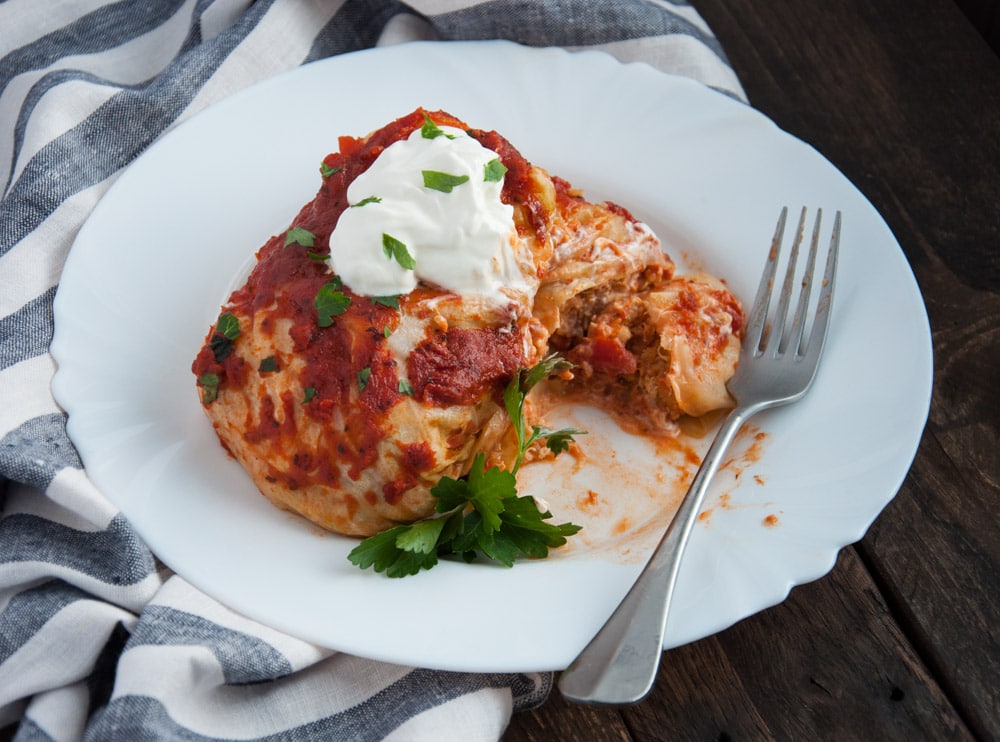 Yeesh, now I'm starving. Will someone feed me please? 😉
rolls (normally 2 rolls per person so 5 servings)
Delicious quinoa turkey cabbage rolls are filling, light, and healthy with 18 grams of protein in each 214 calorie sauce covered roll.
Ingredients
1 medium onion (chopped)
2 tsp. minced garlic
20 oz. lean ground turkey
1 large head of cabbage
2 large carrots (chopped)
1 Tbsp. oil (I use olive or coconut)
1 1/2 tsp. salt (adjust to your preference)
1/4 tsp. pepper
1 cup quinoa
2 cups chicken broth
1.5 tsp. paprika
2 tsp. worcestershire
1 egg
12 oz. marinara sauce
1/2 cup sour cream (optional)
Instructions
Preheat oven to 375 degrees F.

Rinse quinoa and add with broth to a sauce pan with a tight fitting lid. Bring to a boil, reduce heat to low, cover and simmer for 15 minutes. Turn off heat and let sit for 3-4 minutes before removing lid. Do not let quinoa sit longer while covered or it will get mushy.

Heat a large pot of salted water separately over high heat to bring to a boil. Add whole head of cabbage, cover and reduce heat to low. Boil cabbage for 10 minutes and then remove from pot using oven mitts or two large spatulas. Set aside to cool.

While quinoa and cabbage are cooking, heat oil over medium-high heat. Add onion and carrot and sauté for 3-4 minutes to soften. Add garlic and sauté a minute longer before adding turkey. Cook turkey for 6-7 minutes until fully cooked. While cooking, use a spatula to break the turkey up into small pieces. You do NOT want large pieces of turkey, only small crumbles.

While turkey cooks, add worcestershire, salt, pepper, paprika, and 1/2 cup of the marinara sauce. Add cooked quinoa to turkey mixture and stir to combine. Taste and adjust seasoning levels if desired. Add egg and stir to mix in.

Spoon about 1/2 cup of the marinara sauce into a 9 X 13" casserole dish and spread out to thinly cover the bottom of the baking dish.

Peel leaves from cabbage carefully to keep intact. Scoop 1/2 - 3/4 cup turkey filling into the center of a cabbage leaf. Fold the bottom half over the filling and then tuck the sides in. Fold the upper half over and lay seam side down in the prepared casserole dish. Repeat with remaining cabbage leaves until dish is full and filling is gone (typically 10 rolls).

Spread remaining marinara sauce on top of cabbage rolls and bake for approximately 30 minutes. Serve hot with sour cream or plain yogurt.
Notes
Nutrition facts are per roll, not per serving (usually 2 rolls). 
Nutrition
Calories: 214kcal | Carbohydrates: 21g | Protein: 18g | Fat: 6g | Saturated Fat: 2g | Cholesterol: 53mg | Sodium: 717mg | Potassium: 673mg | Fiber: 4g | Sugar: 5g | Vitamin A: 2750IU | Vitamin C: 41mg | Calcium: 79mg | Iron: 2.4mg