This chocolate hummus is loaded with protein, low carb, sugar free and the perfect snack or healthy dessert paired with fresh berries!
Disclaimer: This post is sponsored by Isopure. Their low carb protein powder is sugar free but still tastes nice and sweet, which you rarely find in a protein powder. I never recommend brands I don't personally use and opinions shared are all my own.
Whether you're dieting, tracking macros, trying to eat less sugar, or just trying to be healthier in general, chocolate can be a hard thing to give up, even for little awhile. Next time the craving strikes, I've got a healthy solution for you!
Have you tried chocolate hummus? If you just shuddered a bit, don't worry, I did too the first time I heard of adding beans to chocolate, BUT, please trust me that the chocolatey goodness completely overwhelms the flavor of the chickpeas. You'll be left with a tasty, creamy dip that is incredibly healthy and will leave you feeling full and satisfied.
Why make this chocolate hummus
This chocolate hummus is different than a lot of other recipes you'll find out there in more ways than one. This chocolate hummus is:
absolutely delicious paired with fresh juicy berries.
loaded with protein at 7 grams of protein, only 6g of carbs, and 61 calories in each filling 1/4 cup serving.
is free from added sugar. Also, the natural stevia sweetener in the protein powder is so mild tasting, it doesn't have that weird aftertaste that some stevia sweetened products do.
low carb and Keto compliant (beans typically aren't advisable for Keto, but in small amounts with additional protein, they aren't out of the question)
low fat, which isn't something I typically look for, but if you're counting macros or watching fats, this fits the bill. You can always add fat by adding in some peanut butter if that better suits you.
entirely flexible and you can add extra sweetener or other flavors if you want to.
versatile and you can use as a dip, spread, or even a protein boost added to a smoothie or oatmeal.
liked by kids! My toddler dips berries and pretzels into this chocolate hummus saying "yum" which is a win for both me and her.
Is it the same as a chocolate fondue? Of course it isn't but when you pair with juicy fruits or some other dippable snacks, it really fills that chocolatey need without all the sugar, carbs and other junk.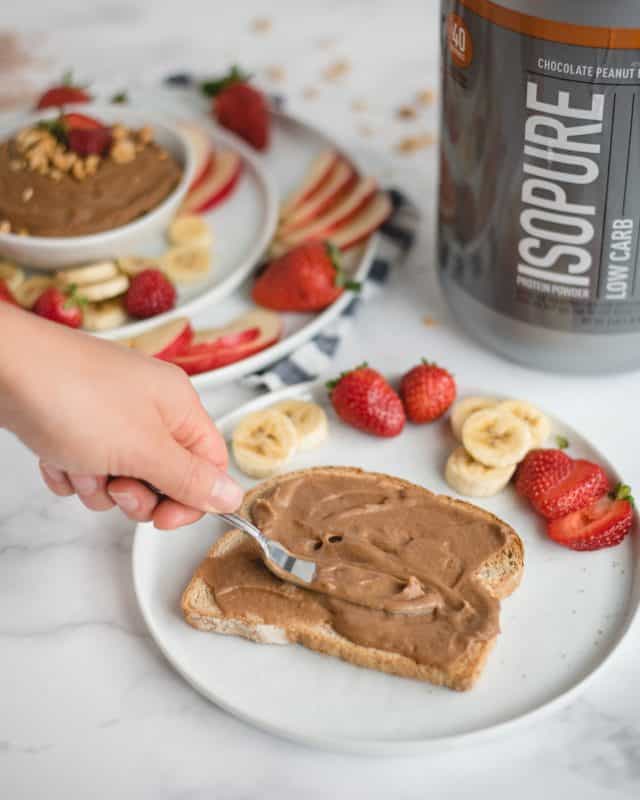 Ingredients
The ingredients in this chocolate hummus recipe are pretty simple. Here's all you need to make it:
garbanzo beans – garbanzo beans have a mild taste that you can easily mask with more powerful flavors
liquid from the can of beans – adding this instead of plain water helps make the dip more creamy
Isopure Chocolate Peanut Butter Protein Powder – this is where the chocolate peanut butter flavor comes from and a lot of the protein
vanilla extract – adds subtle but excellent flavor
milk of any kind – I've tried it with almond milk, oat milk and regular dairy whole milk
sea salt
stevia – entirely optional and I don't usually add Stevia, especially if I'm dipping strawberries or something else sweet into it, but if you're accustomed to sweeter things and are used to the taste of stevia, you'll probably like this addition
crushed peanuts – even though they are entirely optional, I love the crunch and texture that they add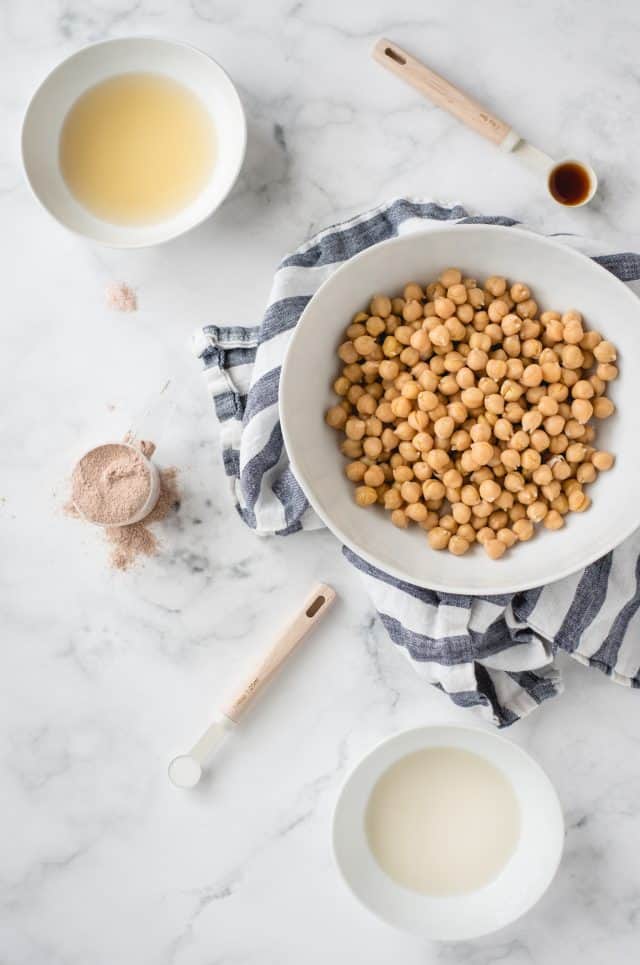 How to make chocolate spread
This chocolate dip couldn't be easier to make. Put the ingredients in a blender, blend until smooth and creamy, and then serve. It keeps well in the refrigerator for several days so you can pull it out and snack on it whenever the mood strikes.
Here is step 1:
And here is step 2: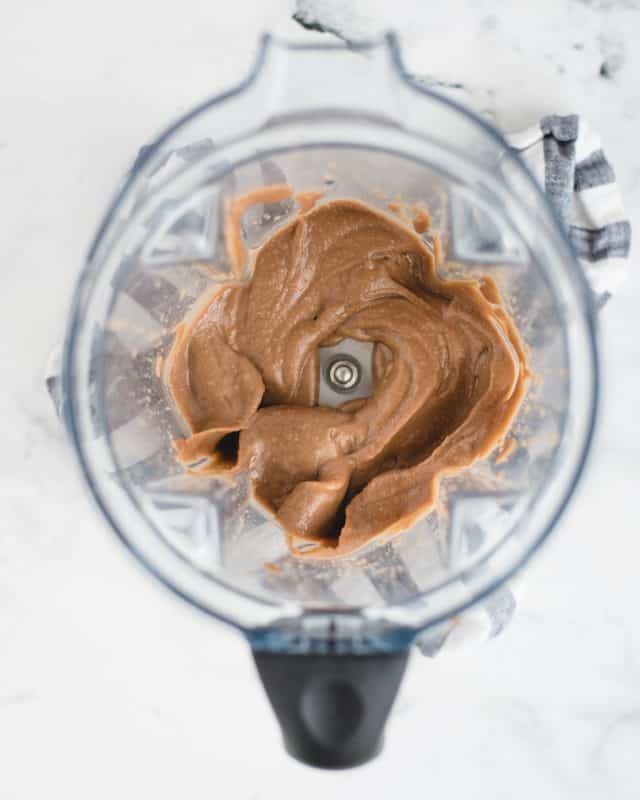 What to eat with it
Eat it as a dip for:
strawberries
raspberries
apple slices
pear slices
banana slices
grapes
orange or tangerine slices
nuts (almonds, pecans, cashews, etc.)
pretzels
graham crackers
dried apricots or other fruit
You can also use it as a spread for toast, swirled into oatmeal, added to a smoothie, or any other way you can think of.
Substitutions and Variations
This recipe was designed to be low carb, low fat, and sugar free but if you have some flexibility on one or all of those contingencies in your diet, I have some great ideas for switching it up.
Substitutions:
If you want to sub in with a plain chocolate protein powder, that works too.
If the chocolate hummus isn't sweet enough for you and you don't like the taste of stevia or just don't have any, you can try monkfruit, maple syrup, honey, agave nectar, coconut sugar, or just plain sugar to sweeten it up a little more.
You can add a few tablespoons of peanut butter to intensify that flavor. You may need to add extra milk to keep the consistency smooth and creamy.
There are probably plenty of other variations that can be done and if you try any, please report back and let the rest of us know about them!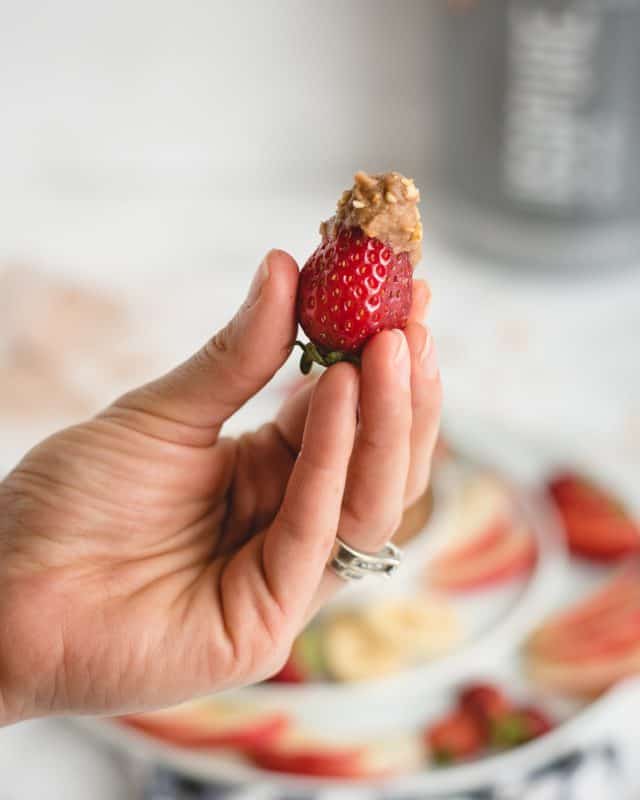 Other high protein snacks
If you're in search of other high protein snacks, check out these recipes: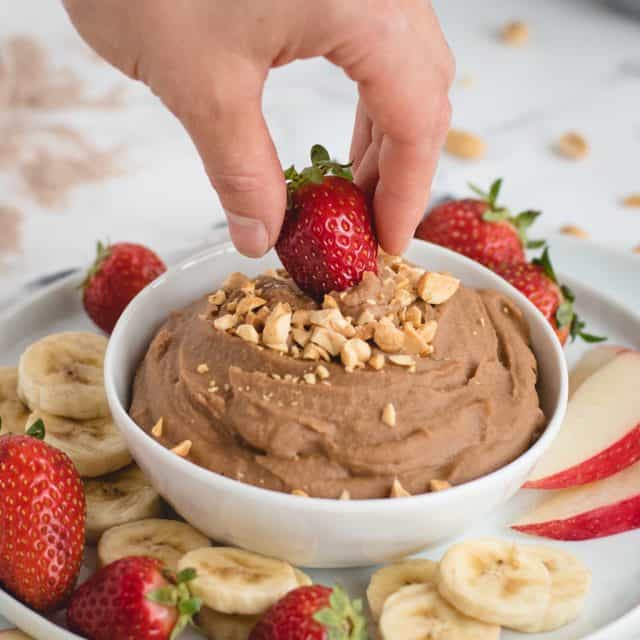 This chocolate hummus is loaded with protein, low carb, sugar free and the perfect snack or healthy dessert paired with fresh berries!
Ingredients
15 ounce can garbanzo beans drained, reserving 2 Tbsp. of the water from the can
2 Tbsp. reserved liquid from bean can
1 tsp. pure vanilla extract
2 Tbsp. unsweetened almond milk or milk of choice
Pinch sea salt
1/8 tsp. stevia powder optional*
crushed peanuts as garnish optional
Instructions
Place all ingredients in a blender or food processor and pulse until smooth and creamy.

Scrape chocolate spread from pan and serve as a dip or spread. Wash blender right away or it will be difficult to clean.

Keep leftovers in a sealed container in the refrigerator for up to 4 days. Use as a dip for fruit such as strawberries, sliced banana, or apples, or as a spread.
Notes
If you aren't following a sugar free diet or don't like stevia, you can sub in 1-2 Tbsp. pure maple syrup, honey or agave nectar to taste.
For a stronger peanut butter flavor, add 2-3 Tbsp. of peanut butter to the blender along with other ingredients. Add extra milk if needed to thin it out.
Nutrition
Serving: 0.25cup | Calories: 61kcal | Carbohydrates: 6g | Protein: 7g | Fat: 1g | Saturated Fat: 1g | Cholesterol: 2mg | Sodium: 168mg | Potassium: 147mg | Fiber: 2g | Vitamin A: 6IU | Vitamin C: 3mg | Calcium: 86mg | Iron: 1mg