Lemon tahini dressing that is so creamy, tangy and full of rich lemon garlic flavor yet entirely plant based – perfect for salads or dipping!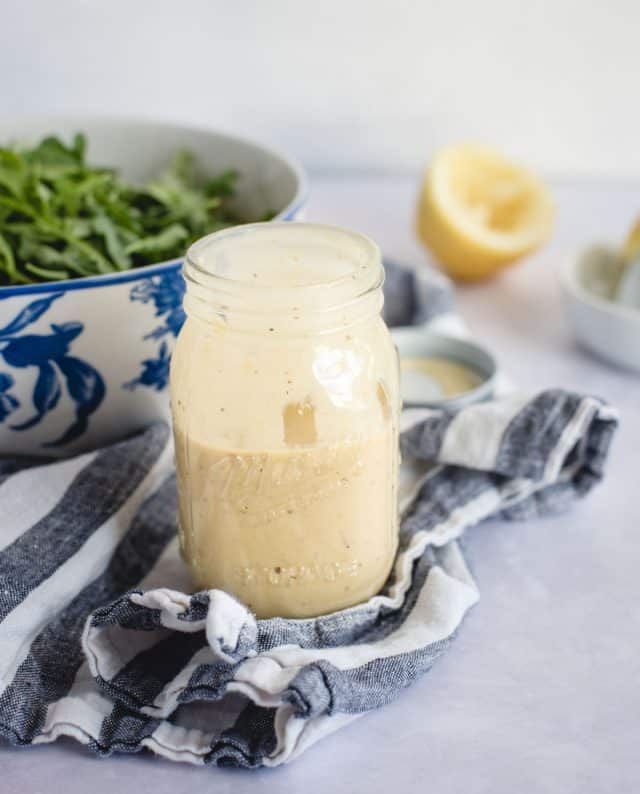 You're either already a lemon tahini dressing lover or soon to be one. There's no other option with this recipe! Its so zippy, yet a bit creamy, and so satisfying drizzled over your favorite salad.
Lemon is such a refreshing, energizing flavor that is so versatile it can pair with pretty much anything. The tahini gives a nice underlying creaminess and slightly nutty flavor and the rest of the ingredients add extra flavor to round everything out.
What makes this lemon tahini dressing recipe so good
This is the dressing you'll be wanting to keep in your fridge 24/7. I alternate between this and my lemon vinaigrette but have one on hand pretty much all the time. Ha, did I mention I like lemon? The weird thing is, I don't always, but on a salad, I could drink lemon dressing, but only if the flavors are well balanced and this recipe does that well.
Here are some of the things that make this the best lemon tahini dressing recipe:
entirely vegan (using agave or maple syrup instead of honey)
if you're doing Keto, whole 30, or another restrictive diet, you can even skip the honey altogether
incredibly versatile and can be used as a dressing, dip, marinade, etc.
it pairs well with everything (fish, chicken, meat, veggie entrées, you name it)
can be made in less than 10 minutes (takes me about 5)
it doesn't dirty the blender and only uses one container to make since you shake it to emulsify
the lemon is tart so a little goes a long way
it is absolutely teaming with antioxidants, healthy fats, and is a great healthy salad dressing
Ingredients
This recipe has simple ingredients but they come together wonderfully. You'll need:
How to make it
There are only two steps to this quick 10 minutes salad dressing recipe. Step 1- add ingredients to a jar. Step 2 – shake the jar. It's that easy!
Tips for making this dressing perfectly
It's honestly pretty hard to make this recipe wrong. There are a few things to watch out for:
if your tahini has separated, make sure to get some of the tahini paste and oil both
use fresh lemon juice (non-negotiable here!)
make sure to shake until honey and tahini both disintegrate since they're thickest
some tahini is very thick and doesn't dissolve easily so you may need to use a fork to smash up any tahini chunks against the edge of the jar before shaking more to fully emulsify
red onion can be substituted for shallot but you may want to use less and let the dressing sit for 20-30 minutes to take some of the bite out
in a pinch you can replace the shallot with 1/2 tsp. onion powder and the garlic with 1/4 tsp. garlic powder (won't be quite as fresh, but still good)
use a good Dijon or stone ground mustard
make sure the container you're using seals tightly and if you plan to store it for more than a day, glass is best since the lemon is so acidic (I use pint mason jars)
What to serve with this dressing
This lemon tahini salad dressing's use extends beyond the salad. Here are some ideas of ways you can use it:
over a salad
as a gyro sauce
a dip for chicken strips, roasted cauliflower, carrot fries, sweet potatoes, regular fries, falafel, etc. (bonus points for making them in the air fryer!)
drizzled lightly over air frier asparagus or oven roasted asparagus instead of topping with lemon and parmesan
as a sauce for a buddha bowl or other vegetarian grain/veggie/protein bowl
as a marinade for chicken or fish
lightly drizzled or brushed onto cooked salmon or white fish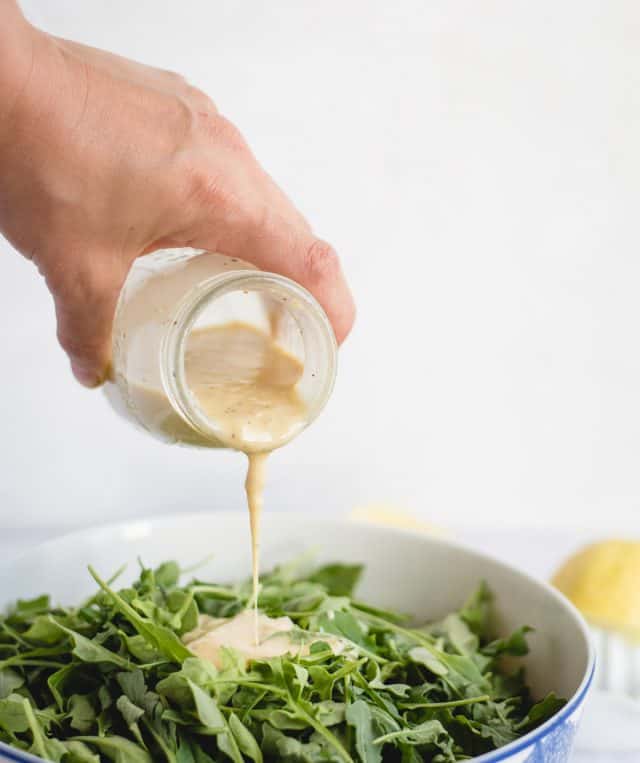 What to pair with lemon tahini dressing
When serving as a salad dressing, this dressing pairs beautifully with:
Lemon tahini dressing that is so creamy, tangy and full of rich lemon garlic flavor yet entirely plant based – perfect for salads or dipping!
Instructions
Place all ingredients in a small jar with a tightly sealing lid. When scooping tahini, if the sesame paste is separated from the oil, make sure to get some of both (easiest to do at room temperature).

Seal the lid and shake to emulsify.

Pour over your favorite salad, toss and enjoy.
Notes
Storage
Dressing will keep in a sealed container in the refrigerator for up to a week. Oil will solidify in the refrigerator so allow it to come to room temperature on the counter before using. Once the oil in the dressing has become liquid again, shake to re-emulsify right before use.
Tips
if your tahini has separated, make sure to get some of the tahini paste and oil both
use fresh lemon juice
make sure to shake until honey and tahini both disintegrate since they're thickest
some tahini is very thick and doesn't dissolve easily so you may need to use a fork to smash up any tahini chunks against the edge of the jar before shaking more to fully emulsify
red onion can be substituted for shallot but you may want to use less and let the dressing sit for 20-30 minutes to take some of the bite out
in a pinch you can replace the shallot with 1/2 tsp. onion powder and the garlic with 1/4 tsp. garlic powder (won't be quite as fresh tasting, but still good)
use a good Dijon or stone ground mustard
make sure the container you're using seals tightly and if you plan to store it for more than a day, glass is best since the lemon is so acidic (I use pint mason jars)
Nutrition
Calories: 111kcal | Carbohydrates: 3g | Protein: 1g | Fat: 11g | Saturated Fat: 2g | Sodium: 142mg | Potassium: 31mg | Fiber: 1g | Sugar: 1g | Vitamin C: 3mg | Calcium: 5mg | Iron: 1mg