Craving sweets for breakfast? Kick your morning off right these protein overnight oats that have 14 grams of protein, 10 grams of fiber, and only 6 grams of sugar. Or, you if you're super hungry, can eat two servings for 28 grams of protein total!
Adding protein powder will keep you full and the recipe is easily customizable. Plus it is a make ahead breakfast so you do the work the night before and can just grab and go!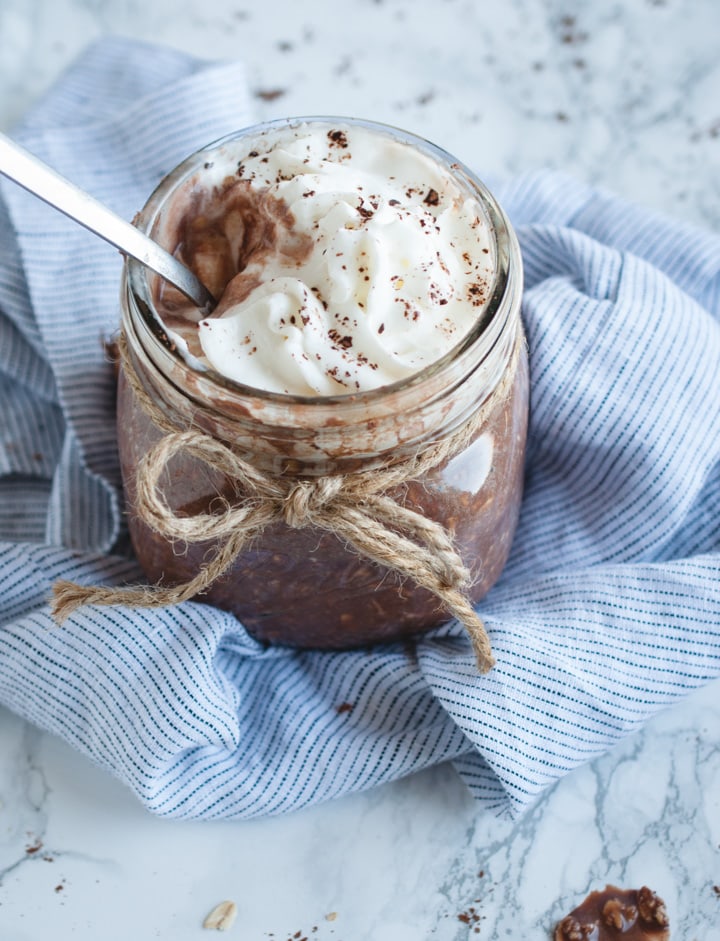 Nothing beats waking up to a healthy breakfast. Especially when that breakfast has chocolate in it! Yessir, these overnight oats are loaded to the brim with chocolatey goodness, without the sugar overload that normally comes with it.
Overnight oats are one of my quick weekday breakfast staples since they're satisfying and healthy. What's faster than making breakfast the night before with zero prep required in the morning? Nada. Make ahead recipes rule.
Yes, healthy breakfasts like a veggie quiche have their time and place, but not when you're in a hurry.
Don't let a lack of time in the morning ruin your clean eating streak though! A little planning ahead can keep you on track.
If you haven't had overnight oats yet, these chocolate protein overnight oats are a great entry recipe. With over 14 grams of protein, this recipe is made for active folks that need to kick their day off with some gusto.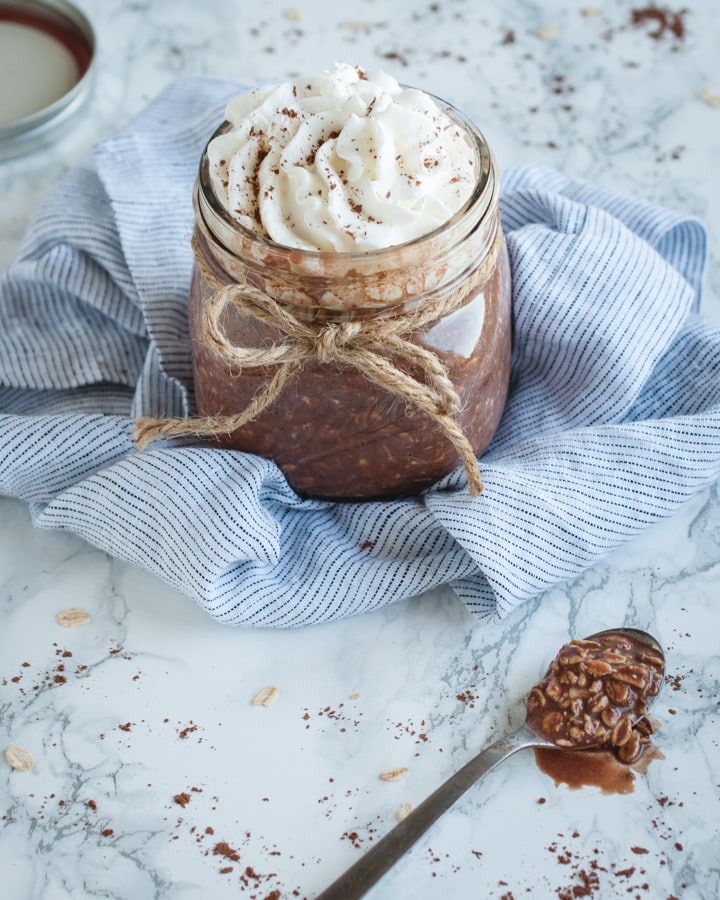 Why Eat Overnight Oats
The best part about eating overnight oats is that you make them the night before and the oats soften overnight in the fridge. No cooking necessary, just throw some ingredients together, stir and throw the jar in the fridge.
Oats are a great addition to a healthy diet and a healthier way to satisfy your cab craving than most other options out there. Oats have been proven to lower cholesterol and be good for heart health in general. Healthline has a great article on the benefits of oats if you need more convincing.
Here are a few other highlights of this recipe:
Prep only takes 5 minutes
Made the night before for grab and go breakfasts
Oats are incredibly healthy and filling
Only 6 grams of non-refined sugar
14 grams of protein
10 grams of fiber
Chocolate (need I say more?)
Protein overnight oats are a simple no brainer make ahead breakfast for me and will probably become a regular for you too after making them once.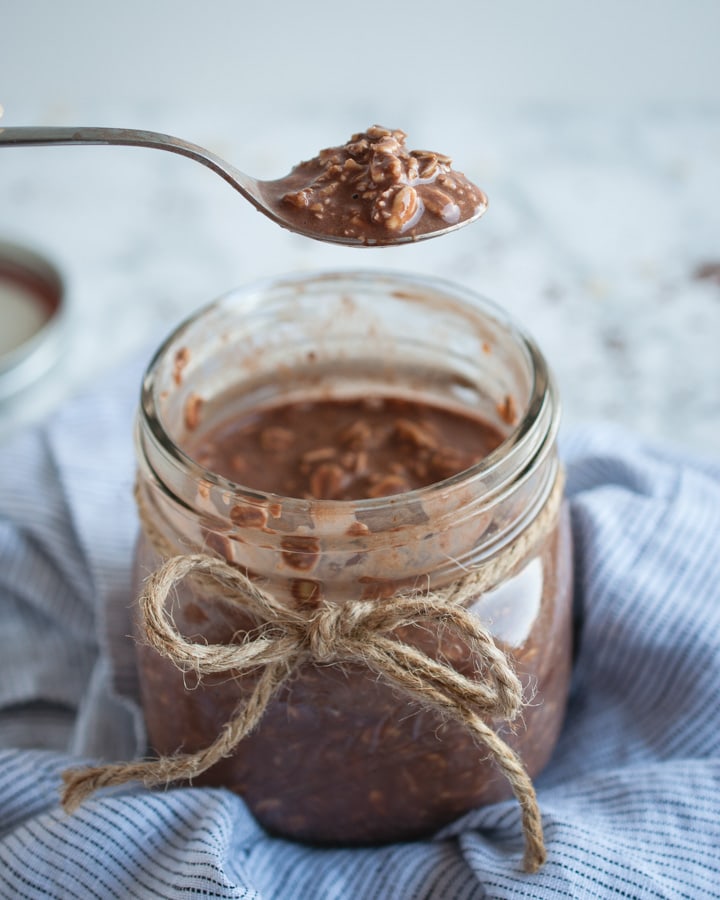 How to Make Chocolate Protein Overnight Oats
To make chocolate overnight oats, you truly only need a few ingredients, minutes and steps.
First, as with most recipes, assemble the ingredients:
oats – rolled oats (aka old fashioned oats) work best. Oats are naturally gluten free but are often produced in facilities that process gluten so look for "gluten free" on the packaging if you need this.
almond milk or whatever milk you prefer
cocoa powder – or you can
protein powder – I used to use whey but switched to dairy free pea protein powder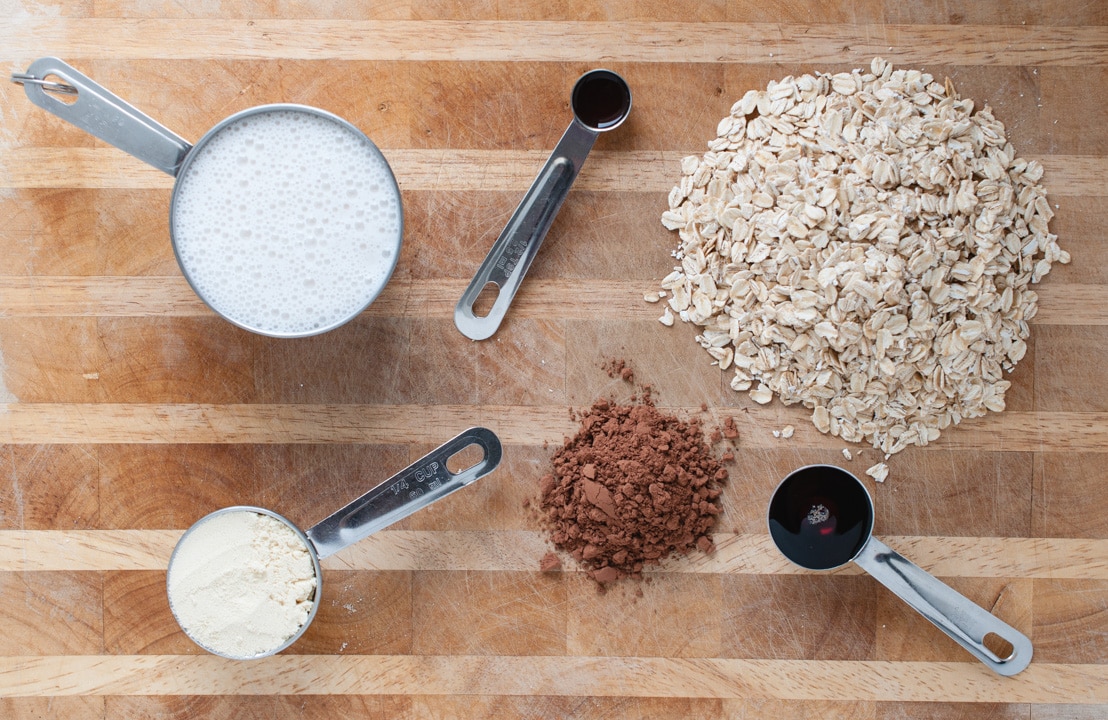 To make the overnight oats, stir all of this together in a small container. Place it in the refrigerator and let it chill for a few hours or, preferably, overnight and then eat.
Chocolate Overnight Oats Substitutions
There are so many overnight oat recipe options, I'm not going to go through them all here. See the section below on Other Overnight Oat Recipes for some ideas.
But, if you're trying to tweak this recipe based on what you have on hand and/or prefer, I've got some options for you:
Only have vanilla or chocolate protein powder? Perfect! That means you need one less ingredient. If using vanilla protein powder, leave out the vanilla.
If using chocolate, leave out the cocoa powder or use less cocoa powder. The amount will depend on how chocolatey your protein powder is and how you prefer it.
Want to make it even healthier? Add a sprinkle of chia seeds, flax, cinnamon, and/or hemp hearts to up the nutrition content and make this breakfast even healthier.
Can I half or double the recipe?
The recipe has two servings as written. You can always cut the ingredients in half and make a single serving instead, no problem. Just cut the amounts in half or drag the slider in the Servings area of the recipe and it will automatically scale it down to one serving. Or, if you're really hungry, you may be able to eat two servings at once.
While you can easily double the recipe, I don't recommend pre-mixing for more than two mornings at once. While it's of course possible, the oats get too soft and the texture just isn't great that second day.
You can mix all the dry ingredients together in multiple jars once though and then add the wet ones at night for the next morning. You can pre-mix the dry ingredients for a whole week's worth of overnight oats at once to reduce prep time.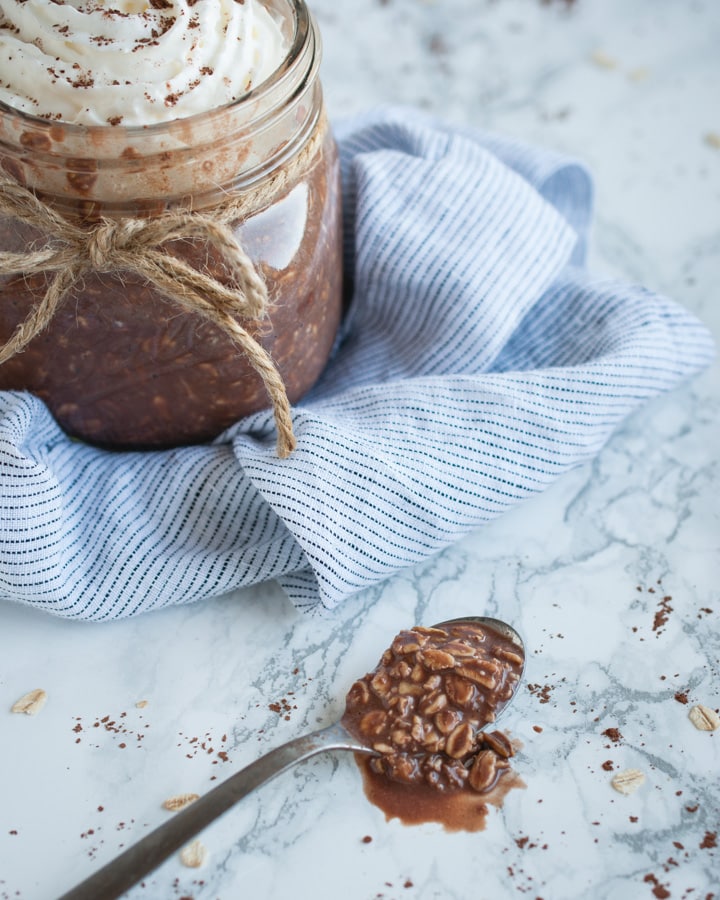 Using Protein Powder in Overnight Oats
Making overnight oats with protein powder converts an otherwise carb heavy, low protein breakfast into a power meal. That being said, there are lots of different kinds of protein powders, some much better than others.
Luckily, in this recipe, the strong chocolate flavor covers up the protein powder taste that is a major turn off in lots of other recipes.
To make the recipe vegan, use a plant based protein powder like pea protein. While I'm sure any protein powder will do, here are some of my favorite types of protein powder:
Vegan – Orgain Organic Plant Based Protein Powder is a great, readily available brand that you can buy in most stores, Amazon, or even Costco. This chocolate fudge Orgain flavor is one of my favorites. It is made from a blend of pea, brown rice and chia seed proteins. This blend helps a lot with the flavor, compared to just using pea protein.
Whey – Levels 100% Grass Fed Whey Protein is a high quality whey protein powder made from grass fed, pasture raised cows that aren't treated with hormones. It is also flavored with cold pressed cacao and lightly sweetened with monk fruit so this one is Keto and Paleo friendly.
Whey – Raw Organic Whey Protein Powder is made from grass fed cow milk with access to open pastures year round. It is processed at low temperatures which is great ideal since most whey protein powder isn't.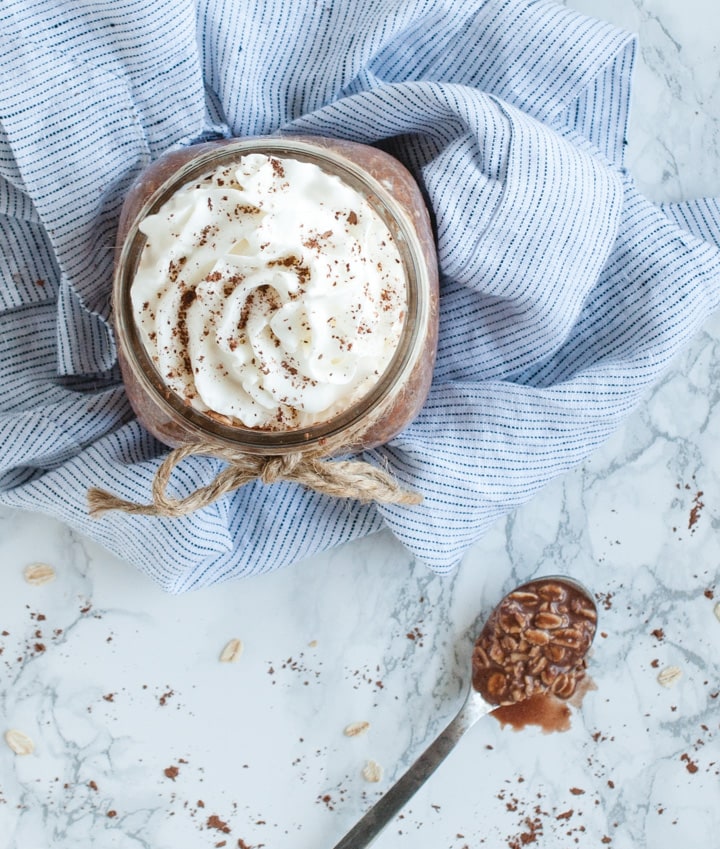 Can you use quick oats for overnight oats?
Technically you can but the oats will disintegrate and turn to mush since they're so thin and small. If you do use quick oats, just soak the oats for less time, only a few hours instead of overnight. Rolled old fashioned oats work best.
How long can overnight oats last?
They are best eaten within 8-24 hours but will keep for up to 2 days. They are still edible for 3-5 days but after day 2, the texture becomes less appetizing.
Do you eat overnight oats warm or cold?
Most people eat them cold. If you want them warm, you can microwave just watch carefully and do this in short bursts, stirring in between, since oats can easily overflow in the microwave.
Other Overnight Oat Recipes
If you're now in love with overnight oats and looking for other options, here's a consolidated list to try out: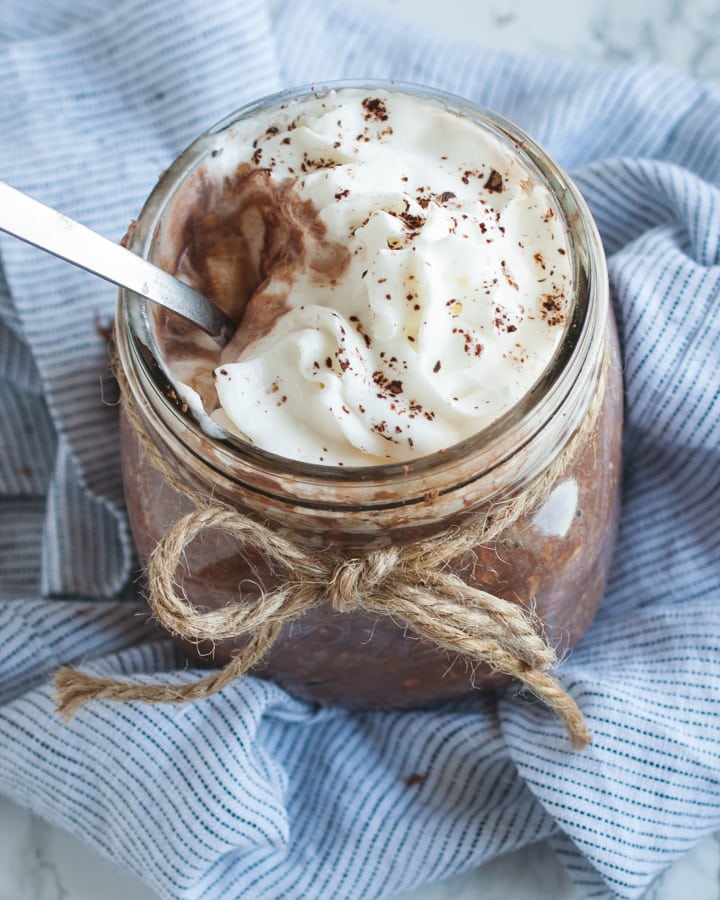 Other High Protein Make Ahead Breakfast Recipes
If oats aren't your thing or you're just looking for a change, here are some other high protein make ahead breakfast options:
These chocolate protein overnight oats are a quick make ahead healthy breakfast with protein powder and over 14 grams of protein per serving.
Instructions
Mix all ingredients together in a small jar or split between two jars to keep the two servings separate. Stir well to mix ingredients and dissolve chunks.

Place jar(s) in refrigerator overnight or for 2 hours at the very minimum (overnight is preferred).

Remove from refrigerator before eating and stir well.

Either eat directly from the jar(s) or place in a bowl. Eat within 24 hours of mixing for best results.
Notes
Flavored protein powder – If you use chocolate protein powder, skip the cocoa powder but add vanilla. If you use vanilla protein powder, skip the vanilla. Microwave – Can be eaten cold or microwaved to eat warm. Microwave time will vary based on power level of microwave but watch carefully and microwave in short bursts since oats can boil and over run the container easily.
Nutrition
Calories: 281kcal | Carbohydrates: 44g | Protein: 14g | Fat: 8g | Saturated Fat: 1g | Cholesterol: 2mg | Sodium: 211mg | Potassium: 518mg | Fiber: 10g | Sugar: 6g | Vitamin A: 325IU | Vitamin C: 3.9mg | Calcium: 263mg | Iron: 4.9mg
Recipe originally published on April 9, 2016 but post and recipe have since been updated multiple times.