The best lemon vinaigrette recipe with the perfect balance of acidity, heart healthy olive oil, a hint of sweetness and an absolutely addicting flavor!
Lemon vinaigrette is one of the most delicious, wonderfully tangy salad dressings out there! So good it even turns kale into a treat that you'll be begging for more of. Use this recipe to dress up any veggie you want!
Ingredients in lemon vinaigrette
The ingredients in this lemon vinaigrette recipe are quite simple but meld together in the most delicious way. To make any kind of salad dressing, you typically need an oil and acid base then get to layer on seasonings, herbs and other flavorful ingredients to create the concoction you're looking for.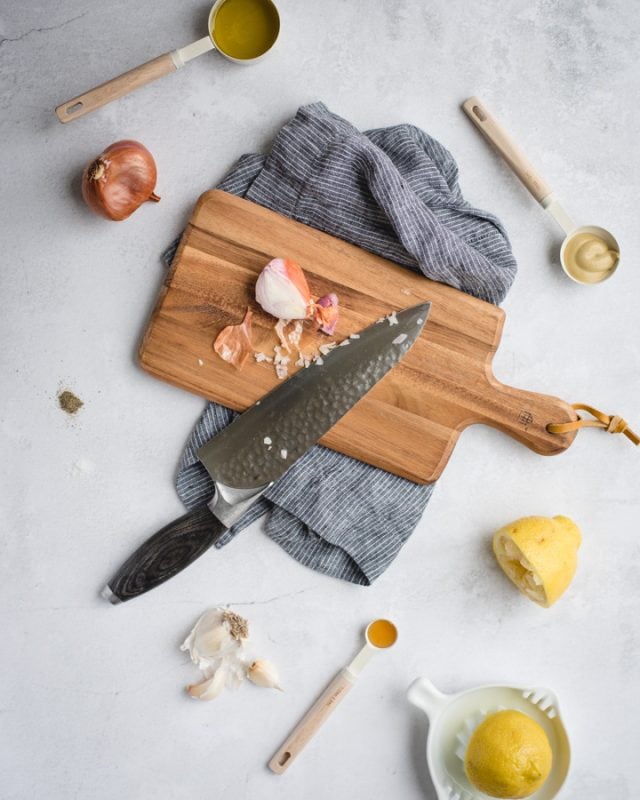 A vinaigrette typically uses vinegar but lemon replaces it in this recipe to add additional flavor. Here are the ingredients you'll need to make this salad dressing:
lemon
olive oil
shallot
garlic
mustard
honey (or agave syrup to make vegan)
salt
pepper
If you're trying to make this recipe Whole 30 or Keto compliant, you can leave the honey out, but it's truly much better with a bit of sweetness to balance the tartness of the lemon.
If you don't have shallot on hand, you can replace it with finely chopped red or yellow onion. Shallot has less bite than onion does so it's ideal for dressing but onion can stand in in a pinch.
I've replaced the shallot with 1/2 tsp. onion powder and the garlic with 1/4 tsp. garlic powder before as well. It doesn't have the same freshness and flavor as using the real stuff but was still pretty good. Just in case you're feeling super lazy, cause I know we all have those days.
How to make lemon vinaigrette
This dressing couldn't be easier to make. It just takes a few simple steps:
Mince the shallot and garlic.
Measure and add everything to a small, tightly sealing container.
Shake, and you're done.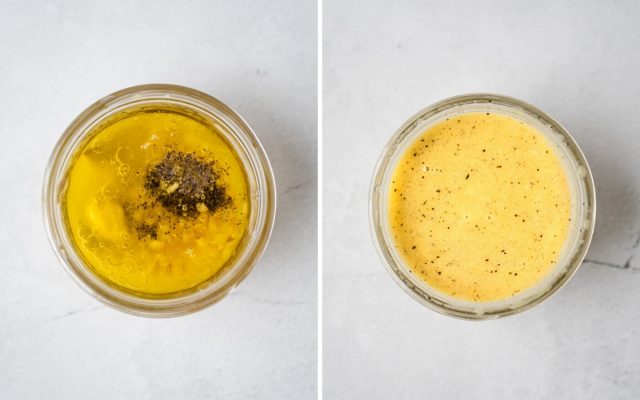 Yup, that's all it takes to make your own homemade lemon salad dressing, which is half of why this recipe is so dang great. It's better than any store bought dressing too so totally worth making instead of buying.
The dressing keeps in the refrigerator for up to a week and can be used on all kinds of salads and recipes. I double it if I know we're going to be eating a lot of salads in the near future.
Tips for making lemon vinaigrette perfectly
This recipe is simple to make and doesn't have many ingredients. To make it the best it possibly can be, there are a few things to keep in mind:
Fresh lemons have the best flavor in a recipe like this. Sure, that old lemon at the bottom of your produce drawer will still work but it won't make the dressing as phenomenal as it can be with a fresh lemon.
Make sure the container you're using seals tightly or you could end up with a mess. I only point this out after using some subpar tuperware and ending up with a spill in the fridge. Glass is also better to use than plastic, especially since the lemon is so acidic.
Use fresh garlic and shallot if at all possible. I listed some swap options earlier but it truly is best as the recipe is written.
Use a Dijon or stone ground mustard. Regular French's doesn't quite cut it here.
Ways to use lemon vinaigrette
Lemon vinaigrette is extremely versatile and can be used in more than just salad! Of course salad is what I used it on most but there are plenty of other uses as well. Here are some of my favorite ways to use this lemon vinaigrette recipe:
Lemon Vinaigrette
The best lemon vinaigrette recipe with the perfect balance of acidity, heart healthy olive oil, a hint of sweetness and an absolutely addicting flavor!
Instructions
Place all ingredients in a small jar with a tightly sealing lid.

Seal the lid and shake to emulsify. Pour over your favorite salad, toss and enjoy.
Notes
Dressing will keep in a sealed container in the refrigerator for up to a week. Oil will solidify in the refrigerator so allow it to come to room temperature on the counter before using. Once the oil in the dressing has become liquid again, shake to re-emulsify right before use.
Nutrition
Calories:
89
kcal
|
Carbohydrates:
2
g
|
Protein:
1
g
|
Fat:
9
g
|
Saturated Fat:
1
g
|
Sodium:
162
mg
|
Potassium:
19
mg
|
Fiber:
1
g
|
Sugar:
1
g
|
Vitamin C:
3
mg
|
Calcium:
2
mg
|
Iron:
1
mg
Did you make the recipe? I love seeing your creations!
To be featured tag @FeastingNotFasting on Instagram and use the hashtag #FeastingNotFasting - please leave a star rating below too! ★★★★★