This sweet potato lentil soup is one of our favorite comforting recipes! It's naturally vegan and seasoned with cumin, chili powder, lime, and cilantro.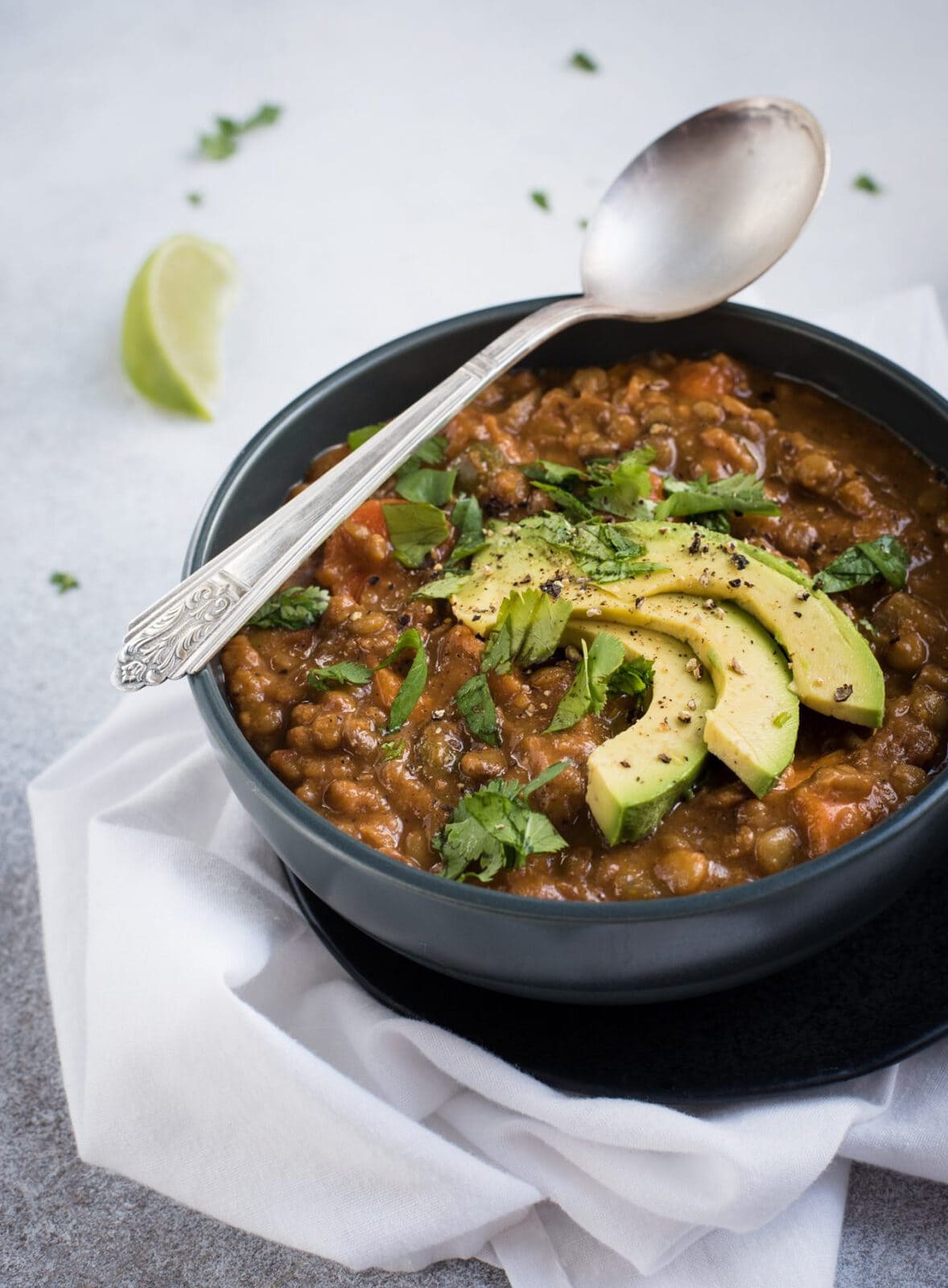 I know its summer but it's the coldest day we've had in months so I'm sharing this sweet potato lentil soup recipe. I've been sitting on it for months now but it's too good to keep a secret any longer… whether its August or not! I love grilling, salads, fruit, and all things summer, but I'm already craving fall flavors. Bring on the sweet potato, butternut squash, and tasty stews.
This recipe is naturally vegan, but it ended up that way by accident. I didn't even notice until I went to type up the recipe and realized it was animal product free. Woohoo! Make it for all your vegan homies. And if you're not vegan, add a dollop of sour cream and/or a sprinkle of cheese for yourself. Not necessary, but a super tasty addition since its kind of chili like in texture, but with a totally different flavor profile.
The first lentil soup recipe I shared was curry flavored and this one is more tortilla soup meets chili meets tabo. This sweet potato lentil soup recipe uses cumin, chili powder, lime, cilantro and all the fixins. It's unlike any of the other curry-flavored lentil soups I've tried. Nothing against curry, just a different spin for you today.
Plus, this one has sweet potato and carrot, which makes it feel thick like a stew. That extra meatiness makes it even more filling than lentils already are. Even die hard meat eaters won't miss the meat in this meatless meal. If you're looking for more meatless meals, these eggplant lasagna rollups, stuffed spinach artichoke portobellos, or this roasted veggie pasta are all divine!
In addition to being a meatless meal, its a one pot meal too! In the words of the handmaidens, "praise be!" Yeesh, that show has me feeling all kinds of crazy feels. Season two is even more horrific than the first one too. We've been watching it before bed and when I'm finally able to wind down and fall asleep, I feverishly dream of wearing a red dress in a dystopian, patriarchal society and wake up feeling… weird. Super weird. I'm equal parts dreading and looking forward to this season ending.
BUT, I digress. I'll keep my TV obsessions to myself for now and get back to talking about this delicious sweet potato lentil soup for you.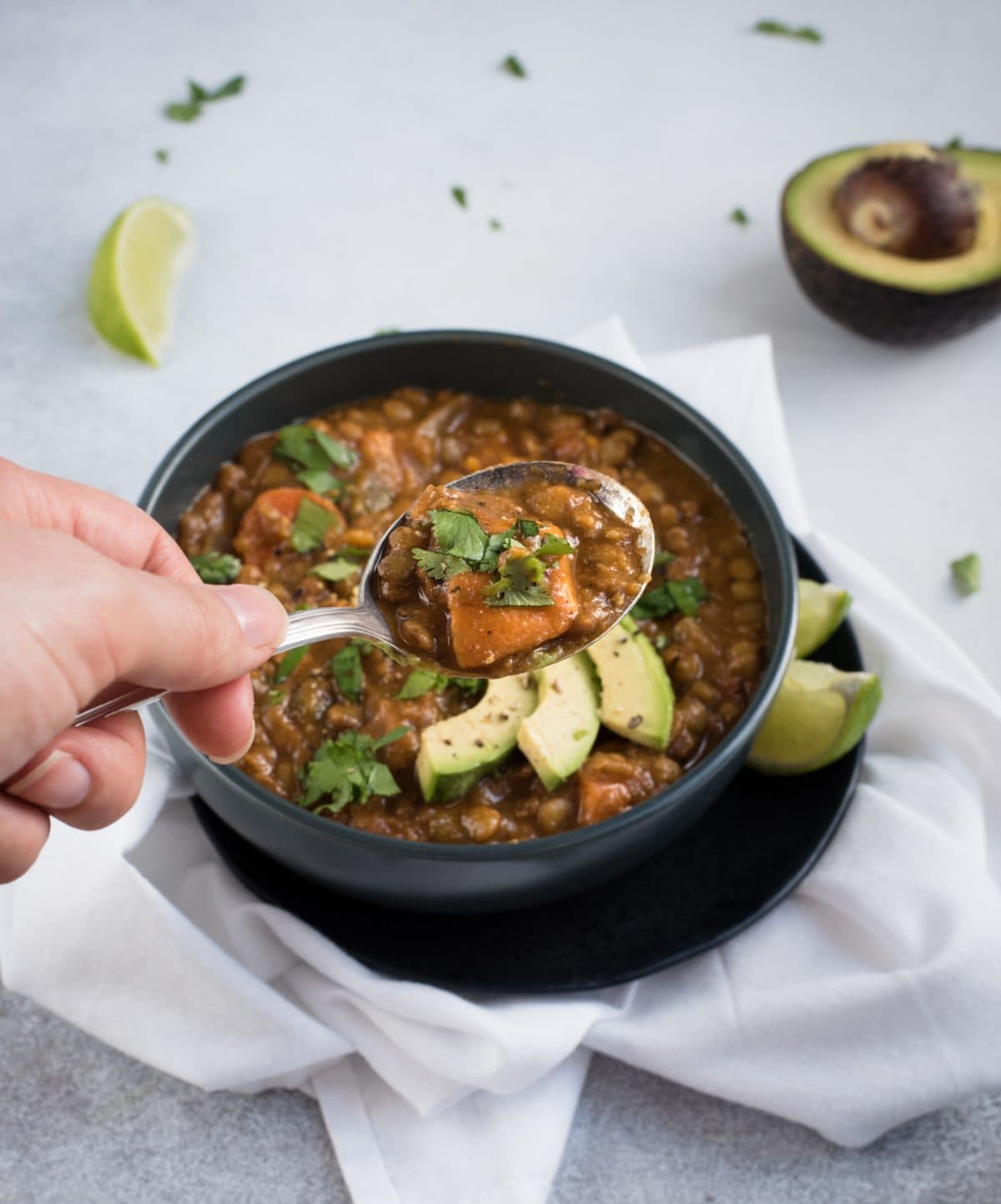 Let's take a minute to talk about lentils. They're absolutely loaded with fiber and protein so perfect, not just for vegetarians and vegans, but for anyone that's is trying to eat less meat. My husband has high cholesterol so I'm always looking for meals that aren't loaded with animal fats and other cholesterol filled foods.
While we do eat all that stuff, its the icing on top, not the every day. Lentils are great for people with high cholesterol and recipes like this sweet potato lentil soup or this lentil Indian curry are perfect ways to make that swap without sacrificing any flavor.
Topping with heart healthy fats like avocado helps even more, plus, it adds such great flavor! Avocado is definitely one of my top 10 favorite foods. We pretty much always have at least one or two ripening on the counter. You can always pop them in the fridge if they're on the verge of being too ripe and you aren't ready to eat them yet. I've got a constant counter to fridge rotation going with my avocados. Its an art form, and I've pretty much mastered it.
Beings that it's August, I won't blame you one bit if you don't make this recipe over the weekend. With fall a month away, though, pin it to Pinterest for later or save it somehow. Its one you won't want to miss!
This sweet potato lentil soup is one of our favorite comforting recipes! It's naturally vegan and seasoned with cumin, chili powder, lime, and cilantro.
Ingredients
1/2 Tbsp. avocado oil (olive or other oil type is fine)
1 medium onion, chopped (about 1 cup)
1 large carrot, peeled and sliced into 1/2" pieces (about 1 cup)
2 sweet potatoes, peeled and cut into 1/2" pieces (about 4-5 cups)
2 tsp. minced garlic
1 1/2 tsp. cumin
1 Tbsp. chili powder
1 1/2 tsp. paprika
1/2 tsp. black pepper
2 tsp. salt (or to taste!)
6 cups vegetable or chicken stock/broth
1 1/2 cups dried green or brown lentils, rinsed and drained
1 can diced tomatoes with juice (14.5 oz.)
2 bay leaves
1 1/2 Tbsp. fresh squeezed lime juice
Garnish with chopped cilantro, avocado, and sour cream or yogurt if desired
Instructions
Heat oil in a large pot over medium heat. Add onion and sauté for 3-4 minutes until onion is starting to soften and become translucent.

Add garlic, carrot and sweet potato and sauté for 6-7 minutes to soften and lightly brown edges of carrot and sweet potato pieces. Add spices (cumin, chili powder, paprika, pepper, and salt) and sauté for one minute.


Add stock lentils, tomatoes, and bay leaves and increase heat. Bring to a simmer and then reduce heat to medium-low, cover, and simmer stirring occasionally for about 30 minutes, until sweet potatoes and carrots are cooked through. Add lime juice.

To thicken soup, either use a stick blender and pulse several times directly in pot or remove 1-2 cups of soup and blend in a blender and pour back into soup and stir. If blending separately in blender, be careful not to burn yourself from the steam or hot soup! I cover the lid with a thick kitchen towel and make sure to leave plenty of room in the blender so it doesn't slosh out the top.

Serve soup with cilantro, avocado, and if not dairy-free, I highly recommend serving with sour cream or plain yogurt.
Notes
Cooked soup lasts in the refrigerator for up to five days and can be frozen for 3-6 months. 
Recipe adapted from Lentil Soup recipe on Recipe Tin Eats. If you're not familiar with her recipes, try some of them - they're great!
Nutrition
Calories: 336kcal | Carbohydrates: 53g | Protein: 20g | Fat: 5g | Saturated Fat: 1g | Cholesterol: 7mg | Sodium: 1155mg | Potassium: 1120mg | Fiber: 17g | Sugar: 9g | Vitamin A: 9295IU | Vitamin C: 13.4mg | Calcium: 101mg | Iron: 6.4mg