Thai stuffed peppers loaded with ground turkey, veggies, and brown rice and then drizzled with peanut sauce are dairy free and bursting with flavor!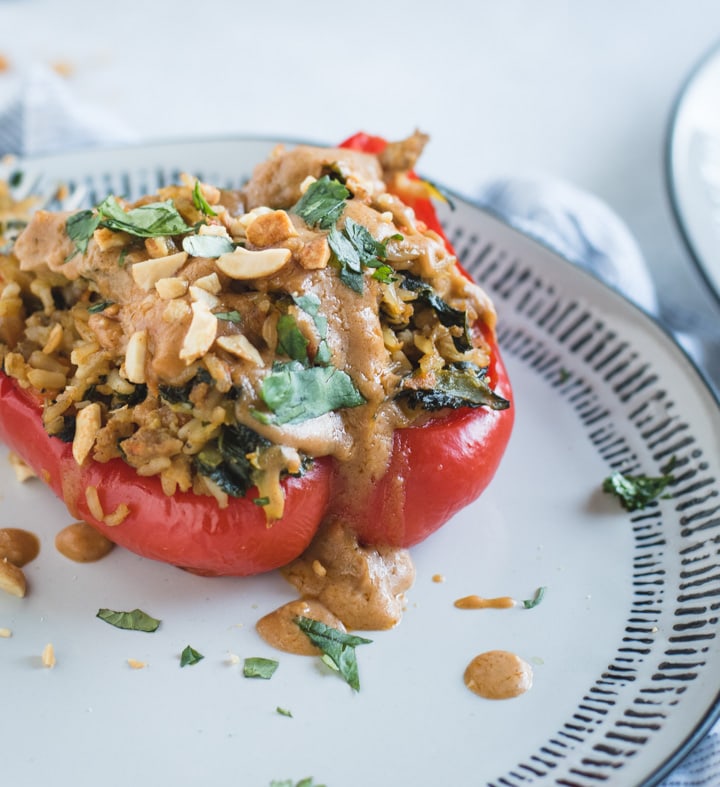 These Thai stuffed peppers are better than takeout and can be ready in 45 minutes! First and foremost, they are absolutely delicious and healthy as can be, which most take out isn't. And slathered in the best peanut sauce you've ever had? You need this recipe.
Why make these stuffed peppers
Thai stuffed peppers are an unexpected twist on a classic staple recipe, one that everyone that's tasted them so far has loved. In addition to tasting great, I like that the recipe has some shortcuts. A lot of the prep work is done while the peppers roast to cut down the final cook time. This means you don't have a lot of idle time and you don't have a lot of waiting time.
I'm also quite impressed by the amount of veggies that are packed into these stuffed peppers since the end result doesn't scream health food, it just seems like a regular tasty dinner. All of that kale cooks down, leaving nutrients without all of the vegetable volume that you get with other vegetables that don't cook down so well.
Overall, this is a unique, delicious healthy recipe that I'm sure you'll love as much as I did. It's quick enough to be a weeknight dinner but more fun than many of the standard quick dinner go-to's. You're bound to be crazy about this one!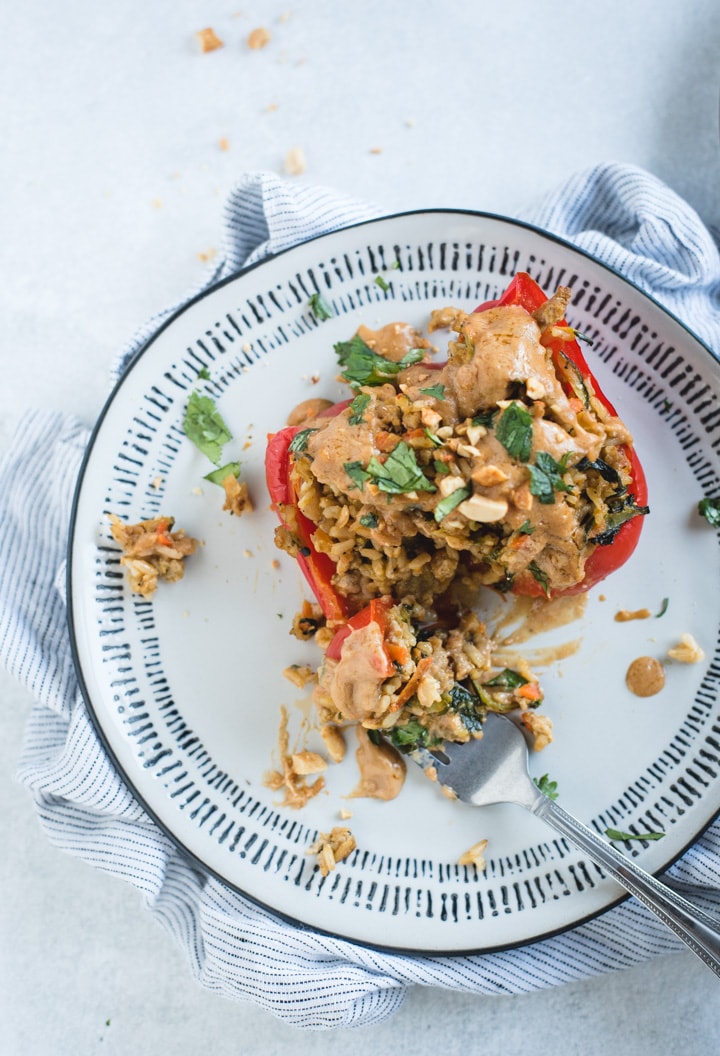 Will these stuffed peppers work with my diet
The short answer: probably. You may need to make a few minor tweaks but this recipe fits most diets well. These are ground turkey stuffed peppers so they're lean but full of protein and veggies making them perfect for anyone trying to eat healthier or following a restrictive diet.
Unlike most stuffed pepper recipes, they are naturally dairy free. The crazy thing is – you don't miss the cheese at all! (And that's coming from a cheese obsessed lady over here)
These Thai stuffed peppers are also high in plant-based fat making them perfect for Keto. I know peanuts are a no-no on Paelo and Whole 30 and not the best for Keto but you can swap for almonds and almond butter to make this recipe work for you.
This recipe works for these diets:
dairy free
keto

Leave out brown rice and add extra carrot and zucchini in it's place

gluten free

use tamari or fish sauce instead of soy sauce to make gluten free

paleo and Whole 30

Red Boat fish sauce is compliant
swap the peanut butter in the peanut sauce with almond butter and leave out the sugar
leave off the crushed peanuts
Leave out brown rice and add extra carrot and zucchini in it's place
And probably fits many other diets that I'm not even aware of. Ha, there are so many these days, it's hard to keep up.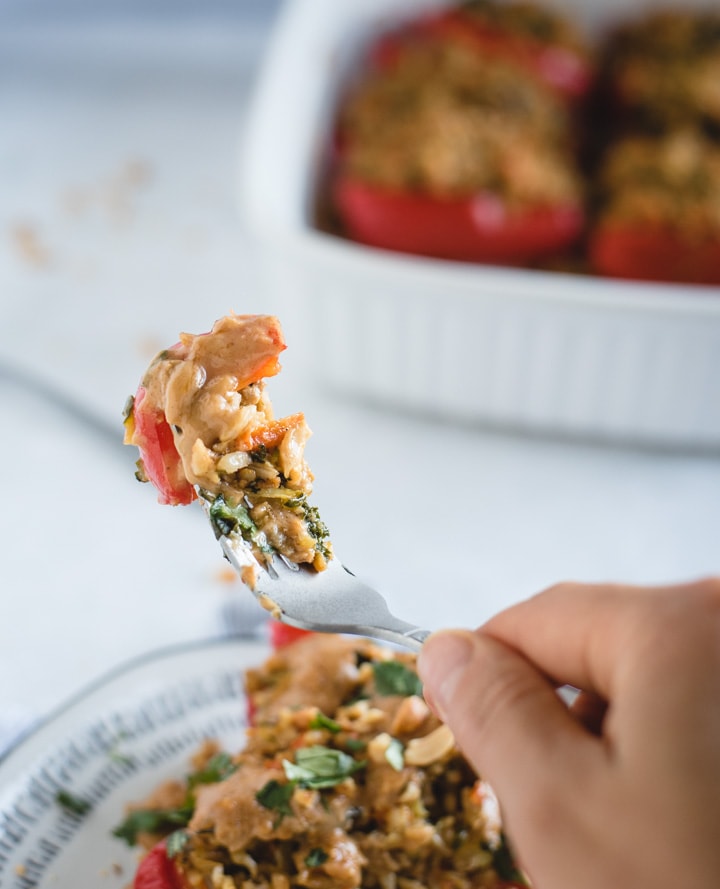 Ingredients
While this is a Thai inspired recipe, the ingredients here are simple and easy to find. You should be able to find all of them at your local grocery store. There isn't one ingredient here that isn't healthy in some way too, which you rarely find in a recipe this tasty. Well, maybe the soy sauce or fish sauce, but you need some for saltiness and flavor, and there isn't much added.
Here are the ingredients:
peppers,
avocado oil (or any high smoke point oil)
onion
minced garlic
ground turkey
salt and pepper
zucchini
coconut milk (not in the picture above… whoops!)
soy sauce, tamari or fish sauce
cooked brown rice (I use these microwavable packets but buy them at Costco where they're cheaper)
kale
salted roasted peanuts
fresh lime juice
cilantro
ginger
Peanut butter
Coconut sugar (can leave out if needed!)
Apple cider vinegar
You can swap the ground turkey for beef or chicken if you prefer. I've also done a rice/quinoa blend which worked great too and adds a little more protein. Also, you can also substitute the peanut butter and ground peanuts with almond butter and almonds to make this recipe fit Keto, Whole 30, and Paleo diets.
How to make the best stuffed peppers
There are a few tactics used in this recipe to shorten the overall cook time and make the recipe as good as it can be without over complicating it.
First and foremost, preheat the oven, prep the peppers and get them roasting! This shortens the overall cook time. The filling gets cooked stovetop so pre-cooking the peppers means that the final cooking of the stuffed peppers takes half the time.
This is how you core the peppers:
And this is a before and after shot of the roasted peppers. They'll cook longer once they're stuffed so no need for them to be fully fork tender.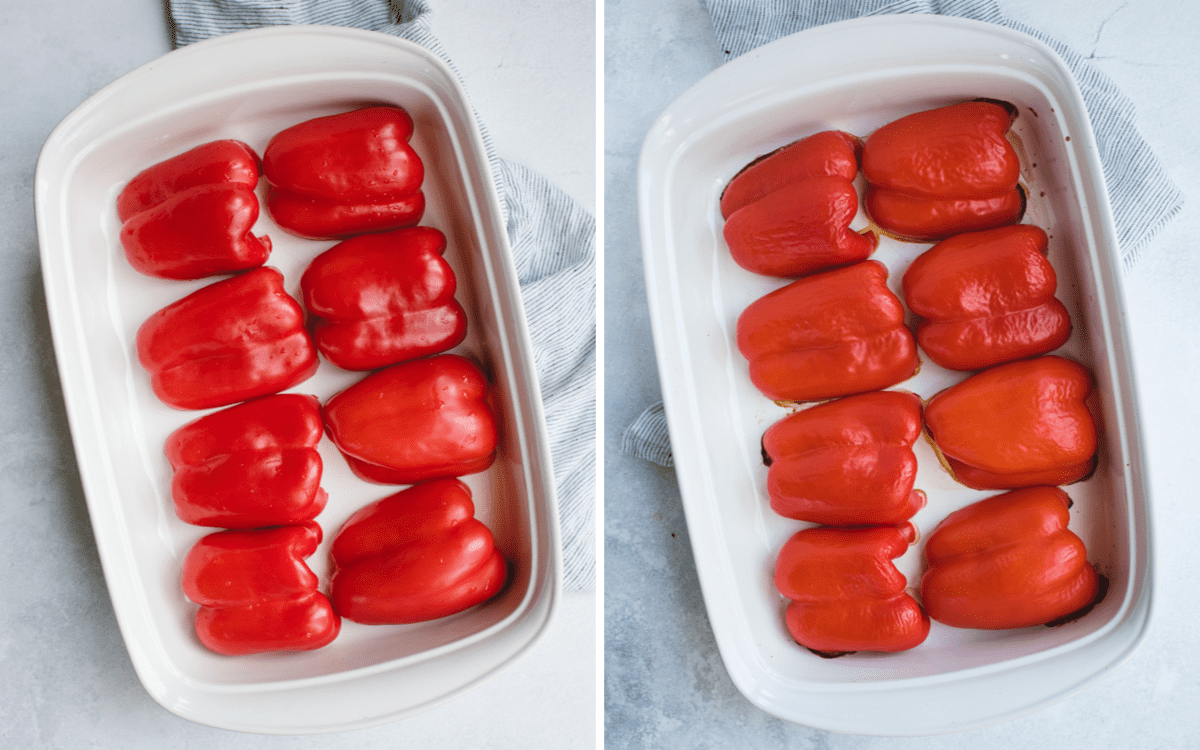 While those peppers are roasting, you prep the filling. The zucchini and carrot get grated which makes for fast cooking and an ideal texture in the end stuffed. You'll use small side of the grater for the ginger needed in the peanut sauce too. I chose to chop the onion, but you could grate it instead if you're super gung-ho on the grating. Give that grater a workout!
I normally get the onions cooking first and then work on prepping everything else while that and the ground turkey cook. Normally I recommend having all ingredients prepped and ready but in this recipe, you've got plenty of time to prep while you go.
After sautéing the turkey, you add in the veggies and once they're cooked, the curry paste, coconut milk, and fish sauce/tamari/soy sauce (whatever you choose to use).
Last but not least, the kale and rice gets added in and cooks down. Then the peppers are stuffed and in the oven they go.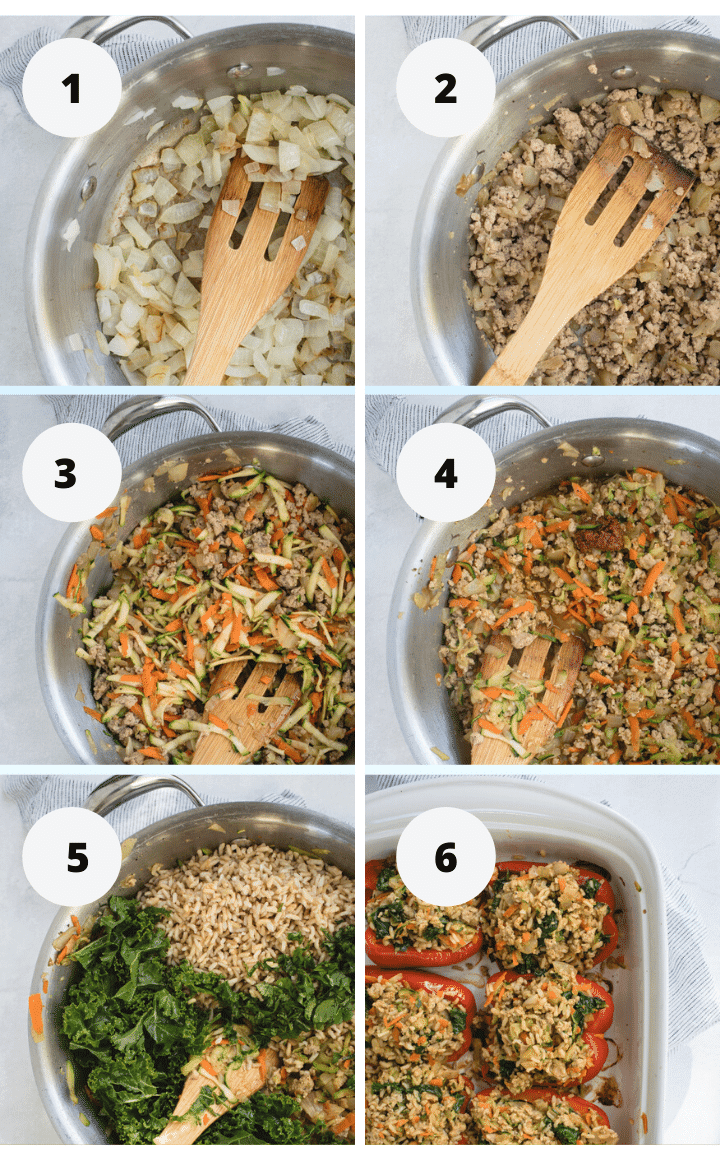 What to serve with Thai stuffed peppers
These peppers are easily a full meal and I typically don't serve anything with them. That being said, if I had company coming over, I'd probably up my game and include a salad, appetizer, and dessert. Some occasions call for being a bit extra. I happen to LOVE everything and anything Thai so I've got some excellent serving suggestions: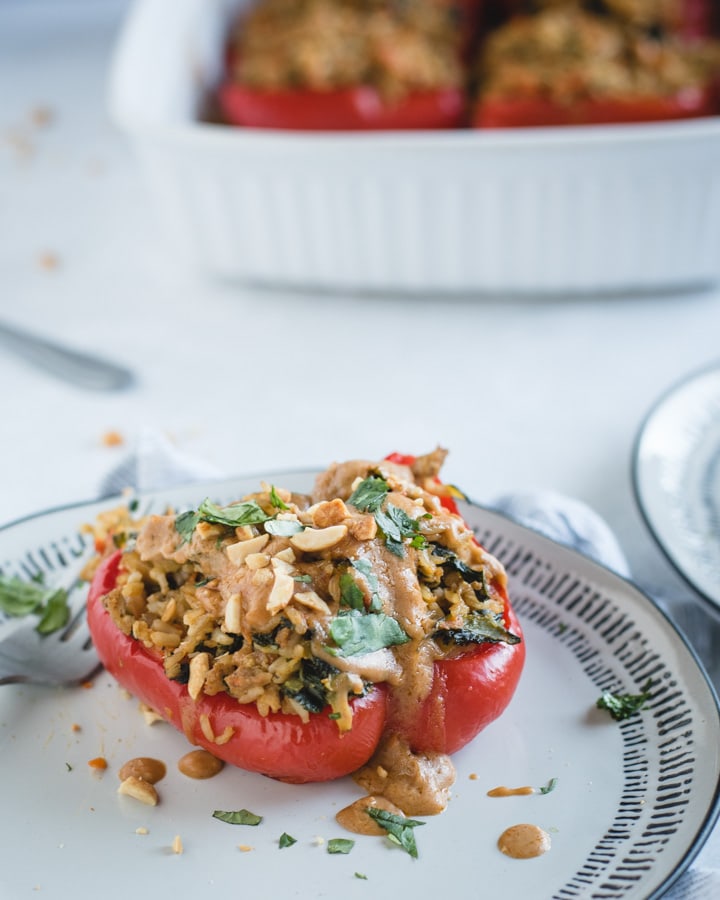 Thai stuffed peppers loaded with ground turkey, veggies, and brown rice and then drizzled with peanut sauce are dairy free and bursting with flavor!
Ingredients
4 bell peppers, cut in half with stems and seeds removed
1/2 Tbsp. avocado oil
1 small onion, chopped
2 tsp. minced garlic
1 lb. lean ground turkey
Salt and pepper
2 small zucchini, quartered and sliced (about 1 1/2 cups)
2 carrots, peeled and grated
1/2 cup canned coconut milk (approximate amount leftover after making peanut sauce)
1 Tbsp. Thai red curry paste (only add 1/2 Tbsp. to make less spicy)
1/2 Tbsp. soy sauce or fish sauce
3 cups cooked brown rice
1 small bunch kale, stems discarded and leaves torn into 1-2" pieces (about 10oz.)
1 1/2 Tbsp. lime juice
1 1/2 Tbsp. chopped cilantro
1/4 cup roasted, salted peanuts, lightly crushed
1 cup Peanut Sauce
Instructions
Preheat oven to 375° F (190° C).

Place red pepper halves cut side down in a baking dish and bake in preheated oven for 20 minutes while preparing filling.

Heat oil in a large skillet over medium heat. Add onion and cook for 4-5 minutes until softened.

Add garlic and cook another minute. Add turkey and cook, breaking up with a wooden spoon into small pieces until browned but not fully cooked through. Season with salt and pepper.

Add zucchini and carrot and cook an additional 6-7 minutes until zucchini are cooked.

Add coconut milk, curry paste, and soy sauce or fish sauce and stir to mix curry paste in and dissolve.

Add brown rice, kale, lime juice, and 1 Tbsp. cilantro and cook for 3-4 minutes until rice has absorbed most of the coconut milk.

Remove peppers from oven and flip each one over. Stuff mixture into red pepper halves and bake in preheated oven for another 15-20 minutes. Prepare peanut sauce while red peppers bake.

Remove peppers from oven, drizzle with peanut sauce and top with remaining cilantro and crushed peanuts. Serve immediately.
Notes
To make gluten free, use Tamari or fish sauce instead of soy sauce
If paleo or Whole 30 - Red Boat fish sauce is compliant, swap the peanut butter in the peanut sauce with almond butter and leave off the crushed peanuts
Nutrition
Calories: 342kcal | Carbohydrates: 35g | Protein: 20g | Fat: 13g | Saturated Fat: 4g | Cholesterol: 31mg | Sodium: 542mg | Potassium: 677mg | Fiber: 5g | Sugar: 11g | Vitamin A: 5858IU | Vitamin C: 98mg | Calcium: 55mg | Iron: 2mg