The best healthy almond flour banana muffins around! They are moist, high protein, full of flavor and easy to make since they only use one bowl!
These almond flour banana muffins are so moist with the perfect texture, sweetness and banana rich taste that makes banana recipes so irresistible. They are 100% gluten free, loaded with protein and low in sugar but still taste great!
The ingredients are basic, easy to find, and are probably already in your kitchen. For any that might not be, there are easy substitutions outlined in the Ingredients section.
Plus, they taste great with chocolate chips stirred in so you can get your chocolate fix without having it be an unhealthy binge!
Ingredients
The ingredients in this recipe are pantry staples for me but in the list below, I included some extra detail on each item to make sure your muffins come out as moist and fluffy as mine did.
mashed banana – remember to use overly ripe bananas with lots of brown spots! This extra sugar helps sweeten the banana bread naturally so less sugar is needed.
eggs – eggs help hold gluten free recipes together. I haven't tested the recipe with a flax or chia egg.
vanilla extract – adds depth and richness.
pure maple syrup – since it's the only sweetener in this recipe, use the good stuff here (you can sub with agave syrup or honey too).
olive oil – or avocado, coconut, or vegetable oil works here, whatever you prefer.
blanched fine ground almond flour – while both will work in a pinch, almond flour is much finer than almond meal and will create a lighter, fluffier muffin.
golden flax meal – regular brown ground flax is fine to use if you can't find golden, it just has a more pronounced nutty flavor where golden flax is more mild tasting.
baking soda – make sure yours is fresh! Soda starts losing its effectiveness about six months after opening.
baking powder – for your own health, use one without aluminum if possible.
salt – helps balance the sweetness.
cinnamon – adds the classic spiced flavor you need for banana bread.
nutmeg – adds complexity to the flavor profile but can be skipped if you don't have any.
Entirely optional but I like adding chocolate chips or toasted crushed pecans or walnuts or if I' going really crazy, a mix of both.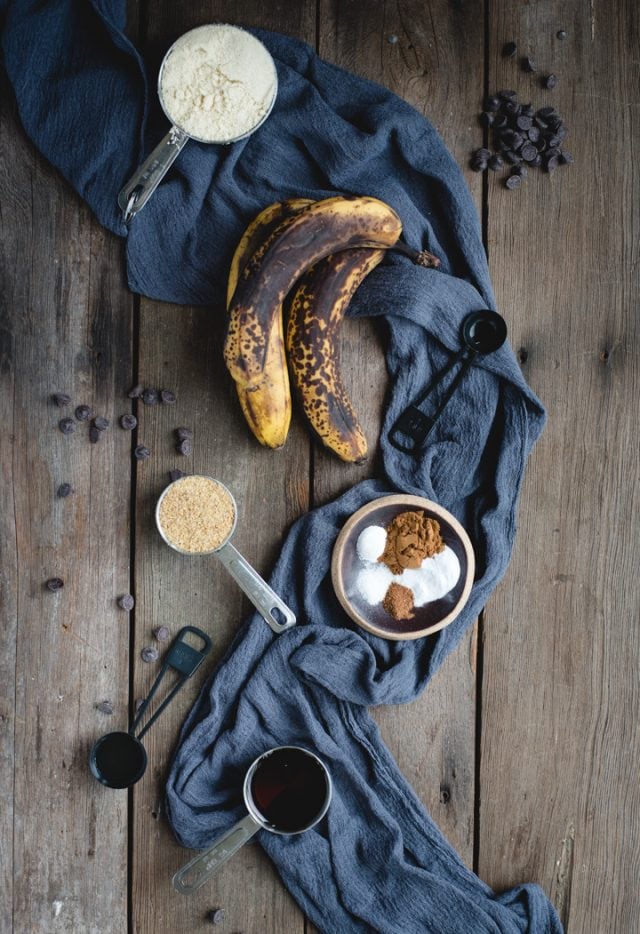 How to make almond flour banana muffins
This recipe is made in just a few simple steps. My favorite part about it? No separate bowl needed for the dry ingredients! Hallelujah. If there isn't gluten in the batter, the risk of over mixing diminishes so making it all in one bowl isn't an issue.

Here are the basic steps for making these almond flour banana muffins:
Mix all of the wet ingredients well.
Stir in the dry ingredients.
Pour that batter into a muffin tin, lined with muffin liners.
Bake for about 25 minutes and then cool and eat!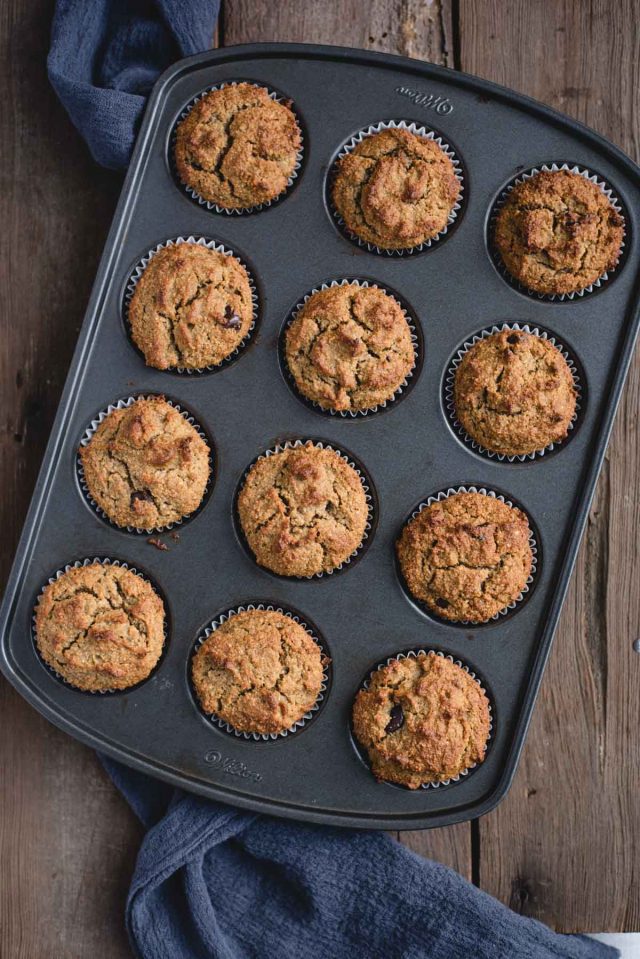 Tips for making them perfectly
Here are some other tips for making perfect almond flour banana muffins:
First and foremost, if you're unsure on what exactly to use for ingredients, either click the links in the recipe card or scroll up to the Ingredients section for notes.
Careful not to over or under bake these muffins. Mine typically take 25 minutes in my oven but I check them with a toothpick at 23 minutes and every 2 minutes after that if they aren't done.
If you aren't using muffin liners, grease the muffin spots in your pan really well because having less oil in it means this batter likes to stick.
If you want to make an almond flour banana bread loaf, follow this link for a detailed recipe.
And that's it! The recipe is so easy you don't need a lot of tips to make it right.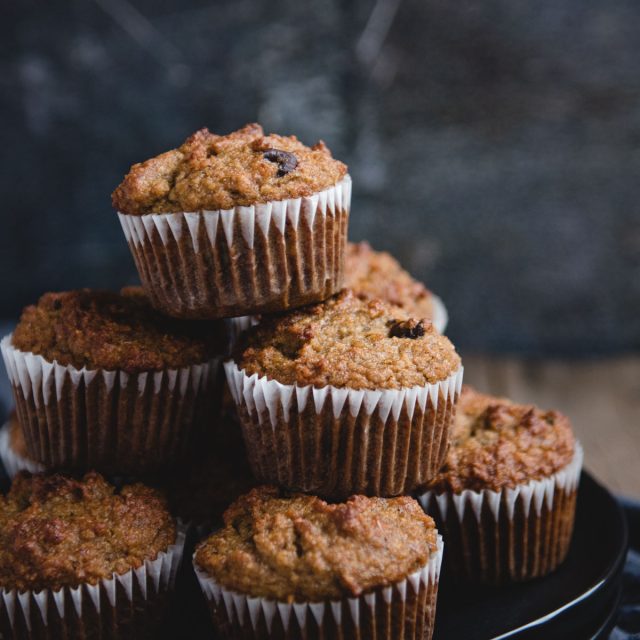 Other gluten free muffin recipes
Other almond flour recipes
Almond flour is isn't only gluten free, it's also loaded with protein so it's a great flour swap out whether you're gluten intolerant or just looking for a healthier option. Here are a few of my favorites: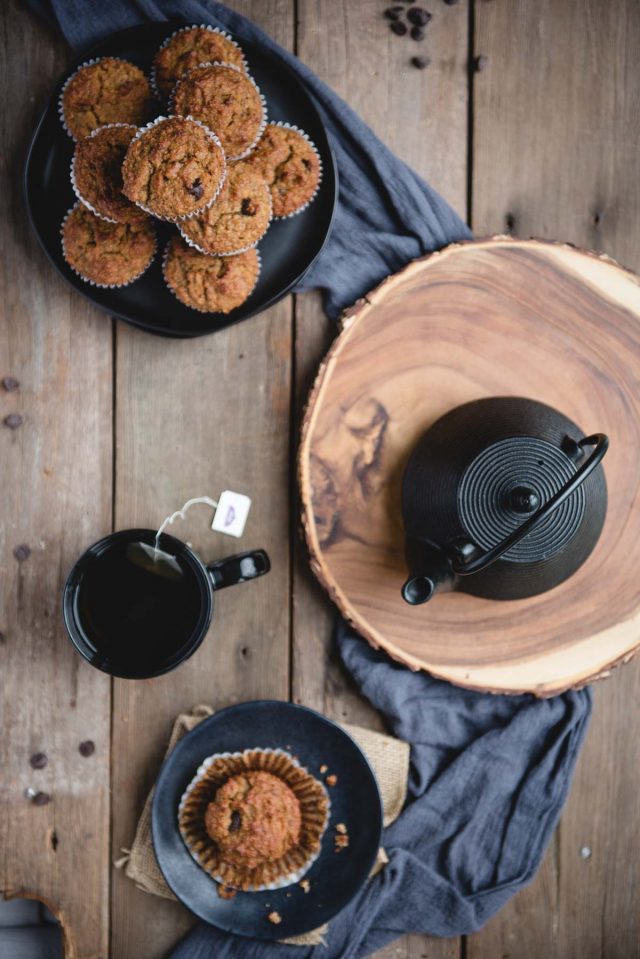 The best healthy almond flour banana muffins around! They are moist, high protein, full of flavor and easy to make since they only use one bowl!
Instructions
Preheat oven to 350° F.

Line a muffin tin with 12 baking cup liners and set aside. (You can grease the muffin tin well instead of using liners)

Beat mashed banana, eggs, vanilla, maple syrup, and oil together until blended.

Add almond flour, flax meal, baking soda, baking powder, salt, cinnamon, and nutmeg and stir until just mixed together. Stir in chocolate chips and/or nuts if using them.

Pour batter into muffin tin, evenly distributing between the 12 spaces.

Place in oven and bake for about 25 minutes or until toothpick inserted into the center comes out mostly clean (check at 23 minutes to make sure you don't over bake).

Remove from oven and let sit in pan for 10 minutes before removing and letting muffins finish cooling on a wire baking rack.

Eat fresh and store any leftover muffins in an airtight container on the counter for three days or in the refrigerator for up to five days.
Notes
* To freeze, place muffins in a freezer safe bag and freeze for up to 3 months. Defrost in the refrigerator overnight or microwave for 30-60 seconds. If microwaving, don't over heat and eat right away or the muffin texture will be tough. *To make as bread, bake for about 50 minutes in a loaf pan. Cool for 10 minutes and then remove from pan by running a butter knife around the edge and then using a flat, wide spatula to lift from the bottom if it doesn't come right out or starts to fall apart.
Nutrition
Serving: 1muffin | Calories: 261kcal | Carbohydrates: 19g | Protein: 8g | Fat: 19g | Saturated Fat: 2g | Cholesterol: 41mg | Sodium: 170mg | Potassium: 182mg | Fiber: 5g | Sugar: 9g | Vitamin A: 77IU | Vitamin C: 2mg | Calcium: 99mg | Iron: 2mg