These healthy keto cauliflower patties are cheesy, full of flavor, high protein, kid-friendly and paired with a delicious creamy tahini lime dipping sauce.
Cauliflower patties are a tasty, easy way to get your veggies in. A little bit cheesy, nicely spiced with cumin and paprika, these are a hit all around for vegetarians and meat eaters alike.
My toddler even loves them! And to say she normally doesn't think too highly of cauliflower is an understatement. I've actually been making them since she was itty-bitty since they're a great baby led weaning food!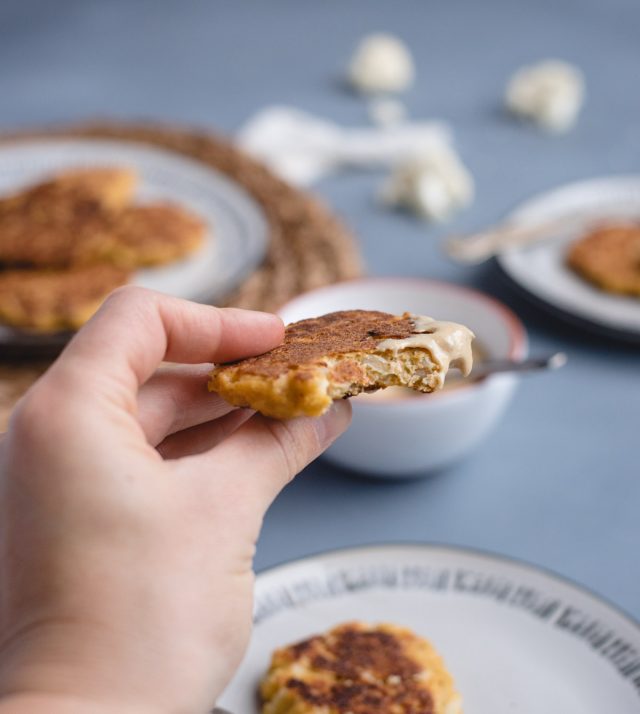 Why you will love this recipe
This recipe works on so many levels. These cauliflower fritters are cheesy, a crowd pleaser, keep well in the fridge, and have just the right level of flavor for sensitive kid palates but are still complex enough for adults to love.
Healthy cauliflower patties work as an appetizer, side dish or snack too. You can serve them with the dipping sauce as an appetizer before or with dinner or keep them in the fridge for a healthy veggie loaded snack on the go.
They're light yet absolutely loaded with protein from the almond flour, cheese, egg and cauliflower so you don't need to pair with another protein source. This makes them great for Keto or other high fat and protein diets or just for anyone that likes to eat healthy or get more veggies in their diet.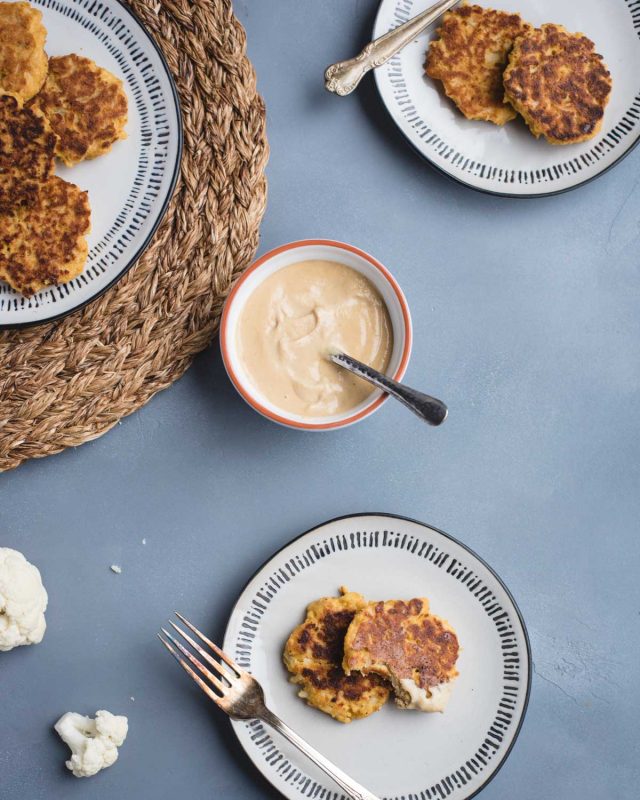 Ingredients
The ingredients are pretty simple so, for this recipe, it's all about the technique and how the ingredients are combined.
Here are the ingredients you'll need for the patties: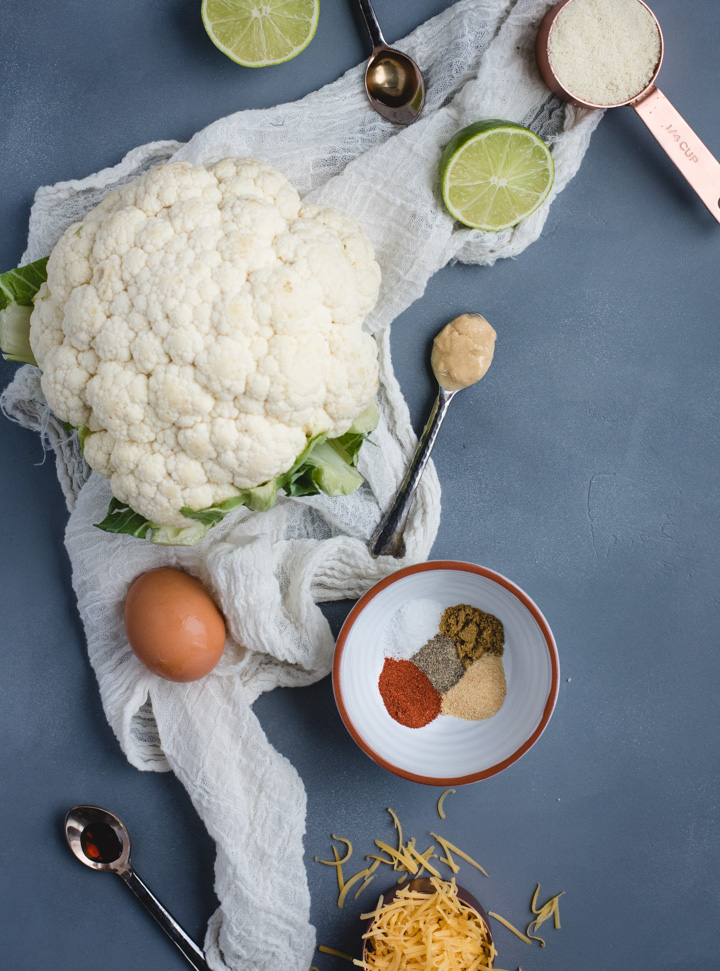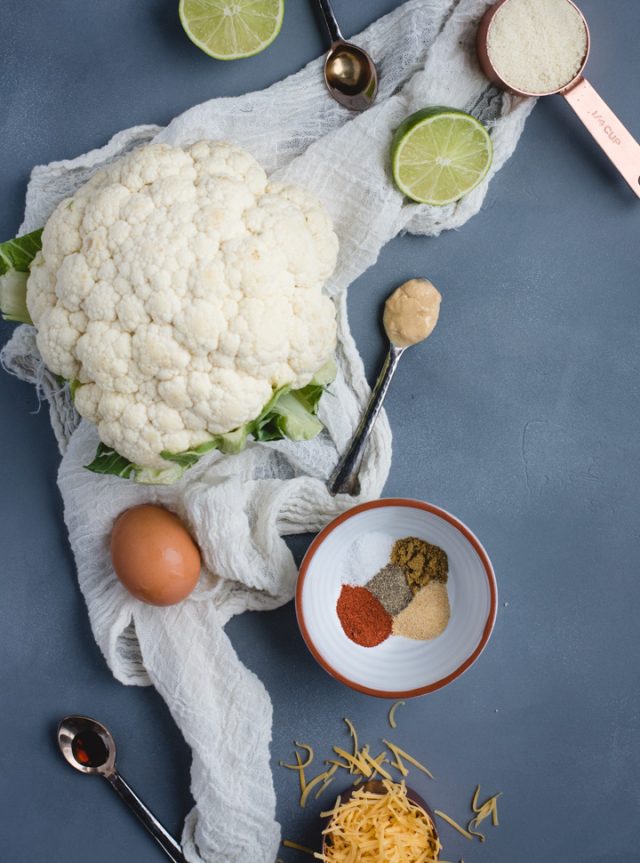 And here's what you'll need for that dipping sauce:
How to make healthy cauliflower fritters
These cauliflower patties are pretty easy but do take a few steps, as do most recipes that use cauliflower. First and foremost, you'll need to chop that cauliflower up into tiny florets. The picture below shows how small we're talking.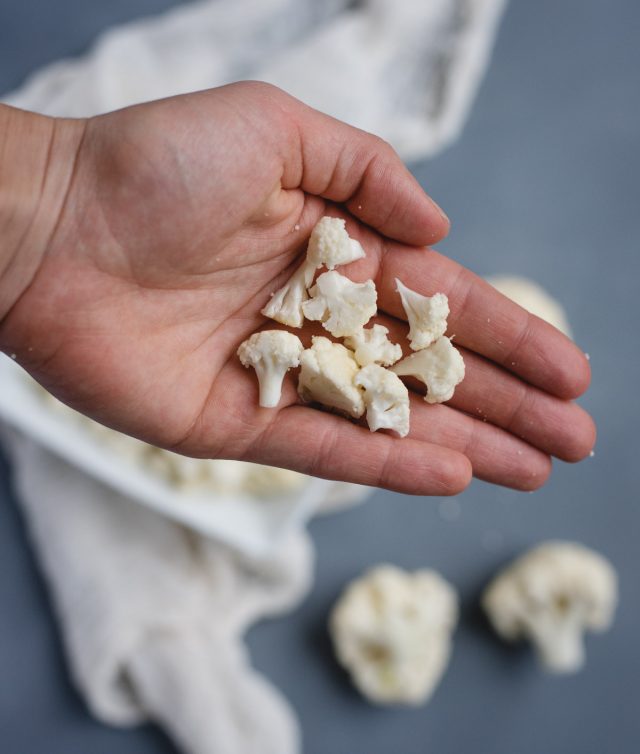 From here, you'll need to boil the cauliflower florets to soften them.
While you're doing this, you can combine and mix the other ingredients.
Then form patties, add to an oiled pan and start cooking. Since the cauliflower will still need to get softer, low and slow is best for temperature and cooking time here so they don't get overly browned.
And once you've cooked for 6-8 minutes per side, you're done and get to enjoy them!
Not pictured and entirely optional – make the dipping sauce while the patties are cooking!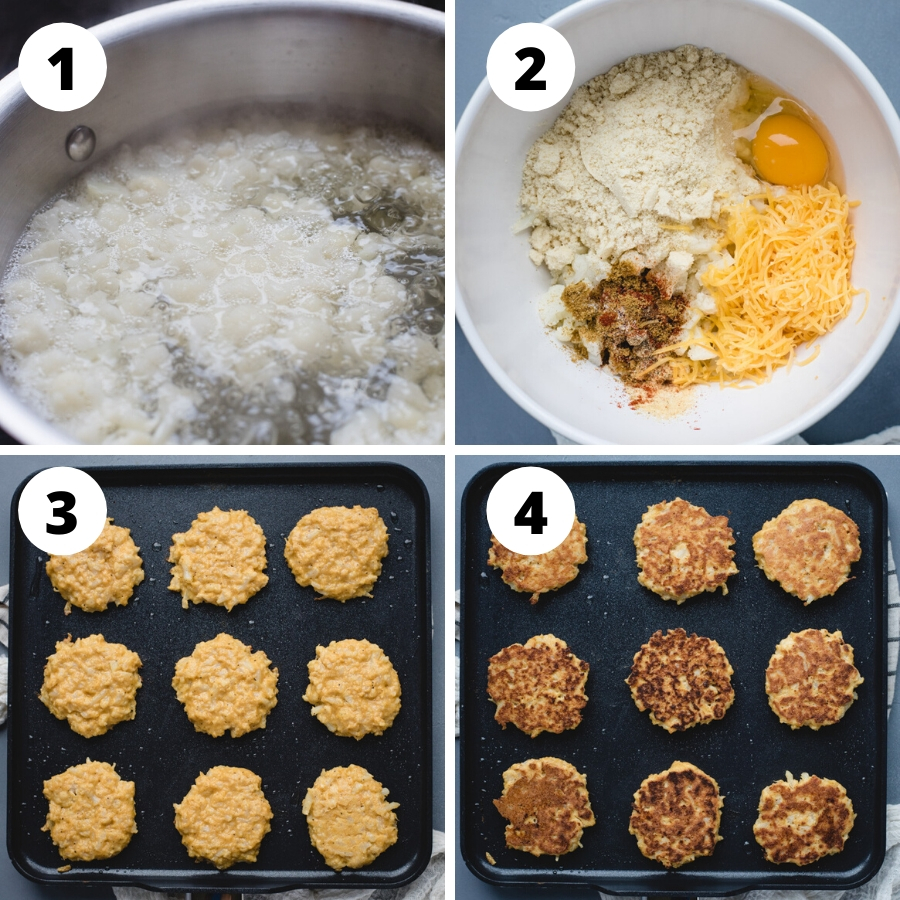 Making them kid-friendly
The whole reason I started making these was because my baby would actually eat them. I think I started making them when she was about 9 or 10 months old after my mother in-law made something similar.
For baby-led weaning, just chop the cauliflower smaller to make sure the tiniest of tots can't choke on the pieces. Don't just par-boil either. You'll want that cauliflower to be really soft for babies.
My older niece and nephew liked them too so I consider them fully kid-approved! None of the kids were entirely crazy about the dipping sauce though so you can try serving with ketchup or ranch if your kids prefer it. Also, upping the cheese level to 3/4 cup may help picky eaters eat more.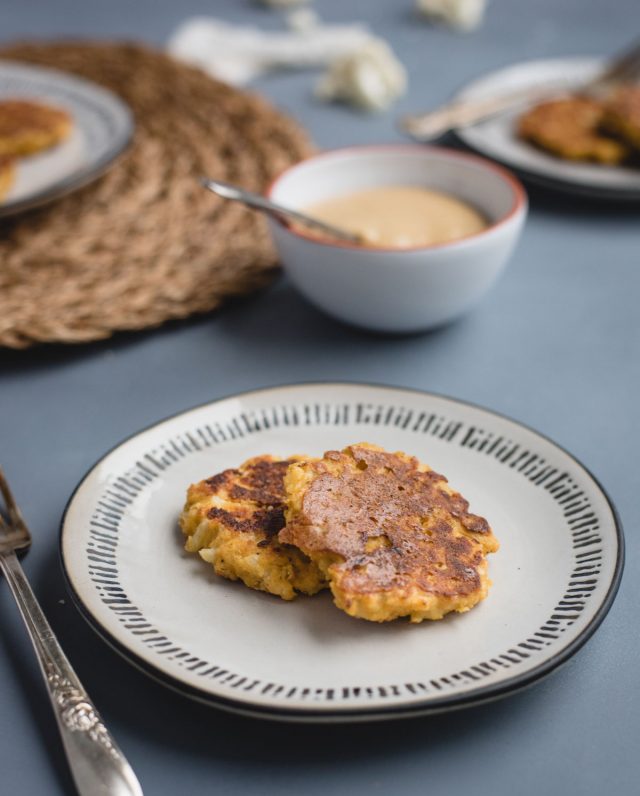 What to serve with cauliflower patties
The recipe has a dipping sauce included but there are other ways you can eat these cauliflower patties. Here are some of my favorites: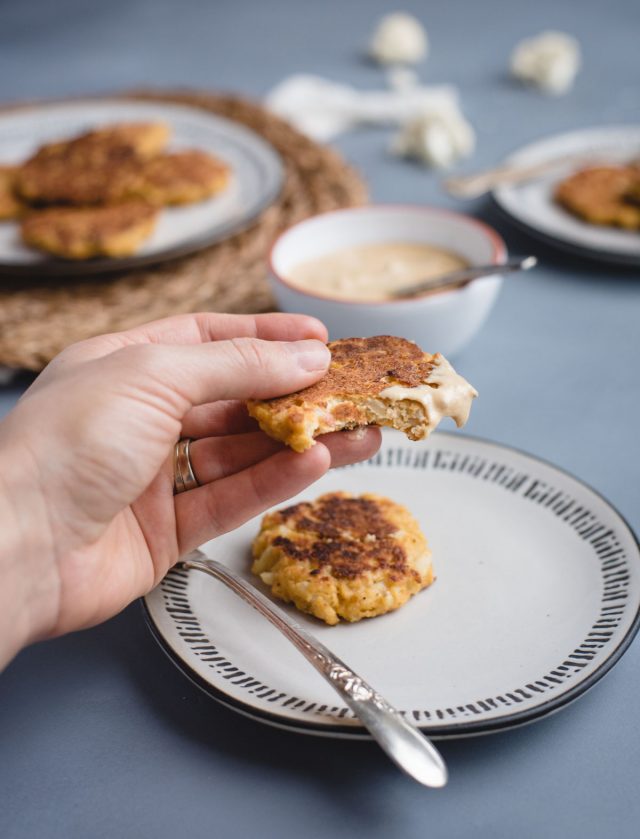 Other healthy appetizers
If healthy appetizers is what you're in search of, let me give you a few more ideas that'll leave your mouth watering: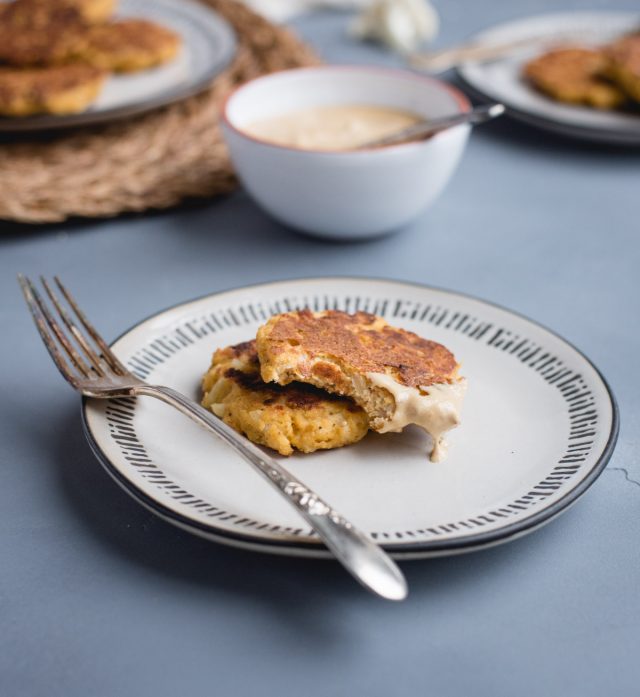 These healthy keto cauliflower patties are cheesy, full of flavor, high protein, kid-friendly and paired with a delicious creamy tahini lime dipping sauce.
Ingredients
Patties
3 Cups cauliflower florets 1 small cauliflower or ½ of a large cauliflower
3/4 cup almond flour
1 egg
½ tsp. salt
½ tsp. cumin
¼ tsp. black pepper
½ tsp. garlic powder
½ tsp. paprika
1/2 cup grated cheese cheddar is our favorite here
1 Tbsp. avocado oil divided (or whichever oil you prefer)
Instructions
Bring pot of water to a boil.

Add cauliflower and boil for about 6-7 minutes until softened but not falling apart (time will depend on size for florets).

Pour into strainer and drain.

Chop cauliflower florets into smaller 1/8" sized pieces and then dump into a medium sized bowl.

Add all other patty ingredients except oil and stir to mix well.

Start heating half of the oil in a skillet over medium-low heat (add remaining oil as needed while cooking patties).

Create 1/4" thick patties using about 2 Tbsp. of mixture per patty.

Place patties into heated pan and cook for 6- 8 minutes per side.

While patties cook, mix dressing by whisking together until thoroughly combined or mix in blender.

Serve warm cauliflower patties with dipping sauce.
Notes
*If your tahini is separated, stir well or if it's too hard, just make sure you get some of the oil and paste when you're measuring.
Patties and sauce can be kept in an airtight container in refrigerator for up to 5 days. Reheat patties in microwave or on a skillet prior to eating.
If using for baby led weaning, skip the dipping sauce, chop the cauliflower smaller and make sure you boil until the florets are really soft, not just parboiled.
For picky older kids, try using 3/4 cup cheese and serving with ketchup or ranch.
Nutrition
Serving: 3patties | Calories: 377kcal | Carbohydrates: 14g | Protein: 14g | Fat: 32g | Saturated Fat: 6g | Cholesterol: 56mg | Sodium: 496mg | Potassium: 347mg | Fiber: 5g | Sugar: 3g | Vitamin A: 504IU | Vitamin C: 39mg | Calcium: 198mg | Iron: 3mg