This orange kale salad gets its flavor from a tangy orange vinaigrette, juicy mandarins and toasted pecans, making it simple yet delectable.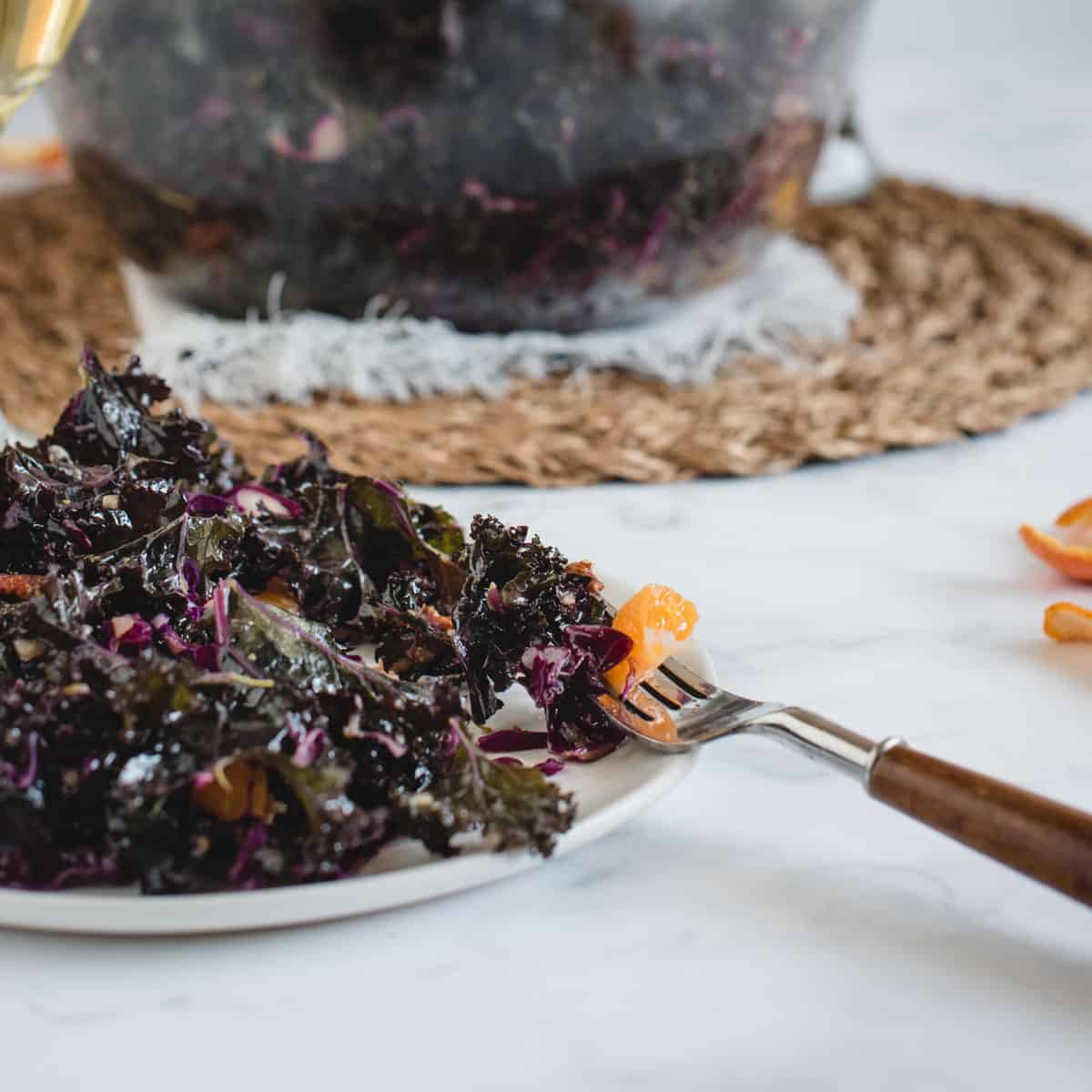 If you're looking for a show stopping salad that is simple yet bursting to the seams with flavor this orange kale salad is the one for you. It's so juicy, so tangy, with just the right amount of crunch and nutty goodness to make your tastebuds soar.
Kale is a health food super star and this recipe hits all the marks without sacrificing even one bit of flavor. It uses coconut aminos (or sub for tamari or soy sauce) for a pop of umami flavor while keeping it Whole30 compliant, paleo friendly, refined sugar-free, dairy free, vegan and fitting pretty much any other dietary need you've got.
If you're new to kale salad, consider this your gateway drug. Don't be turned off by lackluster past experiences with kale salad. The instructions in this post and this recipe will turn you into a kale salad lover from here on out!
Ingredients
This salad has simple ingredients but the juiciness of the mandarin orange pieces, toasty pecans and zippy dressing comes together in a delightful way. Here's what you'll need to make the salad:
kale – I used red kale but any kind will work here
purple cabbage – you could use green but the purple adds a nice pop of color against the kale and oranges
pecans
mandarin oranges or an orange – make sure they're juicy!
For the dressing you'll need:
fresh squeezed orange juice – store bought will work too in a pinch of course
shallot
garlic
coconut aminos – can Tamari or soy sauce paired with a splash of agave syrup to replace the sweet and salty umami flavor combo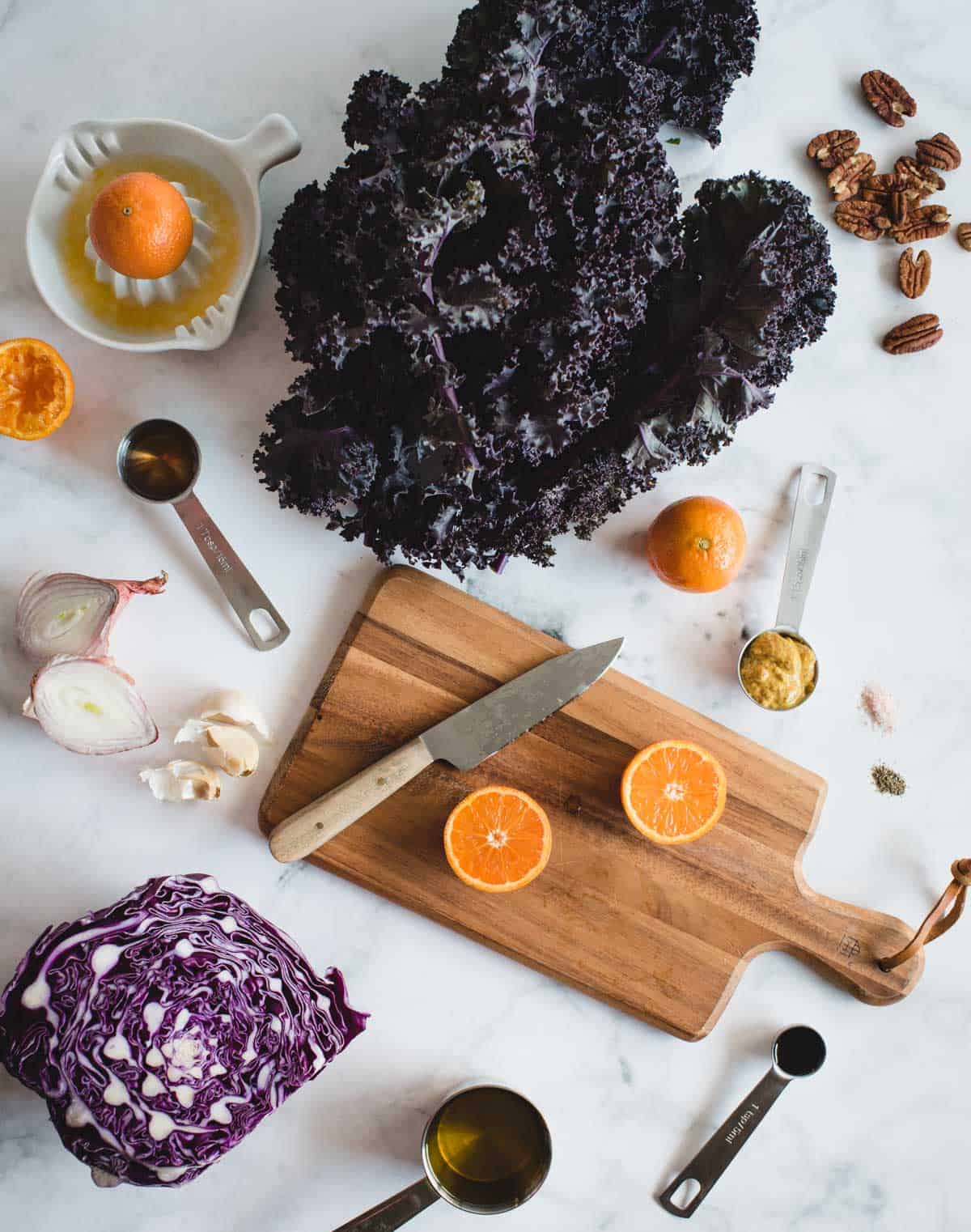 How to make orange kale salad
This orange kale salad is pretty easy to throw together and the ingredients are simple. First and foremost, you have to make the dressing. Once the ingredients are prepped, you just put them into a jar and shake so it can't get easier than that.
Similarly, the salad has just a few ingredients and the bulk of the work is in prepping them. For the cabbage, I just slice it thin with a knife since you don't need very much of it. If you're using cabbage in another recipe within a week or so, you can bust out the slicing blade in your food processor but it isn't worth it for the small amount needed in this recipe alone.
For toasting the nuts, I recommend doing twice as many so you can use them for another meal too. One of the many ways to work smart and make food prep easier on yourself.
Kale though, can be kind of a pain to prep but typical only takes me about 5 minutes, Just cut out the center stem and chop the rest to pieces.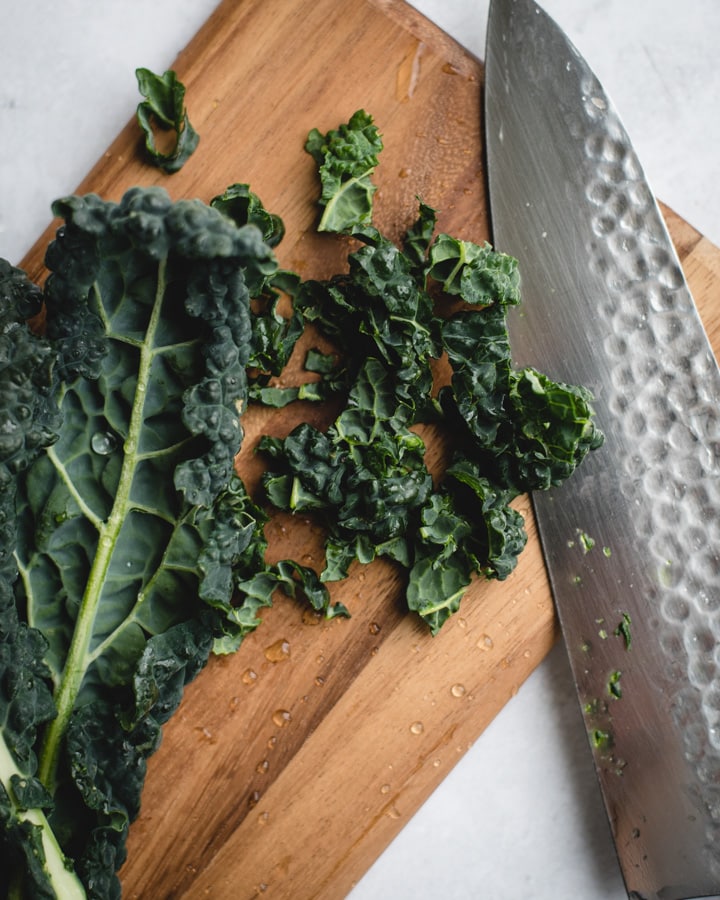 After prepping the dressing and salad ingredients, the rest comes together quickly. Add these to a bowl:
Kale +
Cabbage +
Dressing +
Pecans +
Mandarins
and toss!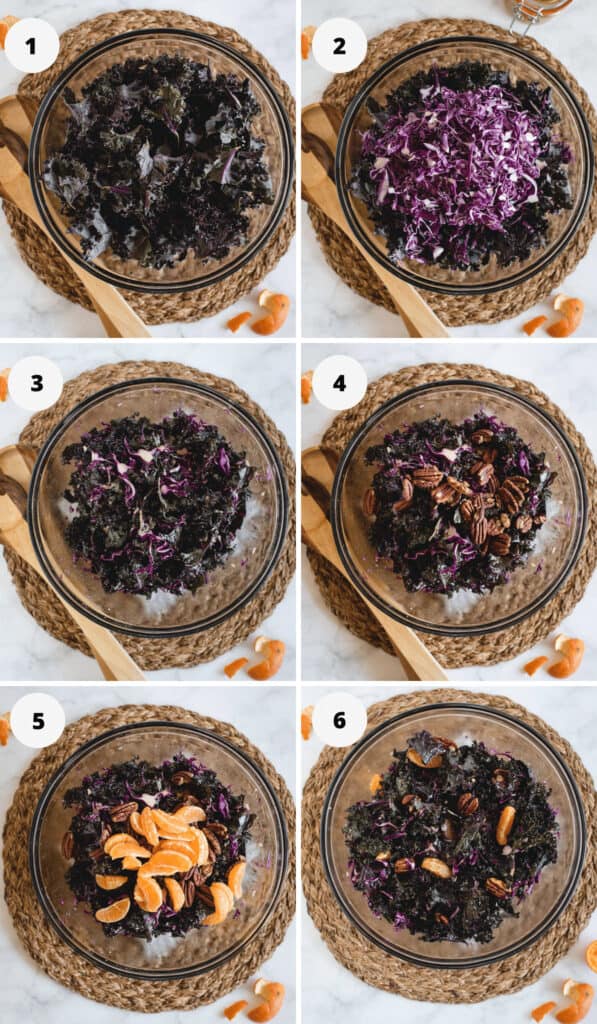 Why massage the kale
Massaging the kale may sound like an odd thing to do but hear me out. It is essential for the salad having the right flavor and texture. By massaging, I mean working the dressing in with your hands.
Sure, you can use tongs or a pair of salad servers to toss the salad and it'll be okay. To make it out of this world delicious though, you need to get in there with your hands and work the dressing into the kale. Kale is full of ridges and crevices and on it's own, it isn't very tasty. This is why the dressing is so crucial. Getting the dressing to coat every last part of each leaf is what makes the salad so delightful.
Plus, the acidity in the dressing will break the kale down and make the texture more palatable. If you've ever tried a piece of raw kale, you'll understand why it needs a little help in both the flavor and texture department.
Can I make this in advance?
This orange kale salad recipe is perfect for meal prep and making ahead of time! You can chop the kale and cabbage in advance, toast the nuts and prep the dressing up to 48 hours ahead of time. Any longer than this and the cabbage will start to brown around the edges. Also, the dressing won't be at it's peak if you wait too long.
Just store the kale, cabbage and toasted nuts together and the dressing separately in the refrigerator. When you're ready to serve, pull it out, massage in the dressing and add the orange or mandarin pieces in. You just want to wait to peel the mandarins until no more than an hour before serving. This way they won't dry out and will stay plump and juicy.
Since kale is a hardy green, unlike most other tossed salads, the leftovers are still great 24 hours later. This makes it a perfect lunch leftovers options for the next day. Any longer than that and the kale gets too limp in my opinion, but it's still pretty delicious if you eat it within a day of being tossed.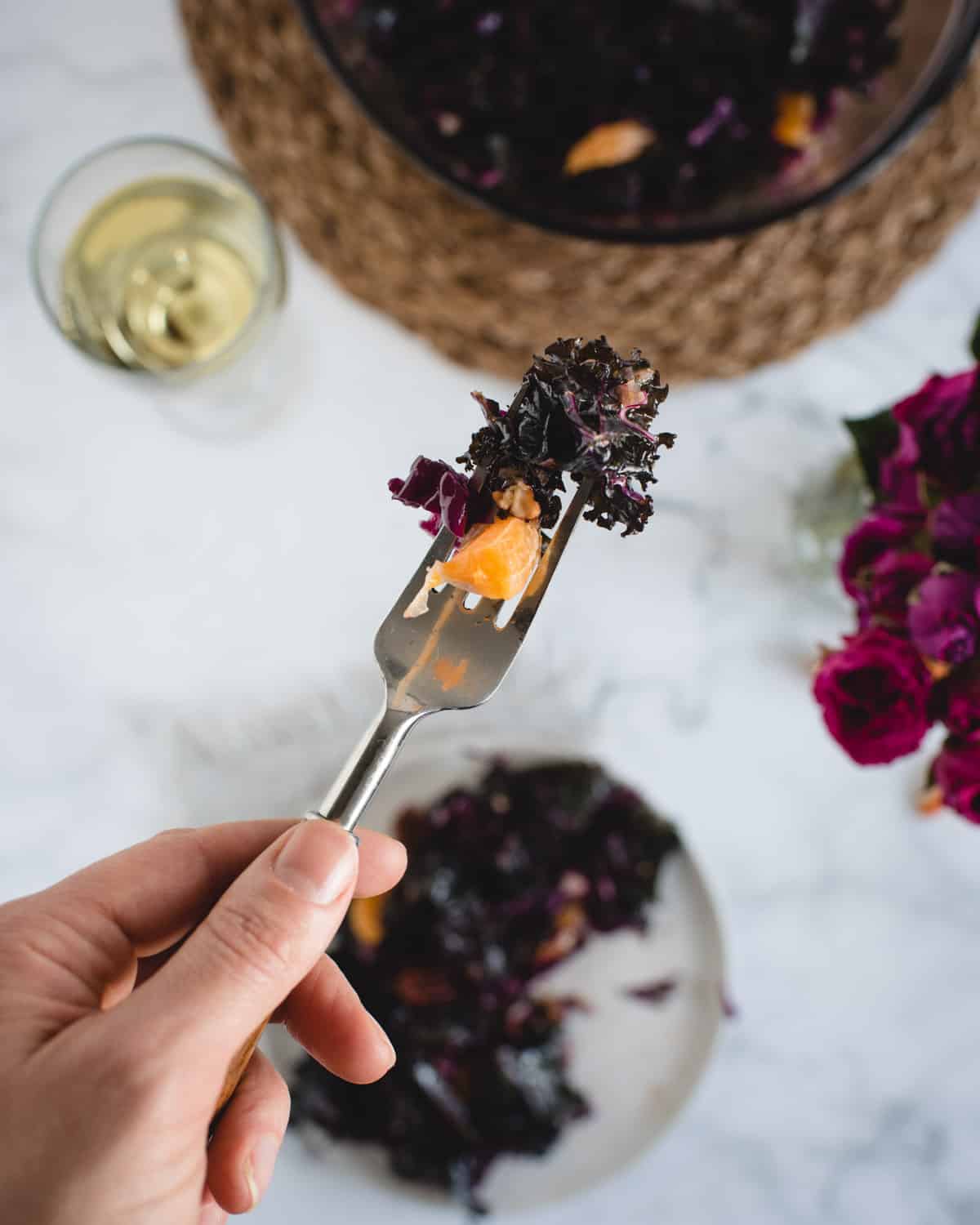 What to serve with it
This salad pairs well with juuuust about anything so there are more options than I could possibly list. I especially like pairing it with something like this oven baked salmon or this citrus and root vegetable baked chicken. It is a wintery salad so serve it with something warm and hearty.
Alternatively, topping with toasted chickpeas, rotisserie chicken, a baked chicken breast, chicken kabobs, or cooked shrimp could easily make this into a full meal. Since most of the prep work can be done in advance, it is a great recipe to bring to or serve at a dinner party too!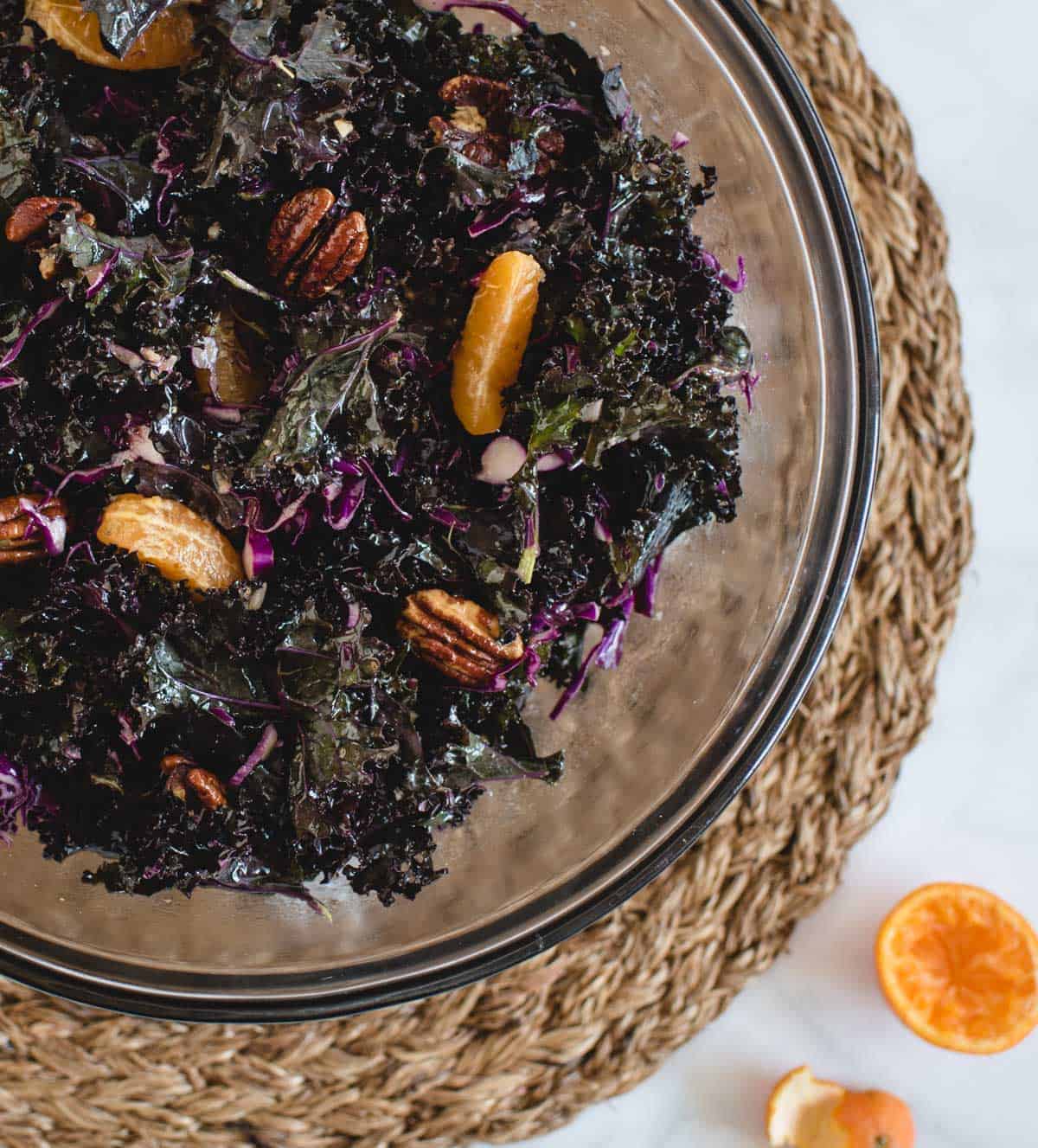 Other tasty salad recipes
While I love a good hearty meal, salads have their place and a *great* salad will always wow. Here are some of my favorite salad recipes that I guarantee are great, not just good:
Substitutions and Variations
As written, it is exceptionally delicious, but this recipe has some flexibility in what you use. First off, the recipe uses coconut aminos for richness and a little bit of sweetness but if you don't have this, you can substitute easily. Coconut aminos make the mandarin kale salad Whole30 compliant paleo friendly, refined sugar-free and gluten-free but if those things aren't necessary for you, then just substitute it with tamari or soy sauce. If you want to add a touch of the sweetness that coconut aminos has, a bit of agave syrup will do the trick.
You can substitute with a different kind of nut as well like pistachio, walnut, or slivered almonds without affecting the flavor much. That being said, make sure to toast the nuts since that enhances the flavor so so much.
The salad is naturally dairy free, and vegan but adding in some goat cheese, feta, or parmesan is definitely a tasty addition.
This orange kale salad gets its flavor from a tangy orange vinaigrette, juicy mandarins and toasted pecans, making it simple yet delectable.
Ingredients
Salad
1 bunch kale center stem removed and leaves torn into bite sized pieces
2 cups shredded purple cabbage
1/2 cup pecans toasted*
3 mandarins peeled and separated (can substitute 1 large orange peeled and each section cut into thirds)
Instructions
Prepare dressing by adding all dressing ingredients to a small jar or container with a tightly sealing lid and shaking vigorously.

Place torn kale and cabbage into a serving bowl.

Shake dressing one more time before removing the lid and pouring over the salad. You can use tongs or two spoons to work the dressing in but it is best when you massage in with your hands to work the dressing into all crevices of the kale.

Once dressing has been worked into the cabbage and kale, add the toasted nuts and orange pieces and gently fold in. Serve immediately.
Notes
To toast pecans: You can do this 3 ways 1) in a small skillet over low heat, stir pecans as they toast (takes 5-7 mins). 2) In 325-350° F preheated oven, toast for about 5 minutes. 3) In microwave, place pecans in a dish and microwave on high for about 45 seconds to 1 minute. With all toasting methods, watch nuts closely as they burn quickly. To make ahead: Dressing and salad can be prepared ahead of time. Dressing will keep in the refrigerator 5-7 days. If refrigerated, bring to room temperature before shaking and using since the oil will become solid and dressing will be thick when cold. Kale, cabbage and nuts can be prepped in advance as well but I recommend freshly peeling the mandarins within 1 hour of serving time so that they don't dry out. Substitution for the shallot: Shallot works best since it has less bite but you can sub red or yellow onion. If using onion, let the prepared dressing rest for 10 minutes or so before shaking again and pouring over the salad. This will let the onion mellow and take some of the bite out. You can also replace with1/2 tsp. onion powder. Substitution for garlic: 1/4 tsp. garlic powder Adding orange zest: If you want more orange flavor, you can add 1 Tbsp. of orange zest to the dressing. Leftovers: Salad is best within 1 hour of being tossed in dressing but leftovers are find to eat the next day. Just cover and refrigerate.
Nutrition
Calories: 165kcal | Carbohydrates: 10g | Protein: 2g | Fat: 14g | Saturated Fat: 2g | Polyunsaturated Fat: 2g | Monounsaturated Fat: 9g | Sodium: 182mg | Potassium: 247mg | Fiber: 2g | Sugar: 5g | Vitamin A: 2118IU | Vitamin C: 46mg | Calcium: 57mg | Iron: 1mg