This mediterranean salad is a perfect blend of greens, juicy tomatoes, feta, pistachios and grilled chicken tossed in lemon tahini dressing.
This mediterranean salad is so dreamy and delicious, perfect in it's simplicity. The crunch of the pistachios, saltiness of the feta and plump perfect tomatoes paired with the lemon forward, herby chicken makes each bite so full of flavor!
Salads can be boring but this one isn't at all. It is my new favorite salad to make and everyone that tries it absolutely loves it and asks for the recipe. Knowing it is full of heart healthy, mediterranean ingredients makes it even better!
Why make this mediterranean salad recipe
Why make this recipe when there are thousands of other options out there? Well, I'll give you of the highlights:
Flavor – its truly a divine combo!
Satisfying
High protein
Low carb
Perfect for meal prep for quick weekday lunches or dinners
Simple ingredients
Easy to make
Versatile cooking methods for the chicken
Can be tweaked to fit most diets
The mediterranean chicken is so flavorful and the rest of the ingredients keep the recipe strategically high protein and low carb without sacrificing any flavor. This recipe brings together my mediterranean chicken recipe and tahini lemon dressing to make a whole meal out of it.
The recipe is full of healthy but delicious ingredients that have so much protein and healthy fats that it keeps you full for hours. Those pistachios and feta aren't just there for flavor and while I don't follow a Keto diet myself, I know that many of you do and know that eating healthy fats like this in a meal keeps hunger at bay.
In addition to that, the recipe makes quite a few portions and can be used to meal prep for quick weekday lunches. I never regret planning ahead!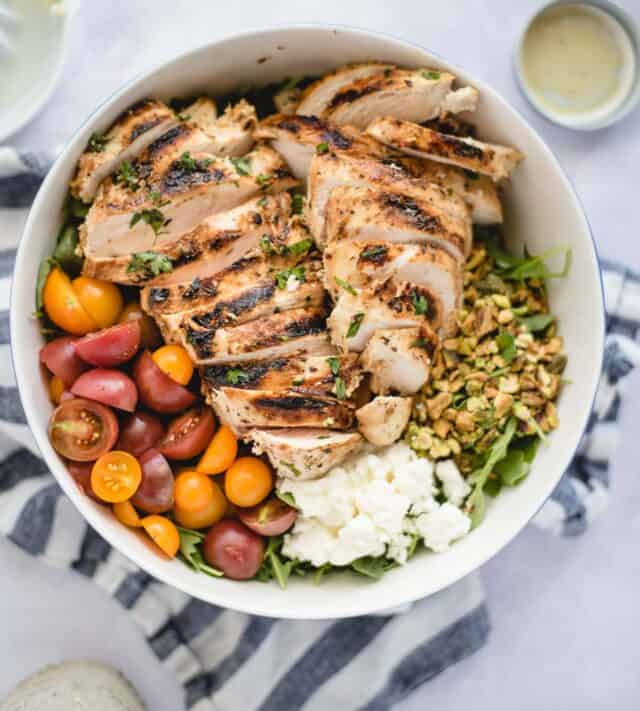 Ingredients
Don't let the ingredient list for this mediterranean salad intimidate you! It looks long but several of the ingredients are used twice (like lemon juice, olive oil, garlic, salt, and pepper being in the marinade and dressing) so you only truly need to handle each of those ingredients once if you prepare the marinade and dressing at the same time.
Here's what you'll need:
boneless skinless chicken breasts (or thighs)
zest from a lemon
fresh squeezed lemon juice – DO NOT use bottled lemon juice for this recipe!
plain yogurt – low fat is fine but don't use non-fat here
minced garlic – pre-minced jarred garlic is fine here
black pepper
dried basil
dried oregano
minced shallot
roasted, salted, shelled pistachios – we buy giant bags of pistachios at Costco
feta crumbled
baby arugula or your favorite salad greens
cherry tomatoes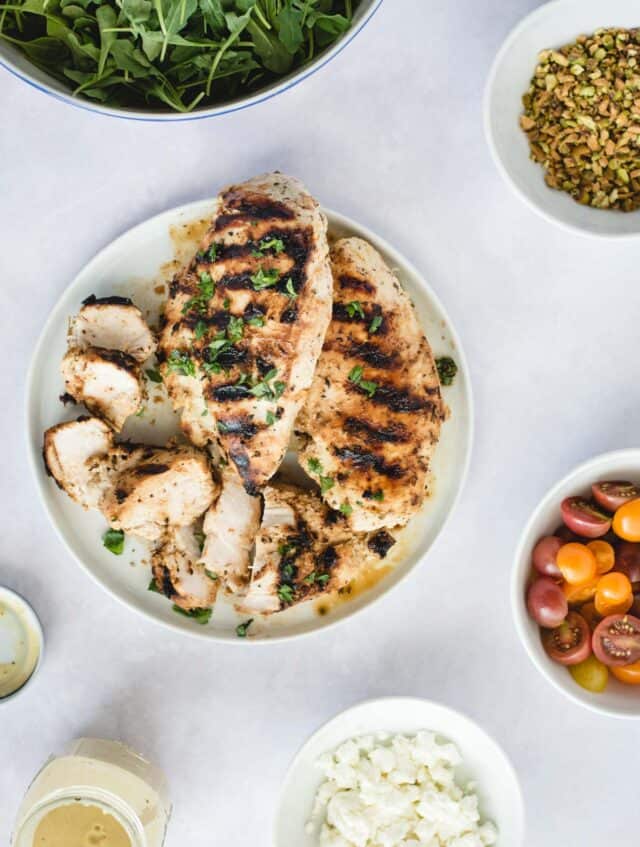 How to make mediterranean salad
This recipe has three separate parts: the chicken, the dressing, and the salad. Although it looks complicated at first, it really isn't hard to pull this one off. And with instructions for cooking the chicken multiple different ways, you can choose whatever you're most comfortable with.
For the marinade, mix all ingredients together and then let the chicken sit. For breasts, marinade for 4 hours ideally and if you cut the breasts into smaller chunks, marinade for 30 – 60 minutes.

While the chicken is marinading, mix the dressing by shaking all of those ingredients together in a mason jar.

Toss all salad ingredients into a bowl and set them aside. Heat that grill up (or oven or pan) and get ready to cook the chicken! Instructions for cooking several different ways are included in the recipe card.
Once chicken is cooked toss it, the dressing and salad together and serve right away.
Add-ins and substitutions
While the recipe is excellent as written, we all know that substitutions are sometimes needed do to diet constraints, preference or just not having an ingredient. This list is by no means inclusive but here are some substations you can feel safe to do:
Don't have tahini? Make this version of lemon salad dressing instead.
To make it Keto, just leave out the honey.
To make it Whole 30 or paleo, leave out the honey, yogurt, and feta.
Pistachios can be substituted for other nuts if needed (pine nuts work great, best if the nuts are toasted).
Arugula can be subbed for your favorite salad greens mix
You can replace the shallot with red onion or 1/2 tsp. onion powder and the garlic with 1/4 tsp. garlic powder (won't be quite as fresh, but still good)
Possible add ins: cucumbers, avocado, red pepper, kalamata olives, finely diced red onion, cooked quinoa or whatever else sounds good to you!
Meal prep tips and Freezing
If you like to plan ahead when it comes to food, this mediterranean salad will be one to bookmark. This salad is pretty much the perfect meal planning recipe to keep you on track for eating healthy.
Since it makes enough for 6-8 people, I usually just half the salad and save the chicken to top salads or rice bowls for the next few days lunches. To make this easy as can be:
Cube or slice the chicken (if you didn't already) before putting in the fridge so that it's ready to go.
You can add the crushed pistachios to the salad greens but will want to store the feta, tomatoes, chicken and dressing separately or it will get soggy. The ingredients will keep for about 2 days separated like this and even a day or two longer if you leave the cherry tomatoes whole and don't slice them.
If the dressing gets solid or separates in the fridge, just let it sit on the counter for 15 minutes and then shake before using (you can run the jar under hot water too to speed this up).
To freeze the chicken, place it in a sealed container or bag, with a little bit of room at the top to allow for expansion. Place upright in the freezer and use within 3 months. To use, defrost in the refrigerator overnight or in a bowl of cool water for about an hour.
Other mediterranean recipes
If you're looking for other mediterranean recipes, here are some great options:
This mediterranean salad is a perfect blend of greens, juicy tomatoes, feta, pistachios and grilled chicken tossed in lemon tahini dressing.
Ingredients
Chicken
2 lbs. boneless skinless chicken breasts 3-4 breasts
Zest from a lemon
1/3 cup fresh squeezed lemon juice
1/3 cup olive oil
1/3 plain yogurt don't use non-fat
2 Tbsp. minced garlic
1 tsp. salt
½ tsp. black pepper
1 tsp. dried basil
2 tsp. dried oregano
Salad
2/3 cup roasted, salted, shelled pistachios lightly crushed
2/3 cup feta crumbled
10 oz. baby arugula
2 cups cherry tomatoes halved
Instructions
Remove any fatty areas or excess skin from chicken breasts. Either marinade whole breasts for 2 hours or to speed the marinade time up, cut chicken into 1" pieces and marinade for 30 – 60 minutes.

Mix all chicken ingredients together in a bowl or reusable bag and let marinade for 30 minutes – 1 hour. Use some of this time to prepare dressing and salad ingredients. If using 1" pieces and you plan on grilling the chicken as kabobs, soak the wooden skewers in water while the chicken is marinating to keep them from burning.

Add all dressing ingredients to a small glass jar and shake to combine. Start by adding only 1 Tbsp. of water and add an additional Tbsp. if needed to reach desired consistency (amount of water will depend on tahini thickness).

Prepare all salad ingredients and add to a serving bowl. Set aside.

Preheat Grill to about 425° F (218° C) and brush and oil grill grates.

If using 1" chunks, skewer chicken onto kabob skewers leaving a few millimeters of space between each chunk so that chicken cooks evenly. Once grill is hot, place chicken on grill and cook for 5-8 minutes per side for breasts or 4-6 minutes per side for kabobs.

Remove chicken from grill and let sit for 5-10 minutes before slicing breasts (if cut into chunks, it does not need to rest).

Shake salad dressing jar and pour over prepared salad. Toss to combine.

Add chicken to salad and serve immediately.
Notes
Cooking time can vary based on size and heat temperature so I recommend using a meat thermometer when cooking whole chicken breasts or thighs. Here are some general cook time ranges for different cooking methods (exact time depends on size and temperature):
Grilled Breasts – 5-8 minutes/side at about 425°F (218° C)
Grilled Thighs – 4-5 minutes per side at about 425°F (218° C)
Grilled Kabobs with 1″ pieces – 4-6 minutes per side
Stovetop Skillet as 1″ Chunks – 10-12 minutes on medium-high heat w 1 Tbsp. oil
Breasts in Oven – 18-22 minutes at 400°F (205° C)
Breasts and thighs should marinate 4-6 hours, with a minimum of 2 hours and a maximum of 24 hours. 1″ chunks can be fully marinated in 1 hour or half hour at the absolute minimum.
Nutrition
Calories: 438kcal | Carbohydrates: 12g | Protein: 31g | Fat: 31g | Saturated Fat: 6g | Trans Fat: 1g | Cholesterol: 84mg | Sodium: 686mg | Potassium: 911mg | Fiber: 3g | Sugar: 4g | Vitamin A: 3668IU | Vitamin C: 29mg | Calcium: 169mg | Iron: 4mg