Instant Pot Irish stew has so much flavor from the Guinness, beef, and other simple but delicious ingredients. It's loaded with veggies and made in one pot!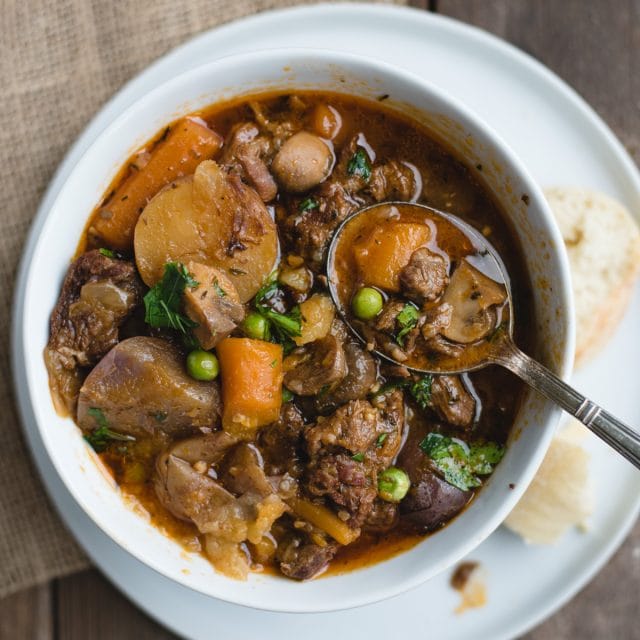 Instant Pot Irish stew has become a new favorite meal in our house. It is simple to make, uses pantry staples, and is made entirely in the Instant Pot. It's the ultimate comfort food, with the Guinness adding a fun twist that adds a rich complexity and depth of flavor that makes this version different than your standard beef stew.
This recipe has been lightened up a little bit by adding some extra veggies. In addition to the beef, there are loads of potatoes, carrots, chopped onion, mushrooms and peas. The veggies all soak up the rich gravy and become little flavor bombs in their own right.
If you haven't tried Irish Stew before, you'll be blown away by how good it is. One bite and you'll want to be curled up under a blanket with a good book. It's got that level of comfort food factor to it.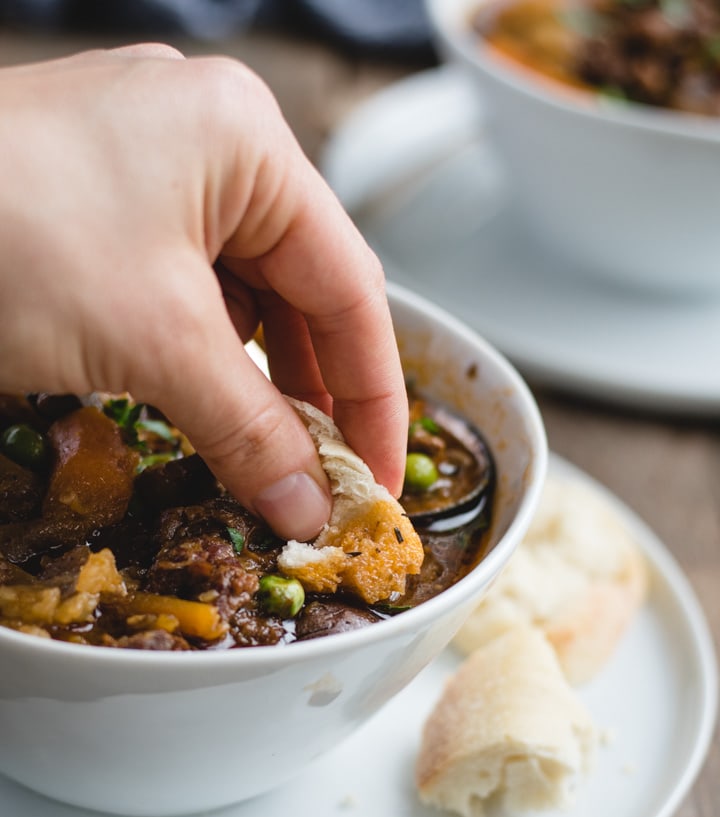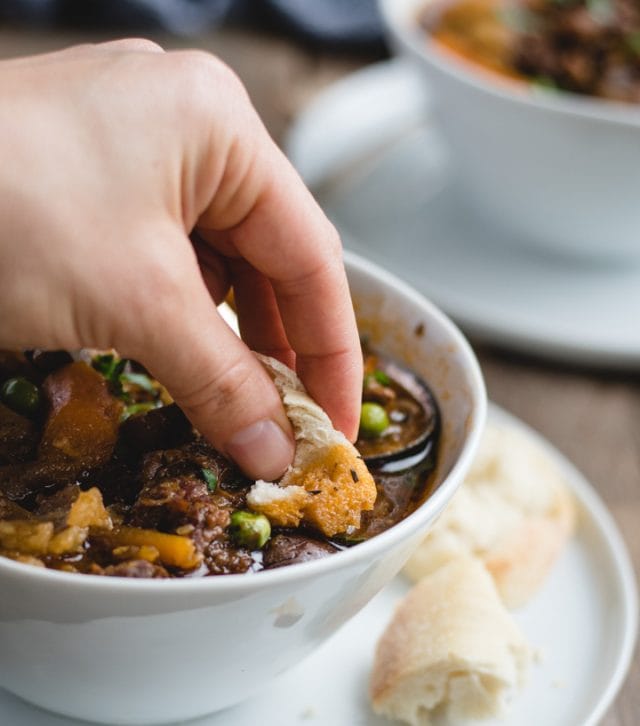 Ingredients
One of the things I like best about making stews is that I pretty much always have the ingredients on hand. In this case, all I had to get was stew meat, mushrooms, and parsley (which is optional of course). Although it looks like the ingredient list is long, its basic stuff, most of which can be dumped in quickly and doesn't complicate the recipe.
Here's a list of what you'll need:
oil (I get avocado oil at Costco)
stew Beef (round, chuck, pot roast – whatever)
mushrooms
garlic
flour
salt
black pepper
Guinness
beef stock or broth
Dijon mustard
tomato paste (this tubed kind is super convenient)
dried thyme
bay leaves
potatoes
carrots
peas
parsley to garnish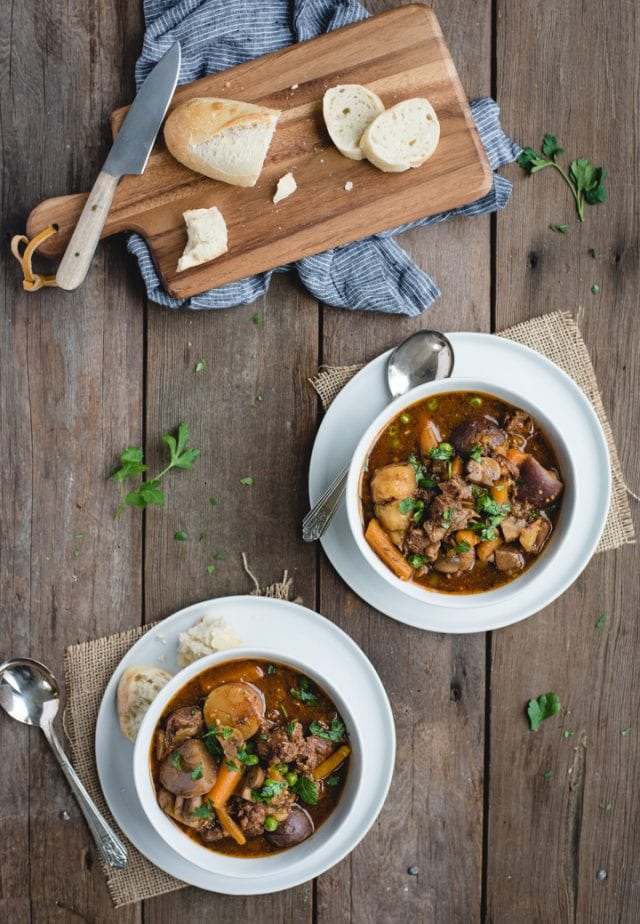 What cut of beef to use
Have you ever found yourself standing at the meat counter trying to figure out what cut to get when half of them look identical? I certainly have. I am no meat man, but I've learned that with stew, its pretty hard to go wrong.
I recommend a round or chuck roast or just buy pre-cubed stew meat. Round cuts are sometimes labeled as "bottom round" or "eye" cuts or even round steak. These are pretty lean compared to chuck roast (pot roast) which is fattier. Stew is a great way to use leaner, tougher cuts of meat since simmering will make them tender as can be. Don't waste your good steak here.
With the Instant Pot's magic, the simmer time is cut down significantly compared to making a stew on the stove. Pressure cooking can turn tough meats into fork tender bites in record time so don't be afraid to use a tough cut here.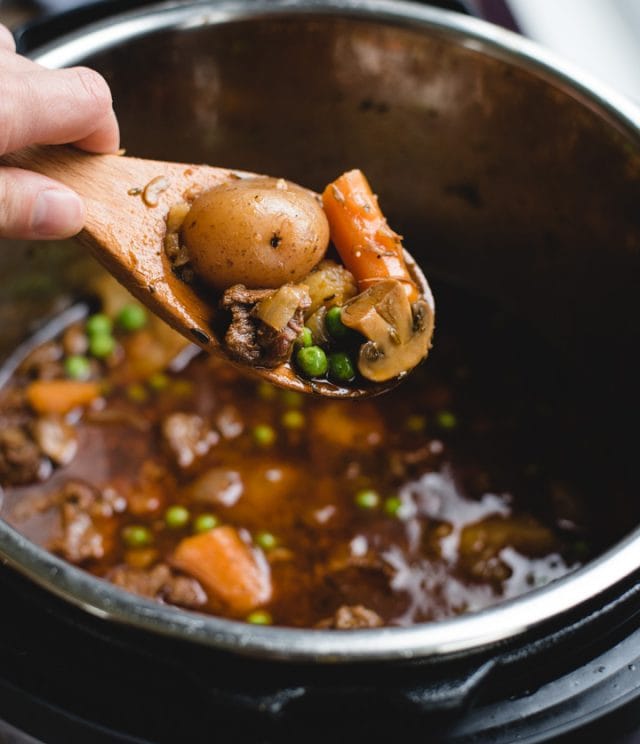 How to make Instant Pot Irish stew
I've already used the word simple half a dozen times but it really is easy to make!
You start by using the sauté feature on the instant pot to brown the beef. You'll need to do this in two batches to get a good sear on it. The sear is where all the flavor comes from.
Then you cook the onions, mushrooms and garlic down a bit to add more flavor to the veggies.
Add the meat back in and sprinkle flour, salt and pepper over it, stirring until the flour is absorbed.
Deglaze the pan with Guinness and then add the beef stock, Dijon, tomato paste, thyme, Worcestershire, and bay leaves.
Stir well to mix in and then add the potatoes, carrots, and peas and give it all a good stir (it will look like the picture on the left below.
Set to pressure cook on high for 30 minutes and then naturally release pressure and you'll end up with the picture on the right!
Sprinkle with parsley and serve.
Tips for making perfect Irish Stew
While this recipe is easy enough for a very novice cook and Instant Pot user, there are a few things that you'll want to note to make sure yours comes out absolutely perfect.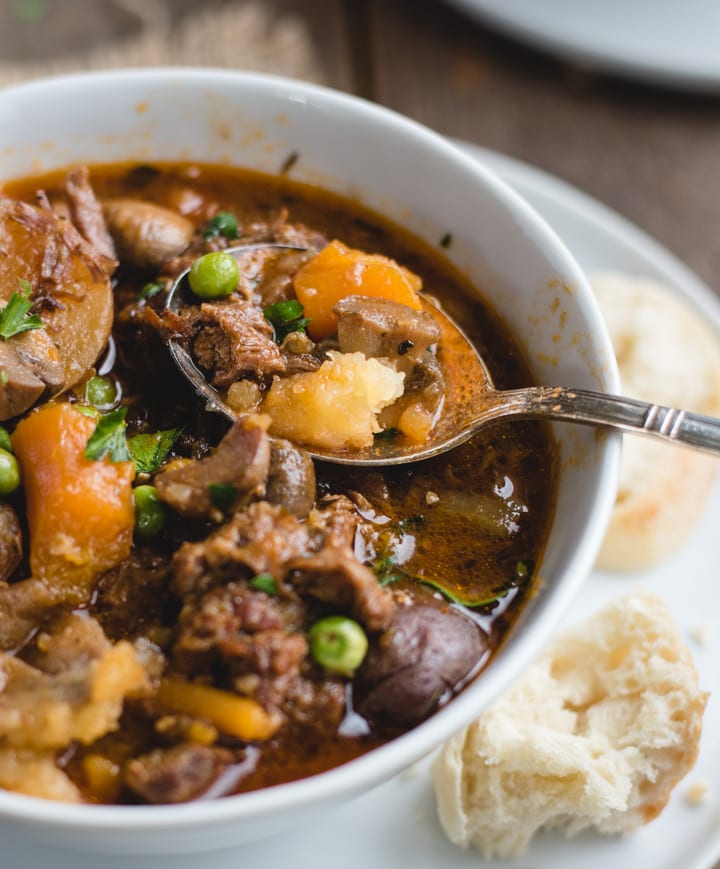 Make sure to cut the potatoes and carrots larger (1 1/2″ and 2″, respectively) so they'll be perfectly cooked. They will be fork tender and easy to break small pieces off with your spoon when eating. Cutting them smaller could result in mushy veggies.
While not necessary, taking the extra step of searing the meat in two batches adds extra flavor. I know, it gets an extra plate or bowl dirty, but all of the beef won't fit in the pan at the same time so the top pieces will end up steaming instead of searing if cooked all at once.
Add the potatoes, carrots, and peas after mixing in the liquid and spice ingredients, not before. This ensures that the liquids and seasoning gets evenly dispersed since it's harder to stir the pot once those carrots and potatoes are in there (learn from my mistakes!).
To make gluten free, leave out the flour and thicken at the end by stirring a cornstarch slurry in (1 Tbsp. cornstarch mixed with 2 Tbsp. cold water).
Yes, Guinness can be replaced with another dark beef if needed, but I really don't recommend substitutions in this recipe. It's great as written. If needed, the mushrooms and/or peas can be left out if you don't have them without other adjustments needing to be made.
What to serve with Irish stew
Well, a crusty bread is an absolute MUST in my opinion but it really can and does act as a one pot meal even without bread. No sides or starters needed and you'll probably end up too full for dessert too.
BUT, if you do want to serve something alongside your Instant Pot Irish stew, here are a few options:
Honestly – you don't need anything else. That right there makes for a more than full meal!
Other soup and stew recipes
If you're looking for some other soup and stew recipes to try out, here are a few tried and true options:
This African Peanut Stew is loved by everyone that tries it.
Chicken paprika soup became an instant favorite of mine after trying at a local Portland deli and I've been obsessed with it ever since (and you probably will be too if you try it).
This vegan lentil soup is loaded with sweet potatoes and topped with avocado and cilantro – so good, you'd never even notice it's vegan!
My Thai coconut curry noodle soup is absolutely to die for – I've actually got it on the meal plan for this week!
This creamy soup is made with either a sweet meat or butternut squash soup – deeelicious!
Curry carrot soup is a unique fun creamy soup made from blended carrots – always a welcome addition.
Instant Pot Irish stew has so much flavor from the Guinness, beef, and other simple but delicious ingredients. It's loaded with veggies and made in one pot!
Ingredients
2 Tbsp. oil (avocado, olive or whatever you prefer, divided)
2 lbs. stew beef (round, chuck or other beef cut into 1 – 1 ½" cubes)
1 Tbsp. onion, chopped
8 oz. mushrooms, sliced
1 Tbsp. minced garlic
2 Tbsp. flour
1 ½ tsp. salt
¼ tsp. black pepper
1 cup of Guinness
2 cups beef stock or broth
1 tsp. Dijon mustard
2 Tbsp tomato paste
2 tsp. dried thyme
1 ½ Tbsp. Worcestershire sauce
2 bay leaves
1 ½ lbs. potatoes, cut into 1 ½" pieces (I use Yukon Gold)
1 lb. carrots, cut into 2" pieces 4- 5 medium carrots
1 cup peas frozen or fresh
Salt and pepper to taste
chopped parsley to garnish
Instructions
Turn Instant Pot to Sauté setting and add 1 Tbsp. oil to pot.

Once oil is hot, add half of the stew beef and brown. Remove browned beef and set aside. Add remaining beef and brown (adding all at once will keep the meat from getting a good sear).

Add remaining Tbsp. oil. Once oil is hot, add onion and sauté for 4-5 minutes to soften. Add mushrooms and garlic and sauté for 2-3 minutes longer.

Add meat back into pan and sprinkle flour, salt and pepper over meat and veggies and stir to evenly coat.

Add Guinness to pot and stir to deglaze the pan, scraping any baked on bits off the bottom of the pot. Add beef stock, Dijon, tomato paste, thyme, Worcestershire, and bay leaves and stir to evenly distribute and mix well. Add potatoes, carrots, and peas and stir.

Put pressure cooker lid on and close to LOCK position. make sure vent is set to SEALING position.

Set Instant Pot to pressure cook for 30 minutes on HIGH.

Once cook time is complete, use a wooden spoon and kitchen towel to QUICK RELEASE pressure. Stir and season stew with salt and pepper to taste.

Sprinkle each serving with parsley to serve if desired. Store leftovers in a sealed container in the refrigerator for up to five days, reheating using the microwave or stovetop.
Nutrition
Calories: 346kcal | Carbohydrates: 31g | Protein: 31g | Fat: 10g | Saturated Fat: 2g | Cholesterol: 70mg | Sodium: 654mg | Potassium: 1252mg | Fiber: 5g | Sugar: 6g | Vitamin A: 9719IU | Vitamin C: 31mg | Calcium: 91mg | Iron: 6mg